Girls Ride Out – The Mae Hong Son Loop. N.Thailand.

For those unfamiliar with this loop, here is a quick low-down:
This loop is hands-down the most famous loop in Northern Thailand. Very scenic with lots of great places to stop off. I have a detailed guide to the loop HERE. This loop consists of sweeping curves and some tight twisty sections (my personal favorite) and boasts 1,864 curves in all..(although I've never counted!)
Onto the ride..
My friend Sam had just purchased a brand new CB500x and was thrilled with it. Sam, being a little on the shorter side for a bike of this height, had a few soft modifications made to make it more comfortable. Such as shaving a bit off the seat and adding crashbars (cuz you never know!). She found out she needed more of an iron butt than she bargained for on a ride of this duration, but maybe an airhawk might help solve that. Something I am considering purchasing myself.
Setting a convenient meeting point in the AM at a local garage, we fueled up and checked tire pressures. Good thing too, as her pressures were WELL out! Safety first! Safety first! 😀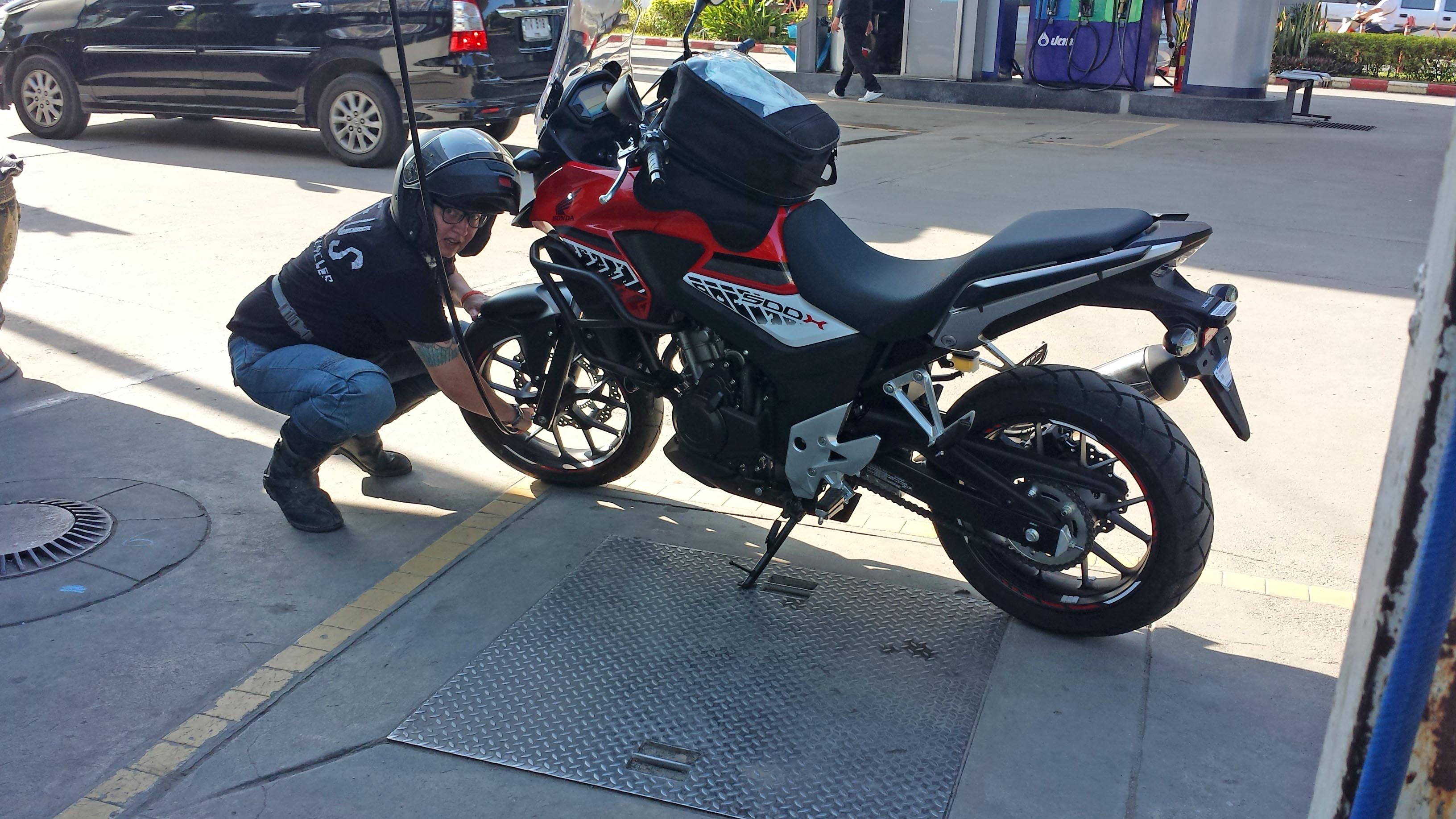 We chose to do a clockwise traditional way around loop (either way is enjoyable, and you can make the loop shorter by cutting through Mae Chaem onto Khun Yuam, which is more twisty).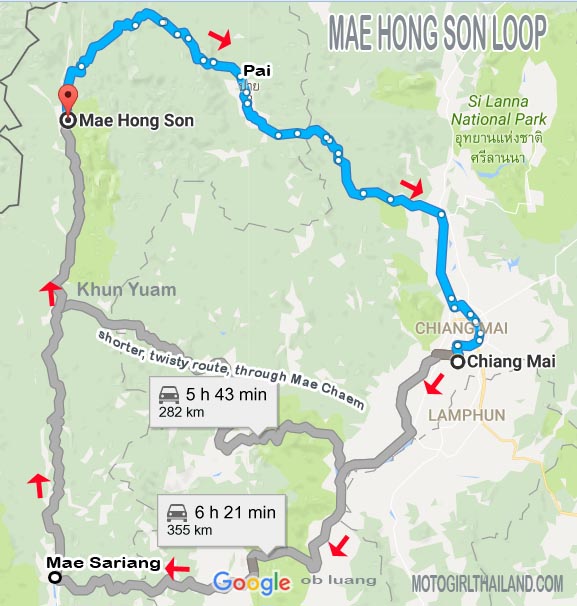 Riding directly to Mae Sariang (approx 190km) we passed through the beautiful and scenic Ob Luang National park (<–my guide to the park). It is always nice to hit this section because prior to it is around 70 or so km of highway (probably less than that, but always feels like that much). Which isn't exactly inspiring, but thankfully soon forgotten once you hit the National Park area with its tall trees and stunning river and gorge. Ob Luang is well worth a stop off if you have time. I've dipped in the gorge before and climbed the rocky cliffs. It really is a lovely park.
After one quick iron butt stop off, for a leg stretch and the obligatory selfie, we rode into Mae Sariang and stopped at Above The Sea guesthouse for a bite to eat. Sam knows the owner and so we received a friendly welcome from the owner and staff when we arrived.
Bellies full we headed off towards Khun Yuam, where we would do a last fuel stop before the last (glorious) stretch of road into Mae Hong Son. Now I confess I am biased against the town of Khun Yuam in a negative way, but that is only because of negative associations regarding my time in the hospital there. It was where I was taken when i had a serious accident..and the memory still stays with me. So, I was relieved to get out of this town.
On a more positive note, we did meet a couple of interesting people at the petrol station in Khun Yuam. One man who runs a tour business and an American rider who was on his way to Chiang Mai. The American rider had a TBB (formerly "Tony's Big Bike") sticker on his bike, and seeing as I know the guys who run this rental and tour business, it caused me to speak up and say hi to him. The gentleman who runs the tour business was named Jorg, and he gave us his business card (Bike Tour Asia Ltd). Friendly interactions which helped to break my somewhat glum mood at being back in this town.


Anyway, fueled up we set off towards Mae Hong Son. I like this stretch of road more as it becomes a little more twisty in sections. On a couple of occasions some big bike riders passed us at speed which charged me up with adrenaline, causing me to try keep on their tail. However, I happily concede when I am out-ridden by either more powerful bikes or more skill (or a combination of both), but I love to be fired up and Im up for a challenge. I also know my own limits and I am not a sore loser, so after a bit of an adrenaline rush I'm happy to settle back and enjoy the ride at a more chilled pace again. Until the next set of twisties or fast rider… haha!
Arriving in Mae Hong Son at approximately 4:30pm we checked into The Palm House we cleaned up and headed on foot towards The Sunflower Cafe, which overlooks the lake and offers a fantastic view of the temple. In the evening this temple is positively stunning.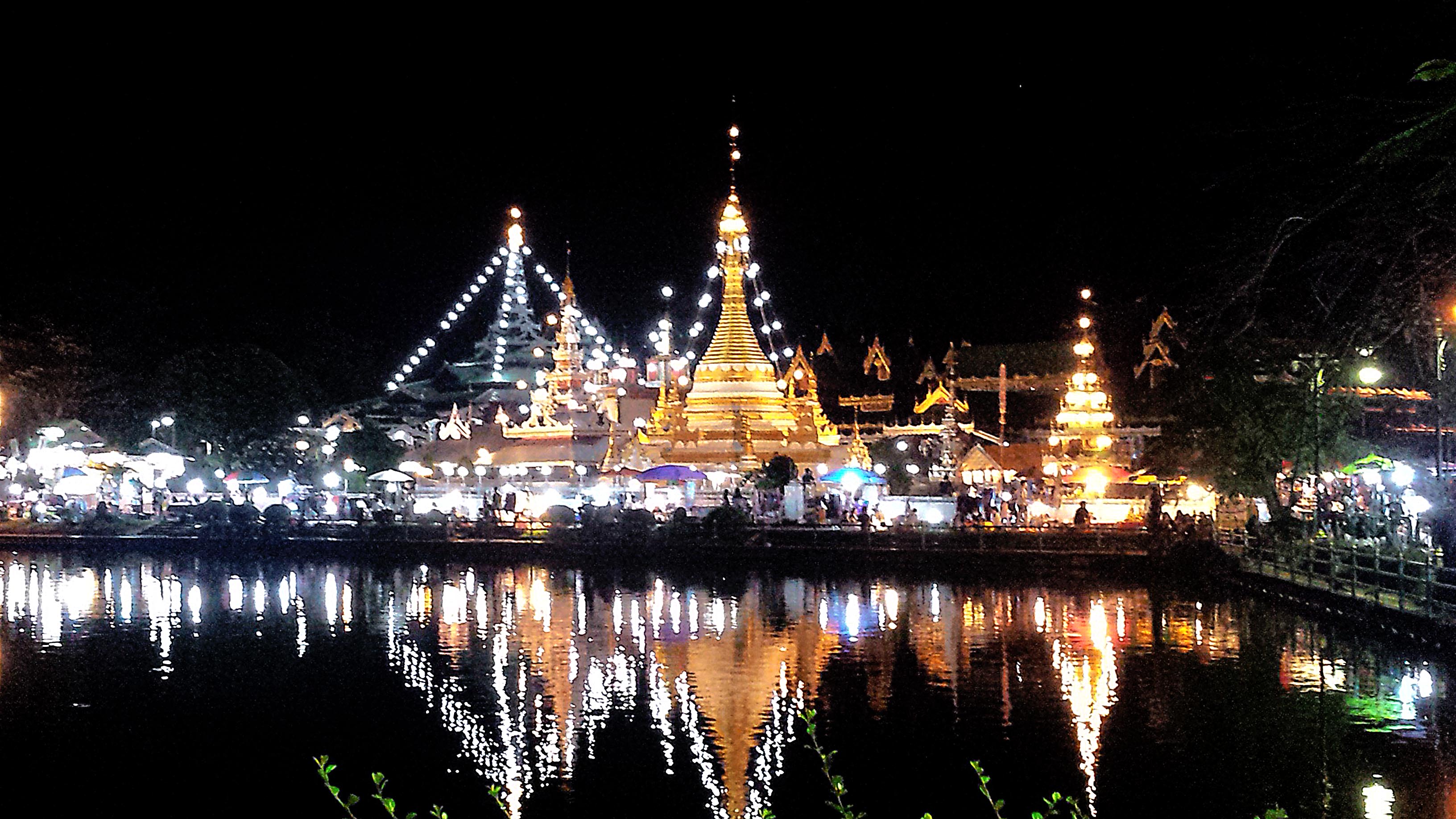 We bumped into some rider friends who were drinking the Sunflower and joined them for a couple of drinks, but we didn't last long. Feeling a touch weary we said our goodnights early and walked around the market (which was super quiet for a Saturday night and a major contrast to busy Chiang Mai) before heading back to The Palm House for an early night.
After a good rest we geared up and headed back on the loop at around 9am, heading clockwise towards Chiang Mai. This time via Pai, a popular tourist destination, where we planned to stop for lunch.
The road between Mae Hong Son and Pai is beautiful. We also hit some misty sections:
At one of the viewpoints we stopped for a coffee and ended up bumping into an amazing lady adventure rider from Germany (or could have been Austria. Im embarrassed to say that i did not check), named Angelique. Her BMW bike was German plate. She has ridden all over the globe, including the Khardung La pass (world's highest motorable pass, which Sam had recently completed on an Enfield. You can read about Sam's Himalayan ride on the Enfield here). Angelique told us that some of the routes she had taken were filled with rocks and boulders. I looked at her and the bike and my eyes went wide. Absolutely amazed at this lady!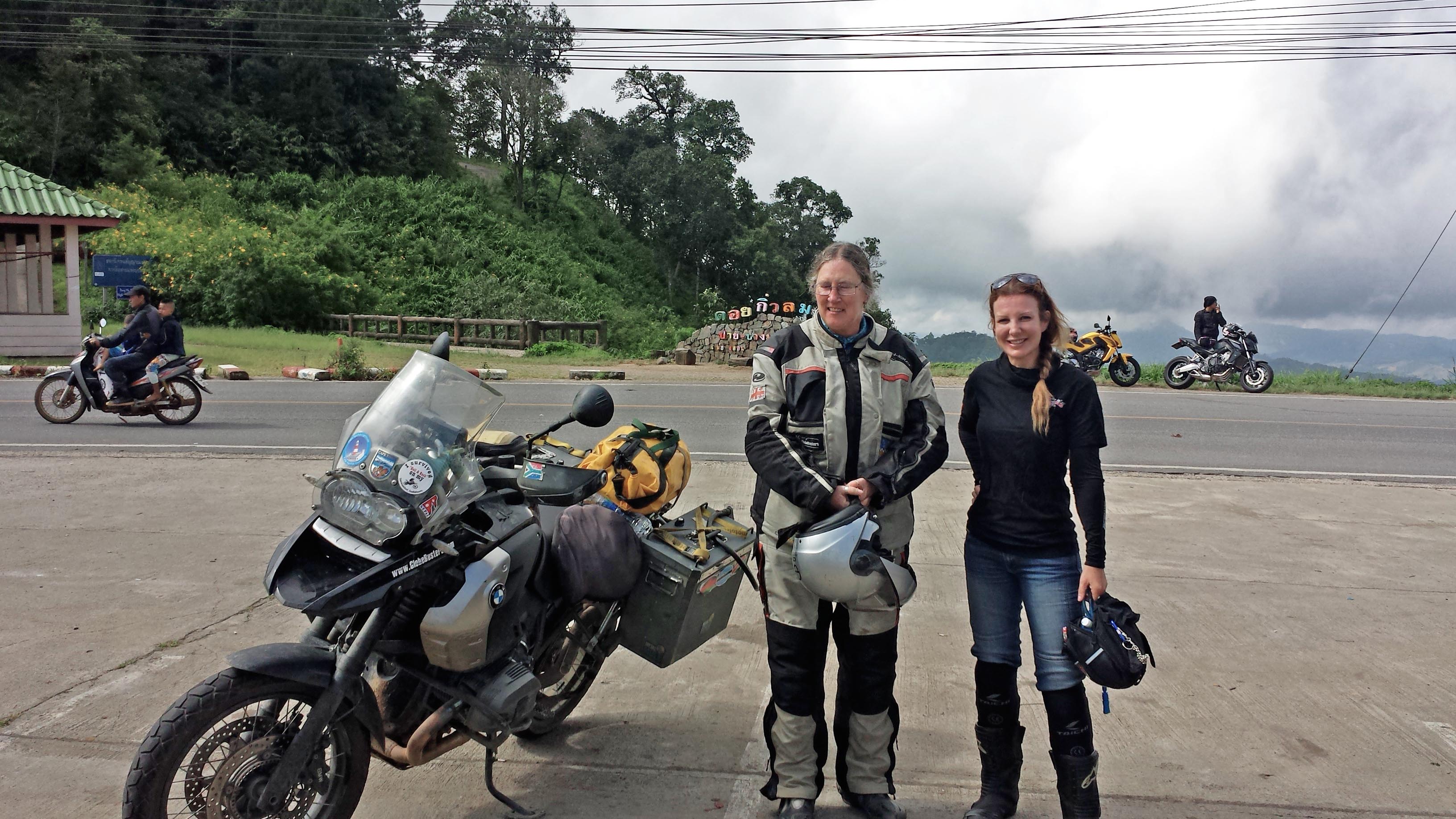 We also met a couple of Thai riders who talked with us and also with Angelique. Very nice guys. Talking of which, an aspect I really love when riding in the region, is the nods other big bike riders give when passing on the road. It always makes you feel that you are part of a brother/sister hood. I really love this aspect of polite interaction/respect.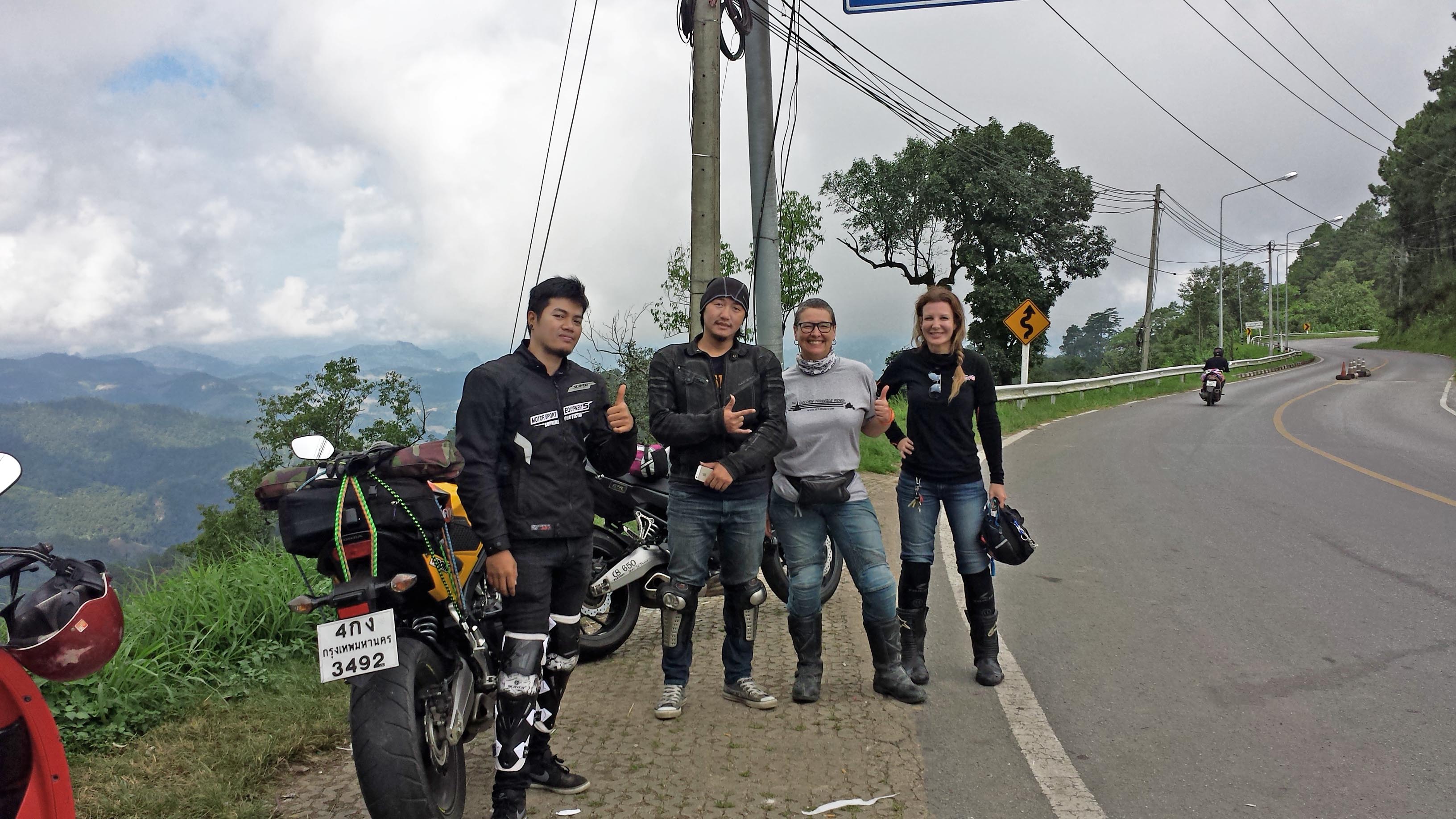 Sam got her Christmas shopping done at one of the Hilltribe stalls and I left my gopro running by mistake when we tried to do yet another girly selfie…er..yeh…
At Pai we stopped at Om Garden Cafe for lunch, although I normally stop at Maya Burger Queen. Not that I am a huge burger fan, but this place is known for fab burgers and plus I know the owner(s). So its a nice place for a fast food fix and a quick hello to a friend. It is also on a popular main street, so can make for some fun people watching as well. However, this time I tried Om Garden based on Sam's recommendation. I enjoyed lunch and the portion was HUGE.
Quick digress:
Don't shoot me when I relate this story, because actually I am not here to judge anyone! I just found this a little on the comical side, because it is so very "Pai".
The town of Pai attracts a lot of "New Age", "Hippy", spiritual kind of people.
It is a laid back town where a lot of foreigners/westerners go to for a hippy vibe.
So anyway, I am sitting eating lunch in Om Garden and at a table near me were 4 people; Two foreign girls and two foreign guys.
One girl asked one of the guys what he is doing in Pai.
He replied that he was kind of on a mission to find himself.
She asked him what he planned to do.
He replied:
"I'm learning about myself and discovering who i am through interpretative dance..you know, like mandala…"
I glanced over to see the reactions of the others, expecting maybe a little bit of a giggle, but no, all were like "that is really cool… ", etc.
Later they left.
When they did, one of the girls wasn't wearing any shoes.
She hopped on her rented scooter and drove off barefoot.
…Welcome to Pai.
Haha!

After lunch we set off on the 1095 to Chiang Mai, a road that i LOVE! (as an aside, if you need a guide for this route, my guide including a map and stop offs can be found here). This is where my little lightweight 250cc dtracker comes into its own. This road is made for motard-style bikes! I could finally let rip a little and enjoy the twists.
We stopped off at (eek i forget the name of the coffee shop..but will update as soon as i find it!) where I bumped into a friend who was riding his BMW GS to Mae Ngat. After a quick chat we got back on our bikes for a non-stop ride back to Chiang Mai. We arrived back pretty early. Maybe around the 3pm mark. So was good timing.
Here is a short video of our trip, with some snippets of road footage:
When I arrived back in Chiang Mai I ended up catching a bit of shut eye on my return, leaving my bike dirty. Sam apparently took hers straight to the bike wash. Haha! She really couldn't bare her brand spanking new bike being dirty. We met later with another friend for food and a catch up. All in all a brilliant ride with a brilliant riding partner.
Happy days 🙂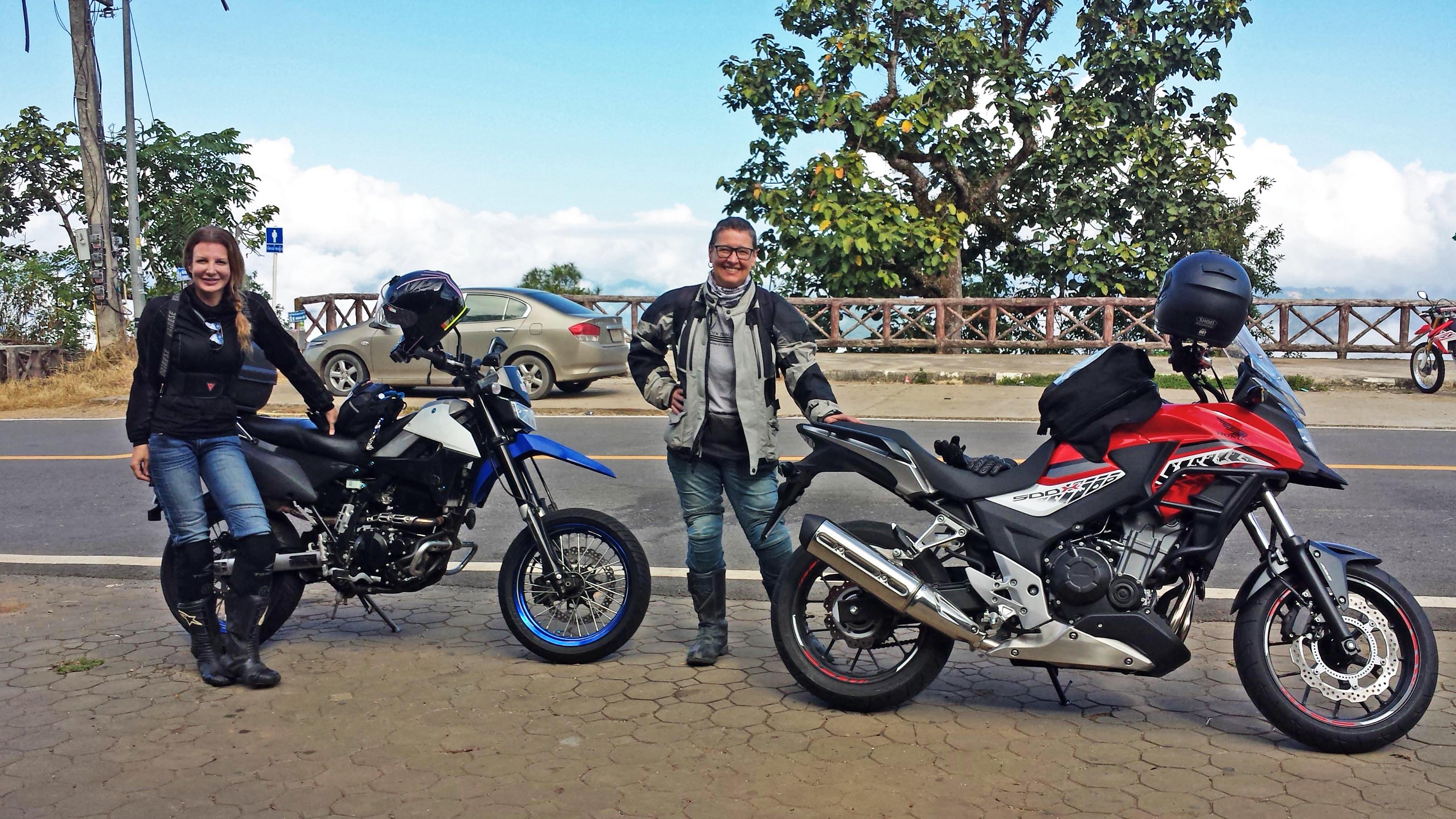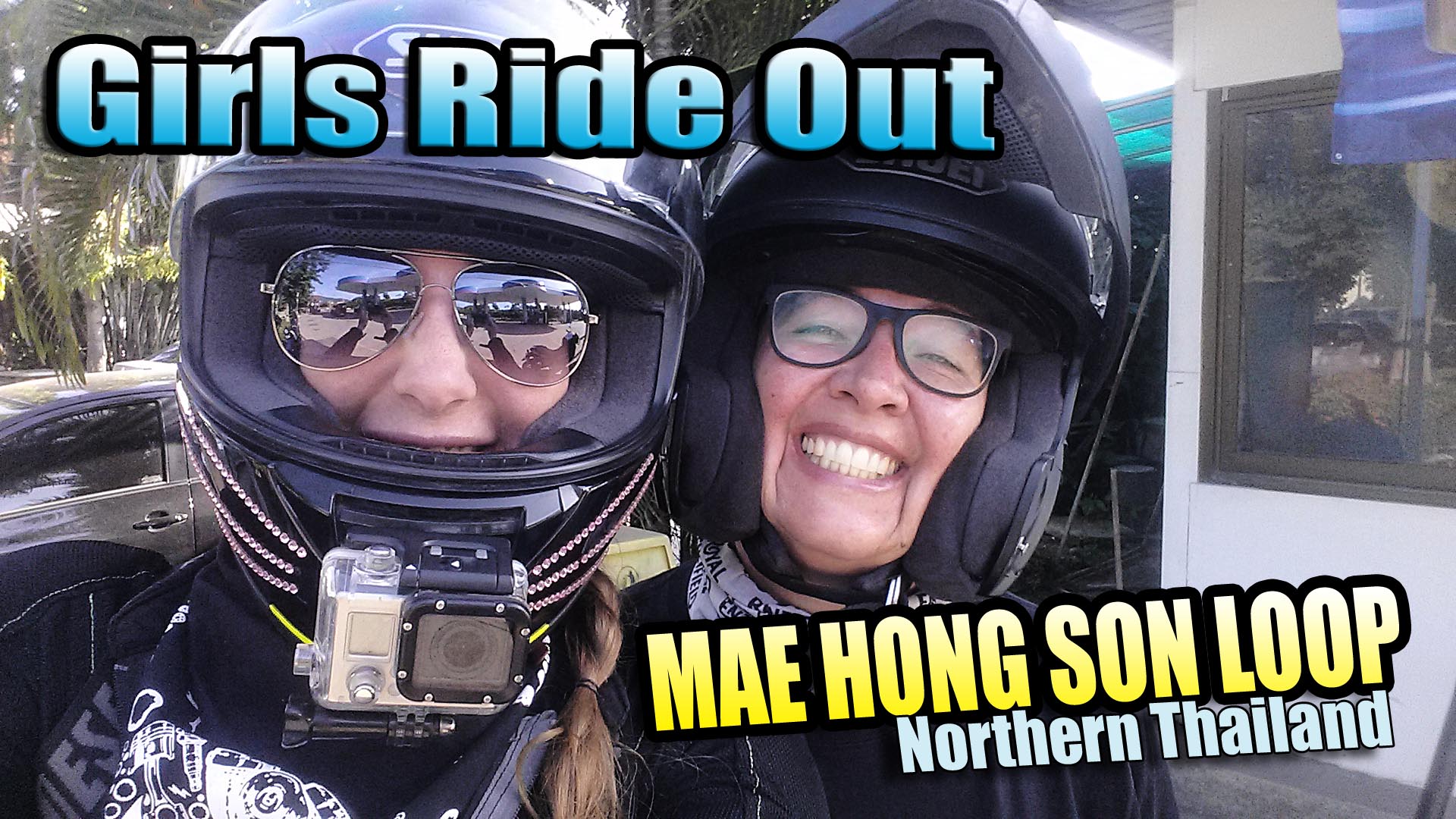 Ahh..one more additional tale..
Both Sam and myself recently did The Distinguished Gentleman's Ride (story here), and received a gift pack which included baseball caps with the Gentleman's Ride logo on it. Neither of us are baseball cap wearers much, so we decided to give the caps away. On this trip Sam gave one cap to a member of staff at Above The Sea guesthouse and the second cap to (can you believe) Angelique, the lady adventure rider! It was really very funny and sweet to see Angelique's reaction upon receiving this quirky gift. We said to her that she can give it away on her travels (as she mentioned that she gives away things to children on her rides). However, she replied that this time she will keep this gift for herself and not give it away! How lovely..haha.

Have you done this loop?
Plan to?
Please comment below 😀