The Distinguished Gentleman's Ride Chiang Mai – 2016
(Images adapted from photos by Pandech Saleewong)
Thankfully a dry day during rainy season, making Sunday's Distinguished Gentleman's Ride 2016 in Chiang Mai a pleasant day out.
Over 150 riders congregated at the Goodview Village Restaurant, dressed dapper on classic bikes, for Chiang Mai's second DGR ride. (Article for the 2015 ride in Chiang Mai here).

The final sum raised this year for prostate cancer and men's mental health will be updated once I have all the details.


The buzz this year was electric, with 150+ bikes eager to get riding.
Headed by local police and a fantastic camera crew capturing the ride, the bikes headed off along the canal road in Chiang Mai, towards Chiang Mai International Convention Center.
No doubt this massive collection of classic bikes and well-dressed riders must have been quite a sight for those around witnessing it.

At the Convention Center we stopped for a photo op and video footage. I put together a short video of this stop-off (and the lunch stop further on). Next year I intend to get more video footage.

Next we set off towards Samoeng for a lunch time stop-off at Homestyle Kitchen and Bakery, a pretty cafe/restaurant who supplied us with pack lunches and cool drinks.
We were given an update on the day and details about the evening event.


With full bellies the group dispersed, only to meet up again for the evening event at Tha Chang Cafe'.
The evening event consisted of food, drinks, live music and an auction to raise further funds for charity.
Apparently there is a gift set and official photos to all participants in the near future too from Britbike Triumph. So, looking forward to that!


As for me, this year I had the opportunity to ride a Triumph Bonneville T100. I found it challenging to ride such a weighty and unfamiliar bike due to the slow riding and maneuvering, but really was a pleasure to ride in this event on such a gorgeous bike.
A big thank you to TBB motorcycle adventure tours & rentals who I negotiated a rental price with, but who then donated the rental amount to my sponsorship.
Many thanks to Jeff and Duncan at TBB!


Lastly, a big thank you to all involved in setting up the event.
Photo credits in the album link below.
The full badass PHOTO ALBUM of this event: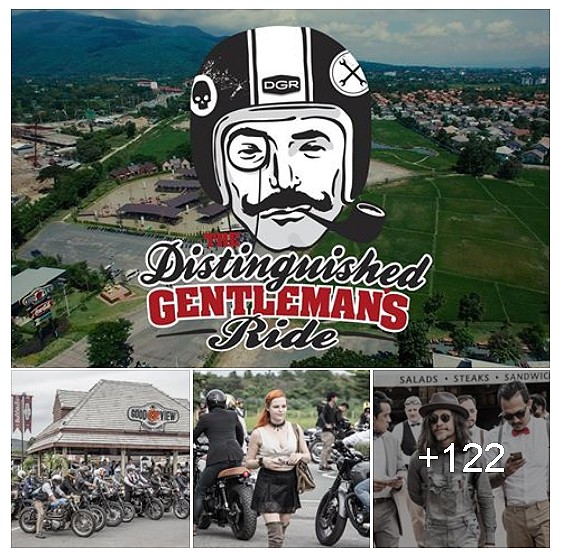 Did you attend the DGR this year?
If so, where? Would love to know! 😀