Girls On Enfields – Leh Ladakh, India.

Back in September I attended a talk given by two ladies; Sam & Janni, who had just returned from 10 days of adventure riding on 500cc Royal Enfields, in Leh, Ladakh (including Khardung La, the world's highest motorable pass).

But first, lets kick off with the excellent video Janni put together from her GoPro footage:
Very cool!
During the talk the ladies explained what healthy nutritious culinary delights they took along on their camping trip…as you can see in this video….
Their last video demonstrates how to pack an Enfield moto..
Keep an eye on how much participation the ladies took in packing the motorcycles….
..so yeh, in this particular case, packing an Enfield means pretty much leaving it up to the guide. HAHA! What are you like girls!
Talking of guides, Sam & Janni's guide was Saurabh who they highly recommend. You can contact Saurabh via his website here.
Ok..so on to the Q & A's I put to the ladies about their trip (click to enlarge if you cannot read):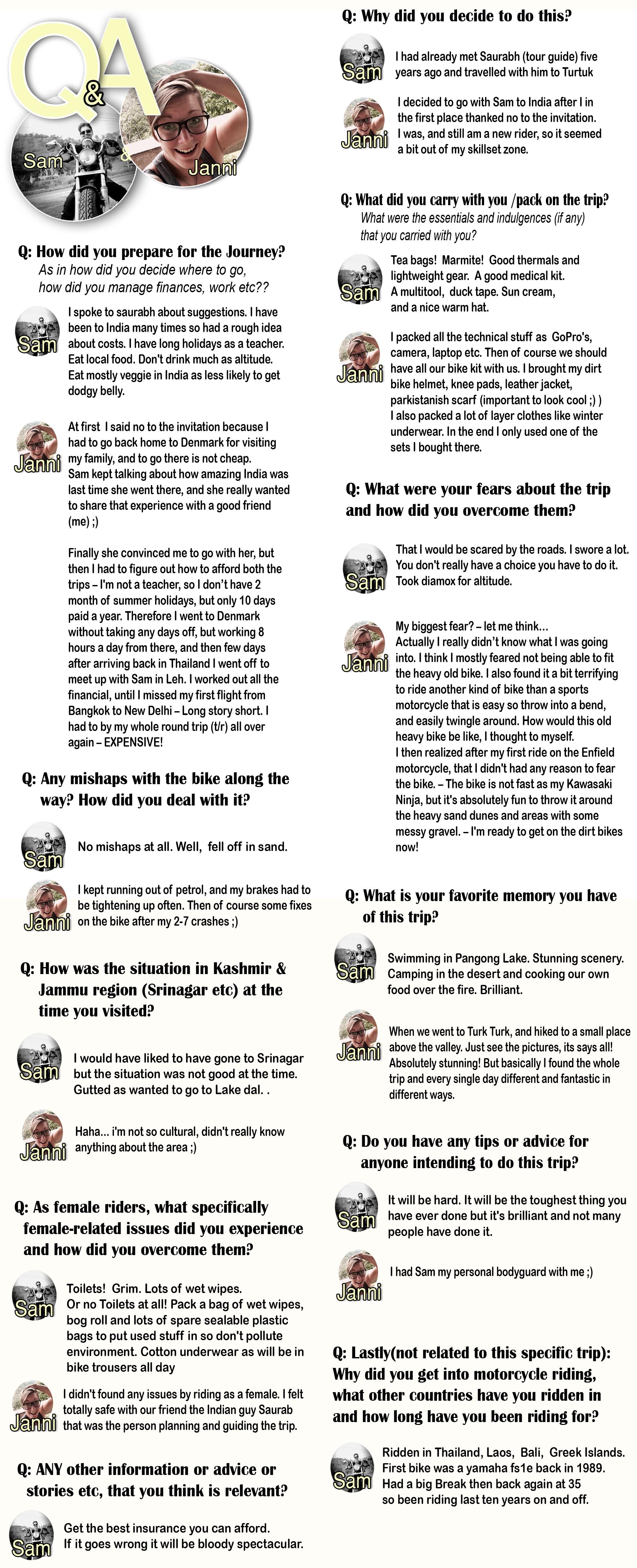 To end, I also connected with a few other ladies who have ridden this route, including a Singaporean lady who is traveling the world solo on a Vespa scooter! Her story is fantastic and you can read about her (and follow her) here: The Wandering Wasp
Here is a video she put together of this route:
I also connected with a lady who led the first all female tour group on this route.
There are plenty of adventure female riders, but it is still enough of a rare sight in Ladakh that locals will take photos and stare. Sam told me that she and Janni were treated like celebrities..haha!
All in all very inspiration and I am considering doing this route one day myself.


Have you ever been to Ladakh?
Would love to know! 😀