BORDER CROSSING GUIDE – Thailand into Laos – Chiang Khong Border (exiting Vientiane)
This guide is based on my crossing from Chiang Khong to Huay Xai on November 2017 and also on May 2018. I have successfully crossed into Laos at this border on two occasions. The first time was with my friend David Unkovich of Gt.Rider, the second time I was alone. The Chiang Khong border crossing is known to be a quiet and easy crossing into Laos. This report is based upon my Thai plated bike (Kawasaki dtracker 250cc). Note that new crossing rules stipulate that only 250cc and above are allowed to enter Laos so it is more likely that under 250cc will not be allowed to cross. Other crossing border point rules and stipulations may differ.
*UPDATE 2020* – There are reports of riders being asked to pay 2000 baht on the Laos side for private (non-tour)riders. This is not official, and they should not be asking for this fee. If possible, please try to stand your ground on this and not add to the extorsion. Additionally, there is a new QR Code system in place in the Laos side where you manually enter info for the visa and  for the vehicle permit, which you then pay for. Updated info on BOTH these new reports can be found on this page of the GTRider forum. 
STEP 1: DOCUMENTS REQUIRED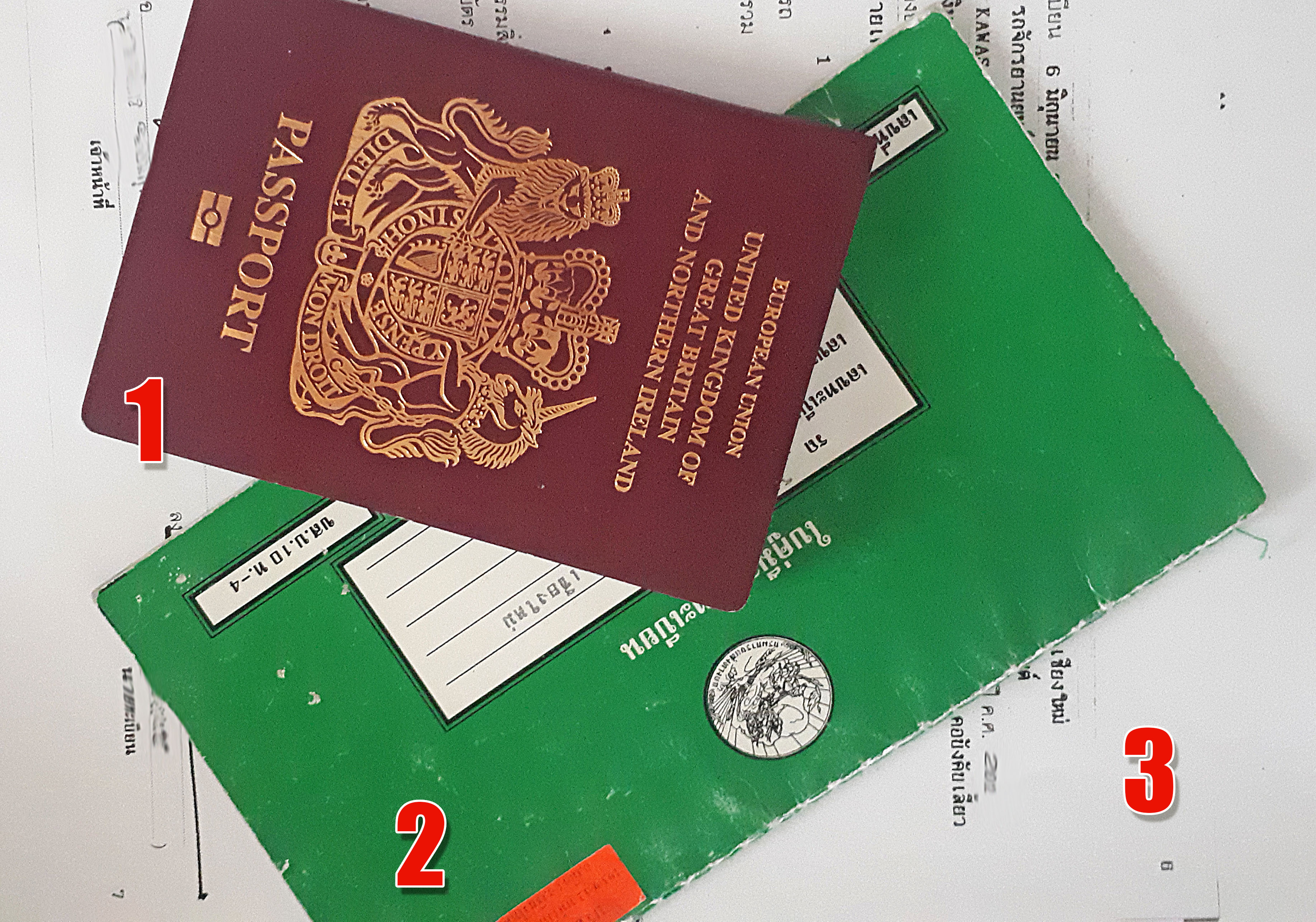 1: PASSPORT.** valid for at least 6 months
(normally you need 2-4 pages free in your passport as well, as a general rule.
I personally would not travel with less than 4 pages free).

2: ORIGINAL GREEN OWNERS BOOK.**
3: PHOTOCOPIES OF PASSPORT PAGE AND OWNER INFO INSIDE GREEN BOOK x 2 of each
4: ADDITIONALLY: PASSPORT PHOTO FOR LAOS SIDE
**This is the basics you need to bring. HOWEVER, I photocopied multiple pages of my documents, and photocopied all of them 4 times. Best to do this in case more documents are asked for or in case more than one copy is required. *NOTE* If you plan on exiting out at a different border, tell them you are not sure which one. That way you have the option to exit at any border point. 
STEP 2: PROCESS – THAI SIDE
(FULL VIDEO OF THE PROCESS IS POSTED FUTHER DOWN)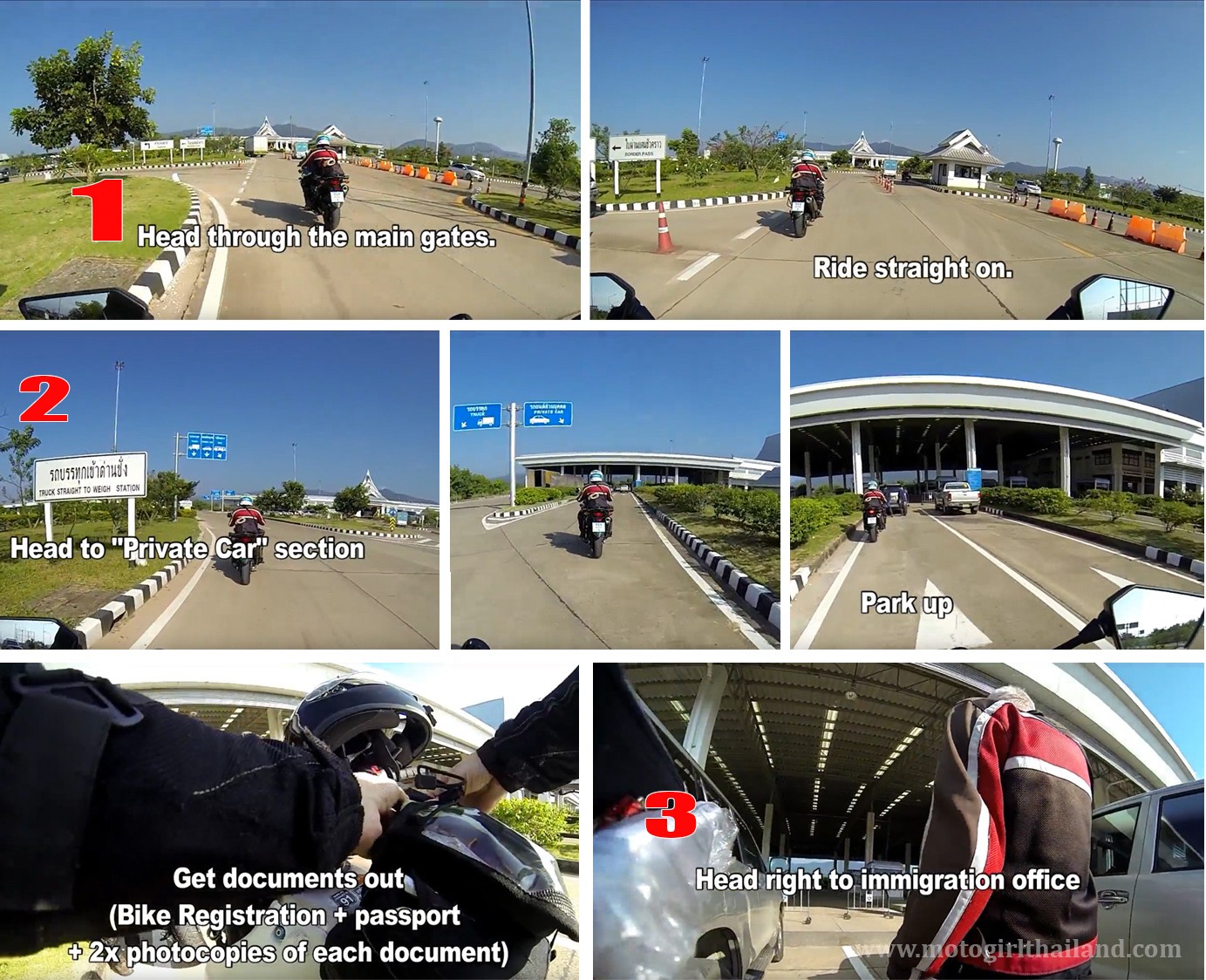 1: HEAD THROUGH MAIN GATES – Ride straight on.
2: HEAD TO "PRIVATE CAR" SECTION ON LEFT – Park up.
3: HEAD TO IMMIGRATION OFFICE ON RIGHT (with your documents)
Your documents will be checked and you will received the correct paperwork for exiting out of Thailand with your bike, this includes a TM2 form (and additional TM3 form, if you have a pillion passenger), plus a temporary export document for your bike. You will need to pay a fee of around 400 baht in total. 


1: HEAD RIGHT TO IMMIGRATION OFFICE
2: HEAD LEFT TO BOOTH 2**
3: HEAD NEXT TO BOOTH 3**

**Booth 2 and 3 may do all your documents in one booth. You will need to pay an addition 200 baht. You will be stamped out of Thailand and all bike documents rechecked and stamped.
LAST ADDITIONAL FEE ON THAI SIDE: Chiang Khong Immigration often request you to pay an additional 500 baht for a car escort fee across the bridge. Really this escort isn't necessary, but there is not a lot you can do about it. 

STEP 4: PROCESS – LAOS SIDE
Once over the bridge, head to the far right side and park up next to the barriers (remember that Laos is right hand drive, so need to switch over to the right).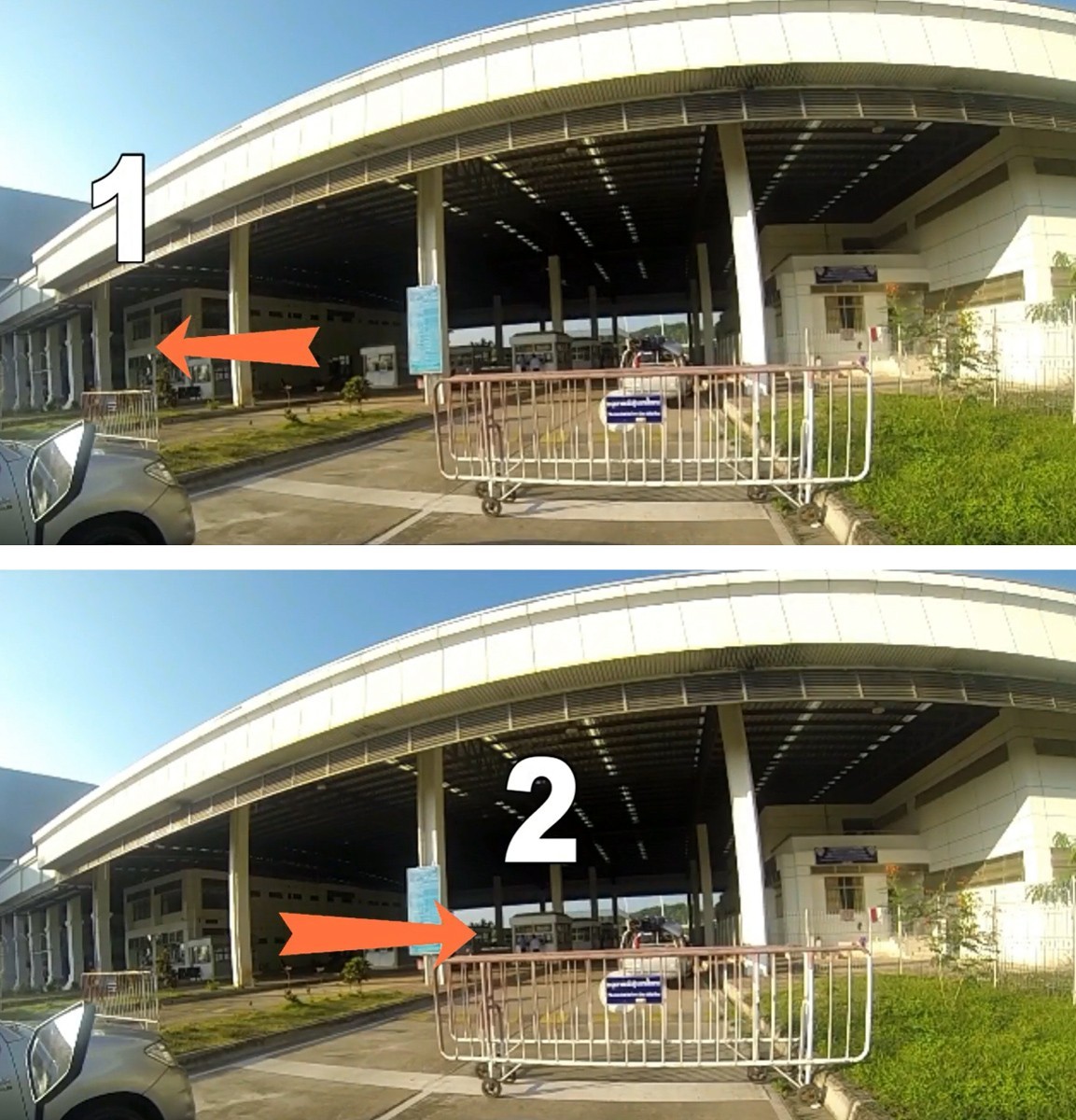 1: HEAD LEFT TO IMMIGRATION OFFICE – get Laos Visa (1500 baht)
You will need a passport photograph.

2: HEAD TO BOOTH 2 ("Private Car" booth) – get documents sorted out for motorbike.
(Additional 200 baht to pay at this booth)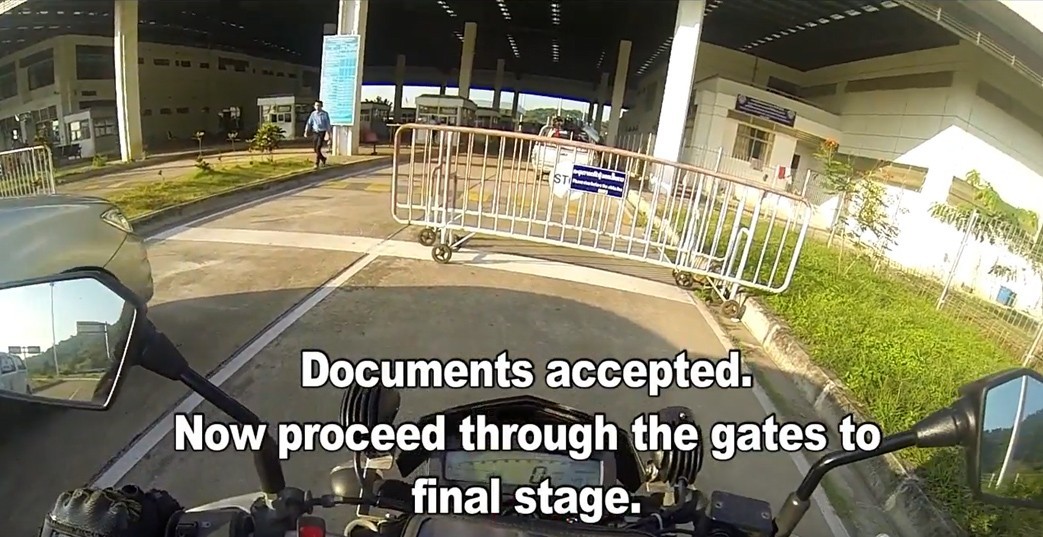 3: PARK UP ON THE RIGHT AND WALK TO BOOTH 3
(more fees of: 200 baht)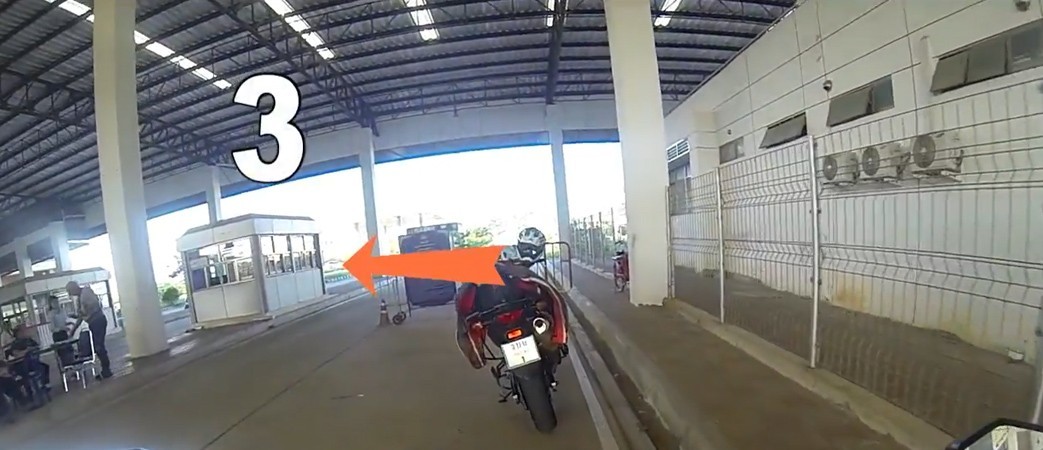 FINAL STAGE: If you require third party compulsory insurance, then walk up the stairs of the right side building. Here you can purchase insurance for a few hundred baht.
DONE! FREE TO GO.
*****
PART 2: EXITING LAOS BACK INTO THAILAND
Exiting from the same border is a fast and easy process, but so is exiting from another border. Just that some borders may be busier than others. When I exited out at Vientiane it was busy, but still a fairly straight-forward process. Just remember to have all your documents that you were given when entering, and you will be stamped out easily.
1: STAMPED OUT AT LAOS SIDE – documents checked.
2: STAMPED IN ON THAI SIDE – documents checked.
3: HANDED OVER DOCUMENTS FOR BIKE AT CUSTOMS AND SIGNED.
4: DONE!

Hope this helped. This was the process for me at this time, but may differ or vary depending on rule changes and possibly the mood of the officer!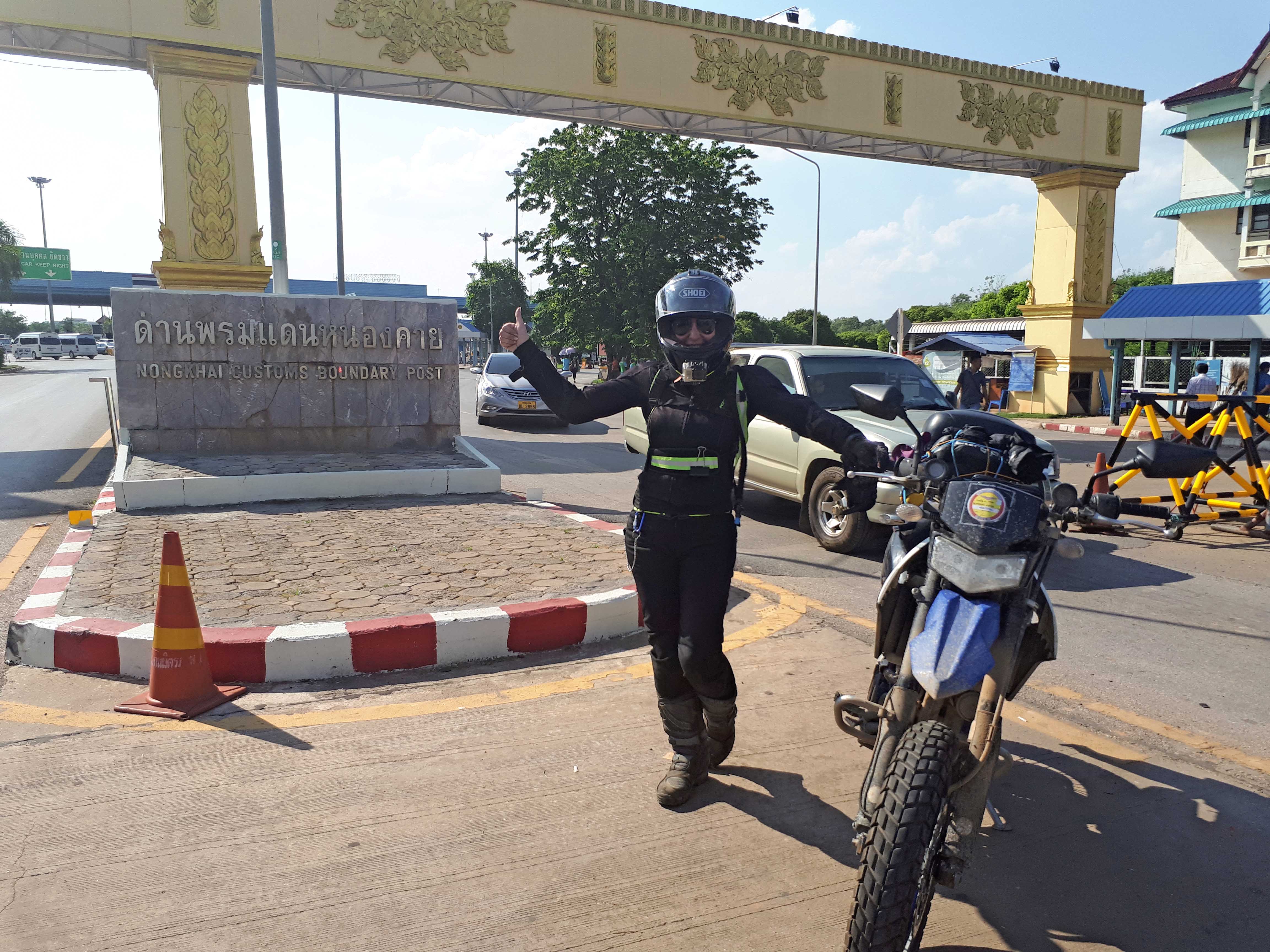 MY FULL TRIP REPORT FOR BOTH RIDES CAN BE READ HERE:
Good luck!