The Guardians of the Galaxy Ride! ( MHS & Bua Tong Sunflower Fields)

Yes, ok, a rather odd title, but will all become clear as to why soon ^^
This ride was initially a ride out for the annual GT.Rider Memorial Ride, a ride which commemorates GT.Rider.com fallen riders. A bit of background on what GT.Rider is about.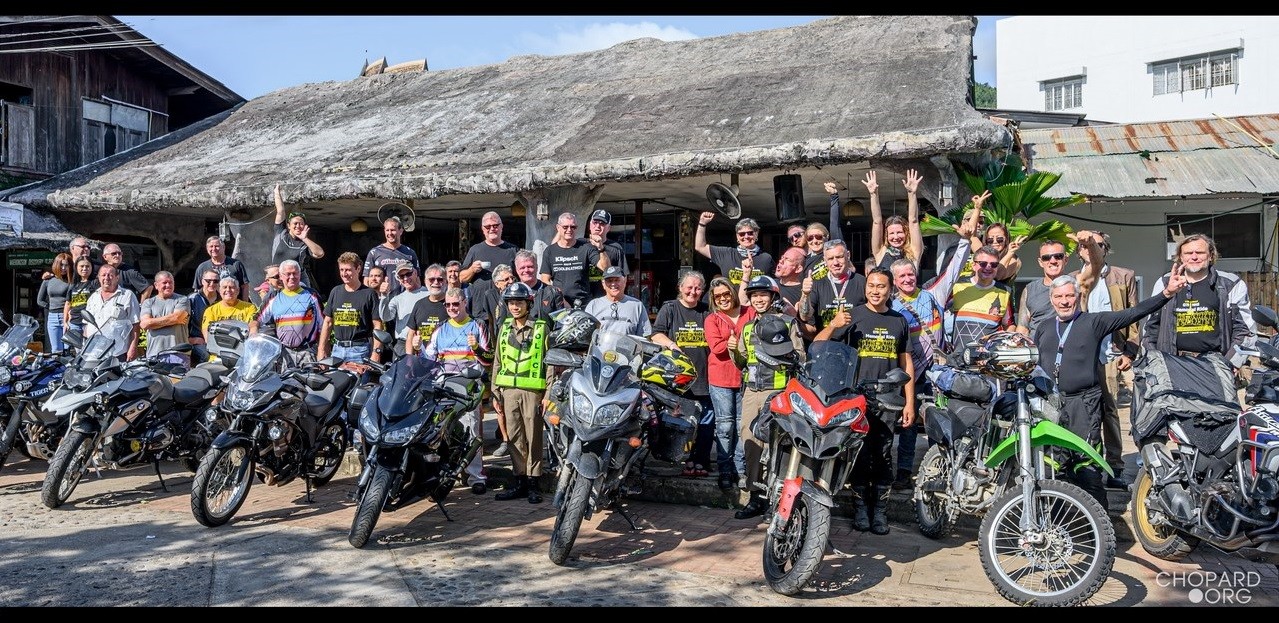 As for the Memorial Ride itself, this fantastic video from last year by Destination Thailand TV, provides information on what the ride is all about.
FULL LOOP (Google Map Link)DAY 1: Chiang Mai to Mae Hong Son
(Via Mae Sariang – Google Map Link)
This year the Memorial Ride saw around 60 riders joining in on the ride. The ride itself is staggered though, with many riders riding in small groups or solo, and just checking in/meeting up at the various destination points en-route to Mae Hong Son.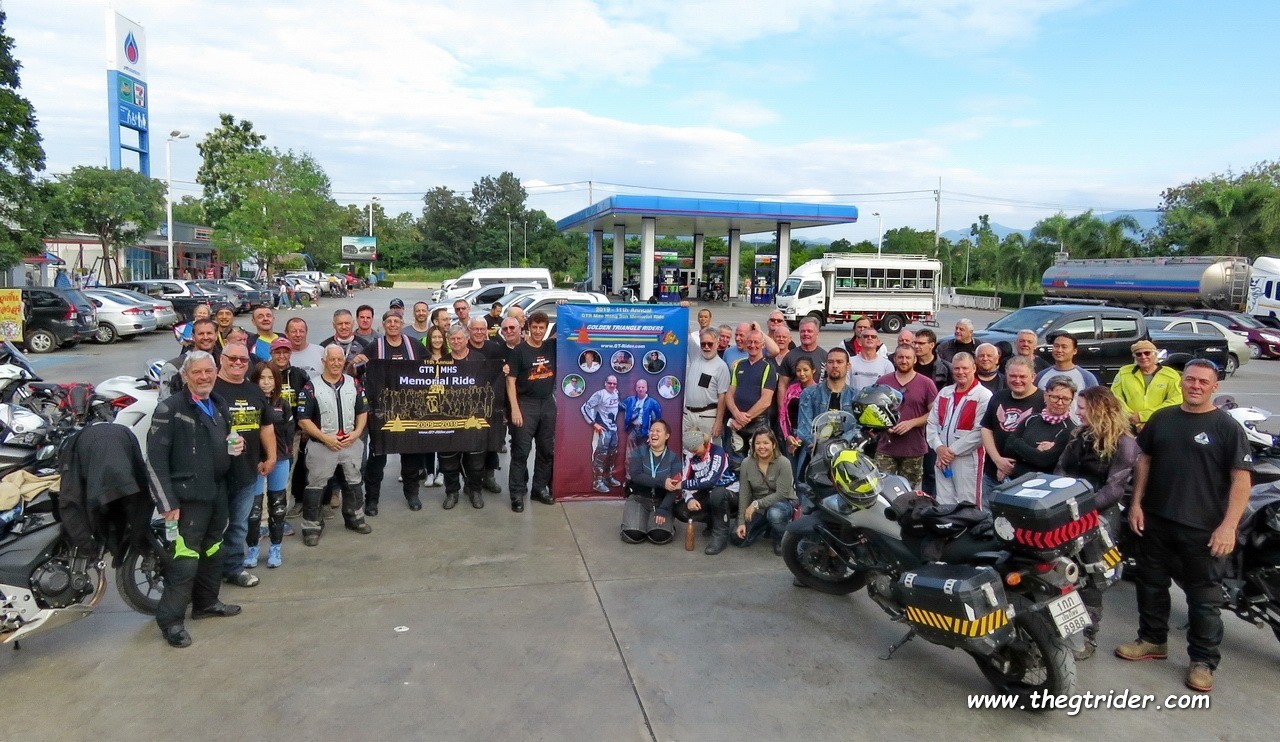 In Mae Hong Son we gathered together to ride up to Wat Phrathat Doi Kongmu, where we received a blessing from the monks and visited the GT.Rider Memorial Chedi, which rests high up inside the temple grounds.



After the ceremony was over, we checked into our respective accommodation and regathered for a fun night at The Sunflower Restaurant.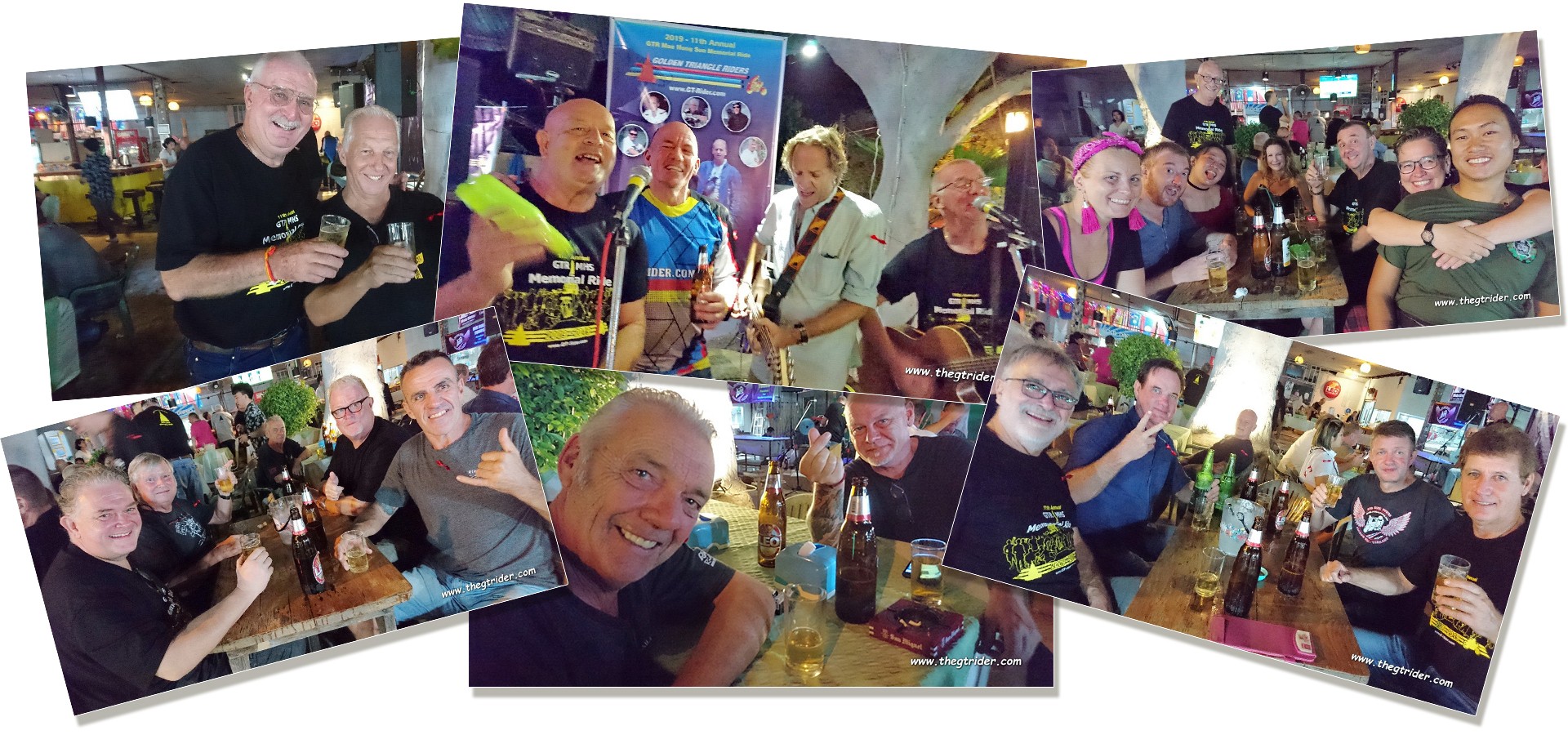 Just a short report on the Day 1 ride. I am not a big fan of huge gatherings in truth, but I respect the GT.Rider Memorial cause and the community spirit of the ride. I headed to bed pretty early whilst the party went on!
Day 2: MHS to Chiang Mai
(Via Bua Tong and Mae Wang – Google Map Link)
Day 2 began with a group photo meet up at 9:30am after breakfast. My initial plan was to ride the full loop via Pai, but I changed my mind when I found out that friends planned to ride to the Bua Tong Sunflower Fields.
I wasn't sure if the Mexican sunflowers would be in full bloom, but was worth a look (these flowers bloom once a year around this time). I had visited the sunflowers the previous year and found the scene very beautiful (that trip report, plus my overnight camping report at Mae Surin Waterfall is HERE). Addiitionally , the group planned to ride via the R4009 back-route, which was right up my alley! (I'm not much of a fan of the Chiang Mai-Mae Sariang-Mae Hong Son route. My bike and my style is more suited to tight technical twisties, so I found myself feeling a little drowsy and bored on Day 1 as one predictable curve followed another predictable curve. (I know, I am spoiled).)
Ok, so, let me start off by explaining why this ride is titled The Guardians of the Galaxy Ride….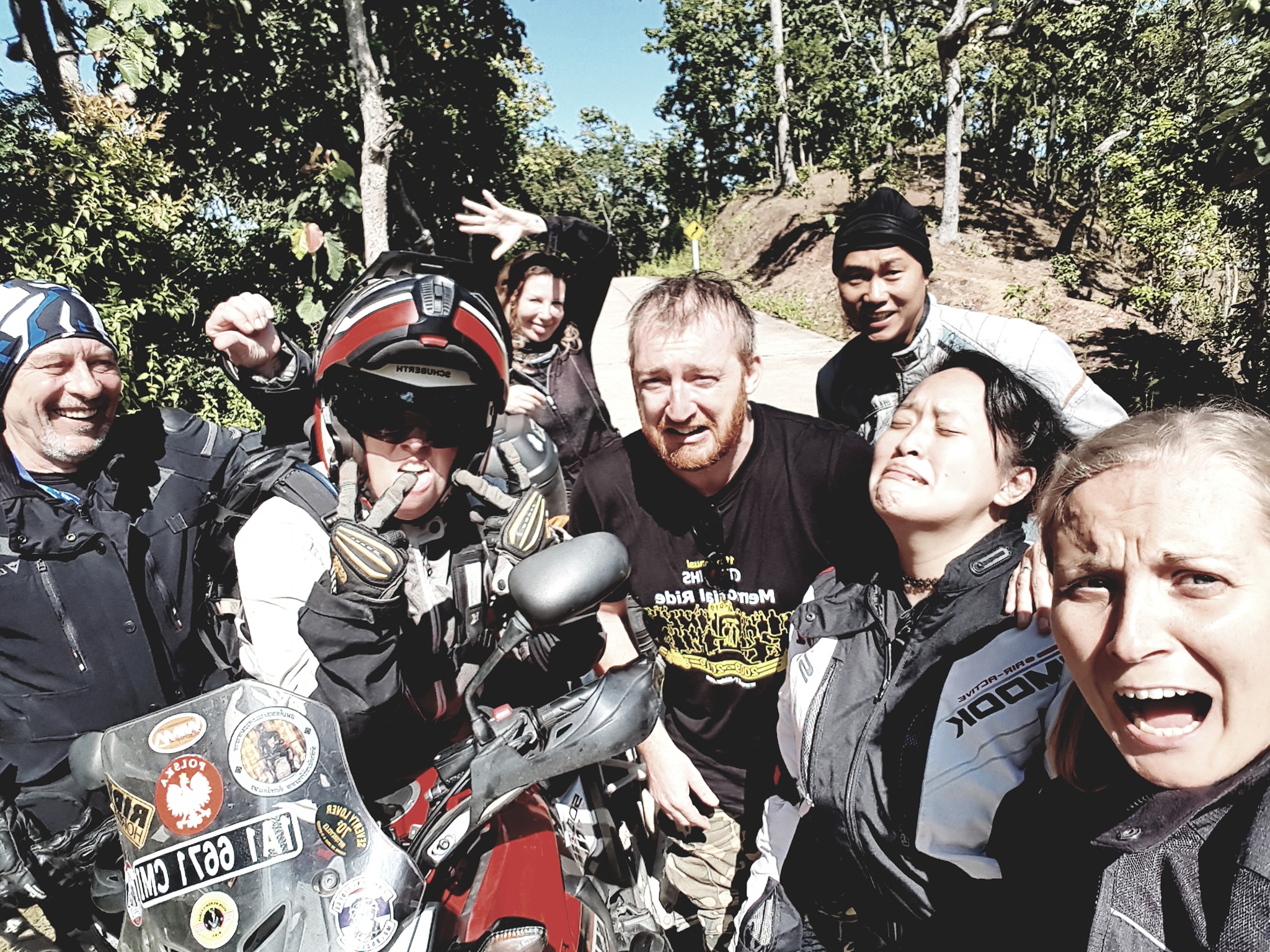 Early on in the ride my friend Adam noted that Sam, in her red modular helmet, looked a lot like Judge Dredd. Cue some giggles.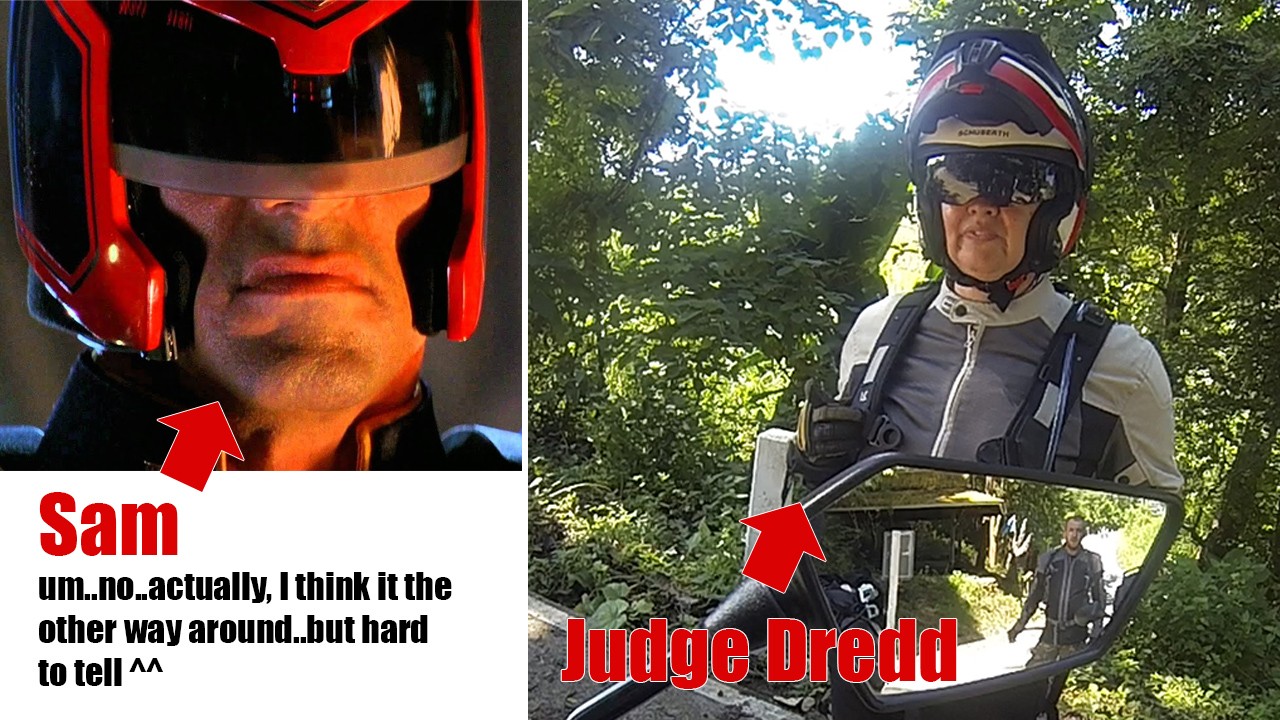 ..and, as we were riding along, all of us on different styles of bike with varying degrees of riding abilities and experience, I reflected that we were a right ole Motely Crew of riders. I real Guardians of the Galaxy kind of bunch of riders. The kind of group that you wouldn't normally put all together under normal circumstances, but yet somehow the group just clicked! Haha!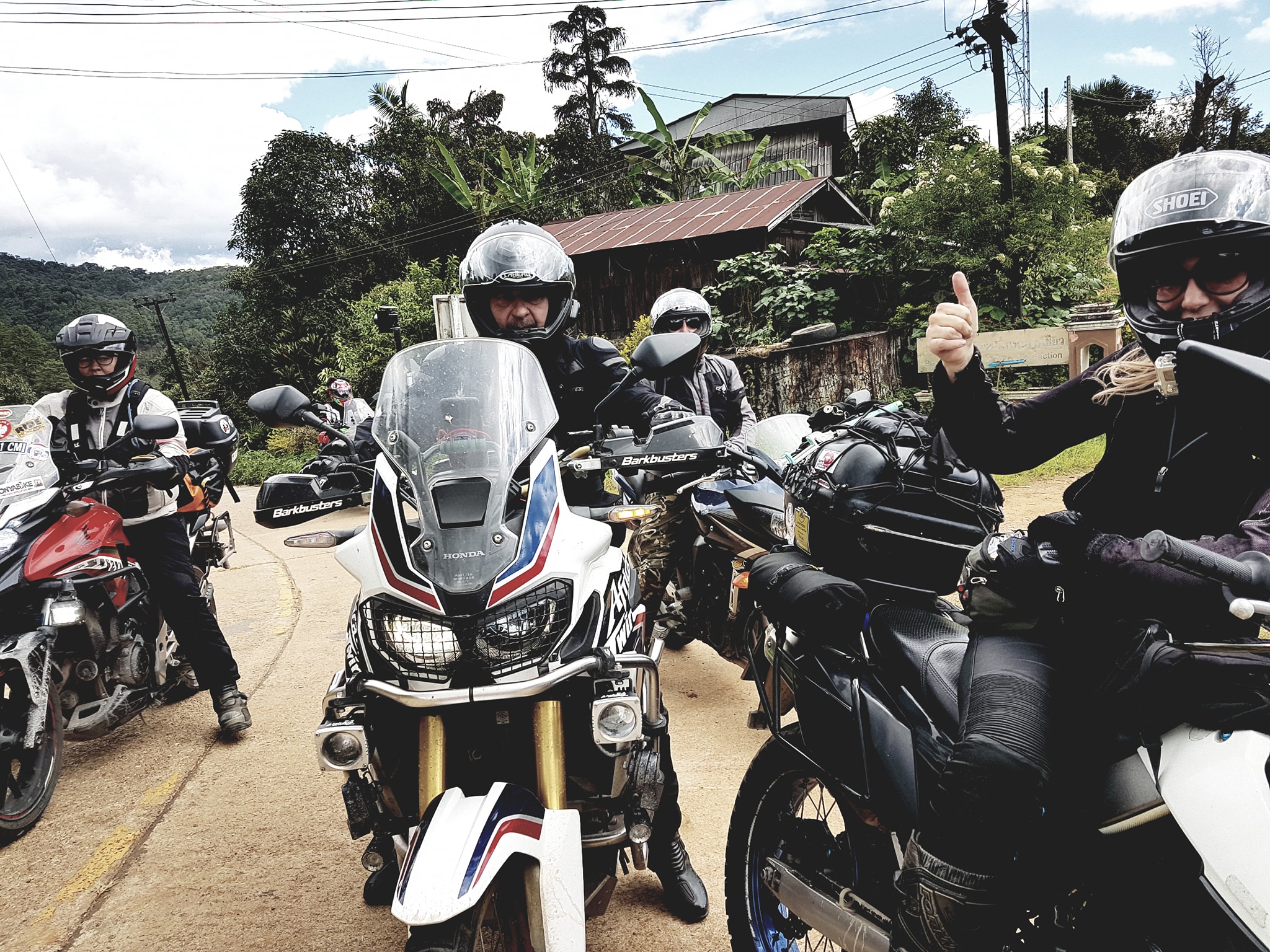 (Most of the following photos were taken by Agnes Wdowik and Aof Krabue – many thanks!)
There was no ego on this ride. It was fun all the way, with total respect for each others comfort levels and riding abilities. I am comfortable on this kind of route with my bike (which is set up for roads like this), thus this was a fun ride for me. But, there have been previous times when I have been very much out of my comfort zone (especially on dirt), so I had respect and empathy for anyone not comfortable on this route. Also, when uncomfortable it means you work so much harder than everyone else, both mentally and physically!
The first stretch of road was straight forward, but when we reached the R4009 junction, things started to get exciting from the get-go. Steep inclines and hair-pin bends! I loved it!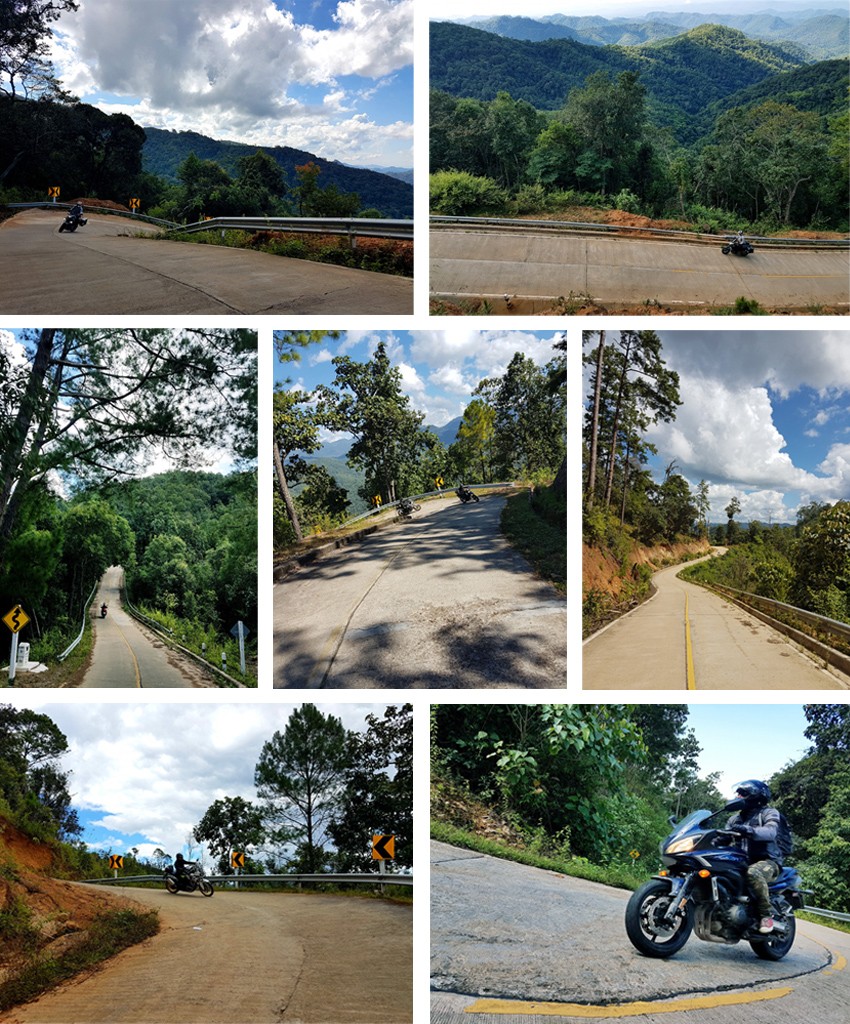 However, I was REALLY concerned about a couple of the riders in our company. Concerned that they would struggle on this kind of road. We pulled over thinking we would need to tell the group to turn around, only for them to come up around the bend smiling!
Nice one!!
We carried on for a bit on the technical climb, then pulled over at the first long level patch of road to check in on everyone and see if all is ok. All was good, thankfully..and a silly victory dance took place. Haha.
We hit the road again and carried on a fantastic twisty route that just kept on climbing and snaking around the mountainside. Glorious! At one steep blind corner we encountered a whole herd of cattle, which required some fast responses on the bike!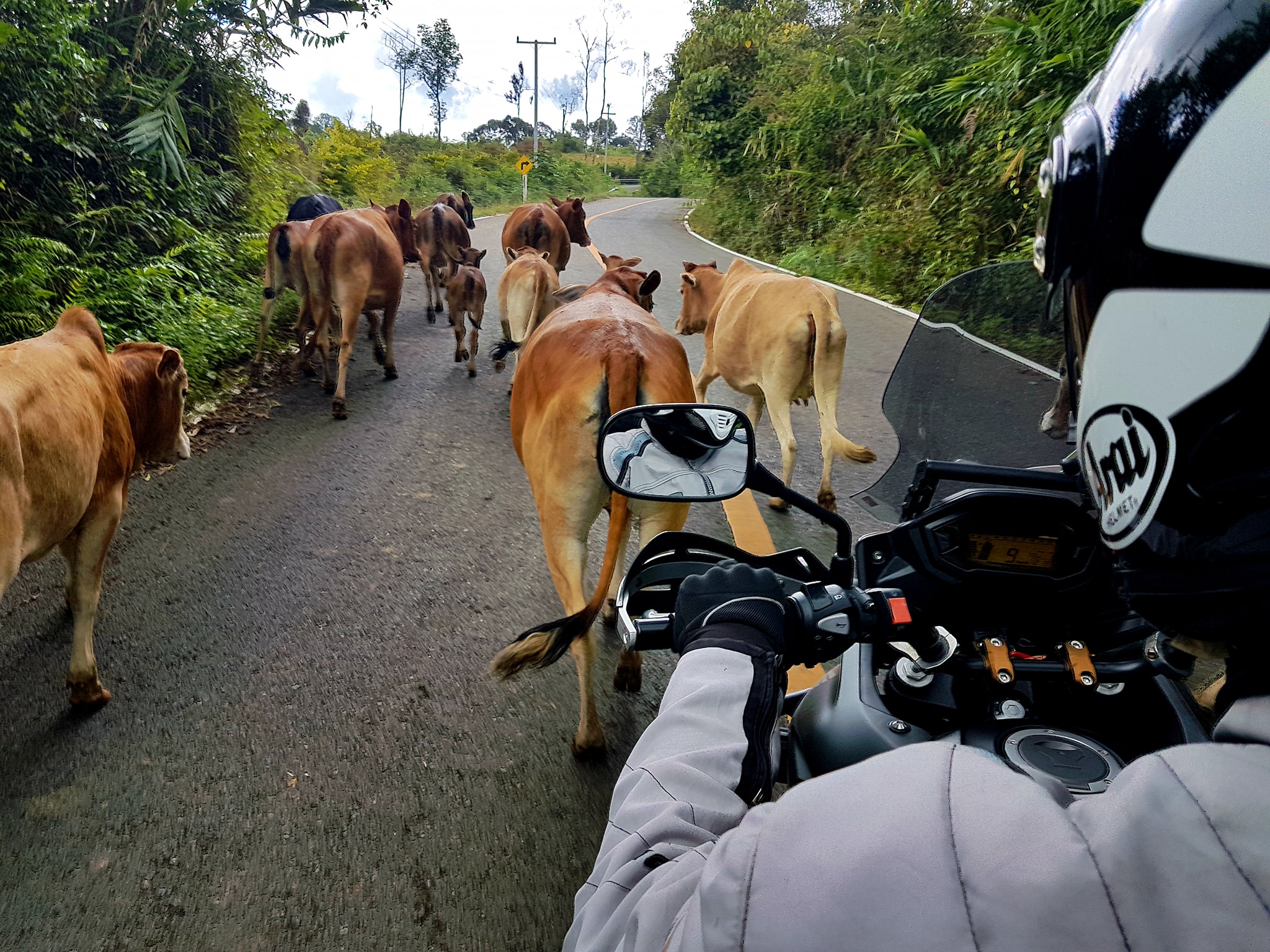 This really is a fantastic road, and if you like twisty mountain routes and great viewpoints, then stick this one on your must-see list.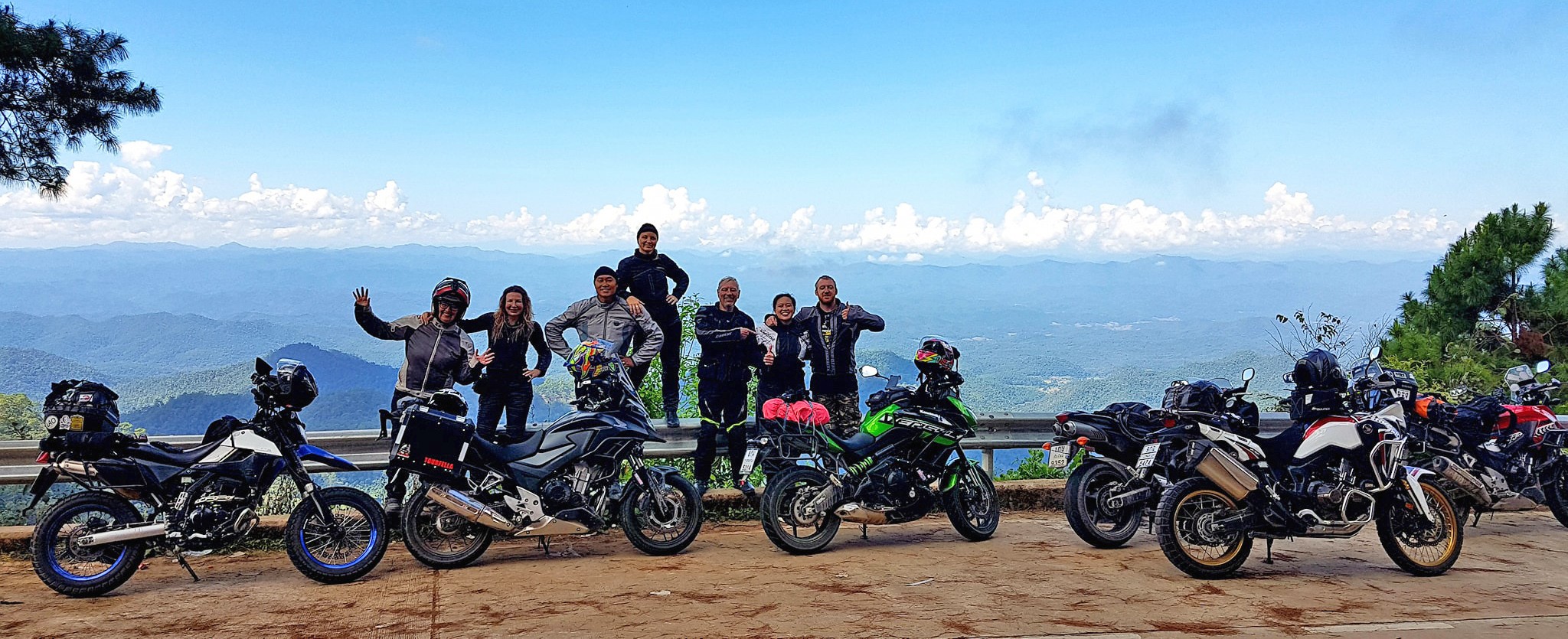 It has everything you could want, including a very pretty lake.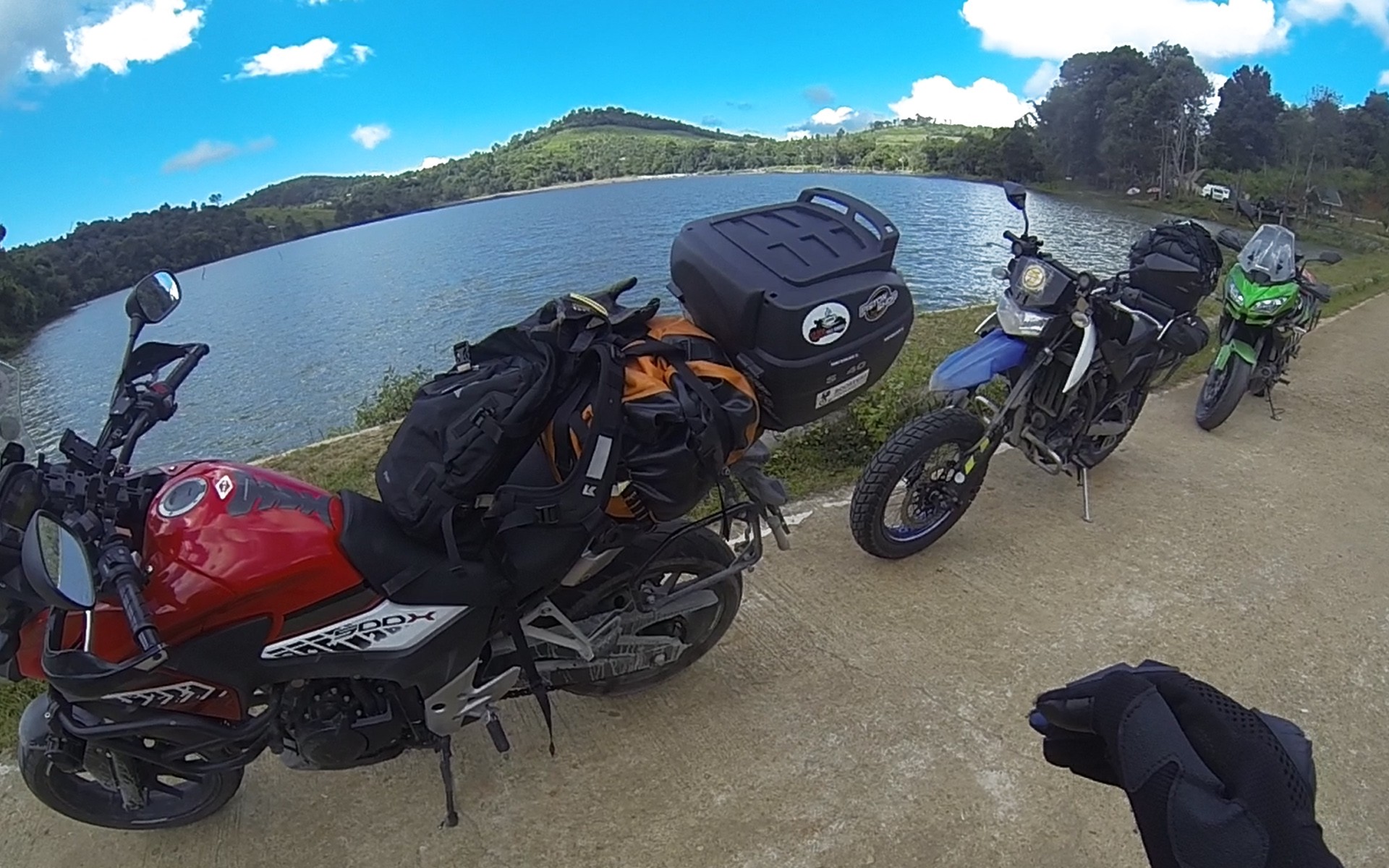 Mae Surin waterfall is pretty too, but for some reason was closed that day. Not sure why. I camped there without issue the previous year.
We headed on instead to Posaho Cafe' and enjoyed some coffee and refreshing drinks..
..and a few fun photos.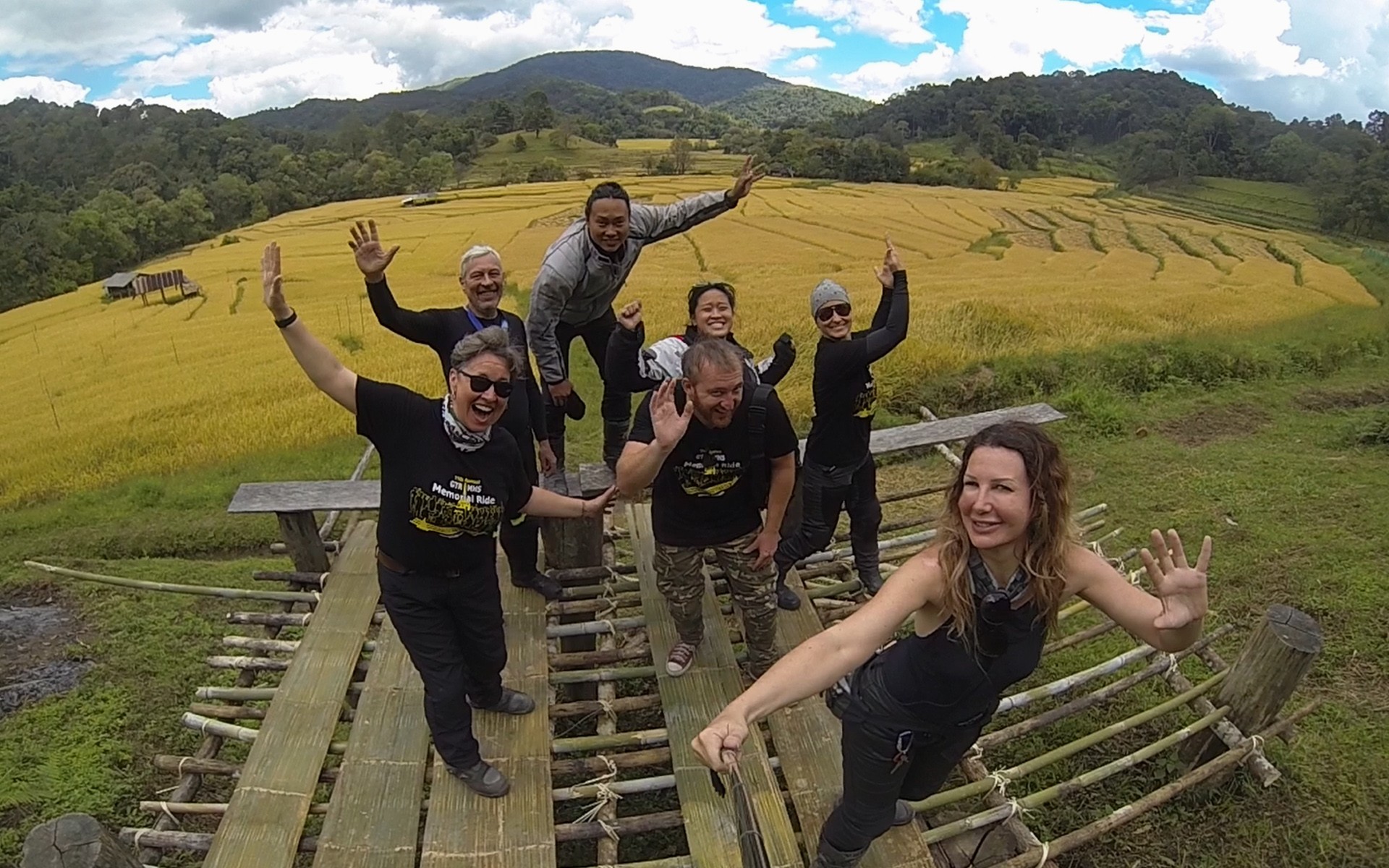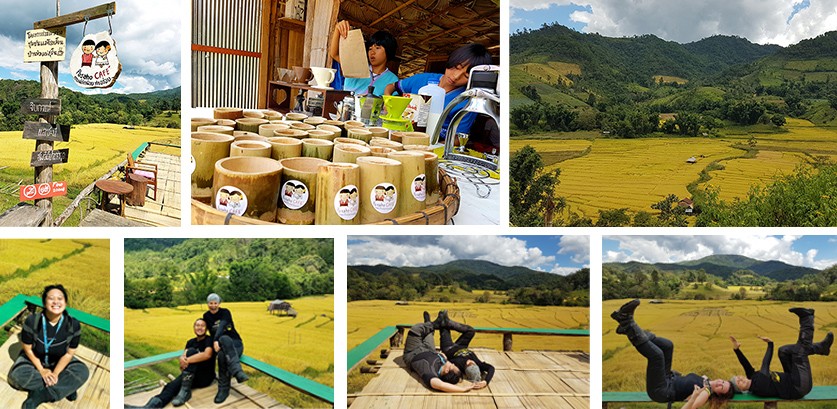 After enjoying the view we headed to the stunning Bua Tong Sunflower Field. Which was in full bloom!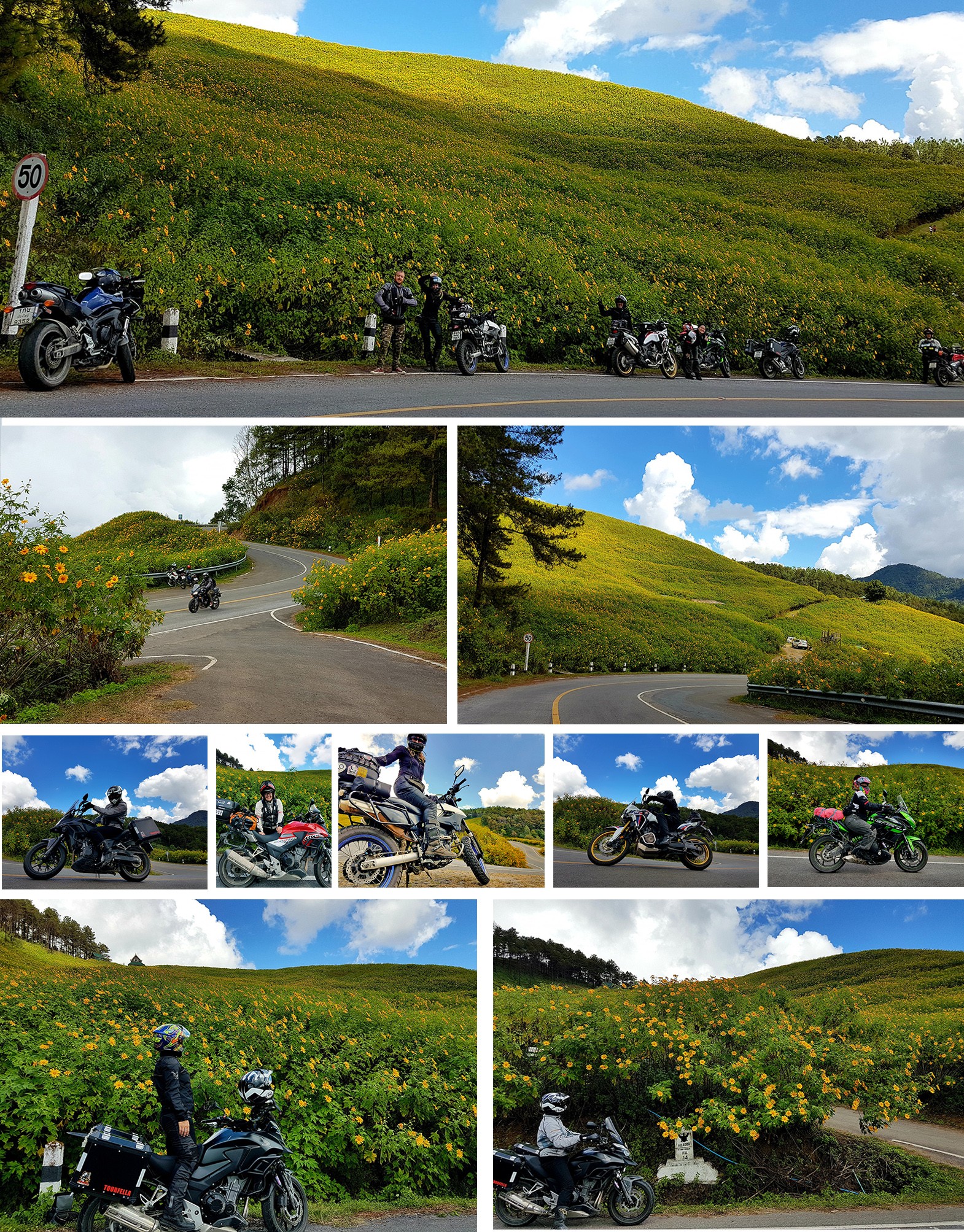 After enjoying the sunflowers we headed to the R1263 junction, in order to ride back to Chiang Mai. I needed petrol, however, and thankfully I knew of a self-service petrol pump from my ride the previous year.
Funny story about this petrol pump. Last year I put in money and the damn thing wouldn't give me out any petrol! I went to tell the shop owner and he came out to the pump, gave it a hard thump, and then the petrol came out! So, when it happened yet again this time around, I figured I would just give it a thump, because yet again the stupid machine took my money but wouldn't deliver any fuel. Cue a young local family coming to watch slacked jawed at the crazy foreigner women slap the bejesus out of a self-service petrol pump. Haha!

I explained why I was hitting the machine, and then the young father came and joined in to help me, thumping the heck out of the machine. This resulted in the petrol coming out. So funny!


This video from the previous year:
I rejoined the group and we stopped for a spot of lunch at a local roadside eatery. The food was pretty good, but the toilet facility not so much…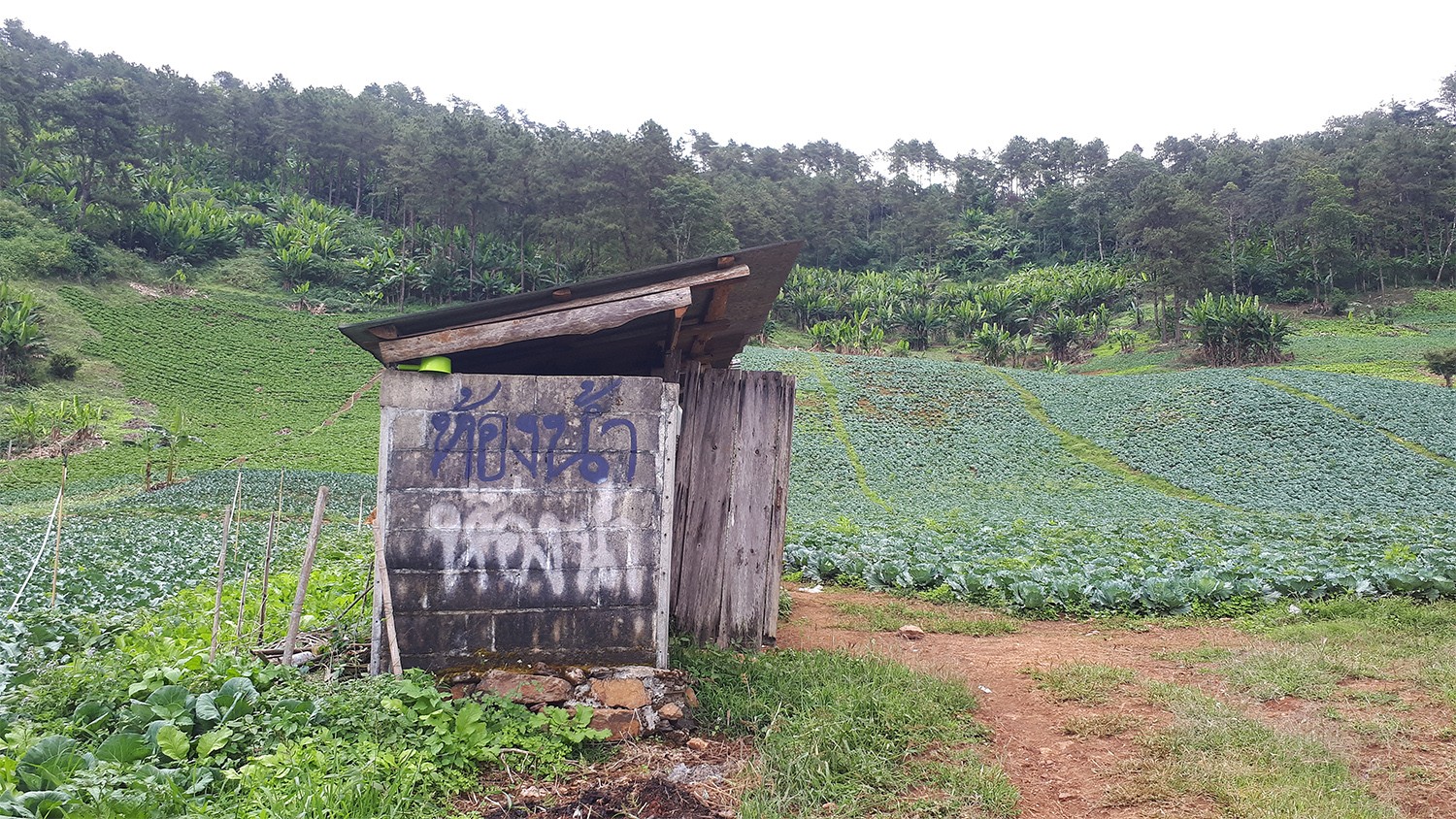 After eating we rode solidly until the Doi Inthanon checkpoint area. One on section of road I got a bit wobbly, with it being the site of my bad accident some years back. Each time I ride the route the odd frightened feeling gets less and less, but it is still there, unfortunately.
By the time we reached the checkpoint was already pretty late (around 5pm or so), but the temptation to ride the longer Mae Wang way was strong. In the end the group (except for myself and Dominque) chose the main R1009 then R108 route to Chiang Mai. Dominique and I decided to take the longer route, knowing we would probably be riding in the dark in the end. Which ended up being the case, but worth it!
All in all a fantastic trip, and one for the memory banks. I don't often ride with others, so this was an interesting and fun change of scenery. What is lovely, is that there were no inflated egos, just smiles and jokes and support. Very heart warming 🙂 Many thanks to the Guardians of the Galaxy crew for a fun and enjoyable group ride!
Short video compellation of the ride:
As an aside, Dominque, who has lived in Thailand for almost 2 decades, is not only an amazing motorcycle rider with tons of adventures under his belt, but also an incredible patisserie chef and baker! His shop is renowned in Chiang Mai for exceptional bakery products. Get your bakery fix at his shop! Dominque Bread.



Hope you enjoyed this trip report. 😀
If you did, please Like / Subscribe ! ♥
FACEBOOK
INSTAGRAM
YOUTUBE

..and if you feel exceptionally generous, then you can donate into Paypal or you can sponsor me through my Patreon Account.
Every little counts! This will go towards better equipment, website hosting, etc. Thank you ♥ 🙏