Ao Nang & Island Tour – 10 years in Thailand, never seen an Island!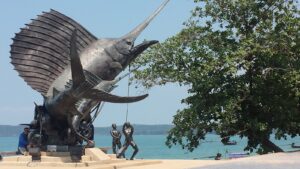 Finally (after nearly 10 years living in Northern Thailand) i FINALLY visit the south!
Just a flying visit really.
Arrived at approximately 4:15pm (Wednesday 6th April) and departed at approx 7:15 two days later (Friday 8th April).
*NOTE* if you want to skip the Ao Nang impressions and go straight to the 7 islands Sunset Tour review, click here.
DAY 1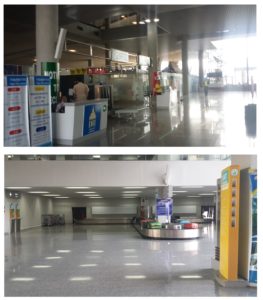 Starting from Krabi Airport:
Krabi airport is small, but has a fair few visitors, so maybe I was just lucky that it was very quiet upon my arrival. (I flew budget with Air Asia)
Transport from Krabi to Ao Nang:
Two main options seem to be Shuttle Bus costing 150 baht (at time of posting). The shuttle bus will drop you at your hotel, but gets pretty packed so will likely be a while getting you there.
The other main option is private taxi costing 600 baht (at time of posting). Good value if you have a group as the taxi seats 10 or so people. Takes around 20 – 30 minutes.
(I had good Karma that day because i got a free taxi ride due to helping someone out. Always pays to be nice!)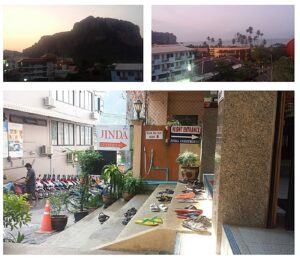 Hotels / Guesthouses / dorms / etc: As i was arriving late and didn't wish to have to search for accommodation, i pre-booked online via Agoda. I was rather bummed at missing out on an opportunity to stay at the Centara Anda Dhevi for a reduced cost (a manager friend in Chiang Mai knows the manager of Centara, but sadly they were fully booked on my dates), so i decided to go Cheap Charlie and seek a simple experience. I got one… I stayed at Jinda Guesthouse, which had good reviews on Trip Adviser. The price for a fan room was 367 baht (but if you just turn up its only 300). Shared bathroom. I forgot to take photos but basically it was a hot room with no view and a dingy small shared bathroom. Im no "princess" but i don't think I'll do shared bathroom or dingy backpacker style again in a hurry, if i can help it. Jinda also does rooms with aircon, so i assume they were much nicer (and a fridge too, apparently). Well anyway, it was an experience. I also get the feeling the whole island isn't cheap, so i recon expect to pay in the region of 800 range for basic and higher for something nice. You can get dorms and shared bathroom places for the 300 range, but no frills and possible bedbugs etc…. "Up to you", as they say. You can of course choose to stay on neighbouring islands instead.

Scooter rental:
Again, i did a bit of research beforehand and Wan rentals kept coming up as honest and fair. They charge 200 baht a day and have a range of scooters. They were also right on the doorstep of Jinda Guesthouse, making it very convenient. I decided to just go ahead and rent a bike for the whole three days, even though I likely wouldn't fit in much riding. I just didn't want the bother of taxi "mafia" etc.
No discount given for 3 days. (Im Scottish. We always check for these things! :p)
Found out where the nearest petrol station was (a few km up from the rental) and filled her up.
*SCOOTER RENTAL TIPS*:
Always take photos of your bike in front of a staff member (to minimize any possible issues later on).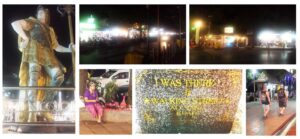 Check brakes, lights and indicators and I suggest check your tire pressures. In general should be around 18 to 24 psi for the front tire and 28 to 36 psi for back.
Ao Nang at night: I was basically out at the tourist strip of Ao Nang. Initially i rode on the scooter up and down the area to get a basic feel for the place, then parked up across from the coastline in the main strip (Center Point). I walked around and checked out the shops (which basically all sell the same things pretty much).
I noted that a great deal of shop and restaurant owners seemed not to be Thai. Seemed Middle Eastern? I'm not sure. At one restaurant, whilst checking out the menu outside, a waiter/greeter ask me what food i like to eat and i named a Thai dish. He didn't understand and so i asked him if he knows Thai language. He didn't. I get the feeling many around there maybe can't. Was strange to me. Anyway, I don't like pushy wait staff or shop owners (and most were frankly), so i settled on the first decent place that i was left to peruse the menu at. I ordered a prawn dish and although the prawns were plump and delicious, i wasn't impressed with the sauce. I think its because the dishes are for a more general palate and i am used to authentic spicy flavorful Thai food. Thai would call the dish จืด, which basically means bland.
After dinner i decided to walk a bit before heading back, so headed for Center Point and Walking Street. In Chiang Mai (where i live) walking streets are huge, so I was surprised when i entered walking street only to walk a few meters and come out of it again! Its not quite what i imagined and a long walking peruse was seemingly off the cards that night. I walked around the area a few times including walking along the beach front (the sound of the waves was very nice). 
I also checked out a few tour agents but settled on calling one i had previously found online: Andaman Sea Travel. They offered a good price for a Hong Island + 7 island Sunset Tour (1200 baht including lunch and dinner – but not including island fees). Booked with them over the phone and they arranged a pickup for the morning at my hotel. Bought myself a big bottle of water and drove back to my room for an early night. 
I'm pretty sure Ao Nang stays open till the early hours because people are in party/holiday mode. Judging by the noise many of the guests made coming in at 2am and 3am, im pretty sure Ao Nang has a nightlife. Just didn't see for myself, so i cannot say for sure what it is like.  
DAY 2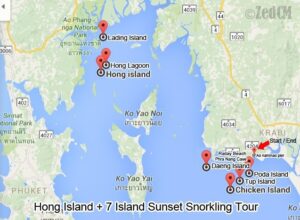 Hong Island + 7 Island Sunset Tour:
To make things easier i made a separate trip report here
After i got back from the tour with a nasty case of sunburn (gahh stupid me!), i decided to just get myself some aloe vera and icecubes and get an early night. I was knackered from the long day and im not much of a bar person anyway. Spent the next couple of hours back in my room taking the heat out of the sunburn.
DAY 3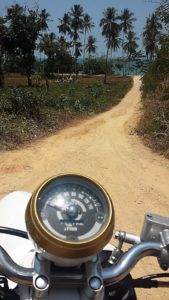 My plan of getting up early and doing either another tour or explore went out the window when i awoke to the reality of some badly sunburned skin. The wisest plan of action was to drench myself in aloe and cover up. I went back to sleep for a bit until i packed up and checked out at 10:30am. Jinda kindly allowed me to keep my bag stored in their locker for pickup later and so i hopped on the bike and went for a ride around. I was determined to get some of my moneys worth out of the bike rental. Ended up riding to Nopparat Thara Beach and a few other areas and getting through just over half a tank of petrol before deciding to head back. Oh backtrack, i also had a coffee in Ao Nang before riding. I have to say that i was really surprised by the lack of coffee shops in Ao Nang. Mainly because im used to living in coffee-shop-central Chiang Mai. Chiang Mai is coffee shop mad and the selection is enormous, from simple streetside coffee vendors (real coffee as well as drip and instant) to fancier venues and 24 hour businesses. So having to SEARCH for a coffee shop was a new one on me. I did find a nice looking one next to Starbucks but the coffee was rather bland for me. At 130 baht it made me balk too. Especially seeing as my regular coffee place in Chiang Mai, which serves really nice coffee, is only 35 baht! So, not quite my cup of tea. …er, i mean coffee.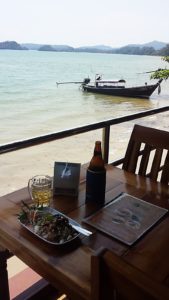 After the bike ride i headed for some food and went to Nang-An Seafood restaurant.
I enjoyed the ยำทะเล (seafood salad) but the staff in general were surly. Afterwards i took a stroll along the beach.
By then it was time to head back to return the bike and set off for the airport. Returned the bike with no issues and inquired about transport to the airport. Karma is kind again and after speaking with the owner in Thai she wavered my taxi fee. She told me no fee because i rented a bike that i returned early, that i speak Thai and that i am lovely and polite..(so again, it always pays to be nice!) Left with a smile on my face as i got picked up by an aircon taxi and sent on my way.
Krabi airport has no wifi. It pretends it does, but it doesnt, lol. You cant self check in either. But it does have coffee shops, so im happy. Went though the whole check-in, x-ray, waiting, boarding malarkey and was happy to be heading home. I do wish that i had more time, or rather that i hadn't got sunburn and made better use of my time, but i was still happy to be going home.
On the flight i got caught short and had to use the bathroom. I was in the window seat and had to disturb the couple next to me to get to out. You would have thought by their reaction (verbal as well as vibe) that i had asked them to donate me a kidney. I even apologised, but was met with disgusted looks. I will keep this blog polite, but some phrases are going through my head…
The irony is that after disembarking i saw them asking people about where to get a taxi etc and looking generally lost and confused. I could have helped them, but I didn't. I left and got on my bike that i had parked up in the airport carpark. I admit that i felt a little bad, but "สมน้ำหน้า!" they say in Thai. "Serves You Right!". See… it always pays to be NICE! (which they weren't! ..but maybe i was also not nice for not helping..and now my good Karma will go….:( )
Overall impressions:
Seafood fresh but best when prepared simply.
LOTS of tourists
More costly than the north
Stunning Islands
Island Thai language sounds funny and sing-songy
Locals look an interesting Malay kind of mix-look
Coffee shops thin on the ground (this is obviously a big thing for me lol)
Sun protection def required!