CM> Doi Inthanon >CM (scooter trip)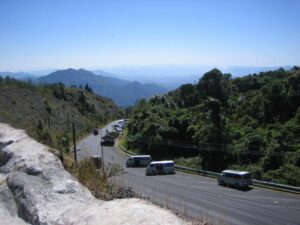 Doi Inthanon is a fantastic day ride from Chiang Mai. At 2,565 metres above sea-level Doi Inthanon is part of the Himalayan mountain range, and is the highest point in Thailand.
**I have a full guide to Doi Inthanon HERE**
There is also overnight accommodation available in the National Park, but as i haven't stayed overnight I cannot comment on that. Definitely might do this one day though.
One thing to note about Doi Inthanon though is the double tier pricing, which is common across Thailand. Thai citizens pay a much lower price than foreign tourists to enter the National Park. This may seem fair enough, but this rate is supposed to include those with documentation proving they live in Thailand. Unfortunately, it isn't quite as clean cut as it should be. For, even if you hold the correct documentation (work permit etc) and live in Thailand but have Western features, you will likely find yourself being refused the local rate. It's a bone of contention for many… but lets leave that one for now.
If you do decide to pay the 300 baht entry fee (150 for children, 50 for Thai) then you wont be disappointed. It really is very scenic. I was lucky the day I went to the mountain, because they accepted my Thai driver's license and gave me the local rate. I think this has all changed now though.
When you do get there you can explore the mountain via walking trails, visit waterfalls, visit a local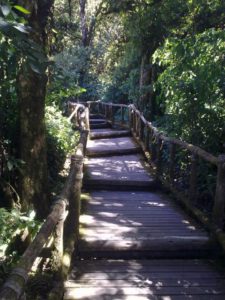 hill tribe village, and visit Brichinda Cave (which is worth the visit in itself).
If you do decide to visit, would love to hear your stories and reviews also. So please comment below.
Have a great trip! 🙂

Additionally: This trip was just a few months after my accident, I remember feeling rather manly in my new gear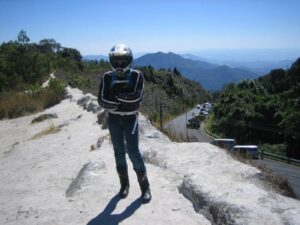 and a little silly having such hardcore gear for a scooter ride. This gear was a gift and I am very grateful and helped give me confidence to get back on my bike. I have since upgraded the jacket to something a bit cooler and more feminine. Will update with links to a gear review when I have it.