Chiang Mai > Mae Sai > Mae Salong > Chang Dao ( + restricted area -Myanmar border)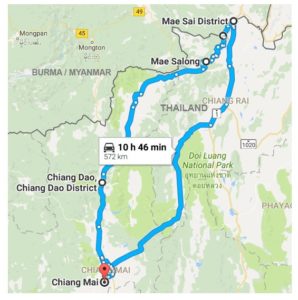 Overnight moto trip: 
Chiang Mai to Mae Sai, Mae Sai to Mae Salong (via a restricted area), then down to Chiang Dao and a slight detour around Pha Daeng way. (Mainly because of going off track on a scenic agricultural route and getting a bit lost!).
Day 1: Chiang Mai > Mae Sai > Mae Salong.
Took the direct 118 highway to Chiang Rai then onto highway 1 up to Mae Sai. This route is pretty much just a long monotonous busy road and I always aim to get it over with as quick as possible. At Mae Sai I stopped in for a quick border visa crossing then headed to the 1149 restricted area road, which runs along the Thai/Burmese border. (google map link)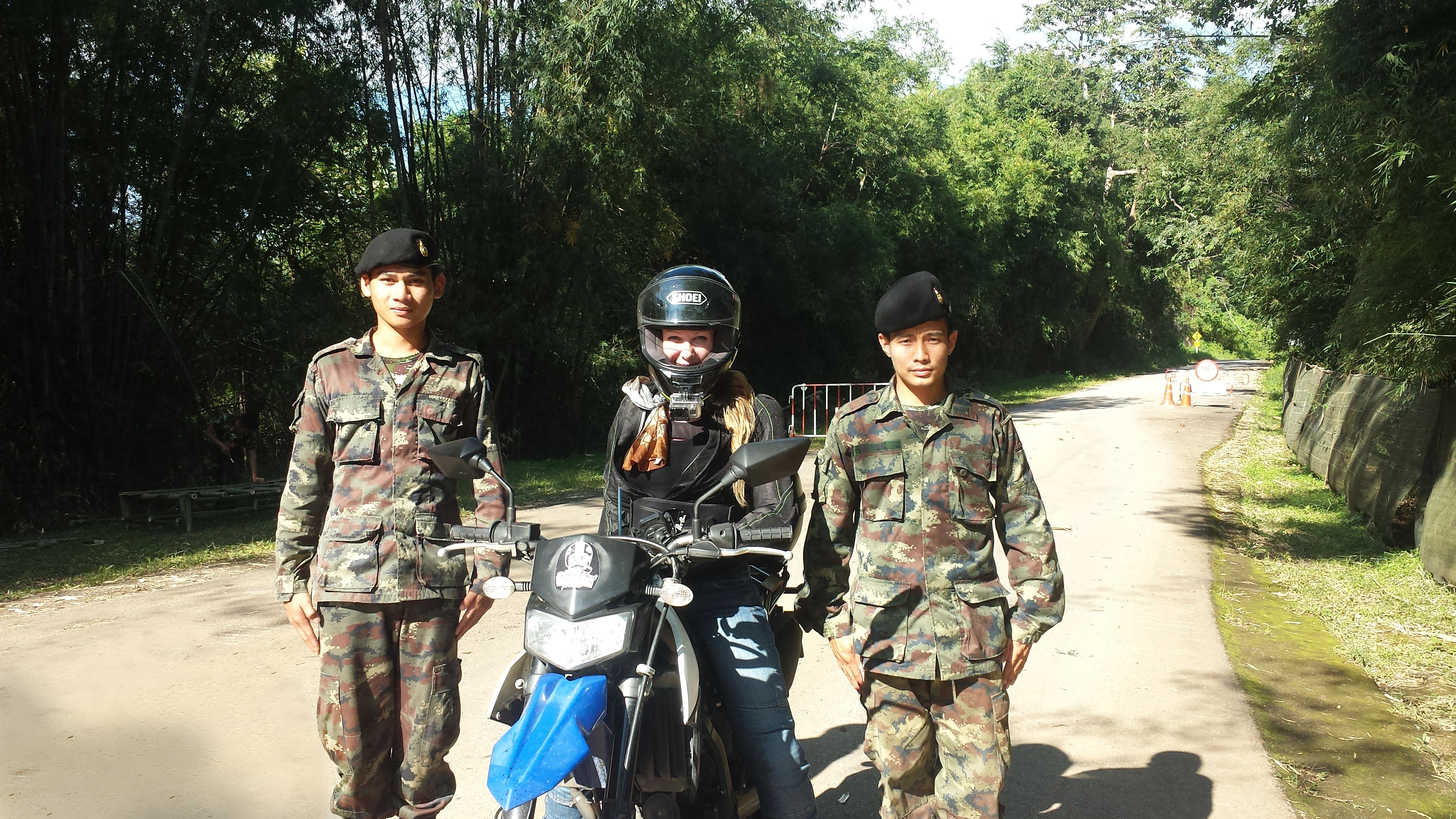 (There are only certain times you are allowed into this zone. I was lucky that day and got in. If i find out what the times are, i will update. Also, if taking this road, don't forget to take your passport/ID. There are a couple of checkpoints and you need to show ID.)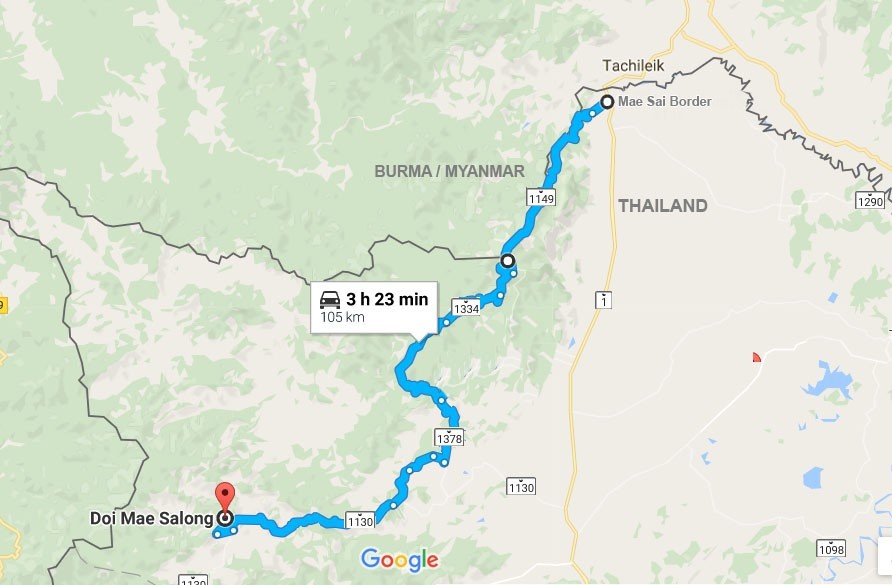 The road along this restricted border zone is stunning. Pretty much no one on this road. The 1138 to Mae Salong is also stunning. Some video footage of the craggier steeper road sections:

By the time i came out of the restricted access zone and nearing Mae Salong, i was overheating a bit. It was a long hot day and although I was wearing a mesh armour jacket (and a Camelbak bladder), i was sweating. So I took the opportunity to cool down i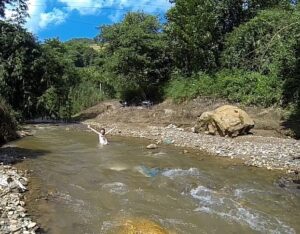 n a nearby stream.
(as an aside I have a neat Camelbak/armadillo armour hack combo trick: video here)
Loads of butterflies at this stream and the stream itself was cool and flowing. I nearly lost a pair of flip-flops Ive had for around 8 years that i love. I watched the stream carry them off on its current, but, determined to get them back i launched myself after them, and got them back…haha! Yes, i really DO love those flip-flops that much…
Feeling refreshed I carried on to Doi Mae Salong.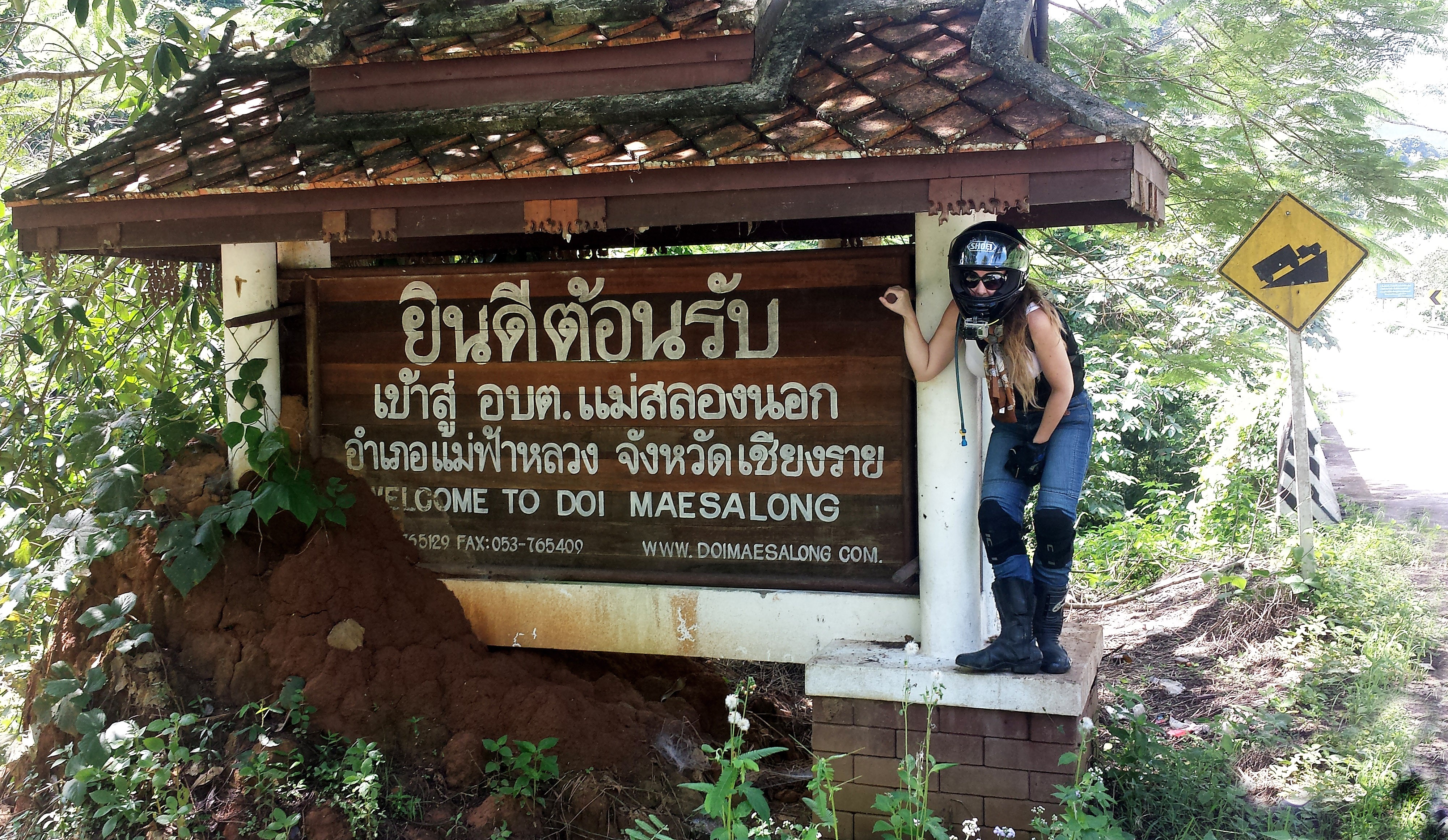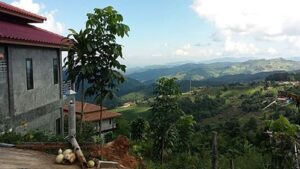 Phumaktawan Resort:
I shouldn't really complain about the accommodation I chose in Mae Salong, because it was beautifully scenic. However, the buildings on the resort are all semi-detached and the connecting walls are really too thin. So unfortunately when a rather noisy family with a rather noisy child with a penchant for noisy tv viewing came to stay next to me, my idealistic accommodation became a little less rosy. It is always great to stay somewhere beautiful but my main priority is always a good nights sleep over and above anything. I didn't sleep as well as I had hoped.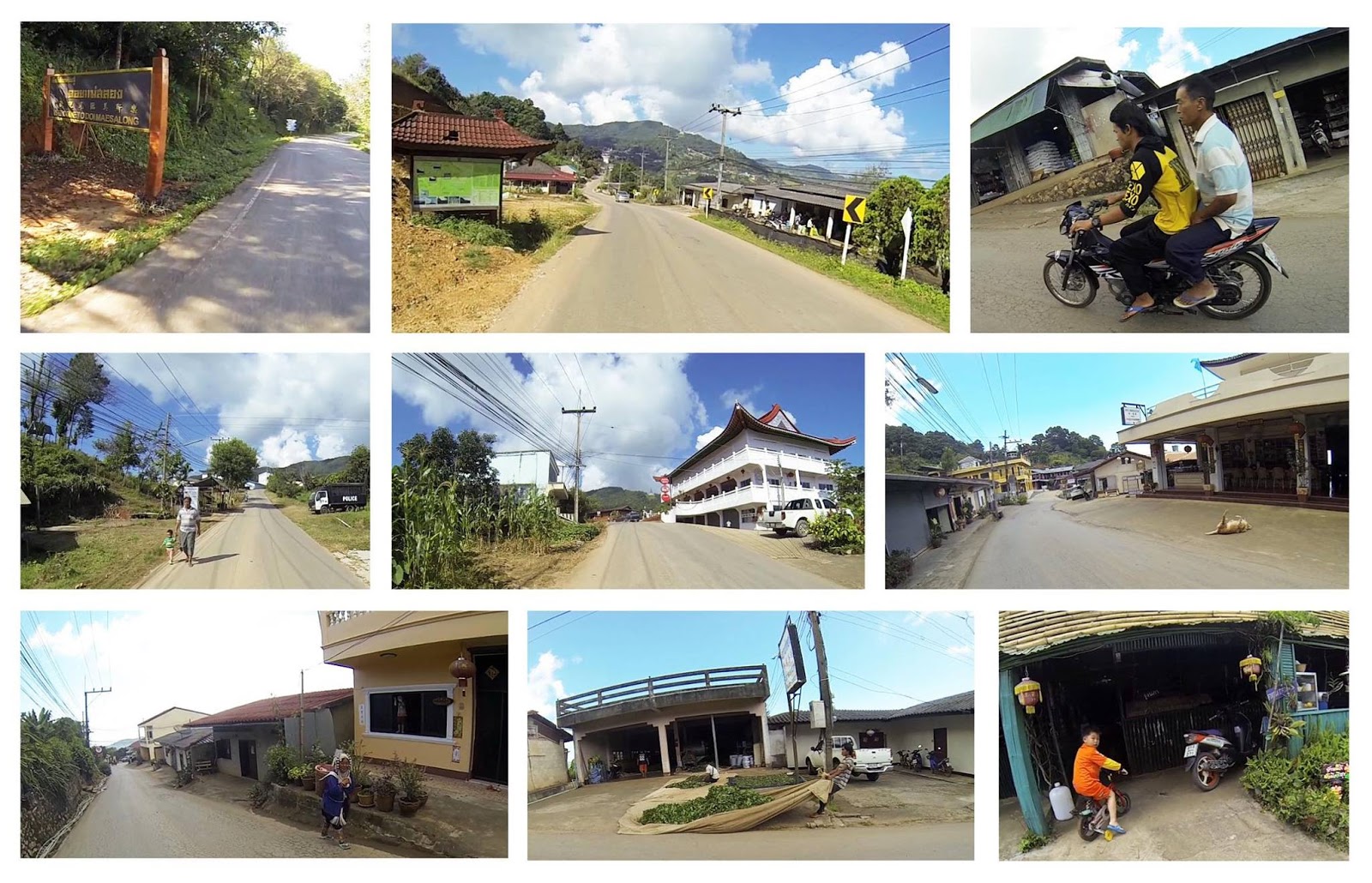 ..anyway, Mae Salong itself is a very interesting place. The locals are ethnically Chinese and the main language is Yunnanese. Really doesn't feel like Thailand much at all. Food-wise there isn't a great selection really (imo), but you wont go hungry. There are even 7/11's(!). As a coffee lover I made my way to Sweet Mae Salong, which had great coffee, great cake and a great view. They even provide binoculars. I also recommend the beautiful temple at Mae Salong, which offers stunning views. Don't forget to have some tea too, something the region is famous for.
Day 2: After breakfast and checking out later than planned, I made a start towards Chiang Dao. Was a nice easy route down the 107, so much so that i had time to kill before heading to Chiang Mai, so took a detour onto a rural road. Turned out to be a really beautiful agricultural route with practically zero vehicles around. In the end I got a bit lost trying to head towards Chiang Dao, and although my GPS said one way, two sets of locals said another. So, I decided to ignore the GPS and go with the locals directions..which did actually land me at Chang Dao. Would seem that if i went via the GPS i would have arrived at Doi Ang khan..which i would have liked, but it was getting late and i wanted to get back to Chiang Mai that day. Will need to investigate that route more later and find out for sure where the other route ends out at.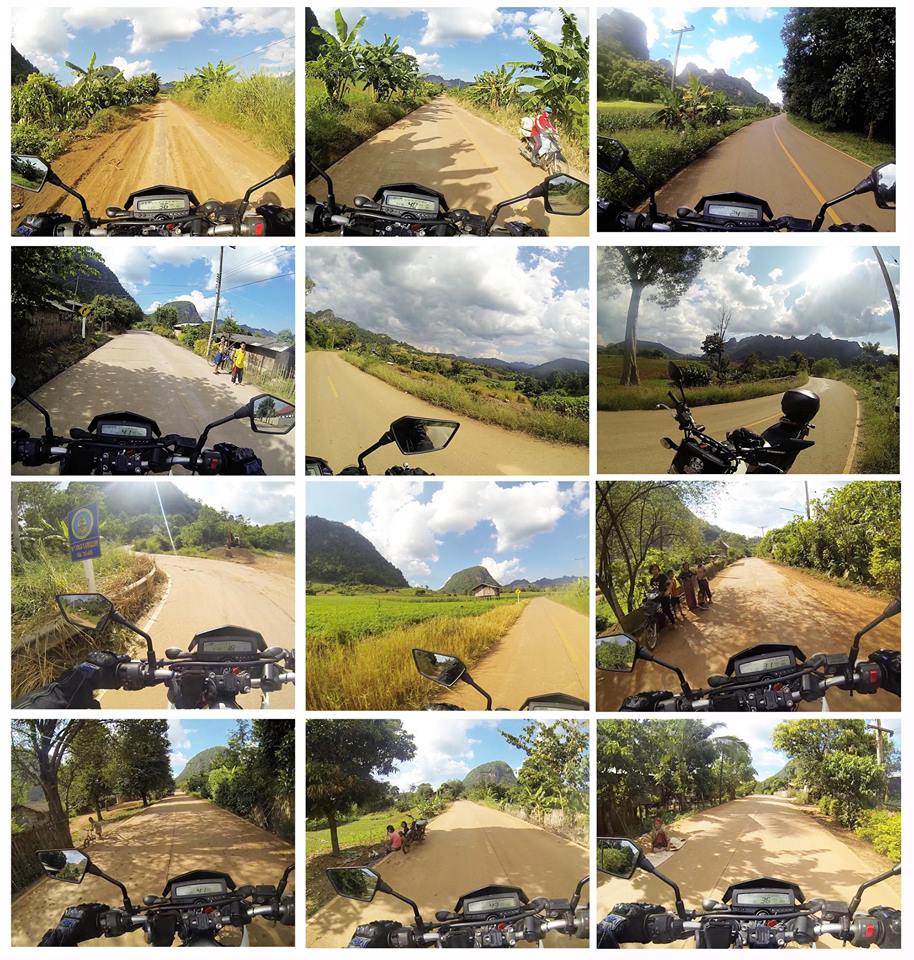 Stopped off at Chang Dao Nest resort for a cool drink, then headed back to Chiang Mai
Got home later than i hoped, but feeling good.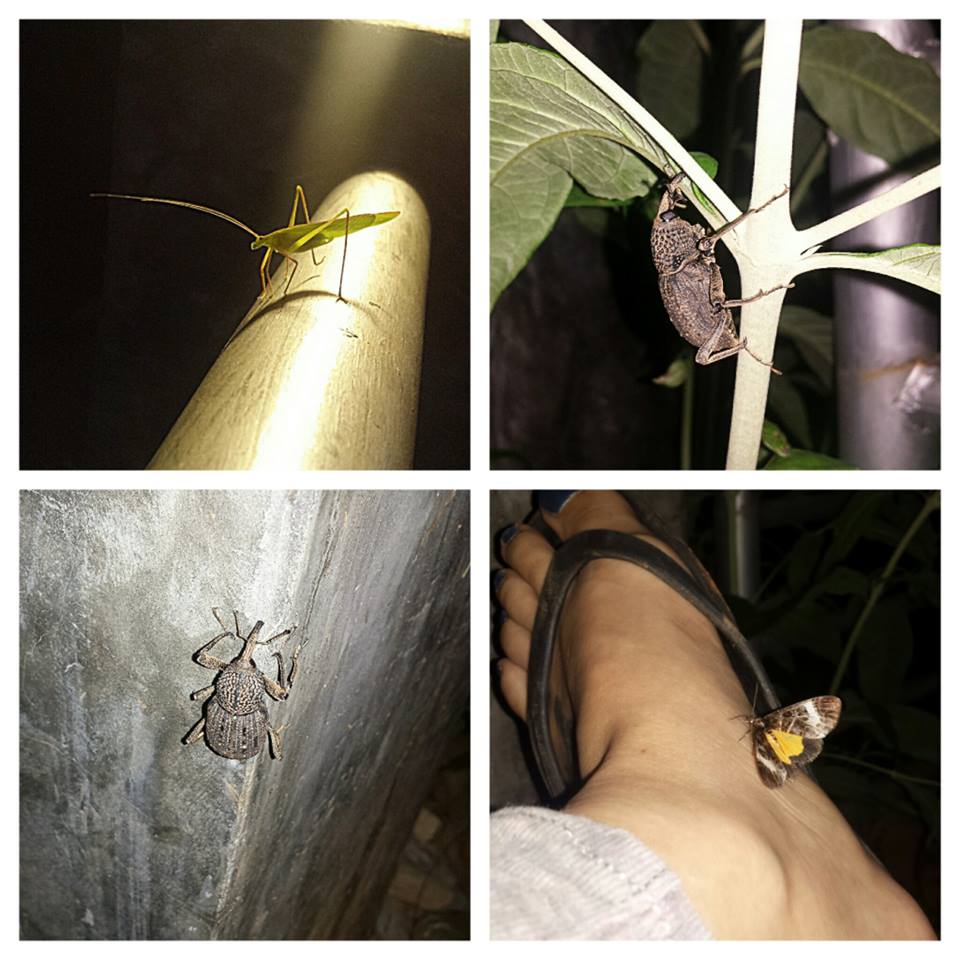 Some interesting bugs at Mae Salong
Have you been to this area?
Would be great to know.
Leave a comment down below.