Honda Safety Riding Park – Basic Dirt Riding Course x 2
HONDA OFFER BOTH ON ROAD AND OFF ROAD COURSES. PRICES and COURSE details near to the bottom of the page.

*UPDATE* I took the basic dirt course a second time, details and update on round 2 after the round 1 write up.
Some months back on the main 118 highway I noticed the Honda Safety Riding Park sign.
Pretty hard to miss to be honest. They have done a great job of making sure you can see this place VERY easily!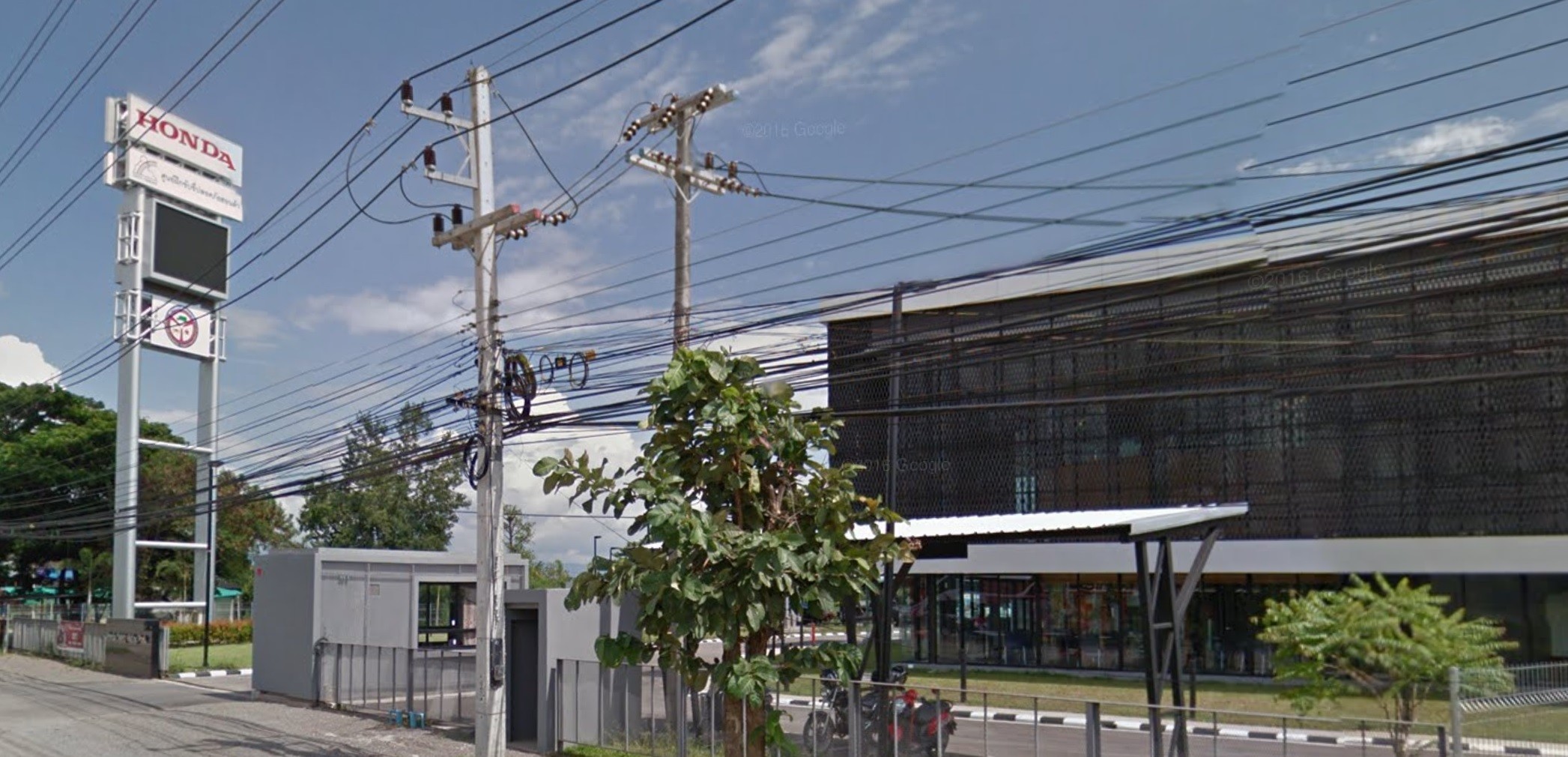 I stopped in to take a look around and it looked well laid out with a huge supply of Honda motorcycles. Several million baht had been poured into this development, and it shows. I made some inquiries about what courses they offer, which vary from beginner level up to advanced (both road and dirt bike).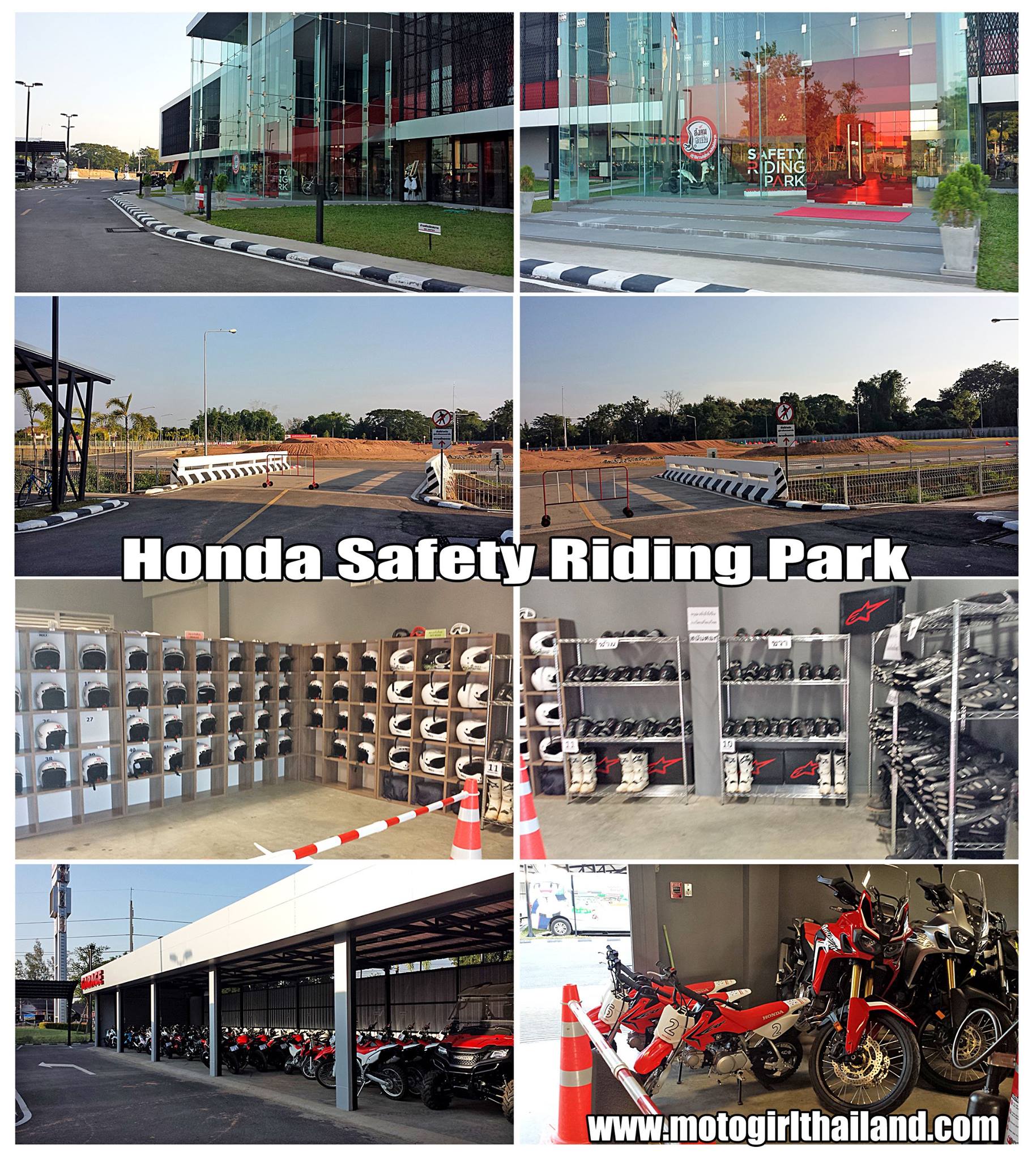 I took away a brochure and pondered over it.
A few months later at a local Motor Show I noticed a Honda Safety Riding Park booth offering 50% off all of their courses. That was an offer I couldn't turn down!
I booked two dirt bike courses on the spot; "Basic Dirt" and "Experienced Dirt".
(prices at bottom of page)


So, just a few weeks later (Friday 7th April 2017) I set off to do the BASIC DIRT course at the Riding Park.
I was informed to turn up by 8:30am but arrived at 8.
…now this was to prove quite a difficult day for me.
Not so much the course itself (which really relies upon how much effort you put into the course yourself), but because i was still recovering from a nasty cold/flu virus.
It was already past one week so I was no longer contagious, but i did feel very very weak indeed.
Combined with a lack of sleep (due to coughing fits all night), 37 degree Centigrade (99 Fahrenheit) heat, bad air quality (due to burning season) and riding in the full sun for many hours (the course runs from 9am to 4:30pm), 
I was feeling flaky for sure.
So much so that even though I have completed the course I plan on retaking it again this month.
So..bare with me as i will update this write-up once i have taken it a second time with a clearer head.
Anyway..on to the course itself.
Stage 1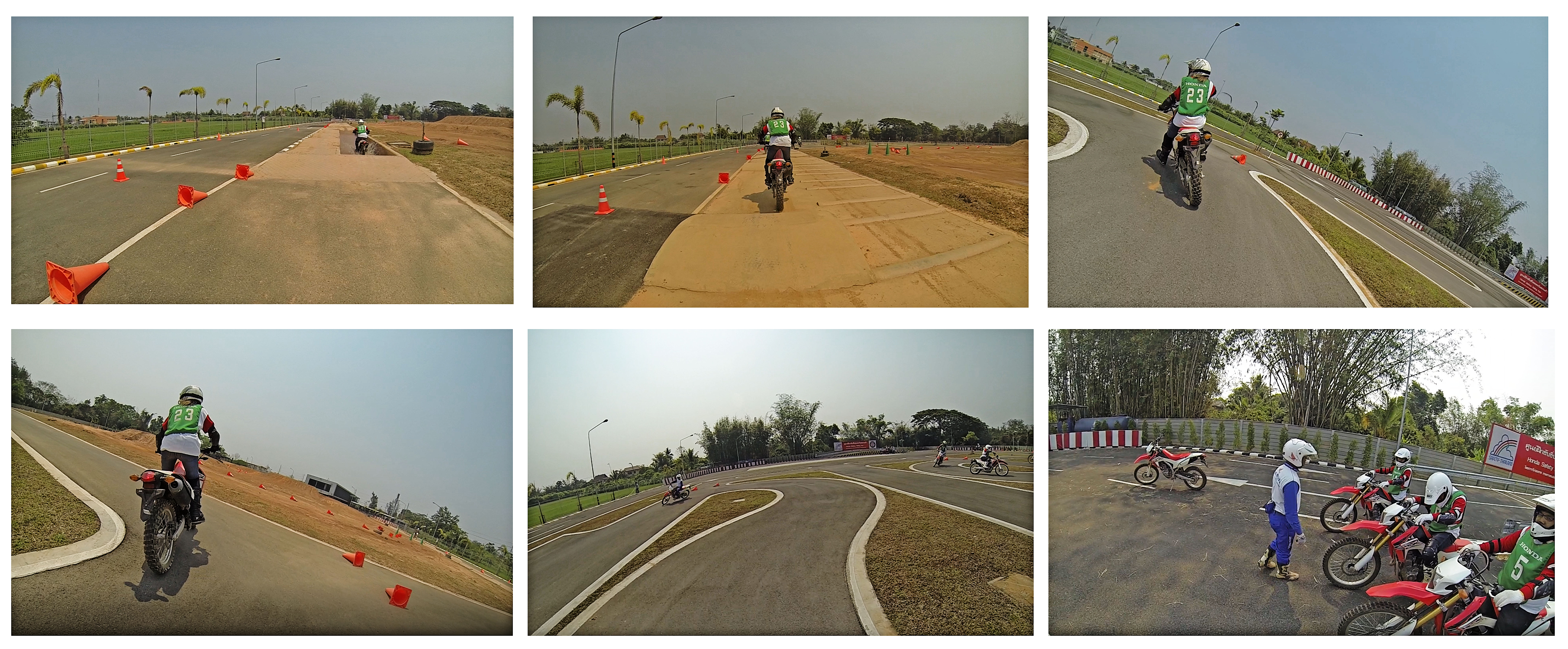 The first part of the course focused on technique, control and riding position. This part was done on the asphalt course. We had to bob and weave through traffic cones and tight cornering.I have to say I was very taken aback by how different dirt-bike riding techniques are from road riding.
As someo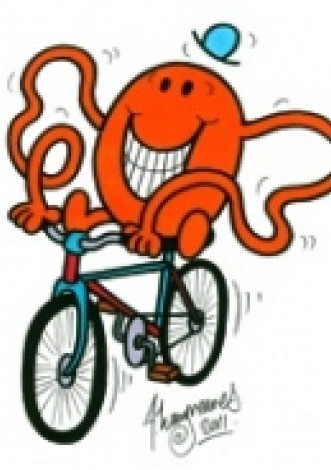 ne who has had no formal instruction (and minimum help) I have a lot to learn (and a lot of bad habits to break).
At one point early on my instructor pulled me aside with the alarming words (in English) of "Oh..You Crazy Arms!". Haha …what?! I had an image of looking like Mr Tickle (an old cartoon) riding a motorcycle (with super bendy arms flailing about). What he meant was that my technique was really very out. I was physically shown how to position my arms and what to do. My instructor had the patience of a saint! I also had a lot of help and support from a fellow student (who i initially thought was a tutor also).
After we got the hang of this we had a fifteen minute break and
when we regrouped we were to ride over bumpy sections and through a water trough and practice maneuvering the bike whilst standing.
At around 12 we stopped for lunch and we were given an hour for it. The park itself has a coffee shop and snack shop, but no eatery. However across the main road are a few restaurants.
Crossing this road is a skill in itself though, as it is a main highway with no nearby pedestrian crossing point!

Stage 2
After lunch we hit the dirt course, which is where the fun started.
This section involved teaching us how to control the bike in the wet and dry (the dirt was hosed down at intervals to create muddy sections).
We were taught slow maneuvering techniques, when to stand and when to sit and how to slide. Lastly we were taught how to jump.
At around 3pm, before we were due an official break, i had to take a break and leave the course. I began to feel quite unwell and couldn't get myself together. I felt faint.
I wasn't sure at that point if i could get myself together in time to rejoin for the final part.
However, the rest did me good, I got my second wind (only just!) and i joined the group for the last round.
This last round was really just going back over everything we had learned and having fun on the track. I completed the course and received my certificate, which felt great even if i wasn't feeling great!
Some important things to note about the Safety Riding Park courses and facilities.
Each course price covers EVERYTHING except your food and snacks.
This means your bike, protective gear and insurance is covered in the course price.
They have English speaking staff and instructors
Not all staff and instructors speak English, but they do have staff and instructors available who do. 
The changing room facilities are excellent.
They have lockers and you can obtain a locker key from reception (you must leave your drivers license or ID to get a key, and then exchange back at the end of the course). They have showers (but you need to bring your own towel).
Drinking water is provided in the gear room.
There is a snack shop and a coffee shop on site.
(but for lunch head across the main road to one of the restaurants)
You can ONLY ride HONDA bikes (which they provide – or use your own).
You cannot take any of the courses and ride another make of bike.
You will receive a certificate upon completion of the course

You MUST begin courses at a lower level first before progressing. 


So, even if experienced you must still do base level coures and graduate up. This is to ensure that you really do have the basics covered. I did inquire about this and was told that many experienced riders (even if riding for decades) have bad habits or do not know certain skills. So best to start from the bottom and work up.
Honda Safety Riding Park often runs 50% promotional discount deals
Best way to keep on top of this is to "Like" their facebook page
(and mine too! ..as i will always update when I see any promos on! :D)
There is an official Alpine Star store within the main building.
I personally think the courses offered at the park are excellent. Excellent tutors and great value for money. I am satisfied by what was offered and plan on returning. Now, in saying that I actually have nothing to compare this course to. It is my first experience of taking a motorbike course in any form. However, I wasn't disappointed and I do highly recommend them.
Here is a short video of the day (I hope to update with a new (and better) video when i retake the course).
Price of course:
BASIC DIRT – 1000 baht (with 50% promo deal. Normally 2000.)
Price list of main courses (including discounted promo prices):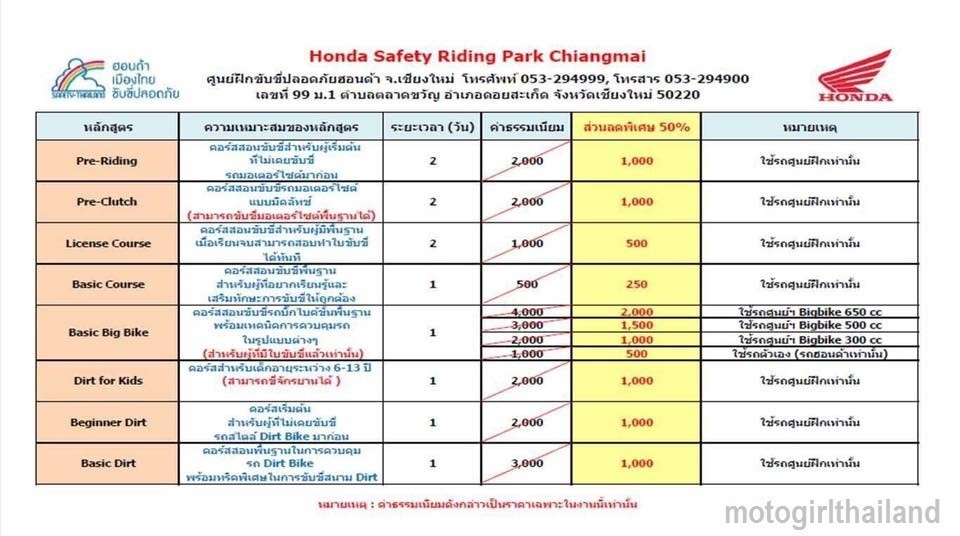 Other notable aspects:
Map: (Google Map Link)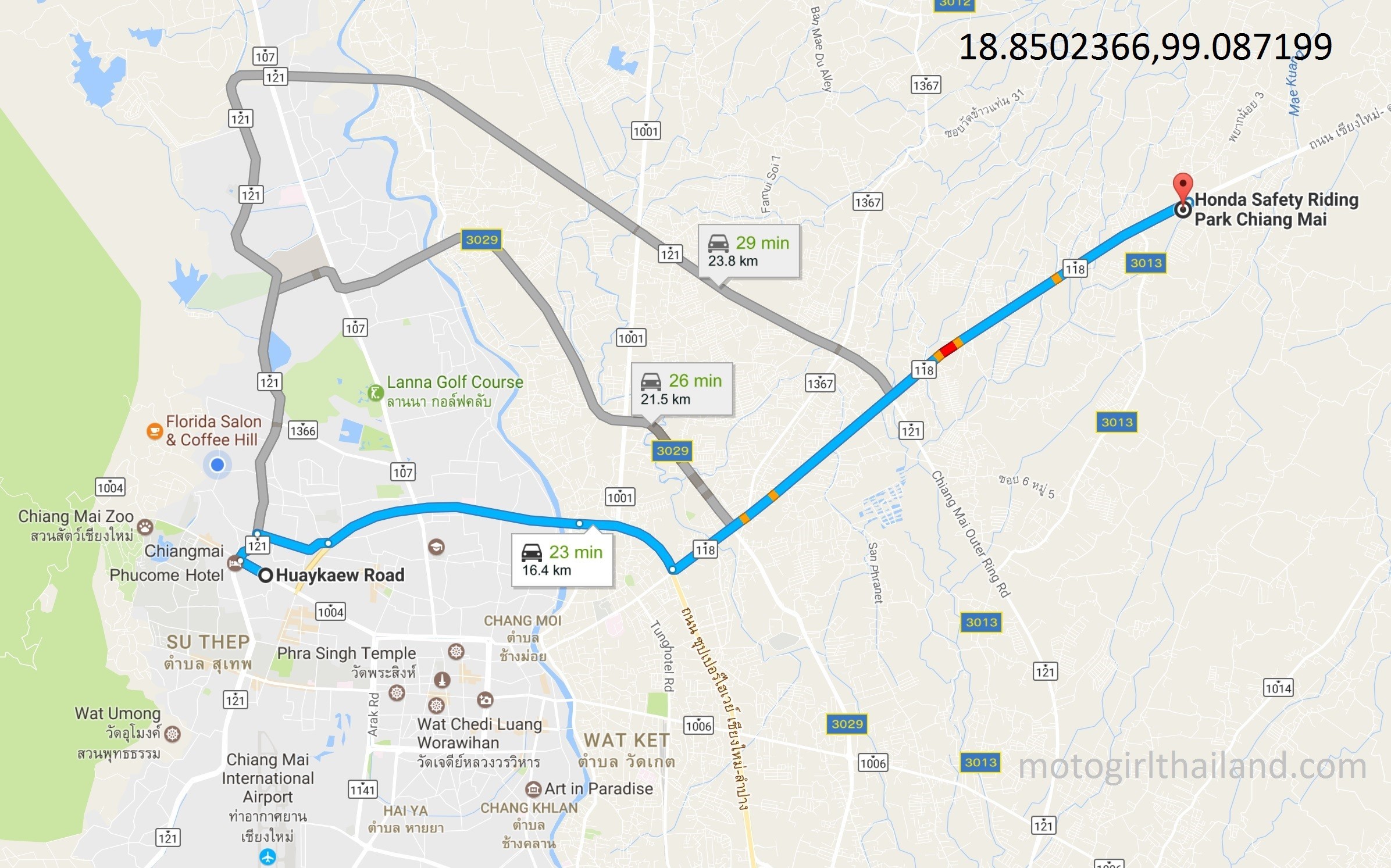 Was recently directed to an excellent video of the dirt track by Override magazine. Shows much more detailed information plus tips on riding
*ROUND 2*
On the 18th April I retook the basic dirt course when I was in much better health. This time around a really did love it. The combination of feeling in good health plus having already been taught the basics meant i could relax and start to enjoy myself more.
This time the group was smaller. There were only four of us; Two Russian men, one Polish lady and myself. The Polish lady had only recently learned how to ride a manual bike, so was throwing herself in at the deep end. Loved that!
This also meant the instructions were only in English this time. Now here is something important I need to mention. The first time I did the course I was very lucky in that I had a bilingual aide. Initially I assumed that he was an instructor, but he turned out to be a fellow student. He regularly participates in courses so is well-known. Although I have Thai language knowledge the details that were explained was outside of my vocabulary and so was great to have the details explained in English (and the level of English explanation was truly in depth..ie: explaining balance and centrifugal force – that level of explanation). The second time I did the course the teaching instructions were not as detailed and were more simplified. I think it is fair to say that my first time experience was outside of the norm and not to expect this level in future.
Ok, so on with the day.
The day followed the same outlines as before. Initial maneuvers on road surface followed by dirt riding on their man-made dirt course.
Was a lot of fun, as you can see from this video:
I plan on doing the next level up in May, so will do a write up on how that goes and what my impressions are.
Happy trails! 😀

Was this useful?

Have you done any of the courses at the park?
Anything you would like to find out about that I can inquire about when i return?
Comment below! 😀