Ao Nang, Southern Thailand. A Flying Visit. (Non Moto Trip)
With the AQI (Air Quality Index) in Northern Thailand reaching unhealthy levels due to the burning season, plus an impending visa trip, I decided to turn the visa trip into a quick break in the south of Thailand.
Chiang Mai > Kuala Lumpur > Krabi > Chiang Mai
I did the exact same last year (post here), which was the first time I had ever visited the south (laughable, considering I have lived over 10 years in Thailand).

Booking with budget airline Air Asia I flew direct to Kuala Lumpur to sort out my visa and from there flew direct to Krabi (again via Air Asia).
I'm skipping the KL part of the trip and focusing directly on the Krabi part, except for one thing that happened.
Skip the next paragraph if easily squeamish.
Whilst on the plane from Kuala Lumpur to Krabi I had to endure the awkward situation of noticing the young girl next to me picking her nose furiously. It turned a little more sinister, for she ended up taking the contents of what she dug out and proceeded to roll it between her fingers. Then to add insult to injury began flicking it. Except it wouldn't flick. So she tried again. This time it worked. Then she started foraging in her nose again.
I looked over in horror and caught the eyes of her mother next to her. The mum saw what her daughter was doing but was unfazed.
I ended up getting a tissue out of my bag and handing it to the young girl (with a polite smile) only for both her and her mother to look at me in horror. Like I had just made some huge faux pas.
Flabbergasted I sat back in my chair and stared out the window, hoping that when i disembark i wont brush up against the chair and collect the contents of her nose on my clothing.
Anyway….
Landing at Krabi airport and having only a small piece of hand luggage I thought I would be smart and get myself quickly to the front of the immigration queue.
More fool me.
It was ABSOLUTE BEDLAM!
It seemed that half of Russia and half of China had decided to descend upon Krabi all at the same time.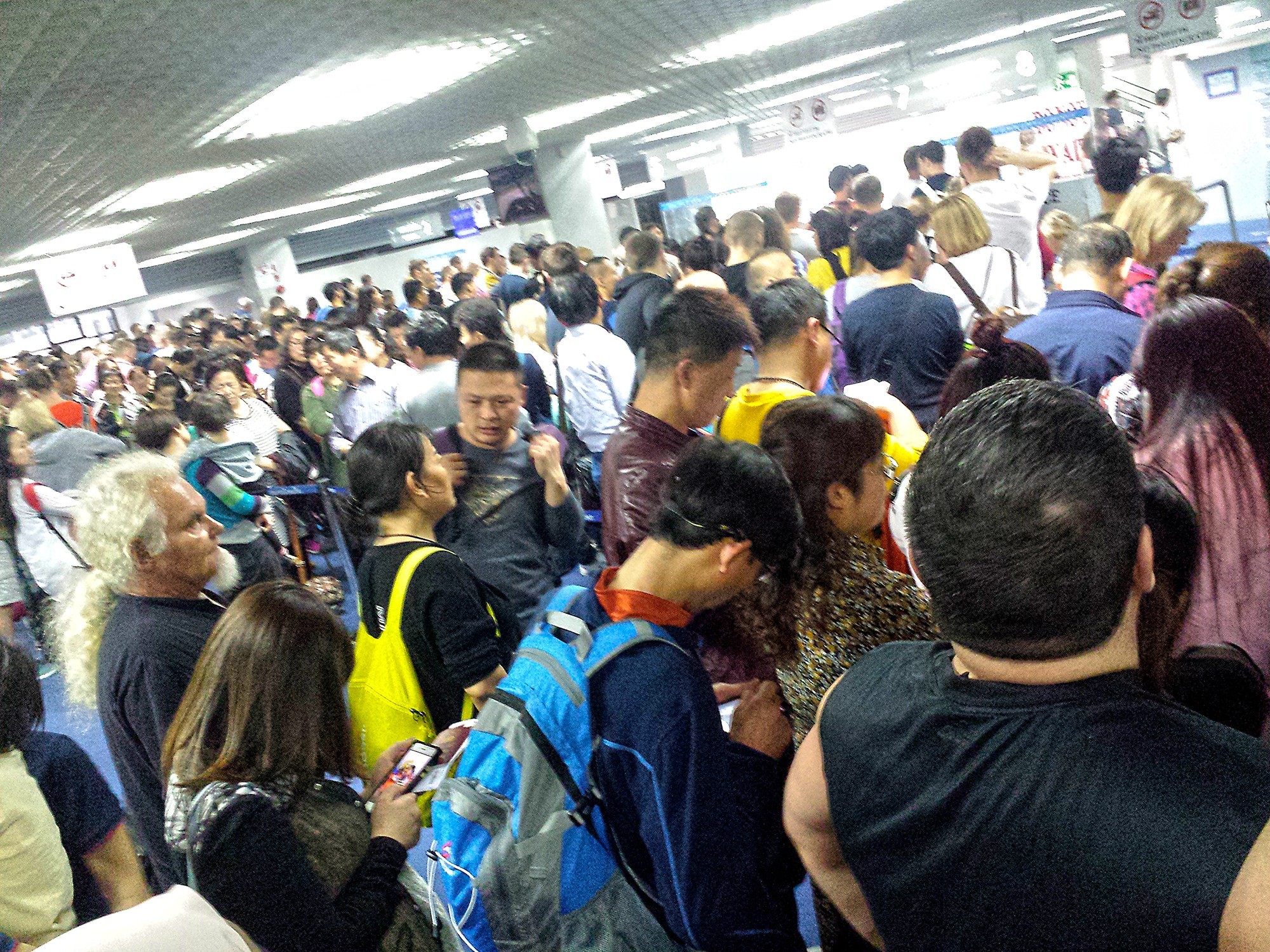 If you are aware of the stereotyping of these nations (and I KNOW it's wrong to stereotype but it really did seem to be true to form at immigration), lets just say it was like a scene from a movie. A really really bad movie. There was little semblance of queuing. There was a lot of pushing and shouting. There was a lot of confusion. At one point I thought a Russian lady was about to punch a Chinese lady because she was furious at a bunch of them pushing to get in front of the queue. (… and frankly in my opinion she had ever right to be furious).
I clenched my jaw and made myself an impenetrable wall, for approximately an hour.
Really no fun at all.
To top it off a young Chinese boy was flying a fish-kite-thing on a pole in a circular motion and ended up whacking me on the leg with it. Took all my powers of restraint not to take the pole and snap it.
At one point an immigration officer lost his cool. He came out from his booth red faced and shouted at everyone to get into a single line. Except the majority wouldn't flinch or give way and no one wanted to retreat to the back of the queue. I had to use my body to force back the people behind me in order to allow others into the queue, ones that I knew had been waiting for as long as I had. (I'm British. We are born knowing how to queue.)
Disgraceful conduct really (from the tourists I mean, not the immigration officer. I can hardly blame him for his angry outburst.)
Anyway, after what felt like a lifetime in a body-crushing-pushing crowd (and I am generally never too good in crowds situations as is), I finally made it through and felt happy to be officially back on Thai soil.
The smile didn't last as long though, for as I walked to the security checking area to put through my hand luggage, I was sniped by an entire Russian family who had packed everything but the kitchen sink, seemingly. I watched in annoyed bemusement at the extreme rudeness. I had one small bag. I was in front. Yet they went ahead and cut in front of me. I didn't have the energy to argue so stood back and observed.
A Malaysian lady who was directly behind me (and also in front of them) and I exchanged glances and grimaces.
Never mind, a holiday awaits.
Life is good.
..and it was to get VERY good!
Centara Anda Dhevi Resort & Spa, Krabi


I had a bit of luck befall me in getting a good rate for a lovely four star resort at Ao Nang, which is 25km away from Krabi (Krabi itself is a main town, whereas Ao Nang is by the beach and a port to other islands in the region). I had planned initially to rent a scooter close the airport and ride to Ao Nang, but i was travel weary and not in the mood so I took a cab. I decided this trip would be a two-feet trip, rather than a two-wheel one.
As an aside I did inquire about renting a scooter and found a highly rated place. I made inquiries and they were very helpful. I did not rent a scooter on this trip, but next time around if I do, I plan on trying out this company: www.motokrabi.com
So..arriving at my hotel I proceed to check in and be shown to my room. And what a room it was! Utter bliss!
The icing on the cake was that my balcony opened out right into the pool. Arriving in the evening with the main pool entrance closed off meant I had a blissfully quiet view in front of me.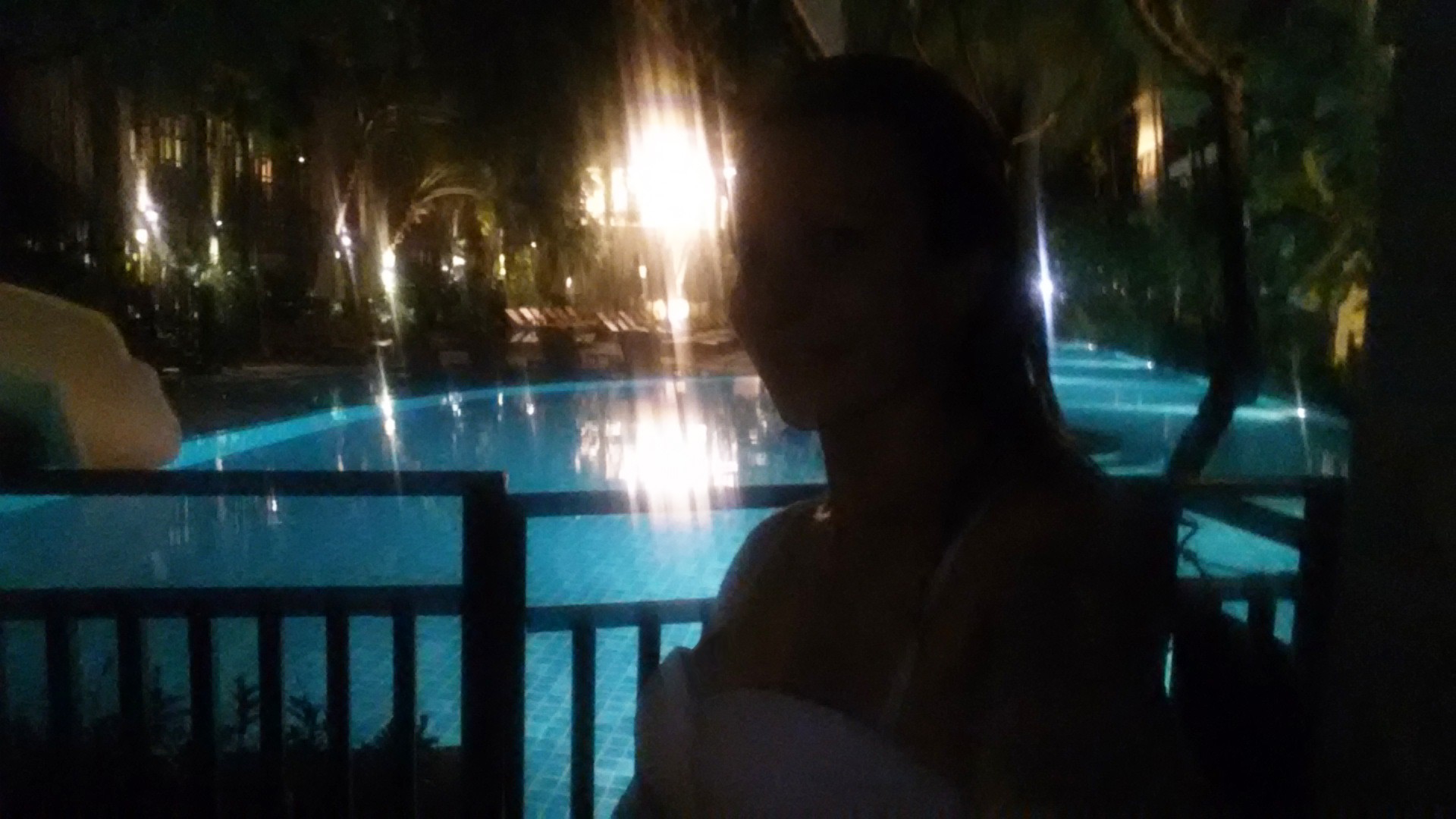 I had a blissful sleep that night.
DAY 1
In the morning after a lazy lie-in, i headed for the breakfast buffet . I am not huge on breakfast, but it was included in the price (waste not; want not, my grandmother would say) and what was on offer was pretty good. My photo doesn't show the huge selection on offer, which included Thai and Western dishes, cheeses, fruits and cakes.
After breakfast I headed off to the beach, a good 15 minute walk from the hotel.
I didn't mind the walk as I wanted to take in the sights and get myself some exercise. On the way I bought myself a handy waterproof backpack for 250 baht and then stopped into a coffee shop for an ice coffee fix.
I ordered my coffee in Thai and the waitress seemed surprised so spoke to me for a while. She was so delighted to be speaking Thai with me that she ended up getting the manager out and having a photo taken of us all! It is funny when Thai are surprised by me speaking Thai. Had a few funny moments at Ao Nang, including a man at the beach selling water who kept saying out, "but you are a Farang!", in Thai. (Farang means "Westerner"). As though it shouldn't be possible for a Westerner to speak Thai. Although honestly my Thai isn't up to scratch at all. After this length of time in Thailand I should speak it 100% and I don't. I can engage in simple conversation, but flounder on a deeper level. Shame on me really.
When I arrived at Ao Nang beach the area was packed, making me wonder if I really ought to have booked a boat tour trip like i did last year. However, I thankfully found a quiet spot right at the very end of the beach stretch. Problem though was that within approximately 10 minutes of lying down I was already bored. I am not used to just lying about in the sun so ended up swimming out in the ocean for a bit. Didn't take me long to get a bit bored of that also. I am really not a beach girl at all.
I did get a bit of free entertainment in the form of what looked like a student film being made, plus I saw a pretty interesting cricket just lounging about in the sand.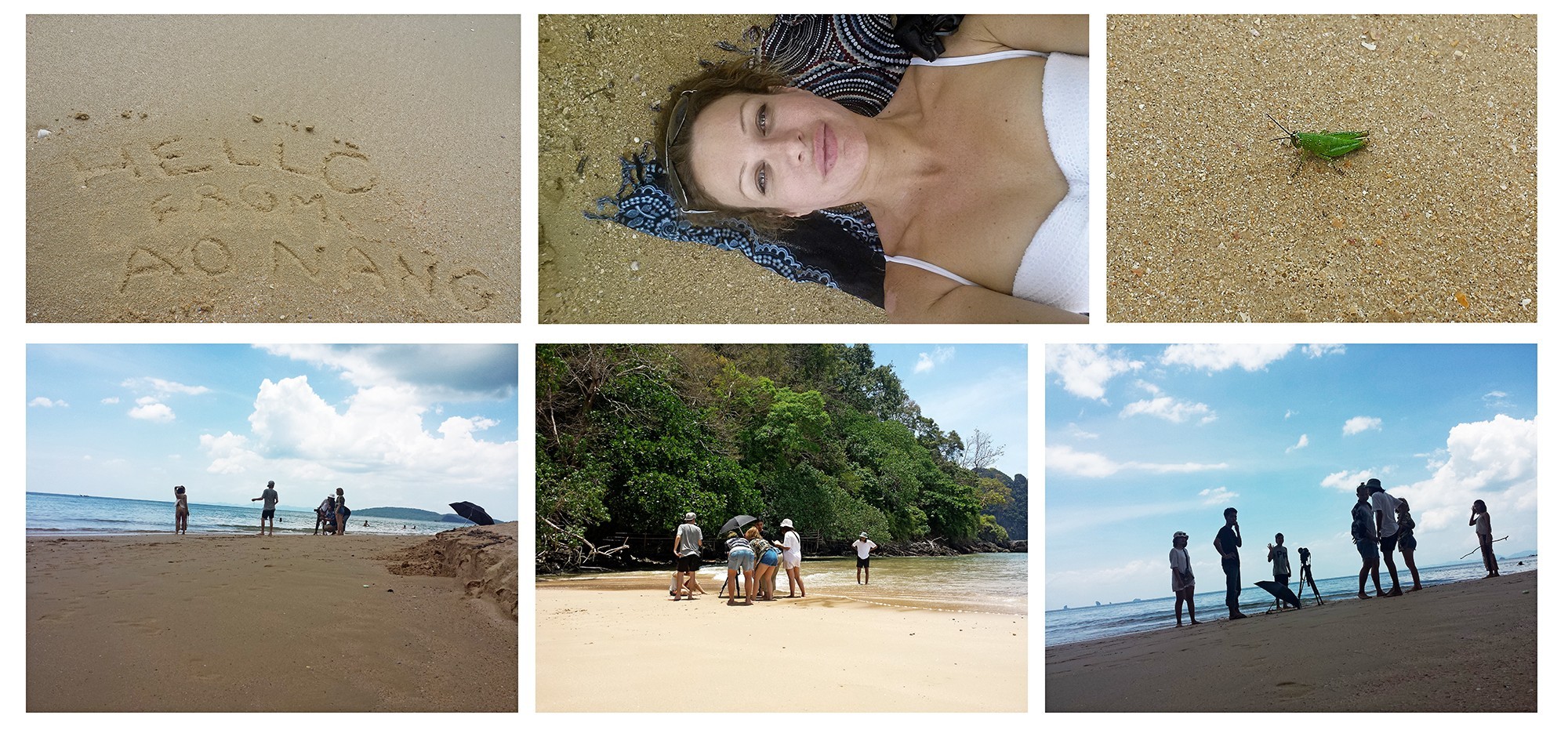 After a short while i went exploring around the waters edge and noticed a wooden walkway. Decided to find out where the walkway might lead.
Ended up making this silly video from the resulting footage:
In the end the walkway took me to Centara Beach Resort. Which looked really quite an amazing place to stay at. After walking around for a while the sky became overcast and rain looked set to come.

Decided to head back over the wooden walkway and back to Ao Nang beach. Got to the beach and a small beach restaurant just in time for the heavens to open up. So bagged myself a great view of the rain coming down, whilst I ordered food and drink.
Some other people came in to shelter and order also.
I do not judge, I merely observe…
I watched lazily as a group of young women began counting out a large amount of one baht coins in order to pay for their drinks with it. Then a group of older ladies came and ordered some burgers. I realise no one wants to eat Thai food everyday, but I did wonder if they ever tried the local food or stuck with what they knew.
A passing thought only…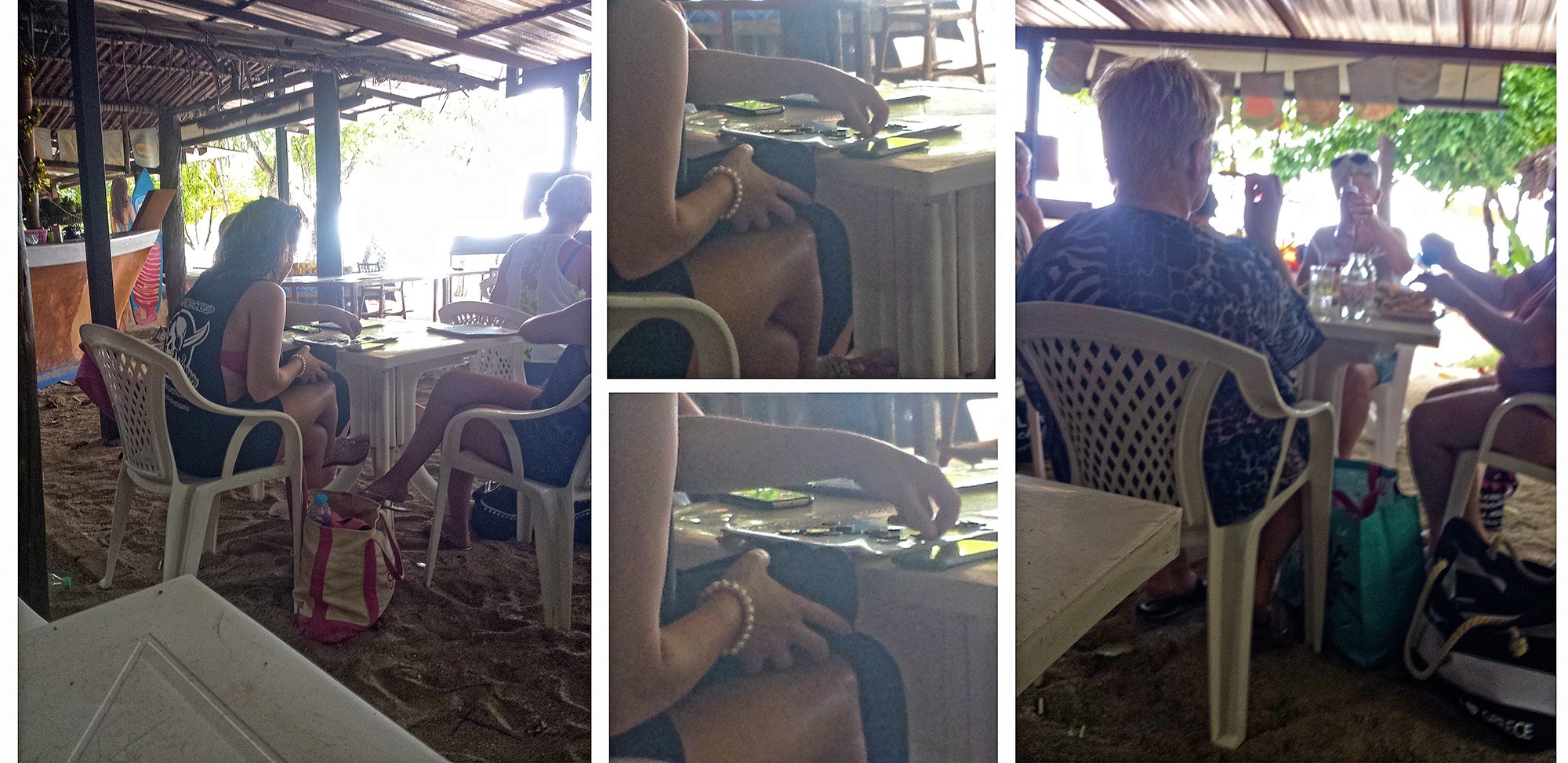 Once the rain passed I made my way back to the hotel. By then it was around 4:30pm, something like that. I ended up spending the entire evening at the hotel. Lazy to go out and about. In any case, I knew that all I would see around the main vicinity is touristy shops and lots of tourists and touts. I decided to use the hotel gym and take a swim and relax, watching movies on the huge TV (I don't watch TV at home so was an indulgence).
I slept like a log. 🙂
Day 2
I planned to wake up before sunrise and slept though my alarm. However, instead I woke up around 9am. Haha. Oops!
Getting myself dressed I headed to the breakfast buffet again. I observed a few guests in dress that probably wasn't so suitable for the hotel restaurant area and more suitable for beach-side, but wasn't offensive. I also observed an older Western guest with a very much younger Thai companion that didn't look like a long term girlfriend.
Ok, you probably know what I'm getting at…
Again, not judging, just observing.
Its something I have grown used to seeing over the years from time to time.
What i did find interesting to observe was the looks from other guests and staff. I wondered if he was aware of it or not, of if he just didn't care.
His companion had a mini tantrum of sorts and walked out of the restaurant.
This left him looking straight at me. I gave a half smile.
He looked down at his plate for a moment then stood up and left, leaving the contents on his dish unfinished.
I finished my breakfast and went back to my room.
Did the same thing as the day before in that I walked around for a bit (after checking out and leaving my bag behind for collection later).
Being not much of a lie in the sun kind of person I wasn't in the mood for sitting on the beach. I walked maybe 20km or so through various streets and up into "Muslim Street" and past the local Mosque. Was interesting to see local life and also won myself a bit of time with a cute cuddly cat who walked with a limp.
I wouldn't do it again though and next time would instead take out a kayak or something active along those lines.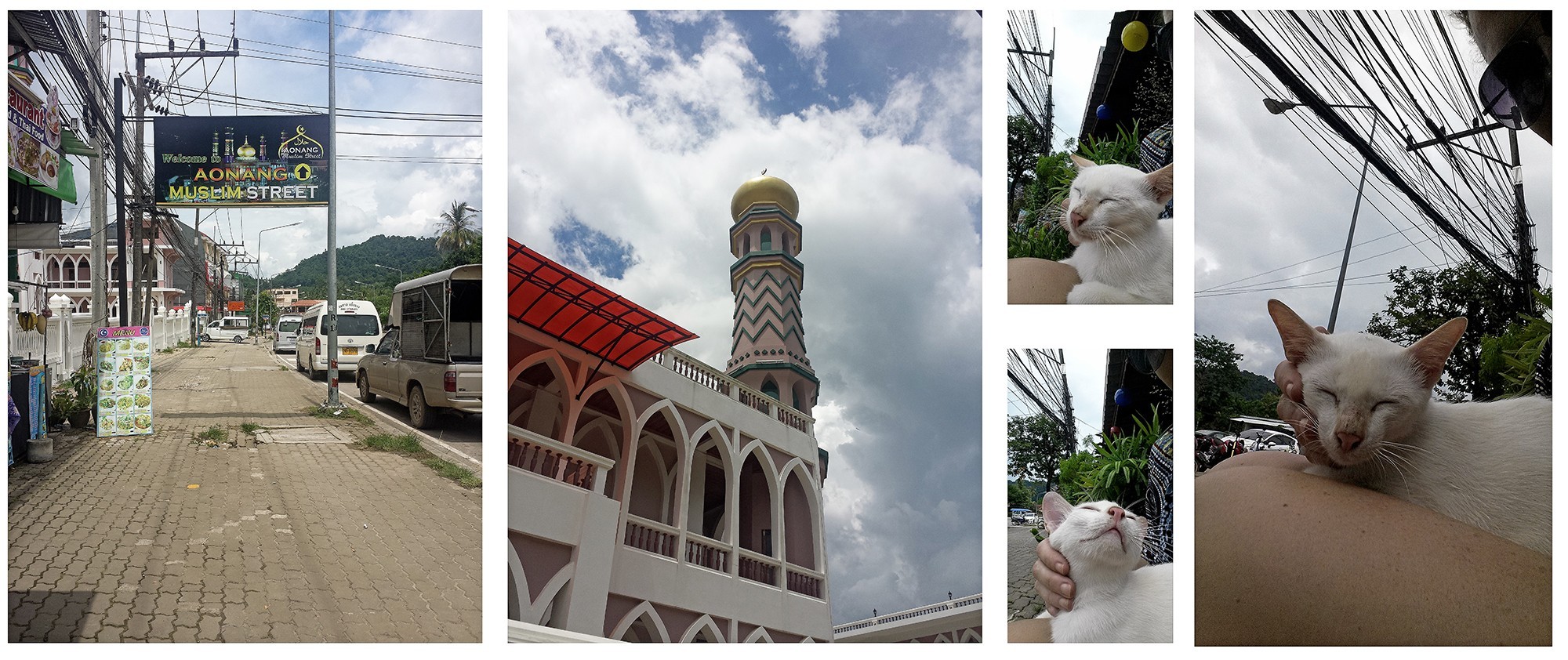 At around 2pm I headed back towards the hotel. Turned out to be a good thing as it absolutely hammered down. A full blown tropical rainstorm. This is Tsunami region, but thankfully nothing even barely close to that devastating extreme.
Alas…what to do to kill time when there is a tropic rain storm and you have nothing better to do?
Drink Pina Colada! That's what!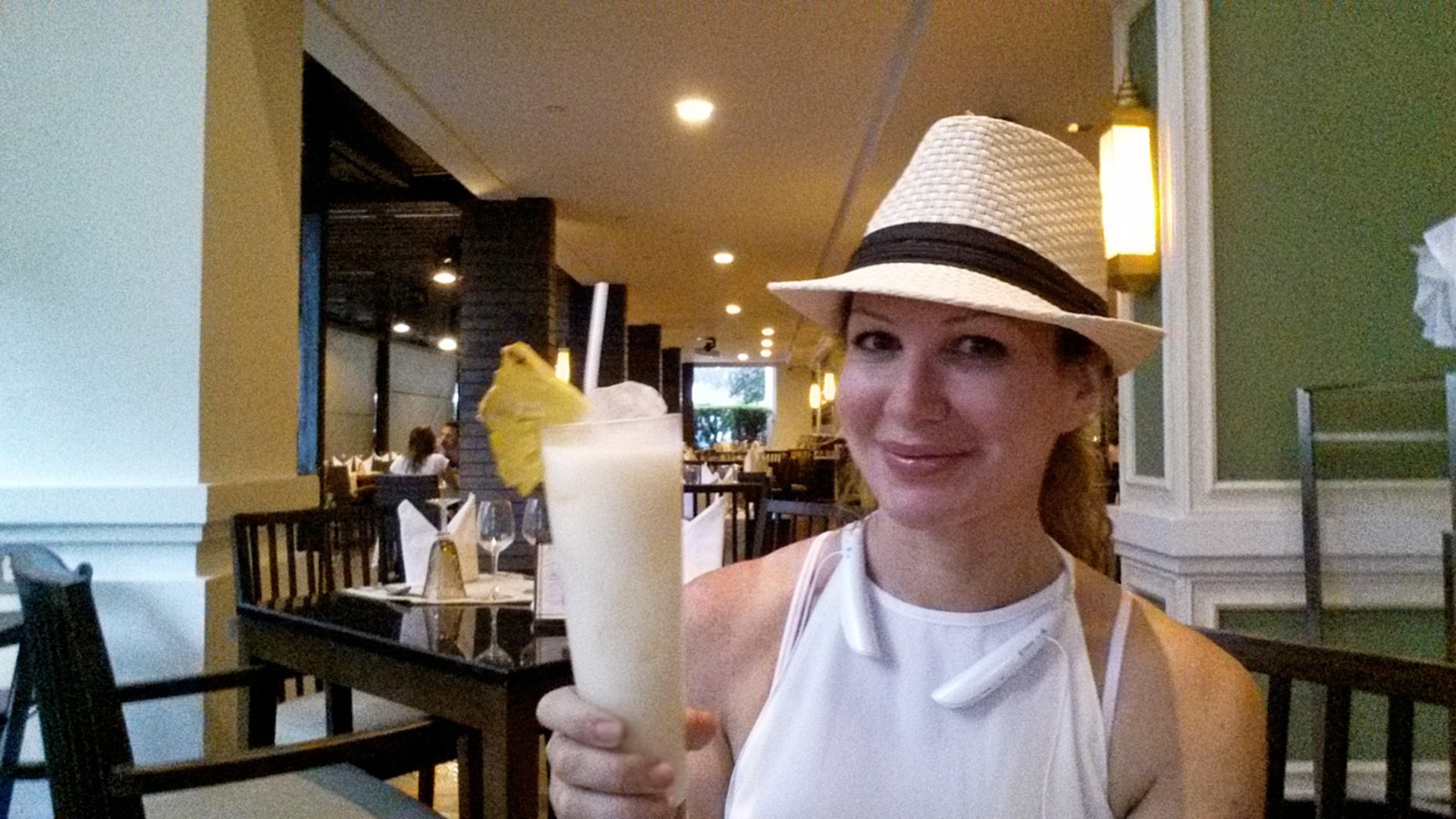 Slight problem though was that it didnt stop raining..so er…this is what happened later….
I ended up languishing in the hotel bar area for hours.
Five Pina Coladas and a bite to eat later saw me to 6pm and ready to depart for the airport (with a slightly fuzzy head).
Checked in, waited in the PACKED airport and boarded the plane at around 8pm.
Arrived around 10pm in Chiang Mai feeling happy to be "home" although a little tired (Laziness makes me more tired than being active!).
I headed out the the car-park where i had parked up my scooter and got myself home.
Great to be home and be greeted by my little monkey cat who had been taken care of by some lovely neighbours whilst i was away. I missed her. I always miss her.
Good to be back in Chiang Mai too..even though the air still isn't that great :/
It was a brilliant time, even though just a flying visit.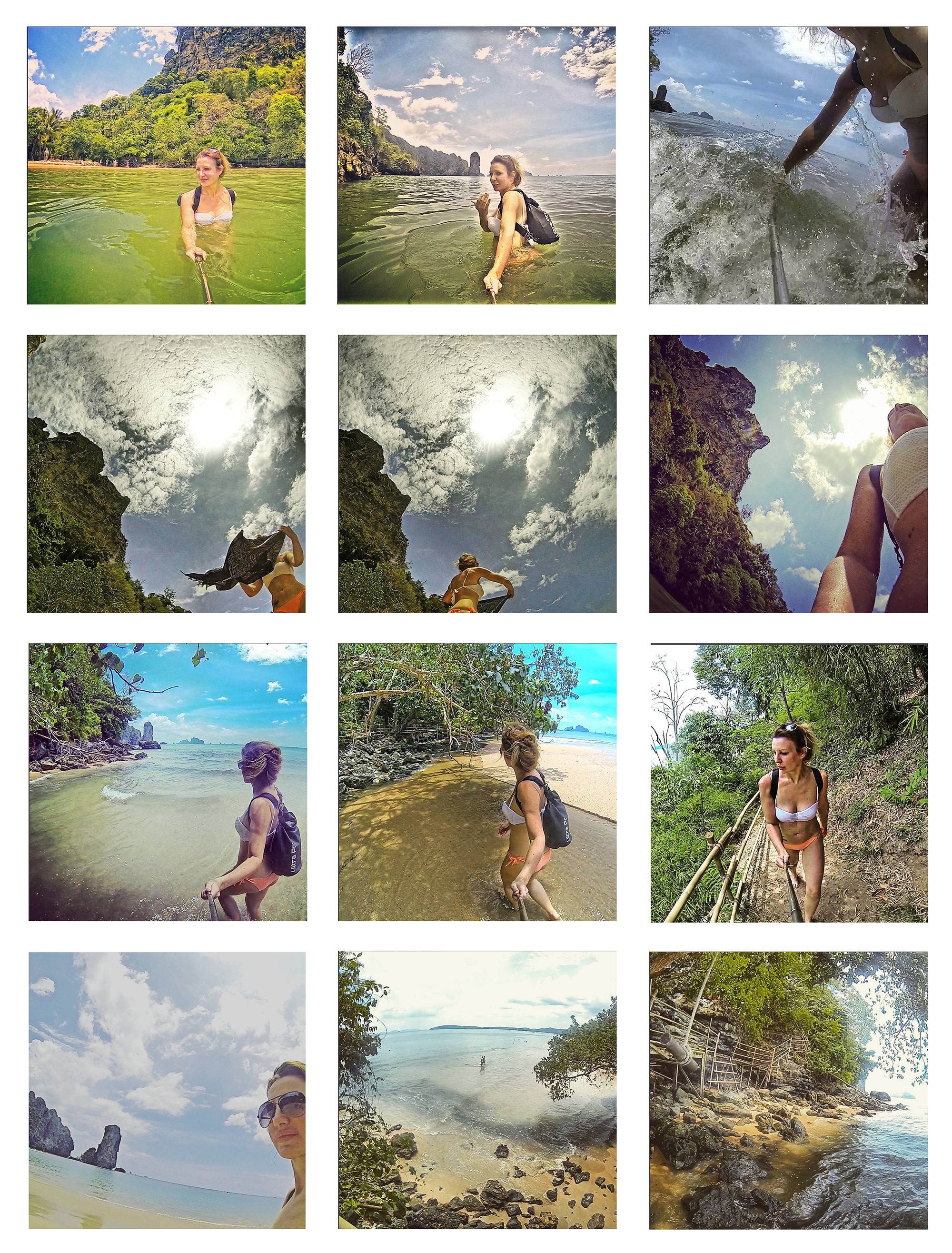 My room at the Centara Anda Dhevi:
Have you been to Ao Nang or any of the islands?
Do you recommend any in particular?
Comment below 😀