The Distinguished Gentleman's Ride. Chiang Mai 2015.

The Distinguished Gentleman's Ride: September 28th, 2015.
(Raising funds and awareness of prostate cancer)
I arrived at the meeting point (Thapae Gate) around 9am with rider friends. At that time only a few bikes were there, so we were able to kick back and relax and watch the bikes trickle in. As more and more bikes arrived I was surprised by the amount of classic Triumphs that were turning up. I had never seen so many classic bikes, particularly Triumphs, in one spot before. There were a few lady riders as well, which I really loved seeing.
The area quickly began to fill up with many more participants than I had expected. Lots of greetings, viewing of the bikes and general photo ops took place before we finally set off on a police escorted lap around the city.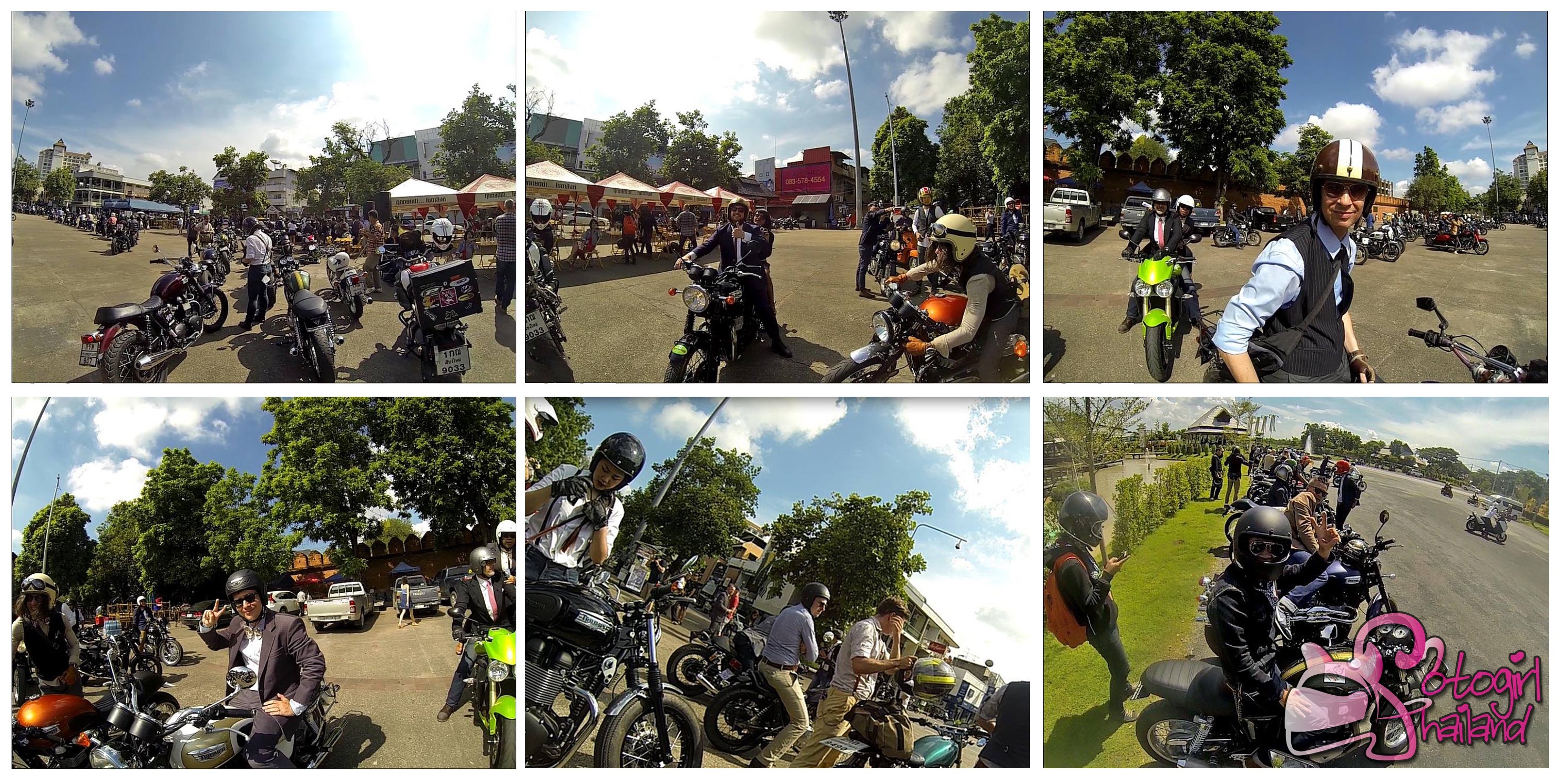 This was my first time ever of being a part of a great number of bikes and riders. The energy was indescribable. I felt a part of something, in a way I have no words for. It was a great feeling.
I also felt a bit of a fraud that day, because I couldn't get hold of a traditional classic bike, but had somehow gotten my dtracker accepted via the gentlemans ride signup page. I think my dtracker was considered to be a tracker, and so it passed through. I ended up removing my original stickers and tried my hand at making my bike look more classic by adding fabric and adding some DGR stickers. Not exactly the best job in the world lol, but glad I was able to take part. I have my fingers crossed that I will have something better to ride on the 2016 ride.
As we finished the lap of the city, we pulled into Good View Restaurant, to participate in a few games, some talks and have lunch. Really nice crowd, really great fun and really great venue and food. There was even a charity auction for a tshirt which fetched over 10,000 baht!
Turned out that our table was pretty lucky too, well the row I was sitting on. For all of us won a prize that day!
We all parted ways for a few hours after the fun was had and our bellys were full, only to gather again for the afterparty. The afterparty itself was buzzing. We all had DGR tshirts on and the place was full of energy. There was an unexpected preview video of the day by Bas Man, which he had shockingly put together in just a few hours! A truly amazing job..and in record speed time.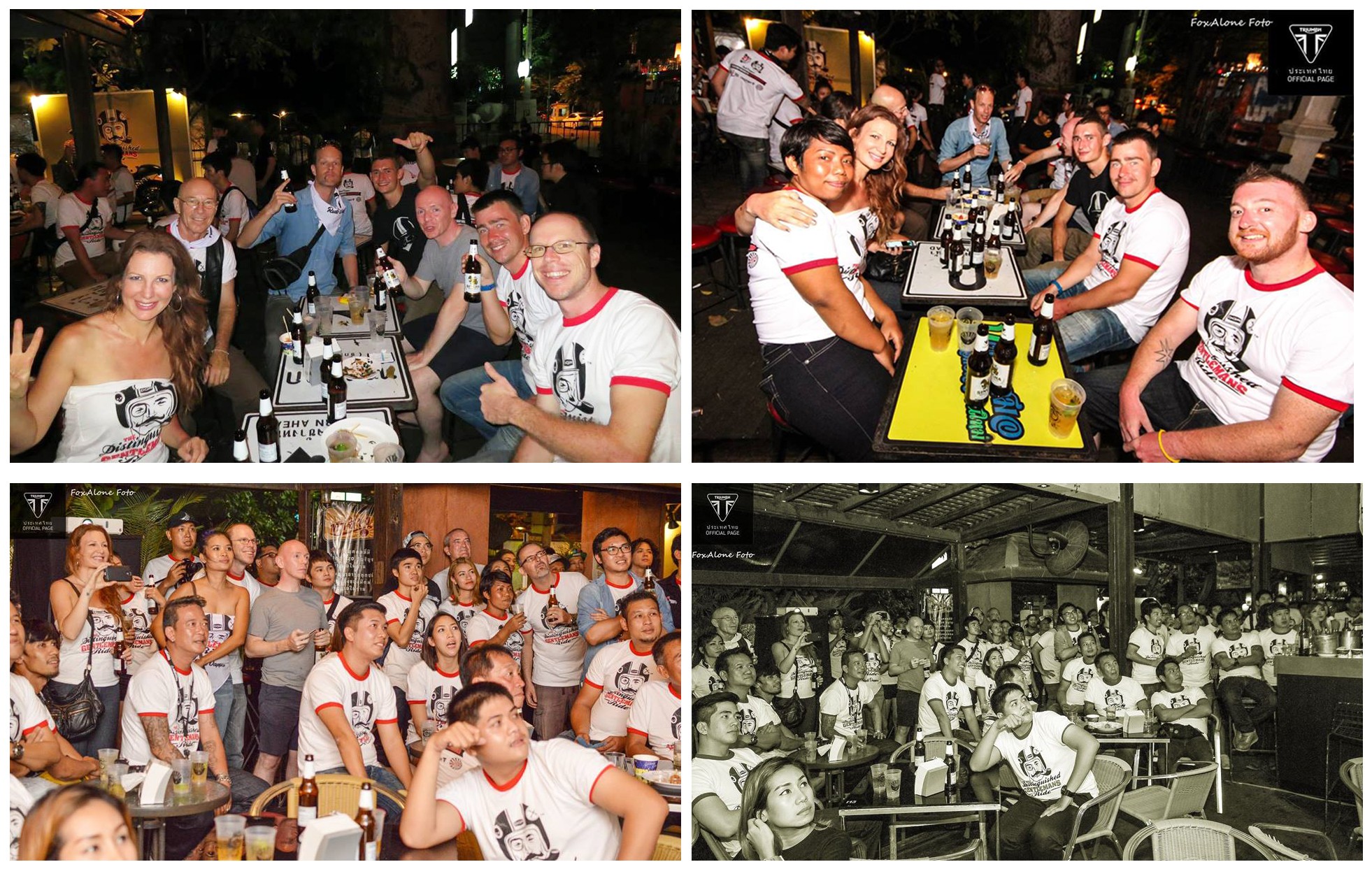 Had a good laugh with my very good friends and was an event that will stay in my mind as a great one.
Er, as an aside (and I shall not mention any names here),but one friend took an interest in a very attractive young woman. Being a good sport I volunteered to be his wingman (well wing woman) and go speak to her with him (in case she cannot speak English). It turned out that the very attractive young woman was in fact a very attractive young man! Well, that isnt correct actually, she was a ladyboy. Honestly I had no idea! I thought I was quite good at knowing, but goes to show you sometime just cannot tell. She really was very beautiful. Someone once told me if you spot a truly beautiful woman in Thailand, chances are the woman will be a boy!
To sum it up all i can say is it was a truly great day, with great bikes, great people…and really amazing organizing..from the ride itself to the camera work and editing from Bas Man , the wonderful lunch and fun games and auction at Good View Restaurant, to the evening event. Really so happy to have been a part of it. At this point I do not recall how much was raised in the end for the charity, but we did do pretty well. I will update when I can find the exact figure. Thank you so much to the organisers…and looking forward to next year's ride !
Below is the teaser video (that Bas Man put together in a matter of hours!) and below that is the longer one he made later. Plus another after that! Enjoy!
Have you taken part in a Distiguished Gentlemans Ride, or any other big organized ride?
Would love to know!
Comment below! 😀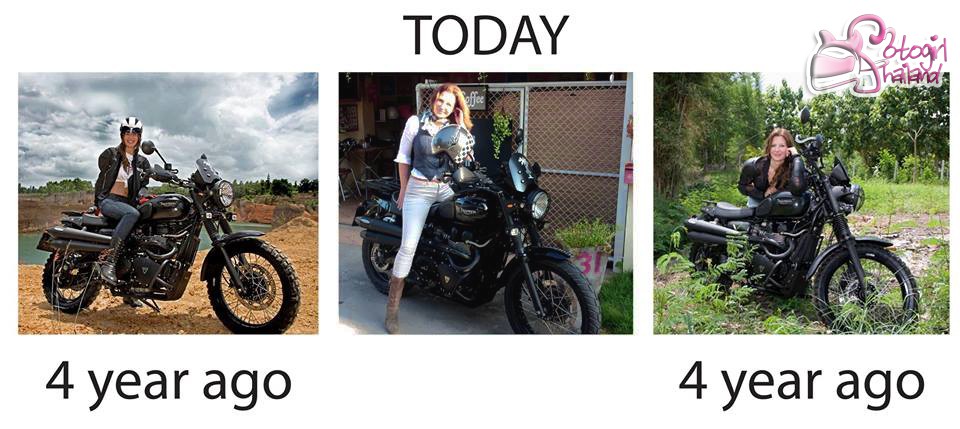 Oh, also, I got to sit on the same bike i was on for the
Triumph Bike shoot
. Was great to see the bike again. A beautiful Triumph Scrambler!