Three Day Recce Ride With Big Bike Tours
December 2019. A fun itinerary-packed three day ride with Big Bike Tours (BBT) family (literally!), scouting out a route for the first all-lady motorcycle tour of the North, which BBT is putting together next year. This route covered the N.West region of Thailand, headed over to the Golden Triangle, and then back to Chiang Mai via Phayao and Chaeson. This ride was BBT's second recce ride, with the first being a three day Mae Hong Son ride, which I wrote about HERE. A fantastic and fun three days with Khun Kay, his wife Jeab and their son Johnny. Very nice to have been invited along with my friend Sam.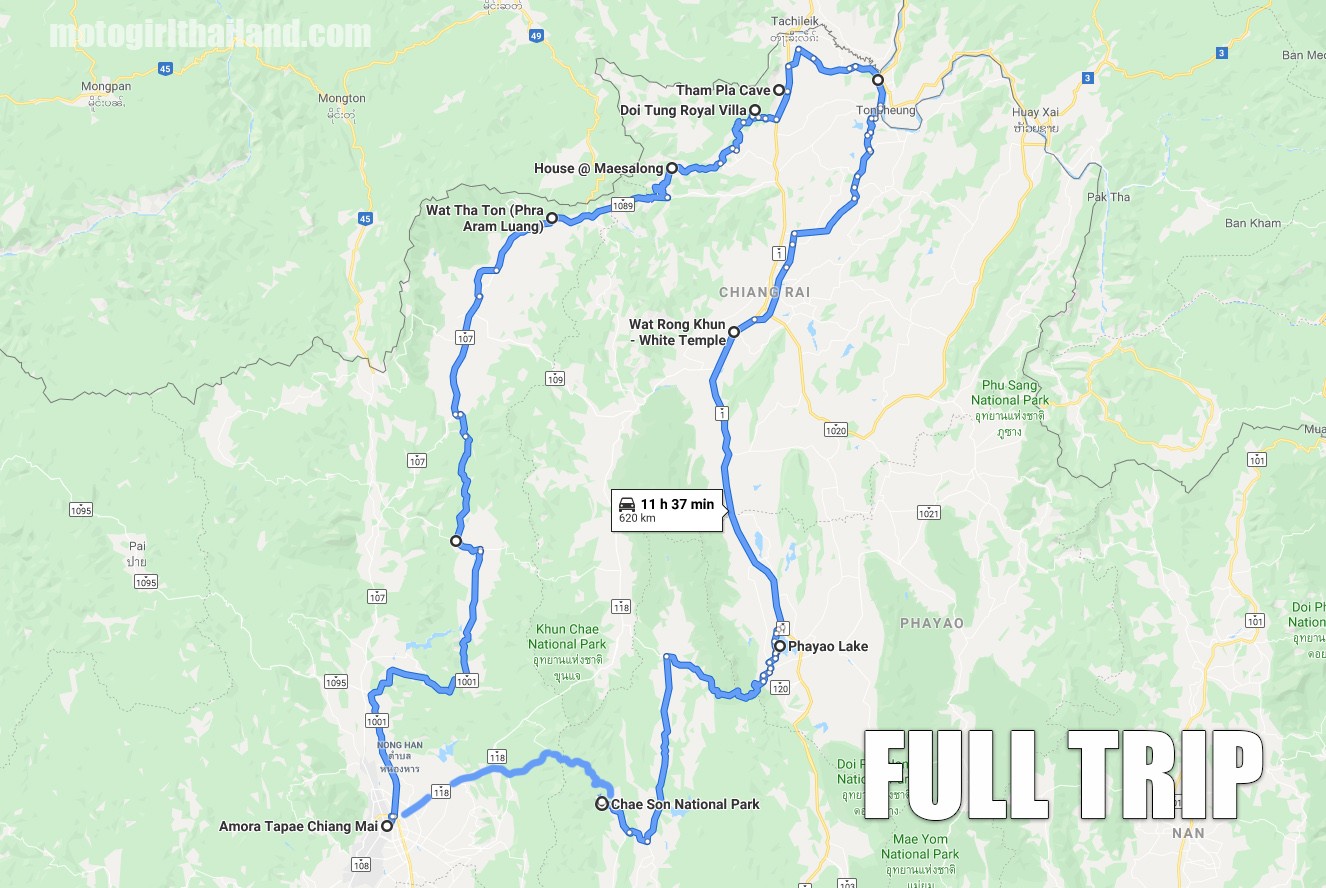 DAY 1: Chiang Mai to Doi Mae Salong (Google Map)
Our meeting point was at the Amora Thapae hotel, at 8am. Big Bike Tours had a couple of tours setting off that morning and the future ladies tour will set off from here, so made sense to start from this meeting location (despite Chiang Mai's horrendous morning traffic).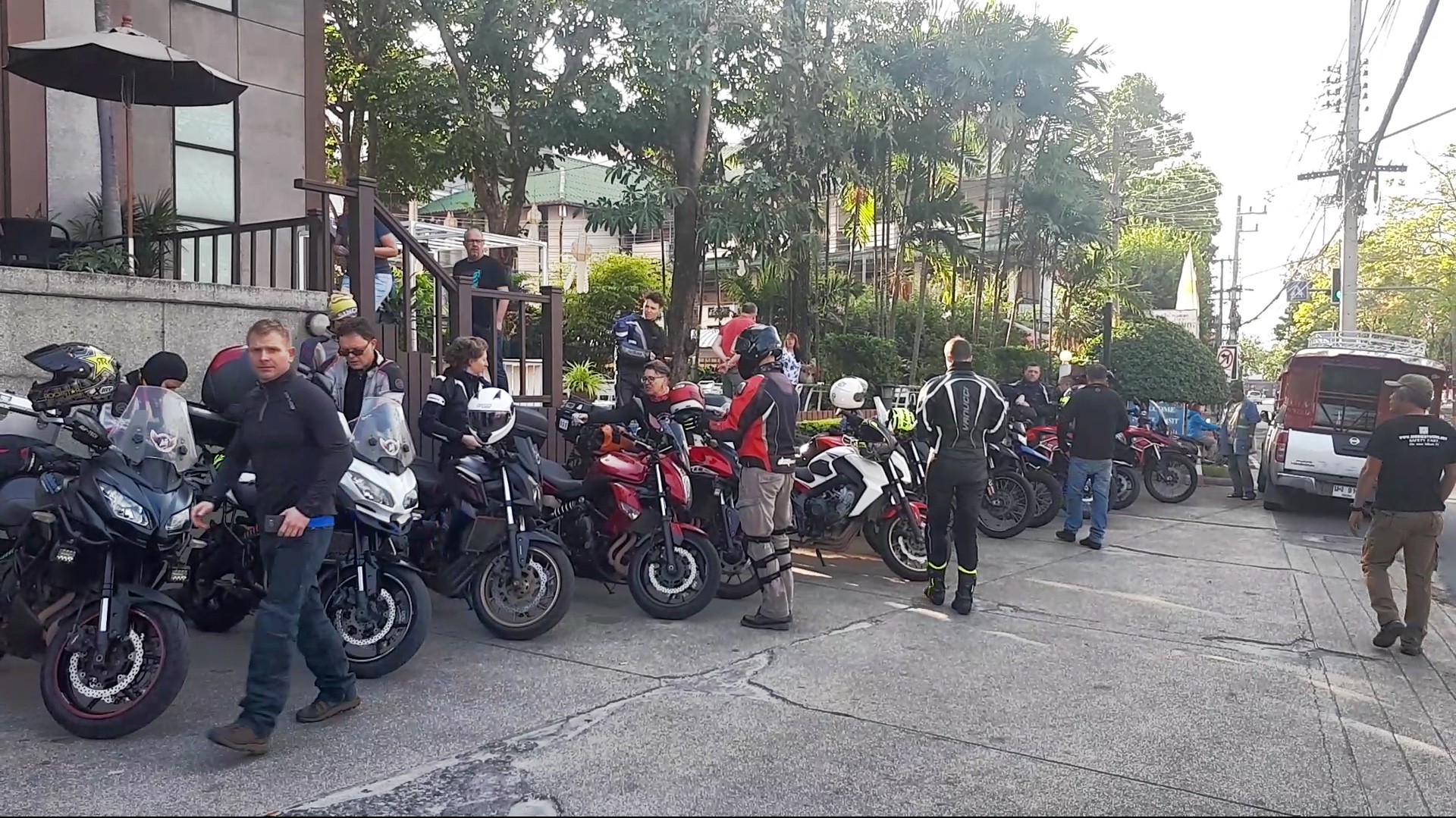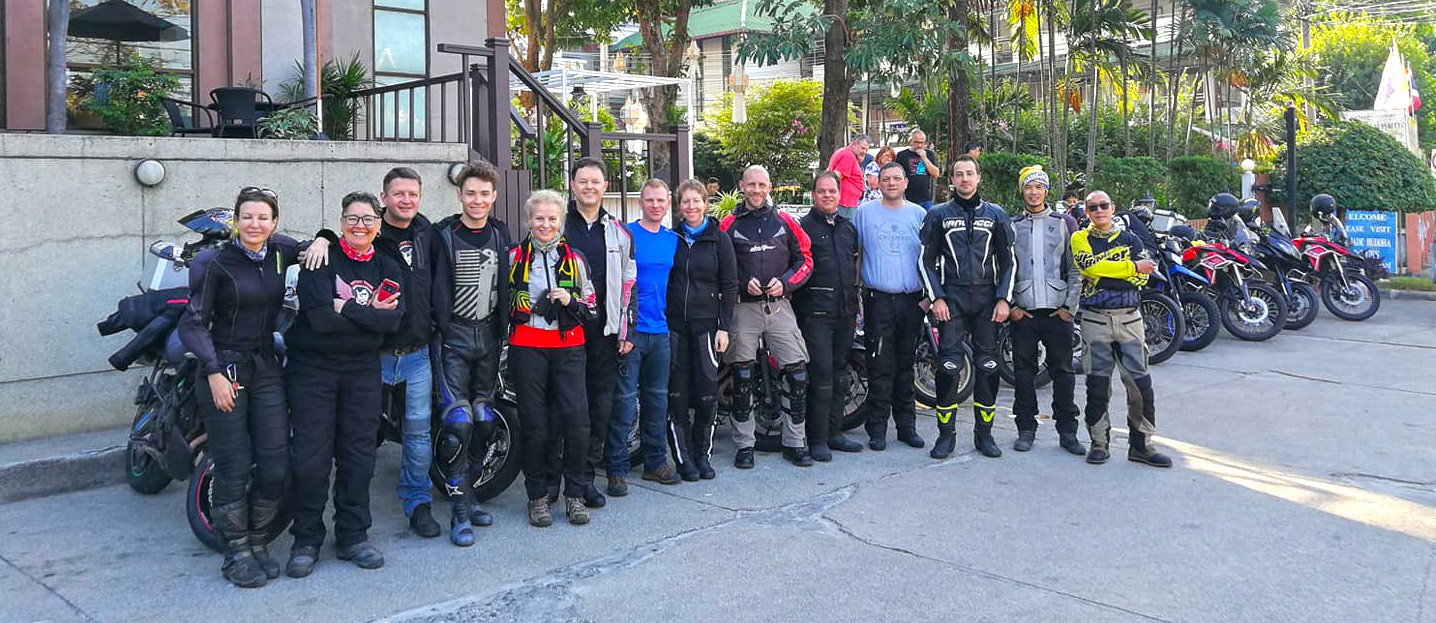 With several tours setting off that morning which needed overseeing (one heading off to Laos, and another off on the Mae Hong Son loop), it meant that we took off later than expected (at just before 10am). 
The initial 50km or so of this route from Chiang Mai city is always a bit of a bore on the main R107, but starts to get more scenic and curvy around the Mae Taeng area.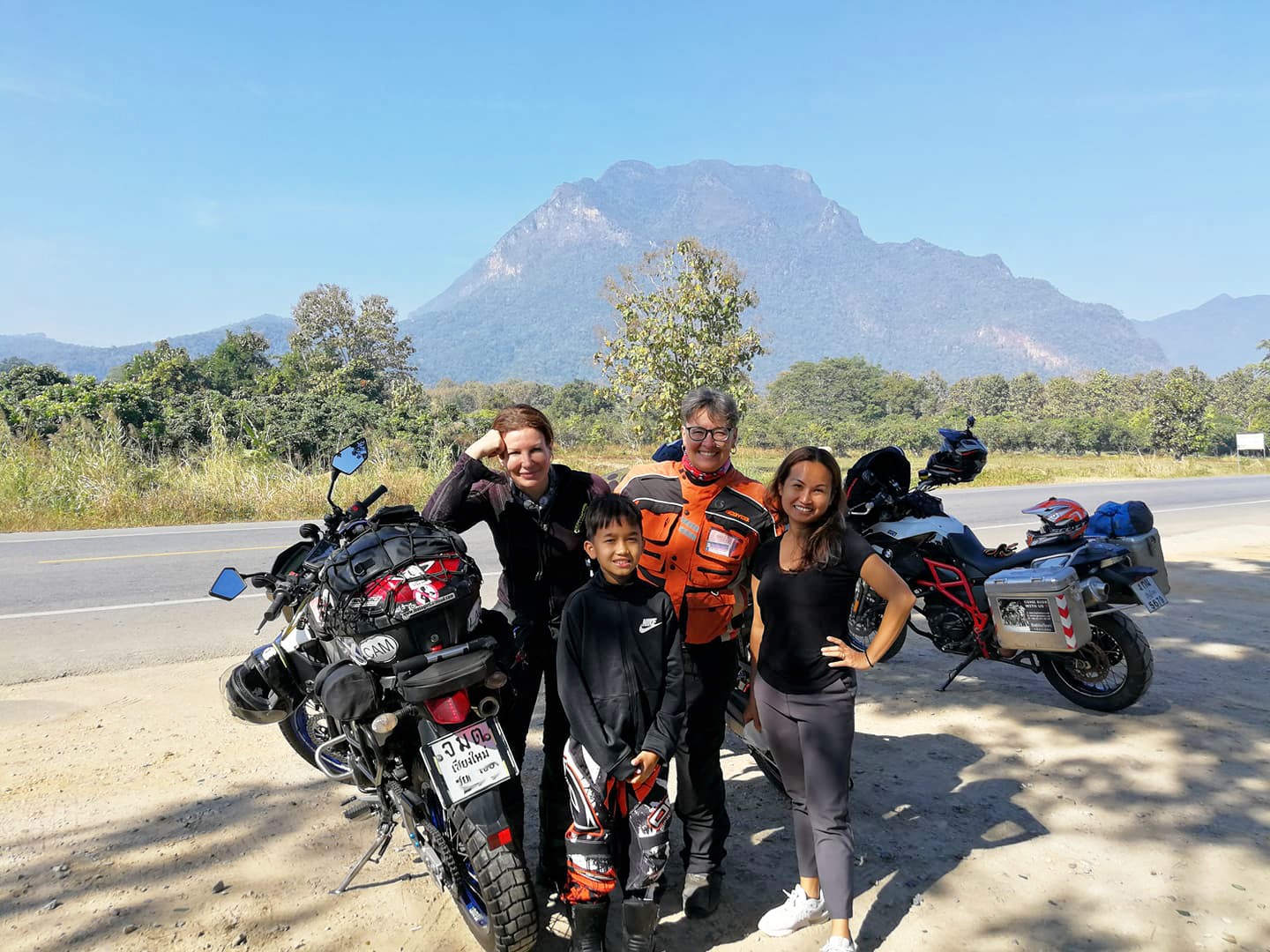 In Chiang Dao we stopped in at the กาแฟในสวน coffee shop, which is also my usual stop in this area.
The view of Chiang Dao mountain was, as always, stunning. However, was sad to see smog pollution so early in the year. This years Rainy Season saw low rainfall, so already the normally lush and green scenic views were quite brown and dry.
We skipped visiting Chiang Dao cave (which will be visited on the actual tour), and headed to Thaton via a pretty rural back route.
Our first quick stop was at Hinokoi Land, to check it out for the tour and then a quick stop at Hom Pan Din Vineyard before heading to Thaton for lunch. As is so typical in Thailand, places come and go quickly and it turned out that Kay's usual food spot was completely gone, so we went looking for another one. We ended up in a very scenic location, but sadly the food didn't quite live up to the view.
After lunch we rode up the wonderfully twisty Wat Thaton road to go to the viewpoint.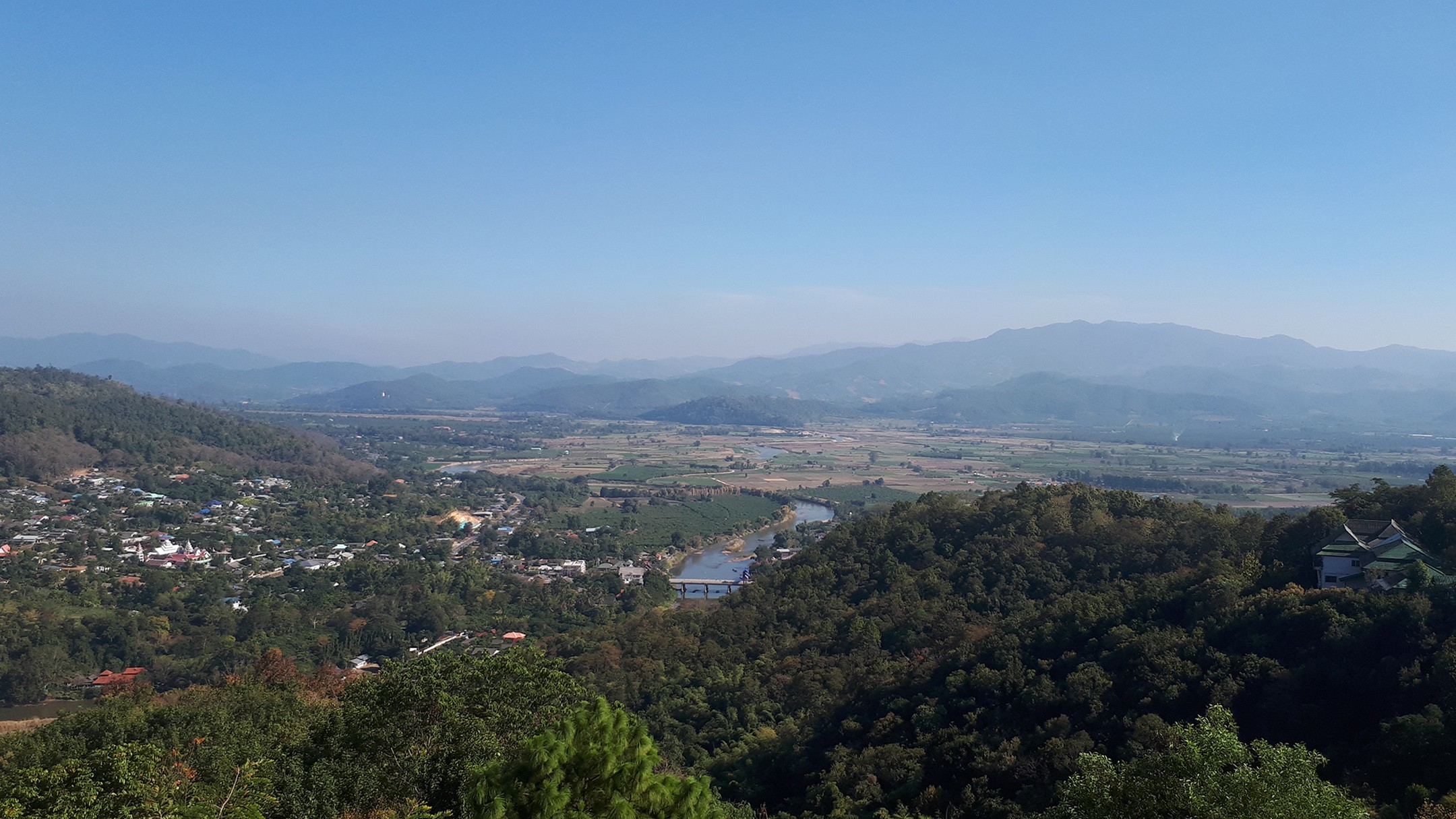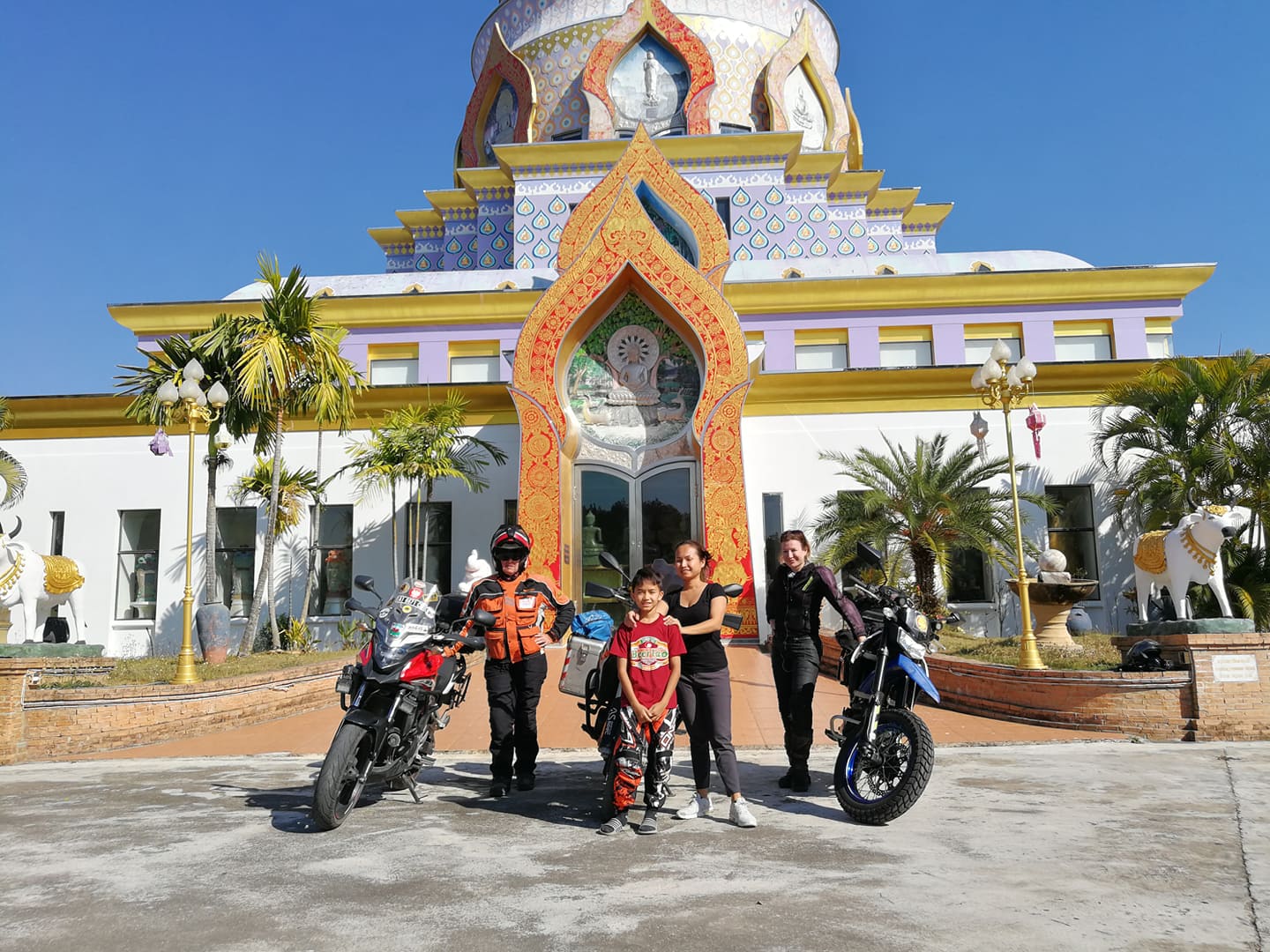 Our next stop was to a Kayan Village, which I am conflicted about visiting. On the one hand there is the whole "Human Zoo" aspect, but on the other hand the villagers rely upon tourists visiting and buying their handicrafts, so boycotting directly affects their income. It seems to be a catch 22 situation. I am not sure what to do in this regard. Regardless, it is on the tour, so we stopped in to visit and I bought a scarf from one of the ladies.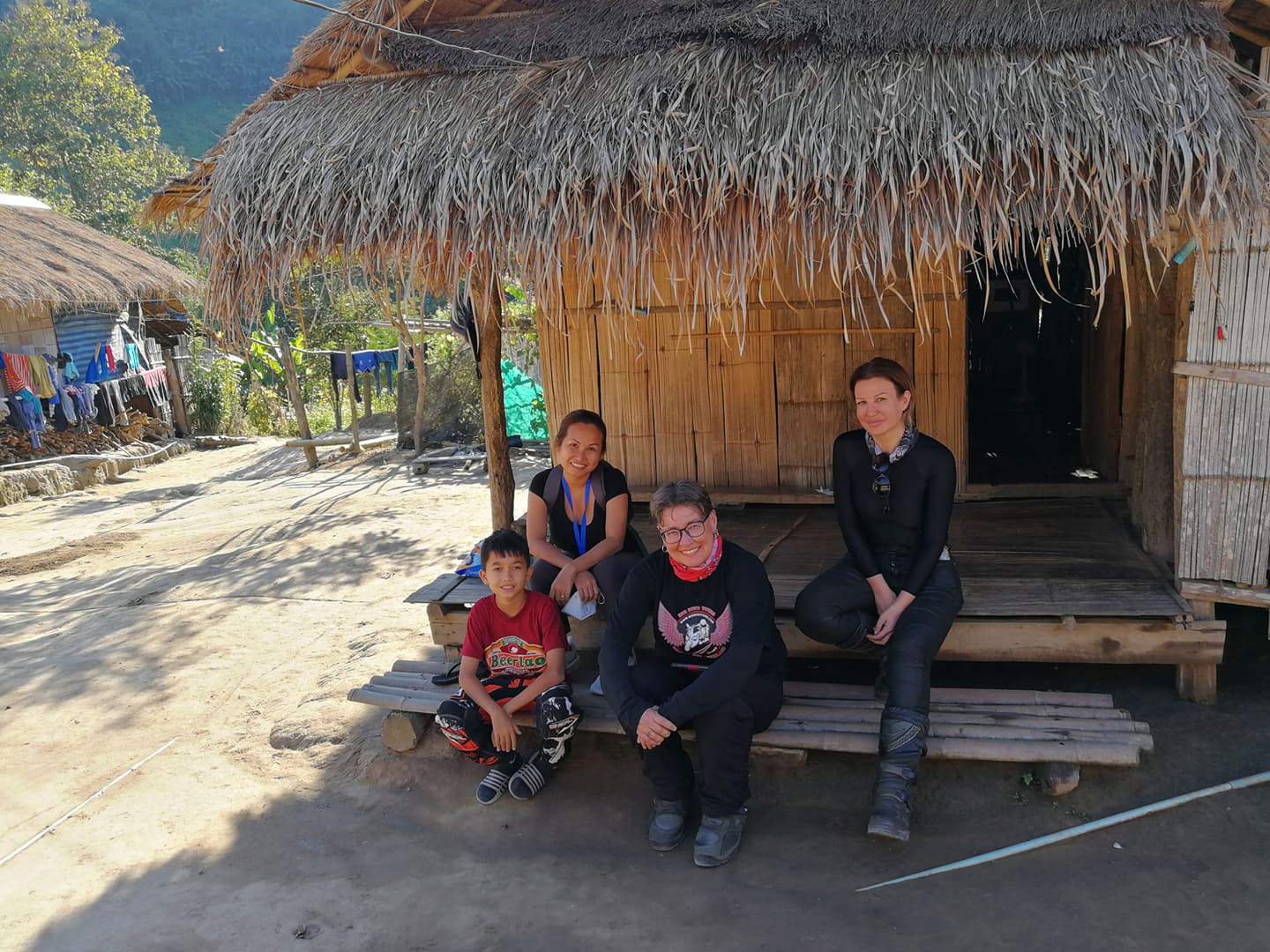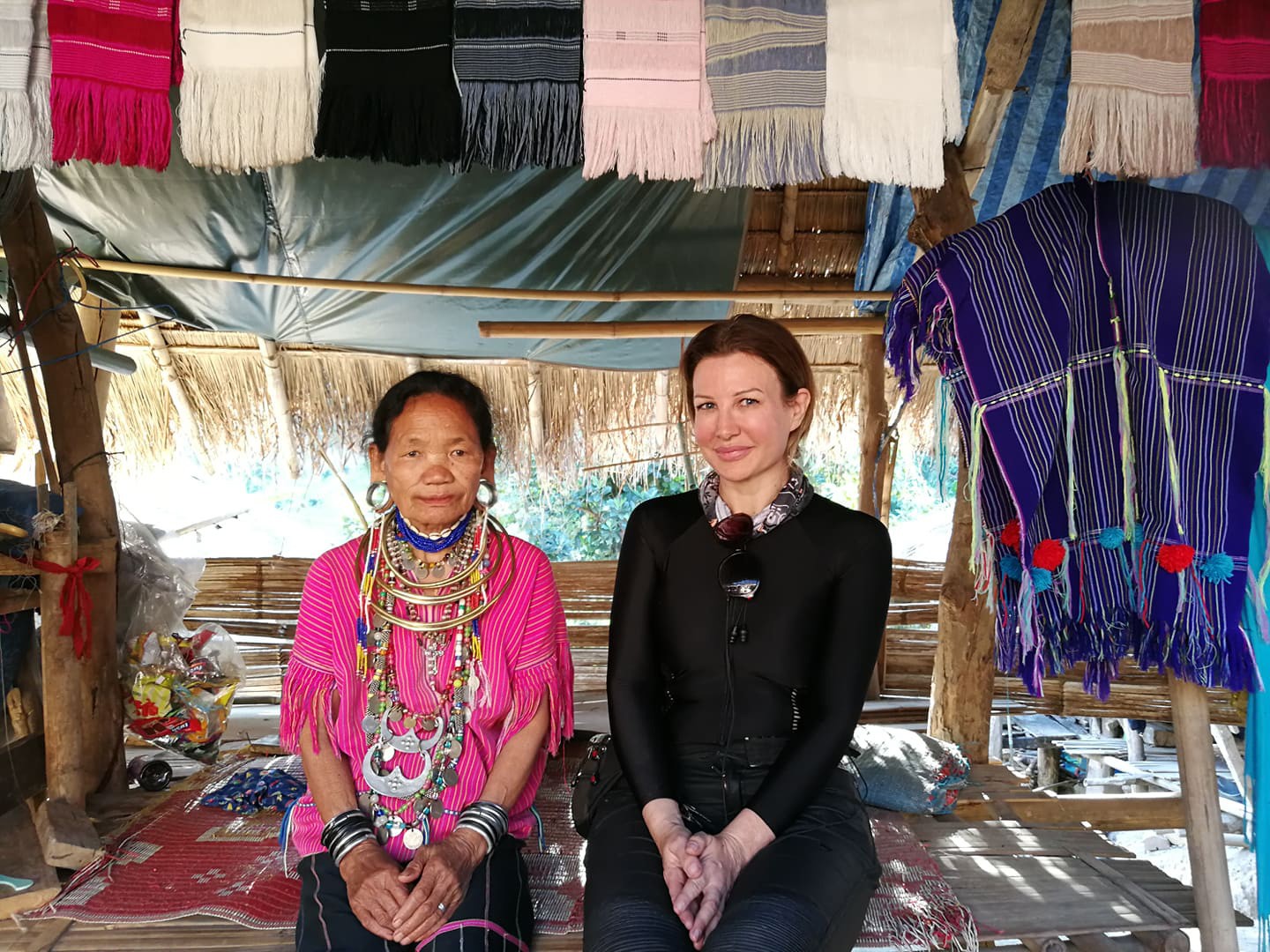 (She was lovely and smiley to talk to, despite not looking so happy in the photo.)
Next and last stop was to Doi Mae Salong, where we would rest for the night. The hotel was pretty (Happy House), where I was lucky to get a room with a view.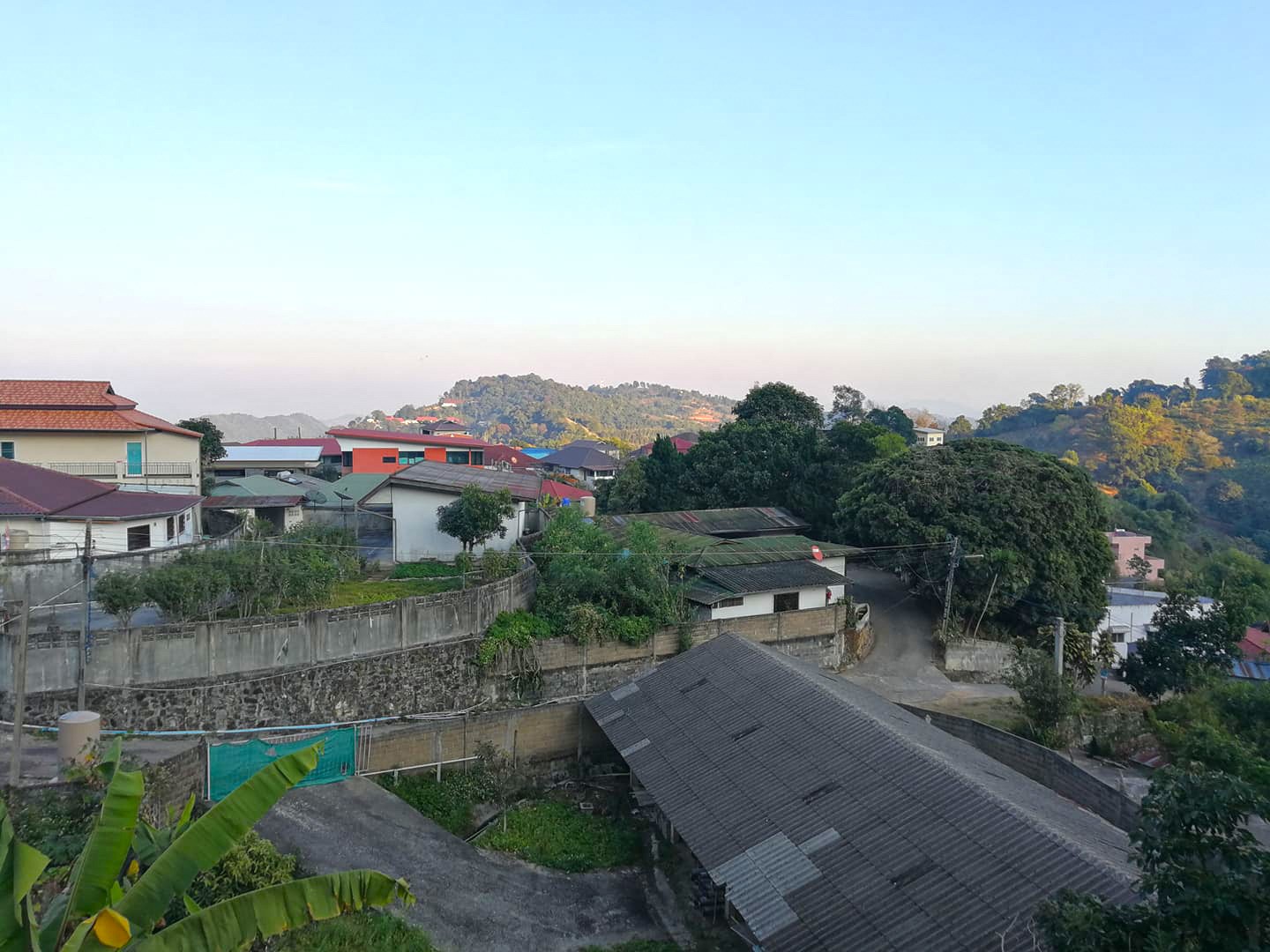 For dinner we met at Salima Restaurant, a Halal restaurant, and Kay took in his wine. The owners were fine about it and even brought out some wine glasses, which is when this happened…
We rested early. Day one complete, without hiccup! 🙂
Big Bike Tours Recce ride video. Day 1. 
Day 2: Doi Mae Salong to Chiang Saen (Google Map)

I awoke early after a not so great sleep. This is pretty normal for me when on a ride though, particularly if it involves any social interaction. I find it hard to settle and my brain goes into processing overdrive, digesting everything that happened throughout the day.
Seeing as I awoke before sunrise, I decided to open up my curtains and watch the sunrise from my bed. I dozed off intermittently.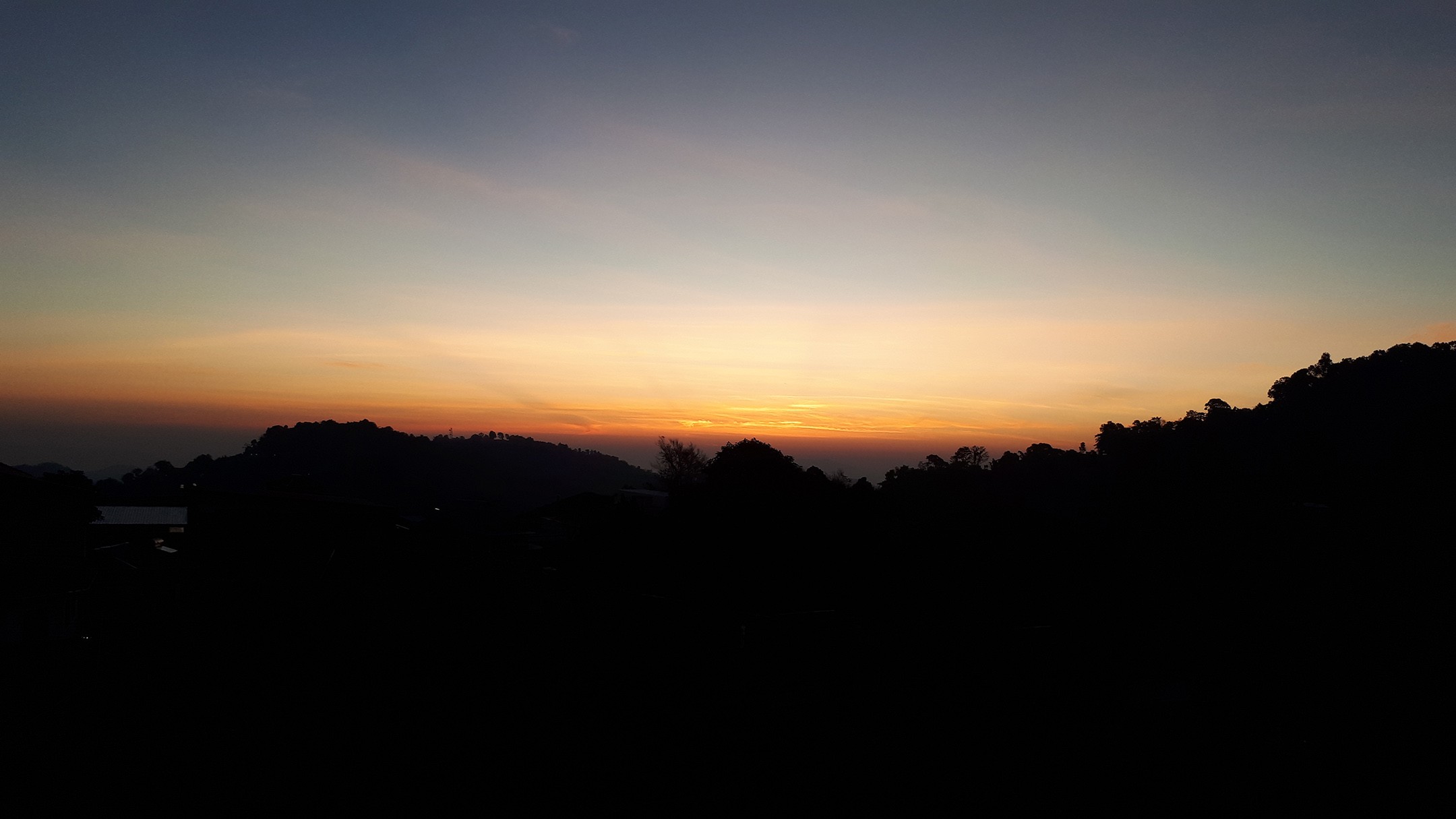 However, can you imagine my surprise and horror though when I opened my eyes to see a man standing on my balcony taking photos of the view. I shouted at him to go away. What the heck! Turned out he was in the room next to me and too lazy to walk over to the other balcony side, so came to my room balcony area to take his photos. Not on Sir, not on!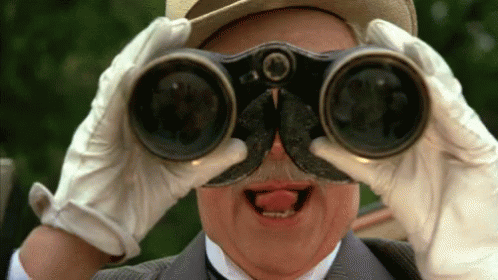 The shock woke me up fully, so I got dressed and took a ride around on my bike.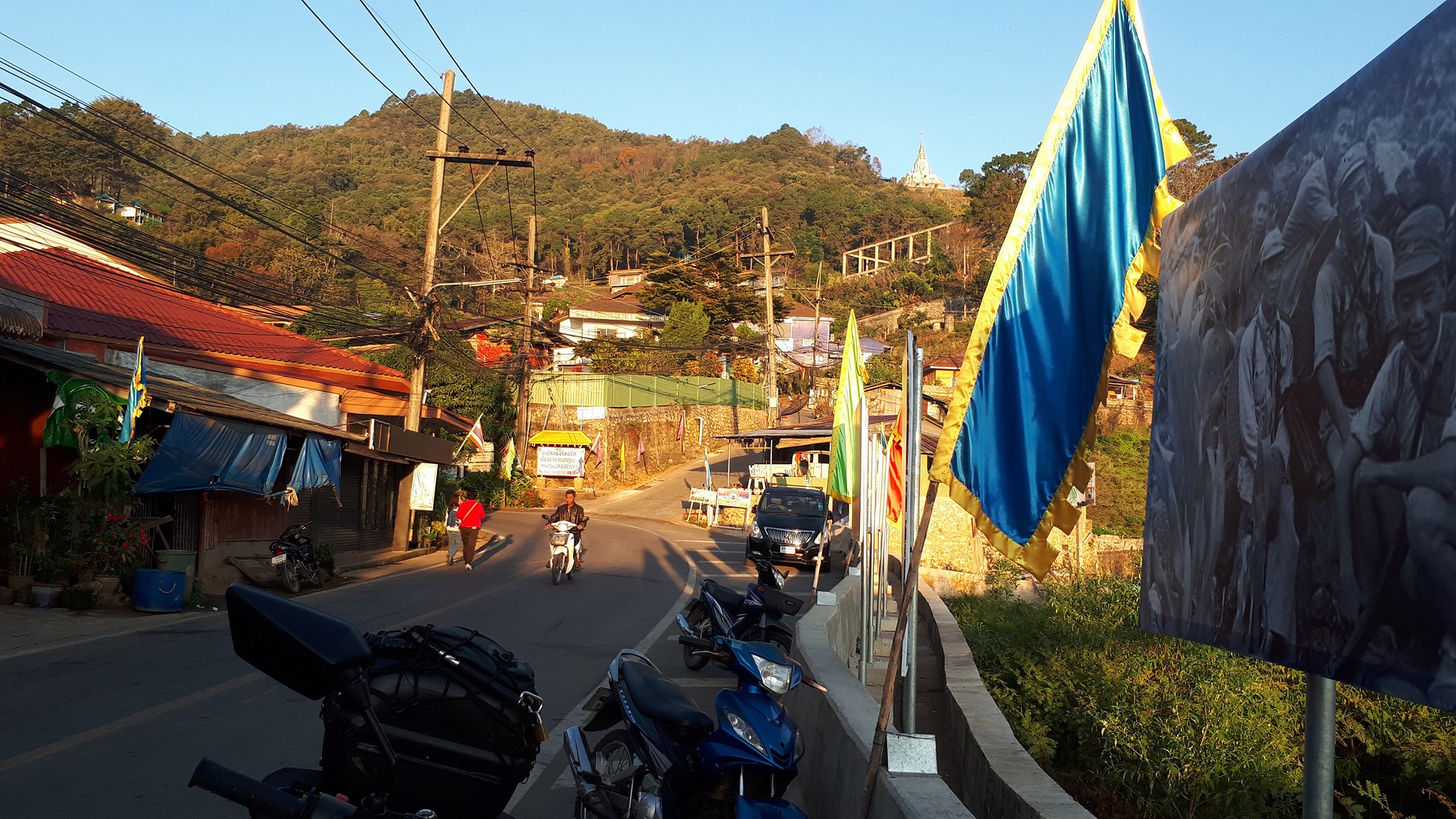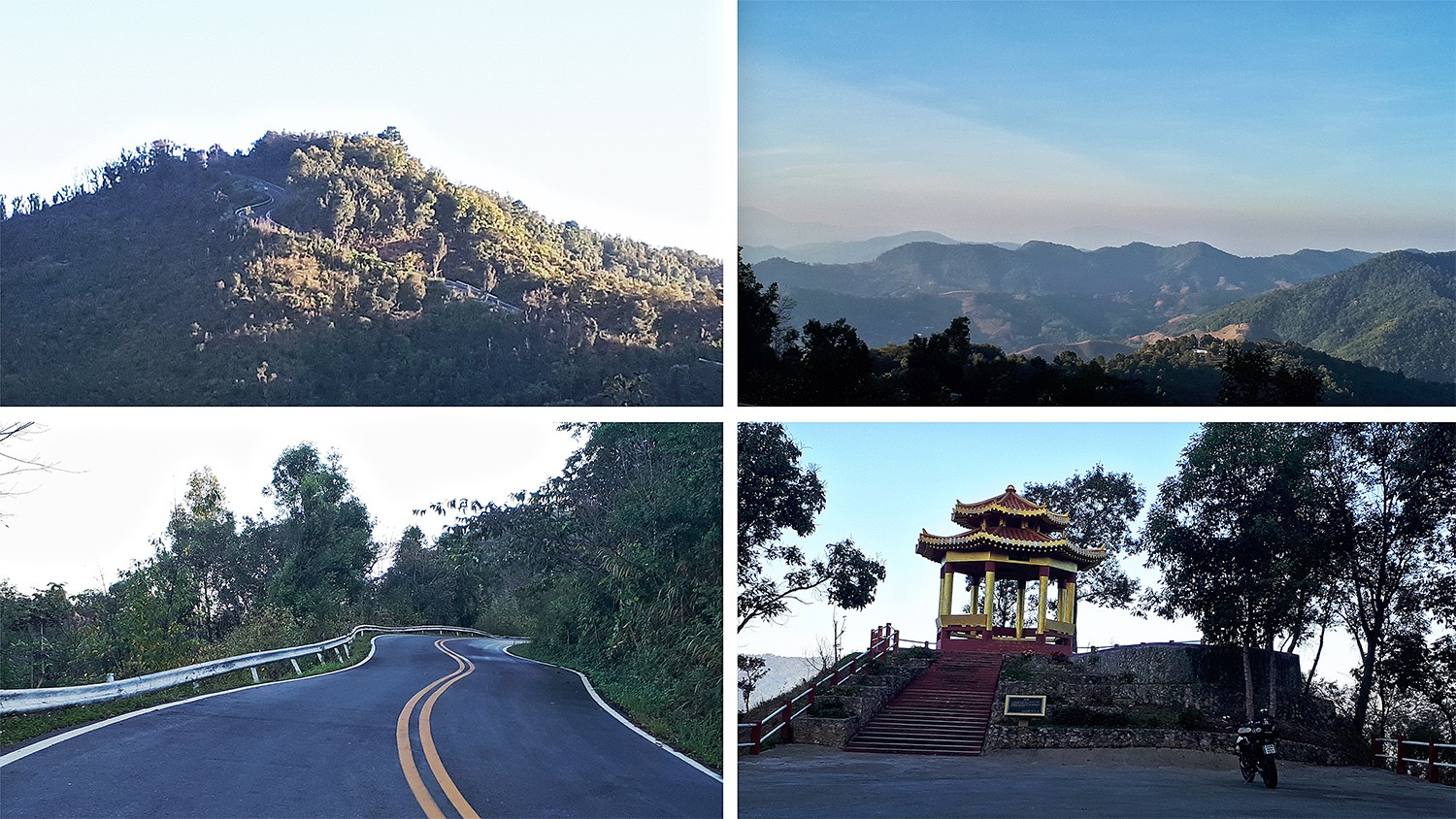 Breakfast in Mae Salong… (probably the least said about this, the better really). Lets just summarize by saying it pretty much didn't happen. The place we chose wasted an inordinate amount of time. Our food either didn't come or came not properly cooked..and in the end I had nothing except an instant coffee back at the hotel. I think almost 2 hours in total was wrecked that morning due to trying to find a place open and trying to get our orders sorted out.
After breakfast we got on the bikes and headed to the tea plantation area to enjoy some tea tasting. We indulged in many different kinds of teas, which were absolutely delicious!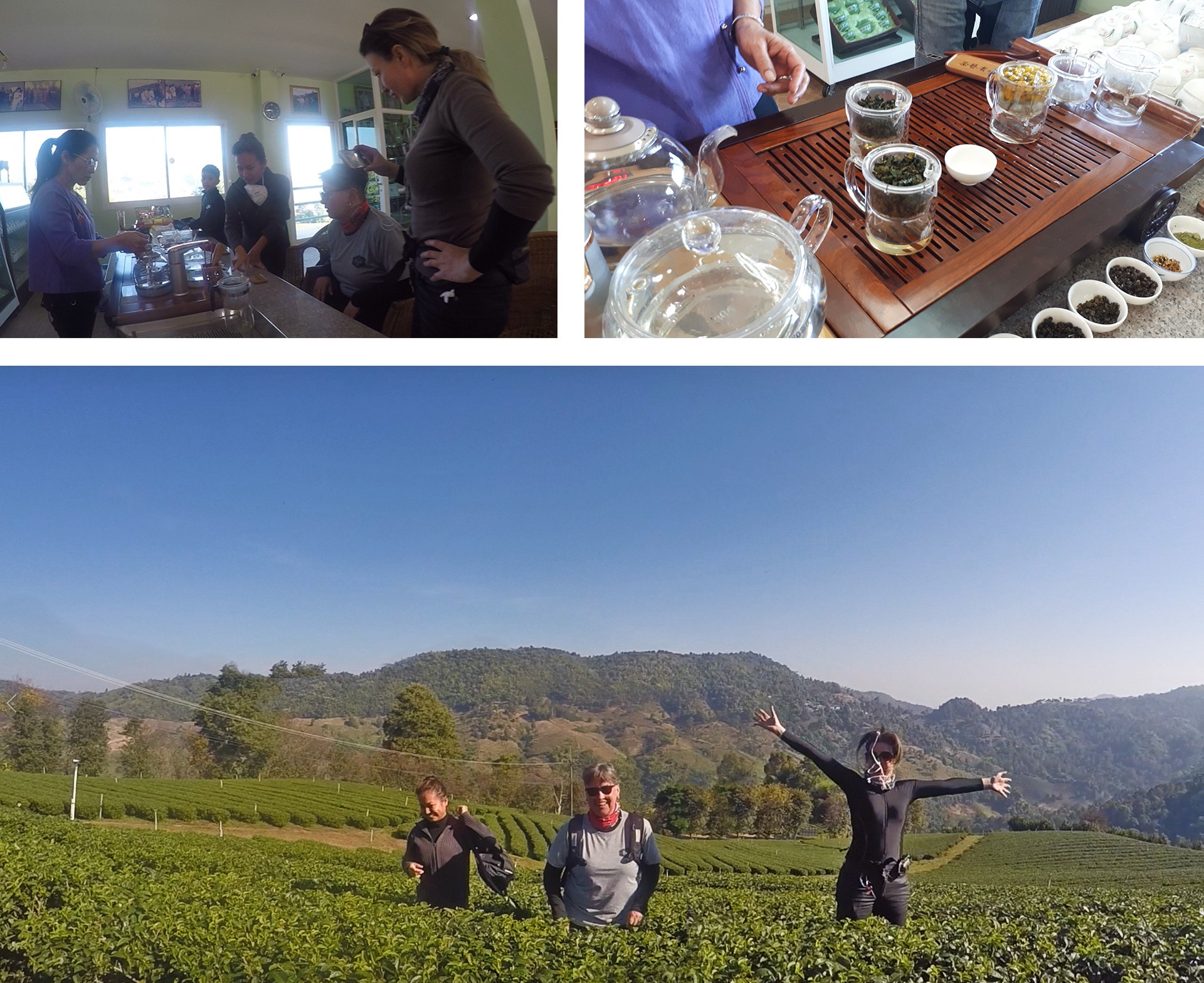 After tea we were again back "On Zee Bikes" (a play on Kay's German accent), and off we went along the Doi Mae Salong route. At the junction Kay took a quick "selfie" snapshot of one of the soldiers stationed at the junction.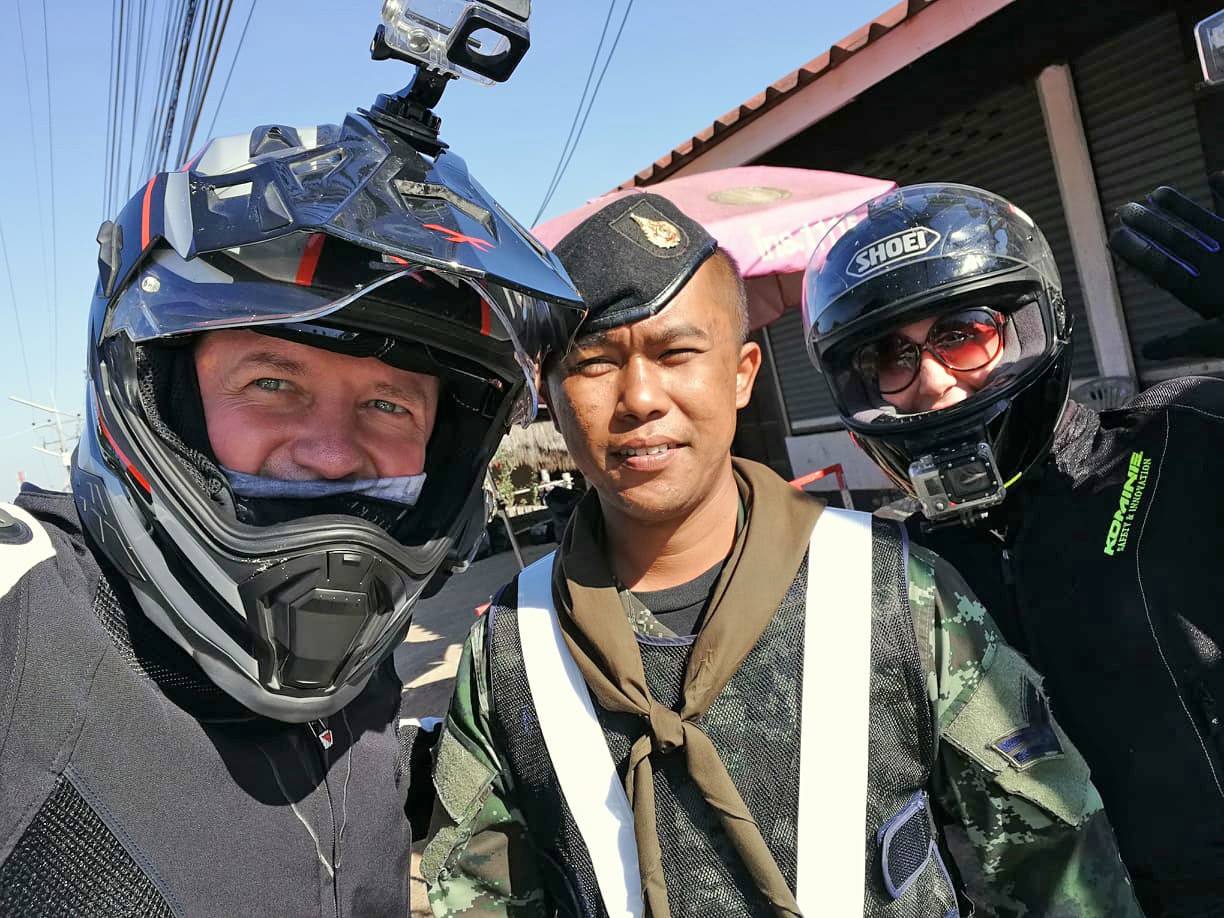 Next we enjoyed what is (imo) one of the best routes in N.West Thailand; the R1338 to Doi Tung, stopping to visit the Doi Tung Royal Villa and Gardens.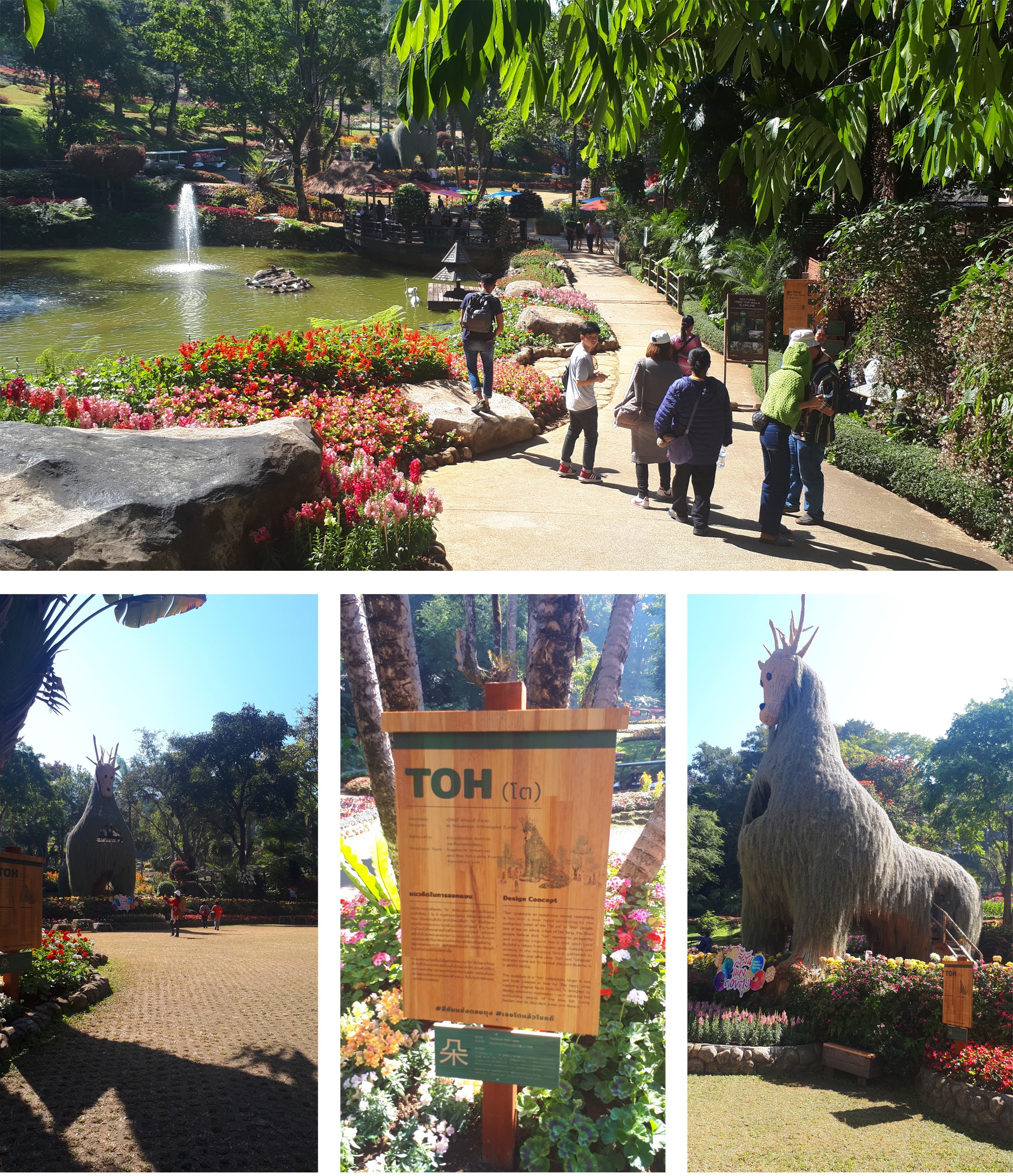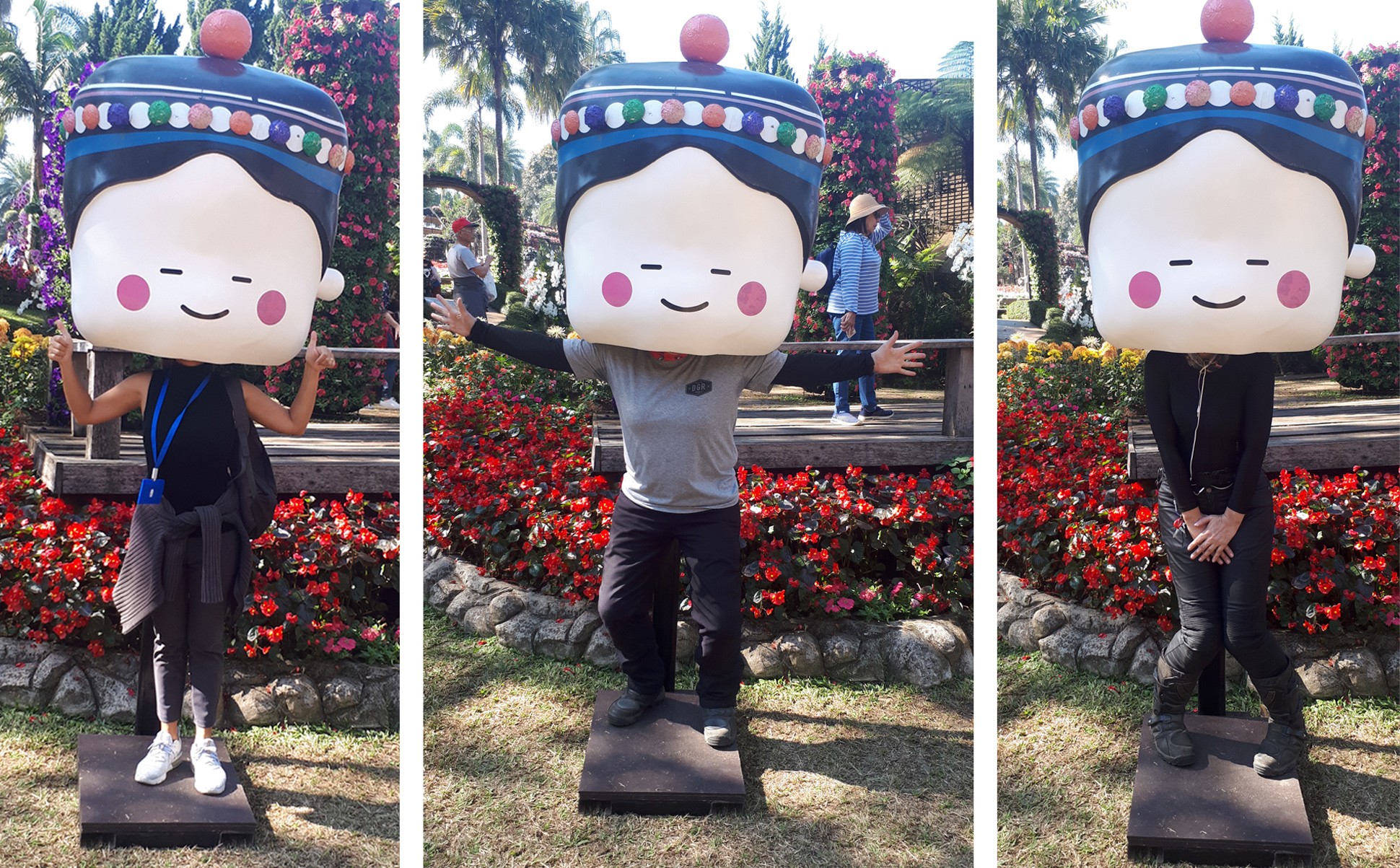 (Funny story. I had a silly drama moment at Doi Tung Villa area. I thought I lost my GoPro. It made no sense that I lost it, but I couldn't find it. Anyway, turned up inside a flower pot beside my parked bike! Obviously it just dropped right in! Was great to get it back..and I am so relieved that I double checked the area before leaving. I could have easily ridden off as it was hard to spot hidden within the planted flowers.)
Our next stop was a quick lunch stop on the R1149, after which we headed on the main R1 to Tham Pla Cave. So many monkeys!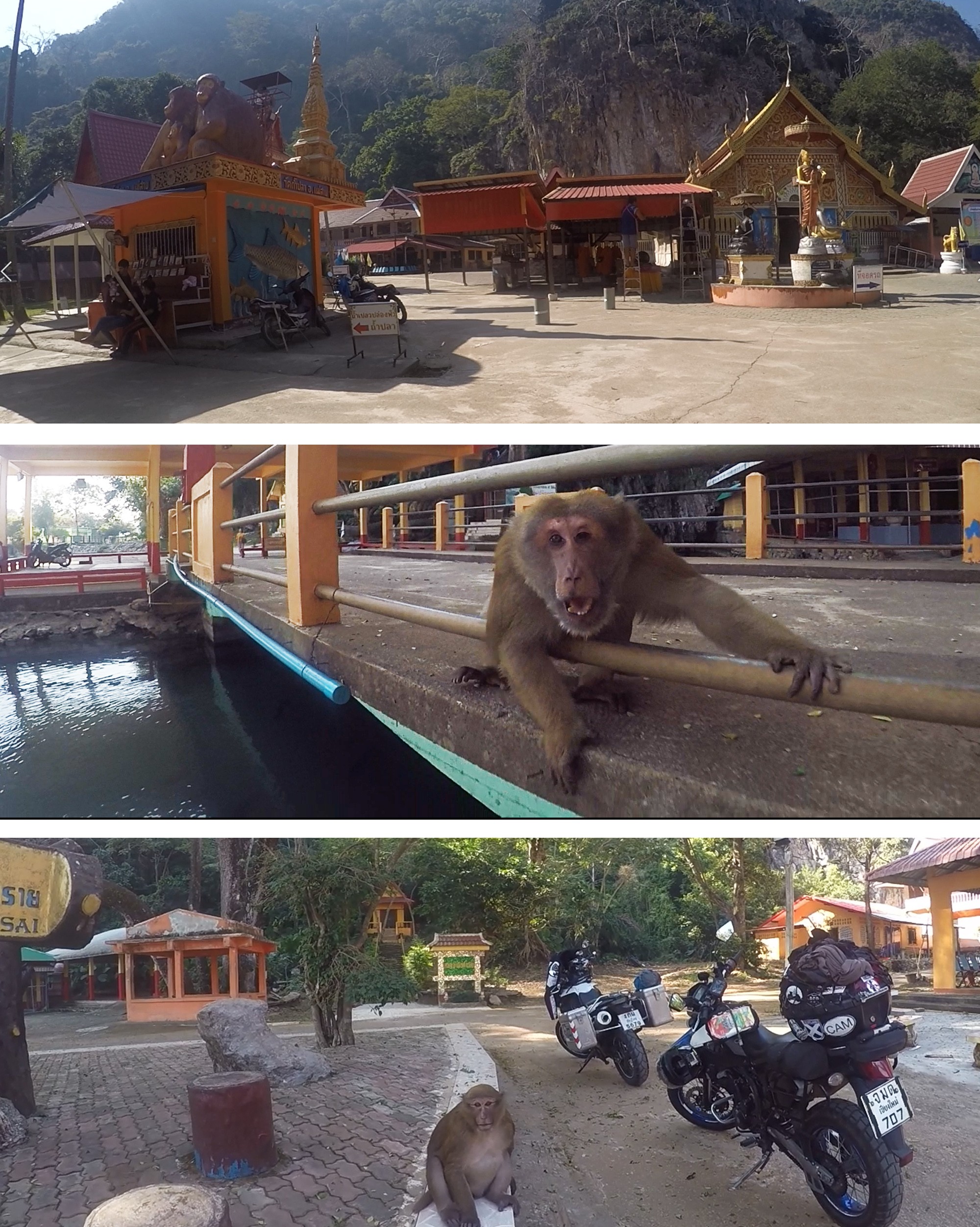 After Tham Pla we went in search of a huge teak resort restaurant Kay recommended for the ladies tour. The Golden Iyara Resort. Apparently it had a regular buffet with great food. We rode straight there only to find an empty dirt plot! The HUGE restaurant was completely gone! Crazy!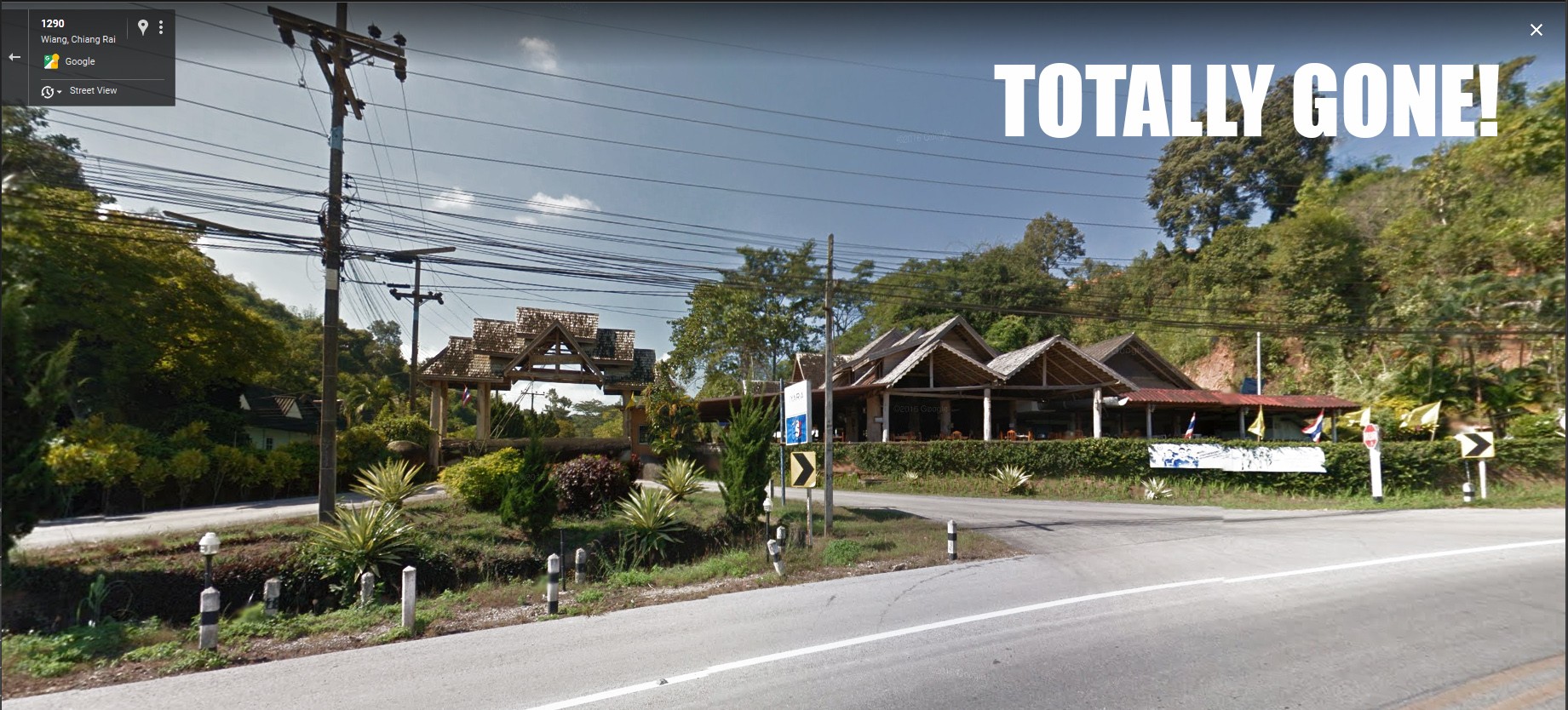 Oh well, onto the Golden Triangle!
At Chiang Saen we rode up to the viewpoint then headed to our lovely hotel.
We quickly got freshened up in order to take a boat over to the Laos border market.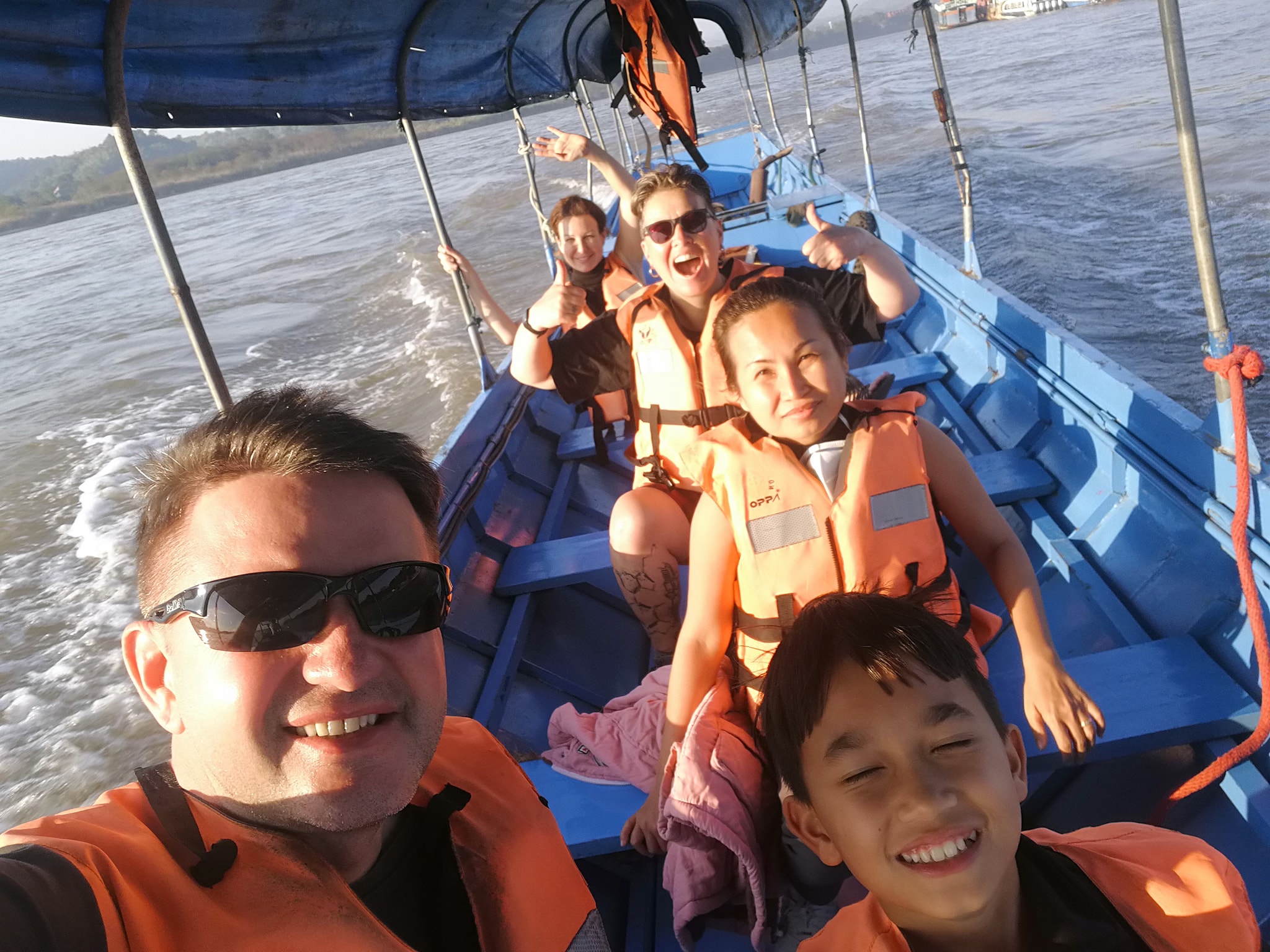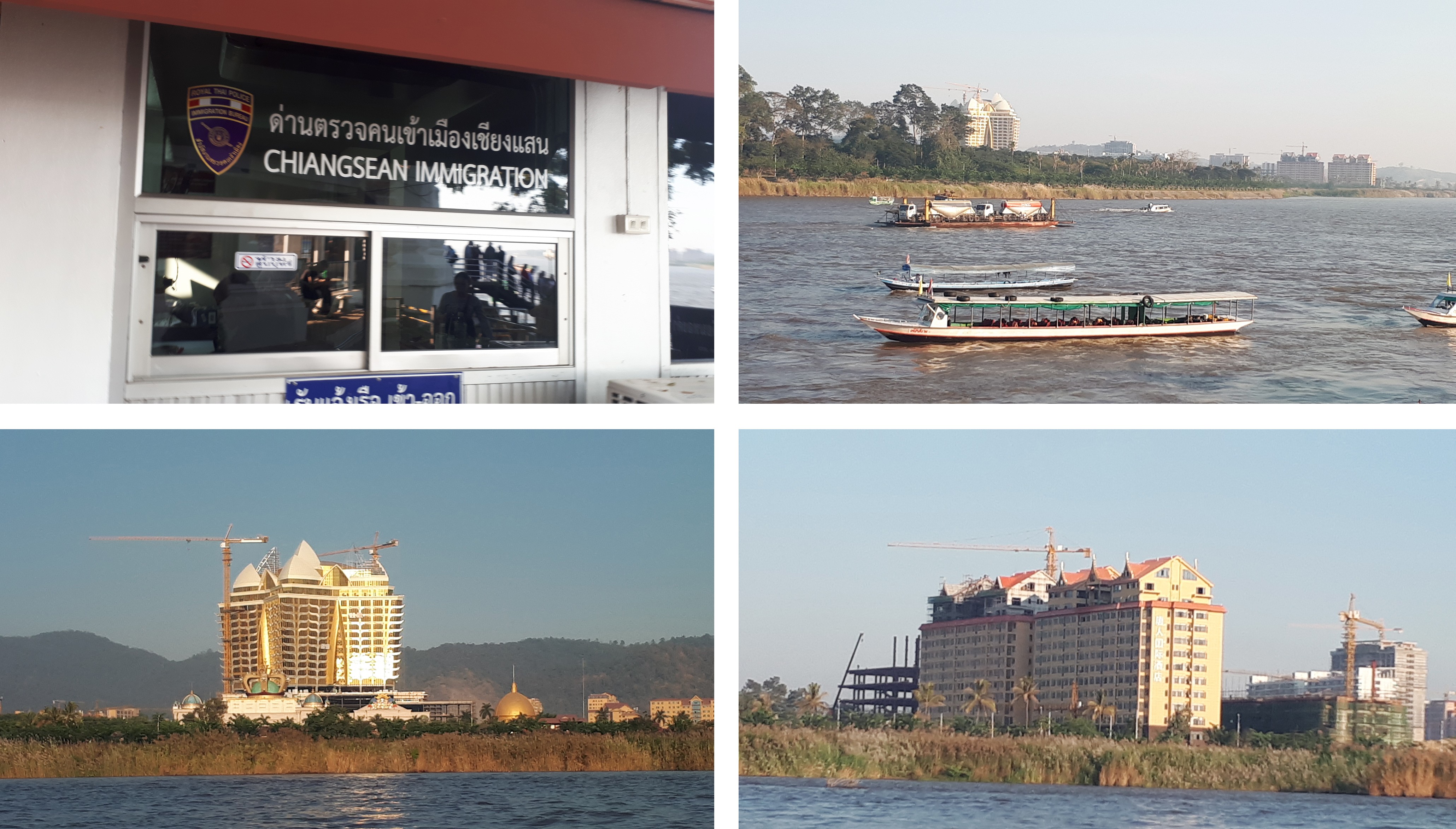 The boat ride was really fun and the market buzzing. Lots of duty free items and fake designer goods..haha!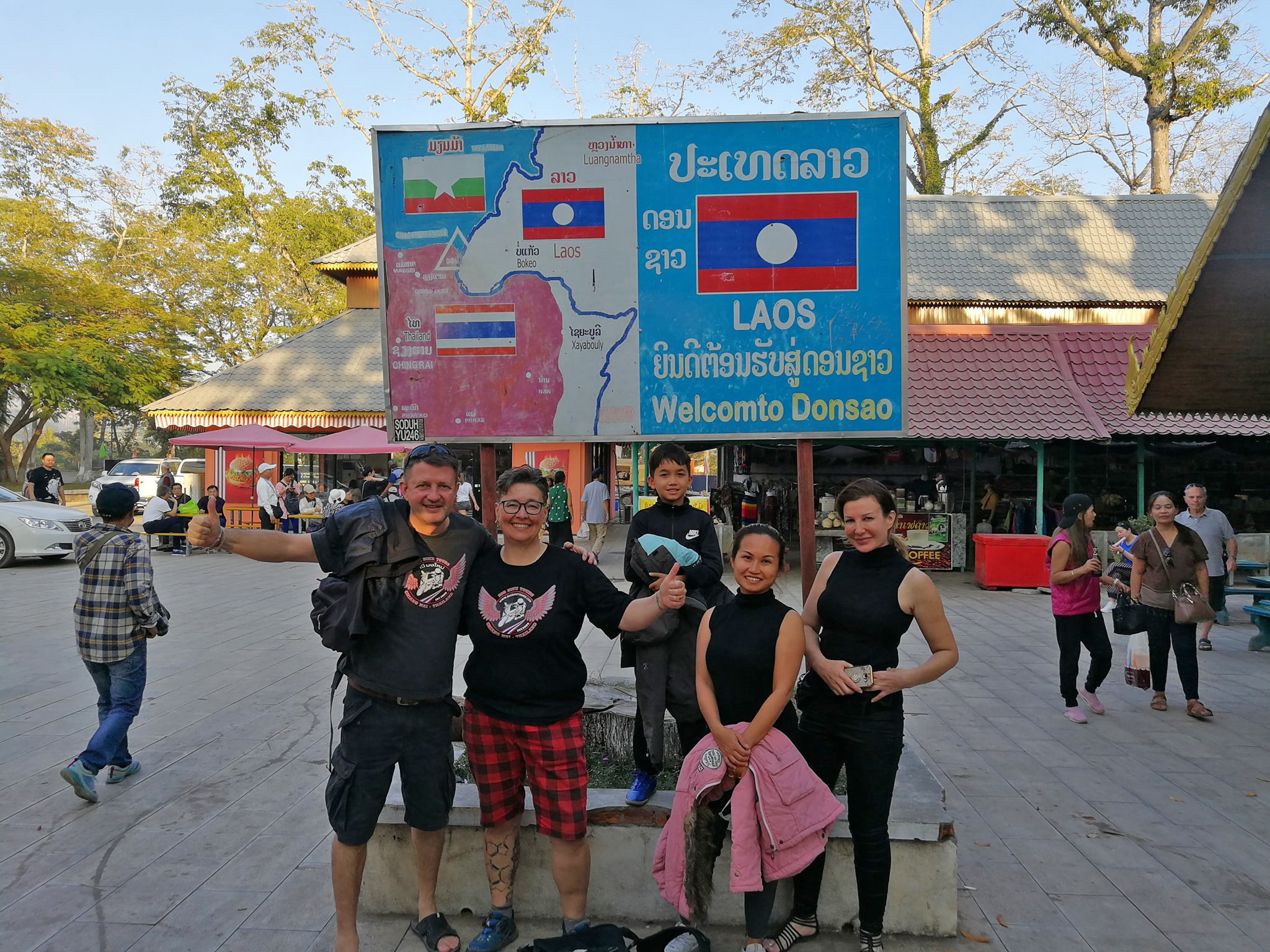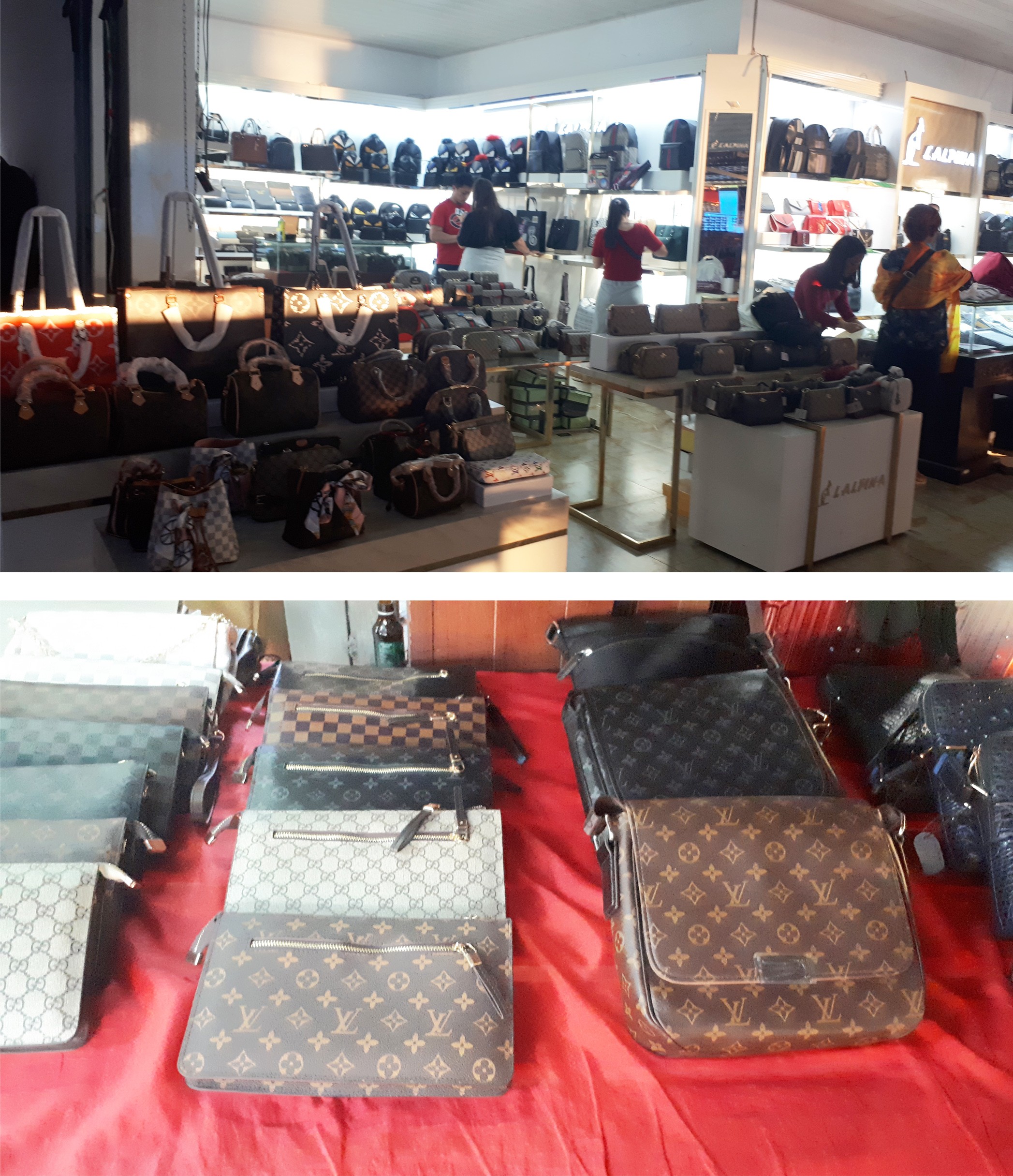 Back at the hotel we had a short rest before meeting up again to enjoy food at Mekong Pizza, where we were treated to a visit from our good friend Mr.David Unkovich (aka Gt.Rider.com), who had ridden in from Chiang Khong to dine with us. So nice!
After dinner I headed back to my room to rest, whilst most everyone else stayed up late enjoying drinks and ping-pong with the owners of Mekong Pizza.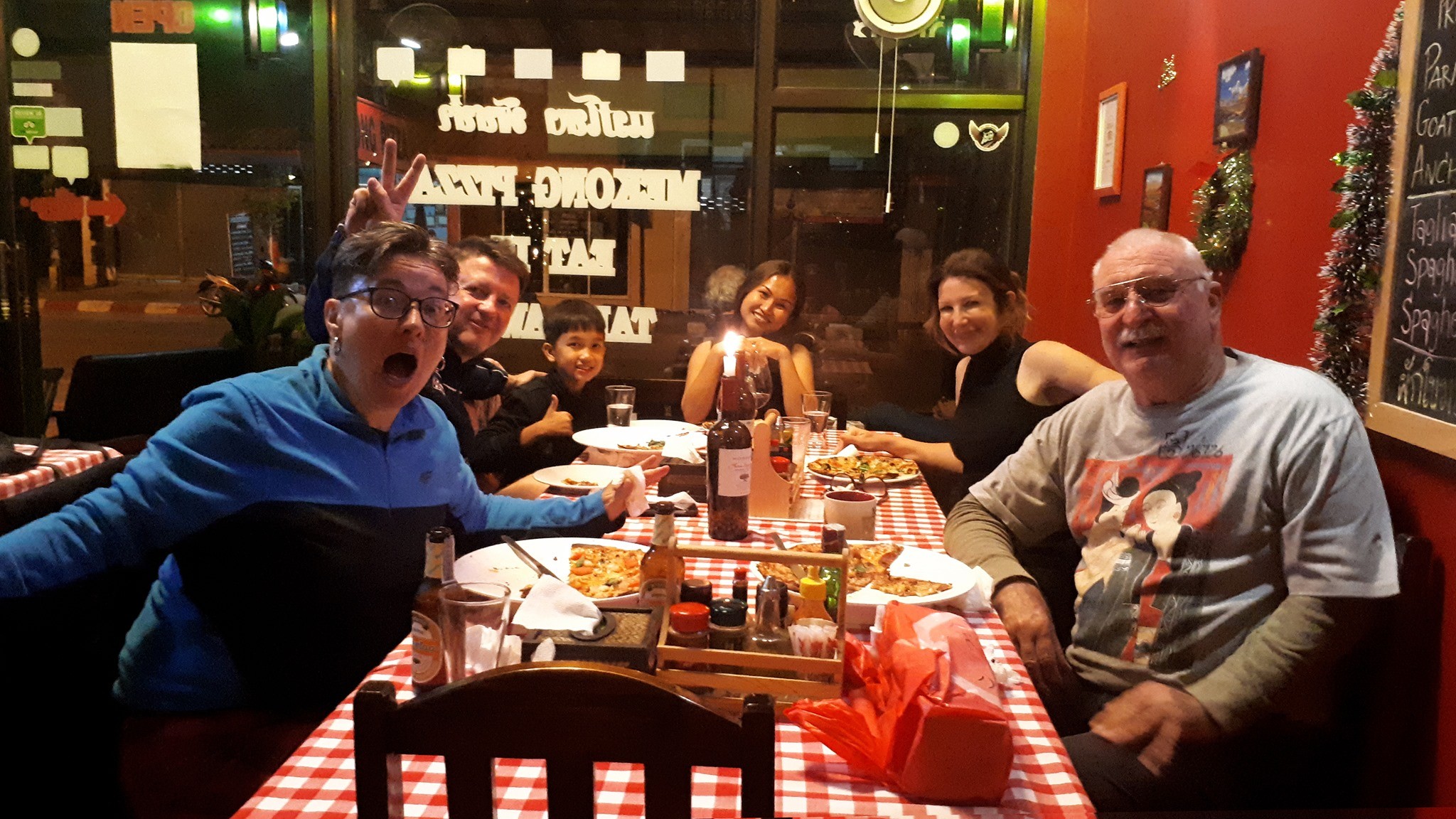 Big Bike Tours Recce ride video. Day 2.
Day 3: Chiang Saen to Chiang Mai (Google Map)

Another early rise for me, so I packed up my bike ready and went to eat breakfast (which was included in the room price). The Mekong view was very pretty.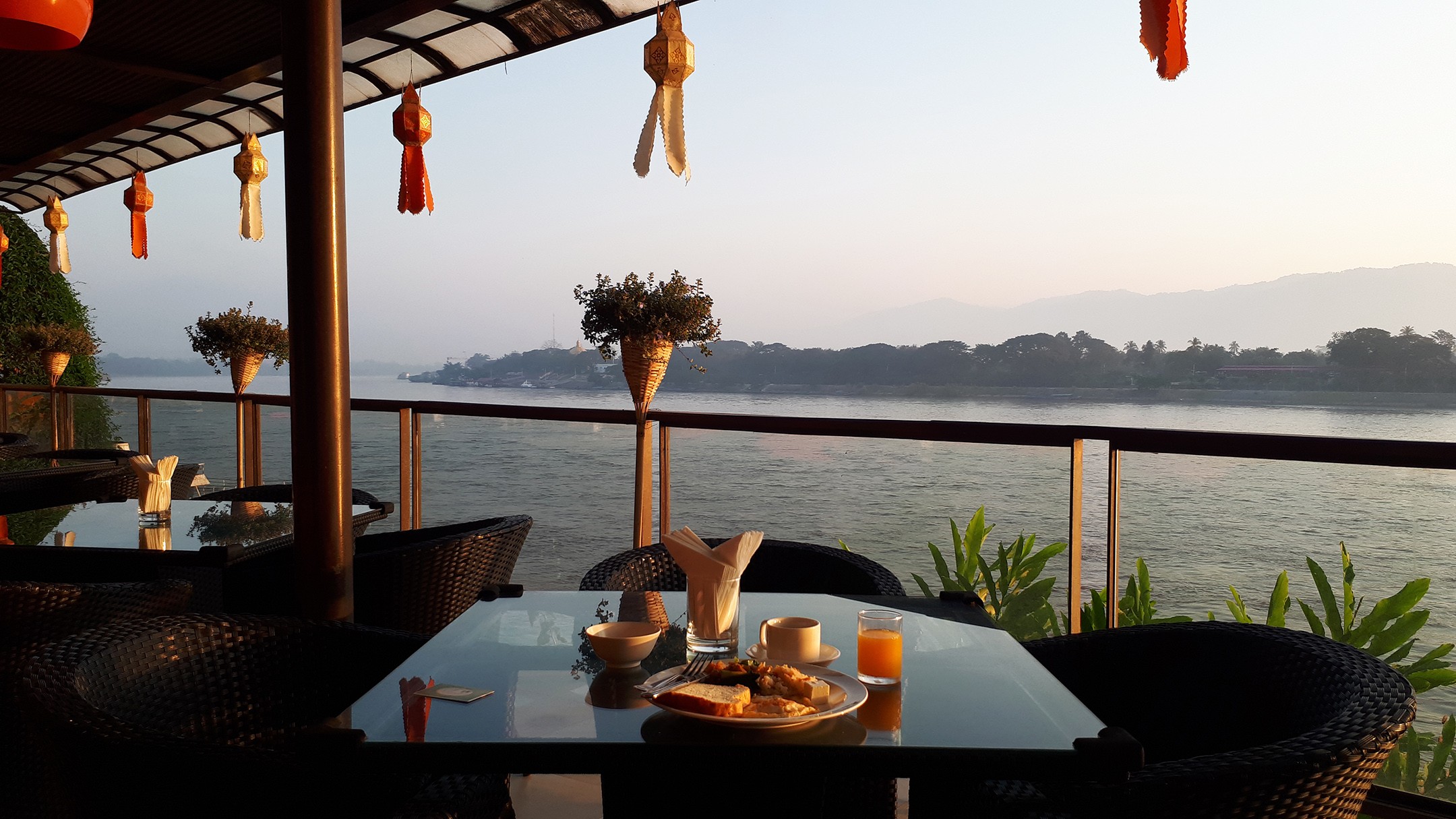 It was a late start on the bikes but with just a few stop-off's planned it wasn't a concern. We took a nice rural route and stopped off at a wonderful temple for a photo (keeping this one quiet as it was Big Bike Tours find and not mine!).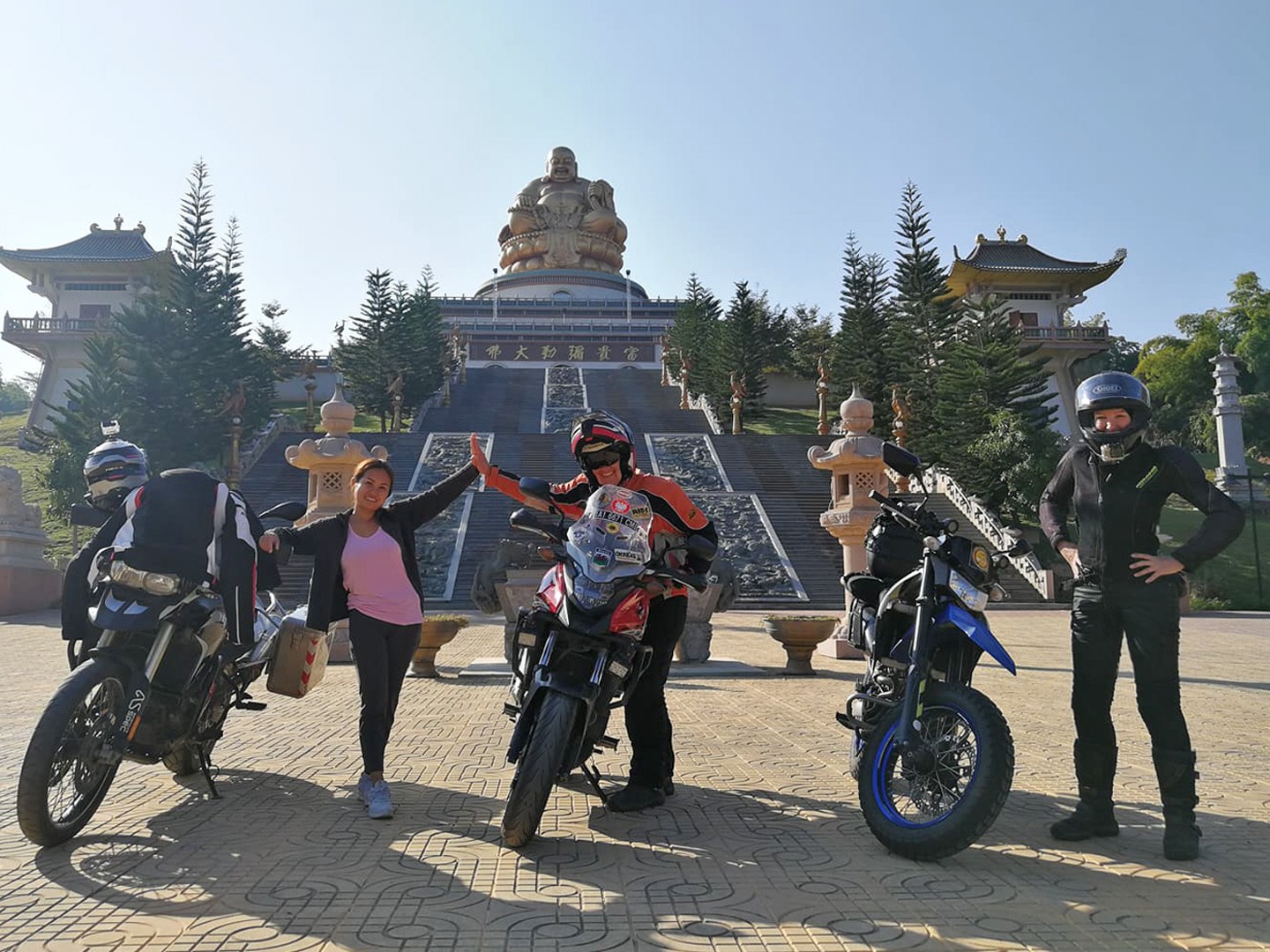 I attempted to run up the full set of steps without stopping at this temple too. Do you think I made it?

Also had a funny moment where I roped everyone into doing a jumping video..haha.
Next we headed along a quiet route to Wat Rong Khun, which, as always, was packed with tourists. Many of which kept completely walking through and past us as we tried to take a quick video..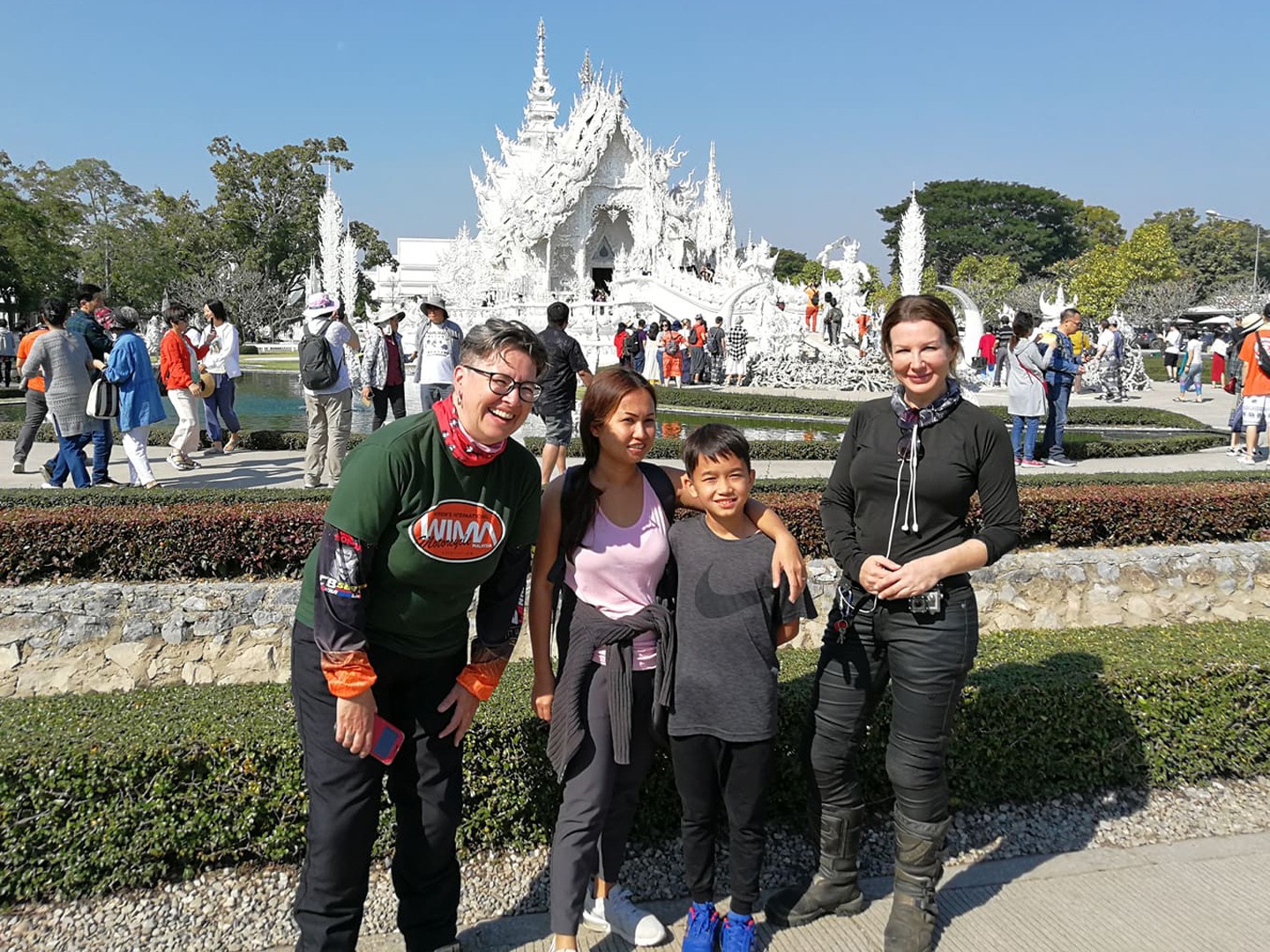 After Wat Rong Khun it was a boring highway ride down the main R1 to Wat Sai Khao . I had always intended to stop in at this temple one day, but until this day never had.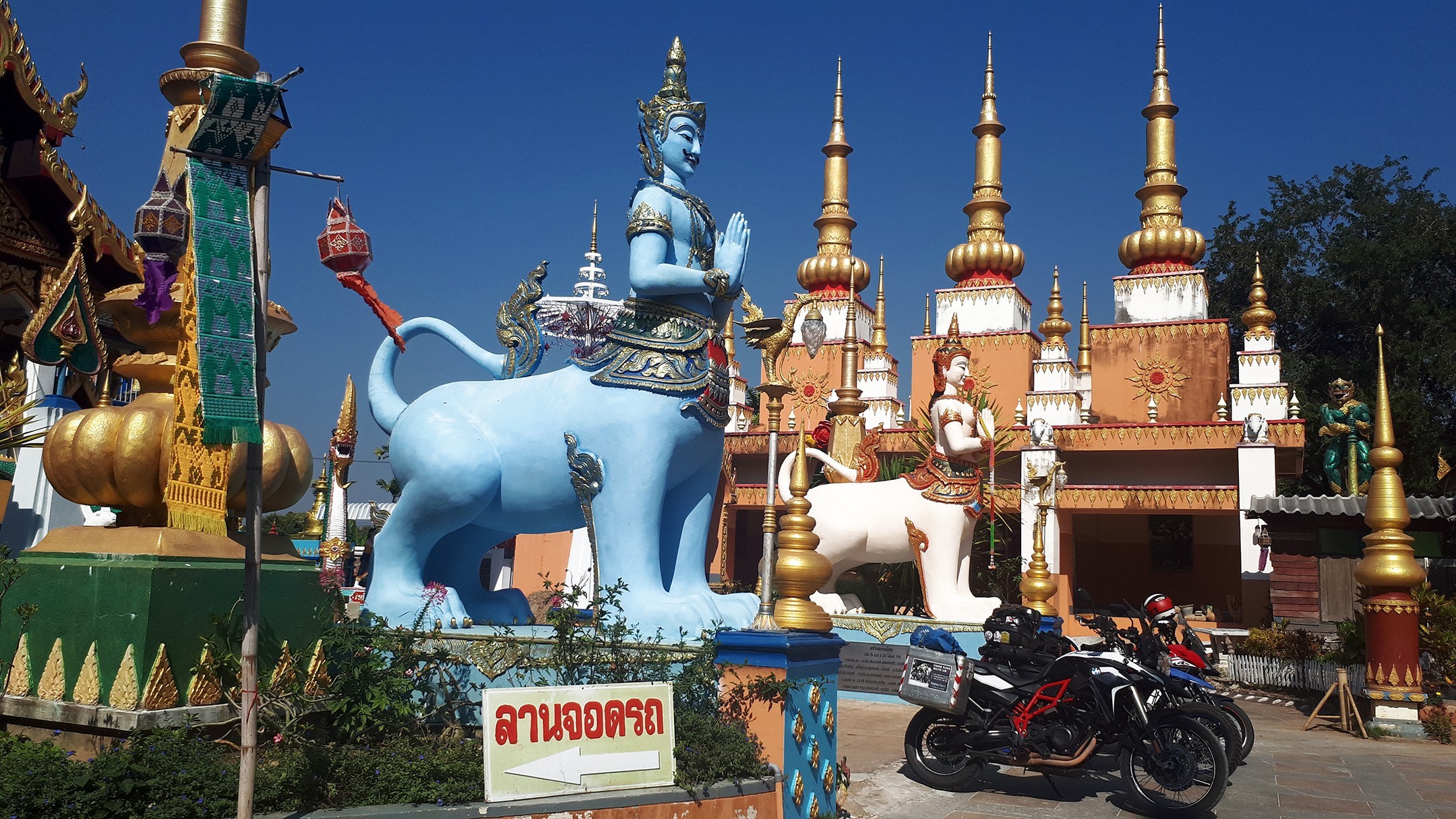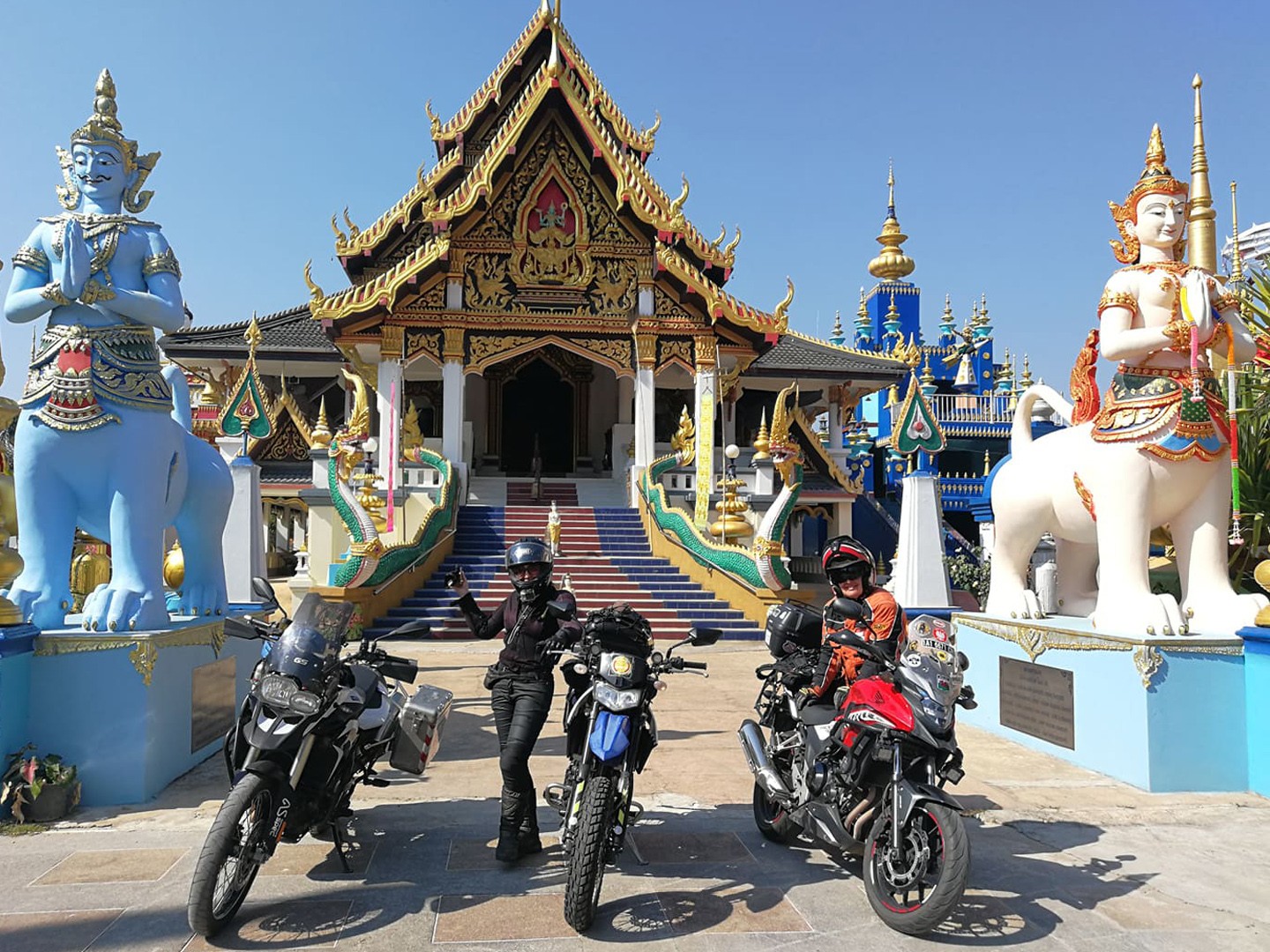 Next stop Phayao Lake for lunch, which I always enjoy. I have a soft spot for pretty Phayao and the food there is always so fresh and tasty.
At Phayao we considered what route we should take. The main R118 is still a mess of road works, so we chose to take the twisty and technical 1252 route through Chaeson area. Such a great road! (By this time I was out of GoPro battery, so nothing was recorded).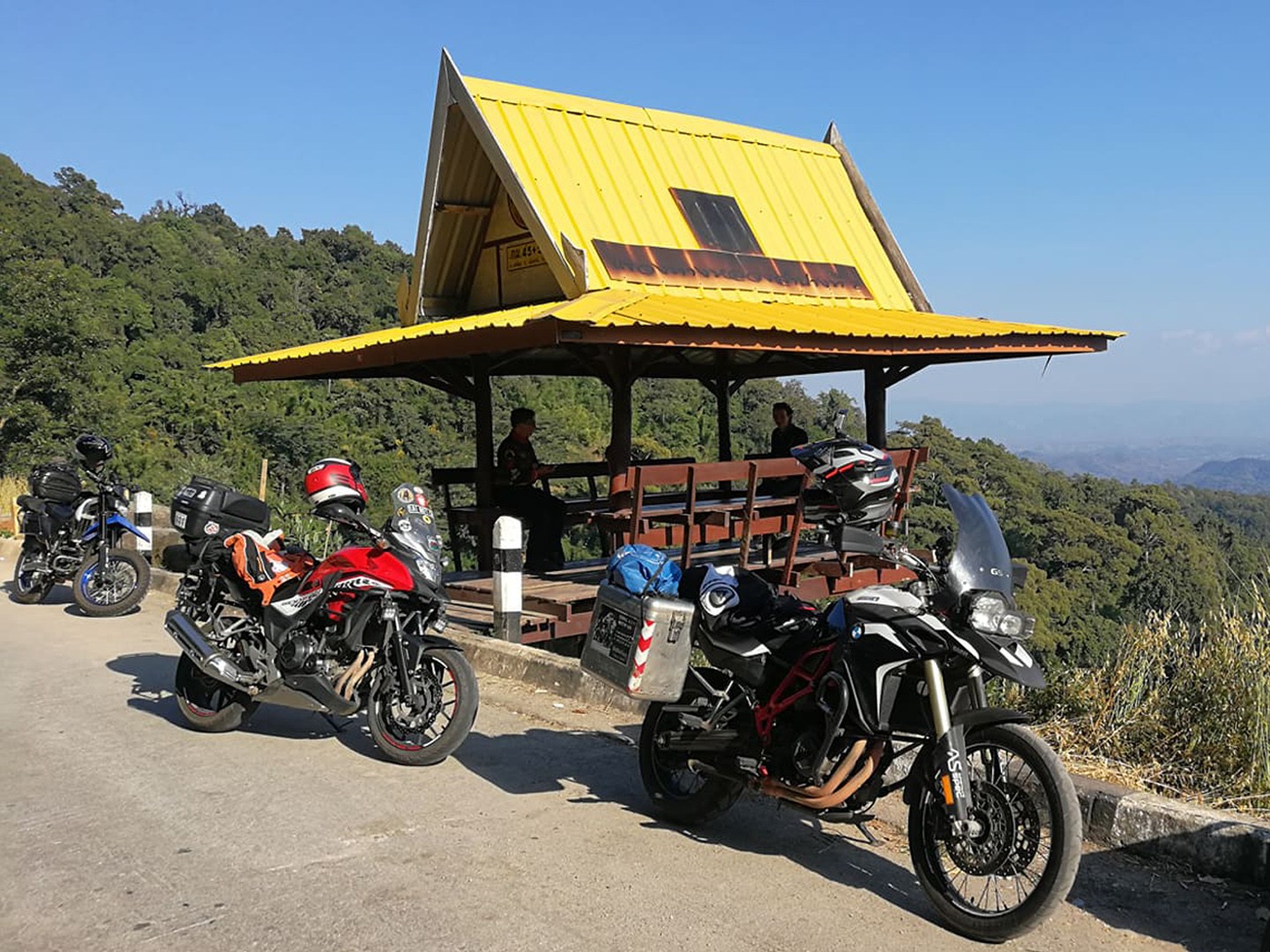 Our last stop was a small roadside shop to grab a couple of cool drinks before saying our goodbyes, after which I took the R118 back to home (but not before stopping off at this fab area for a look around and a photo. I have a comical story about visiting this site..which I am still considering whether I should share or not…)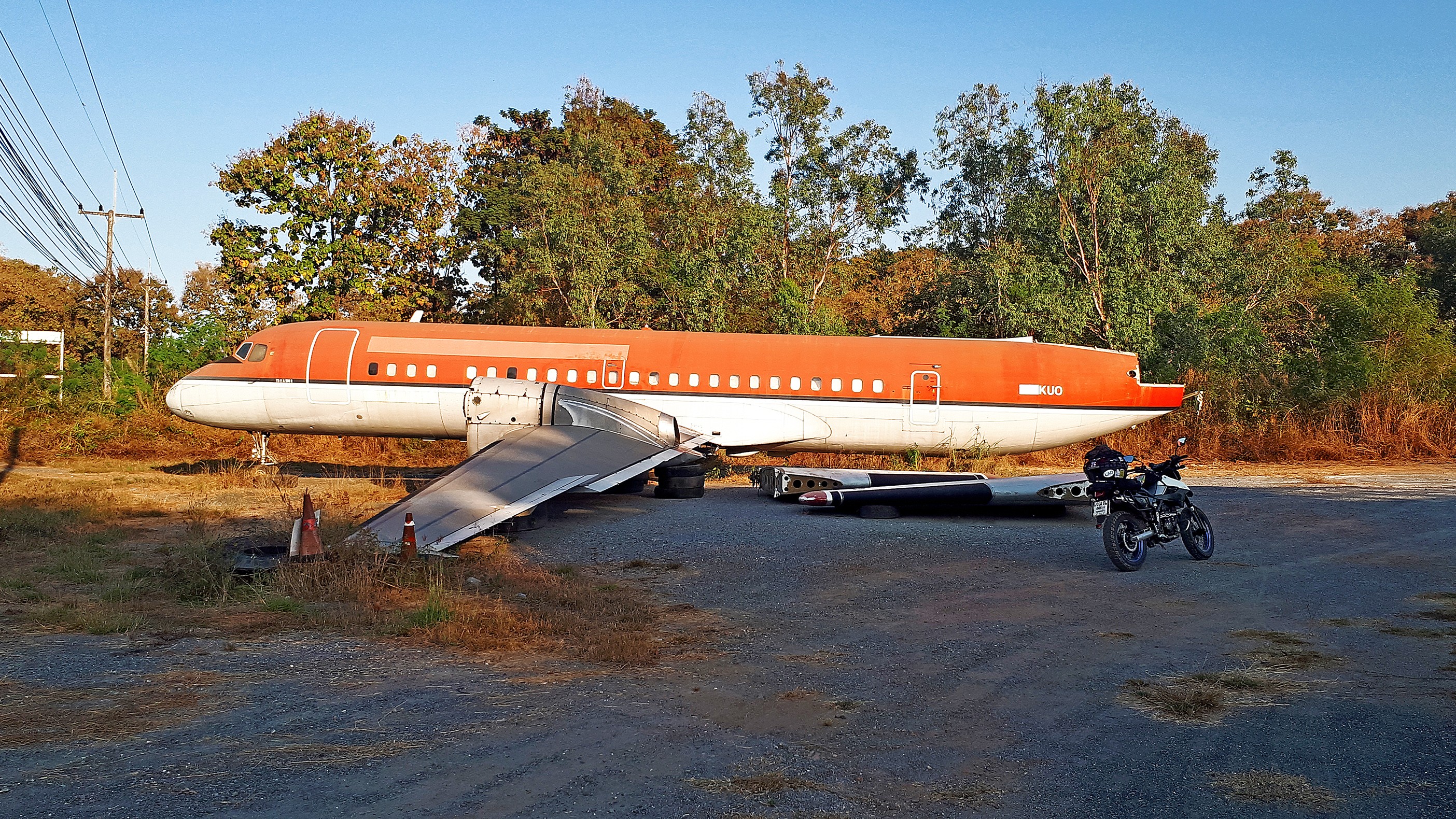 Big Bike Tours Recce ride video. Day 3.
All in all a fantastic trip and many thanks to Big Bike Tours for inviting me along! 😀 🙏
THE BEST BITS – HIGHLIGHTS OF THE TRIP!
Hope you enjoyed this trip report. 😀
If you did, please Like / Subscribe ! ♥
FACEBOOK
INSTAGRAM
YOUTUBE

..and if you feel exceptionally generous, then you can donate into Paypal or you can sponsor me through my Patreon Account.

Every little counts! This will go towards better equipment, website hosting, etc. Thank you ♥ 🙏
Thank you for reading. 🙂