Temple-Tastic! 8 Hours Exploring On ONE Tank Of Petrol!
(Wednesday October 2nd 2019). 8 hours of riding joy exploring a section of outer Chiang Mai region, on ONE tank of petrol (7.7 litre tank)! Fab roads and amazing temples on a glorious Rainy Season day. (*Note* many of the temples/meditation retreats I visit are very quiet and turning up as a solo rider isn't a problem. In my humble opinion I think it is probably best not to turn up in large groups. Also, remember to keep voice levels low within temple zones and dress respectfully.- Sorry for the small lecture-style note, but feel it is important enough to mention.)

HIGHLIGHTS of full ride:
FULL ROUTE (Google Map Link 1)/(Google Map Link 2)
Relive Map Route tracker link HERE (only until I reached Wat Phra Phutthabat Si Roi)

Around 7:30am on Wednesday morning I was on the bike and off. I stopped in at a local petrol station to fill my tank up and then headed off to my first temple stop: สำนักปฏิบัติธรรมสันกู่ / San Pa Gu Meditation Centre. I was reminded of this place recently by my friend Alex, who had a bad accident in the area some years back. I had passed the amazing entrance and the stairway area many times, but had never gone in. Was great to finally see what was up those steps!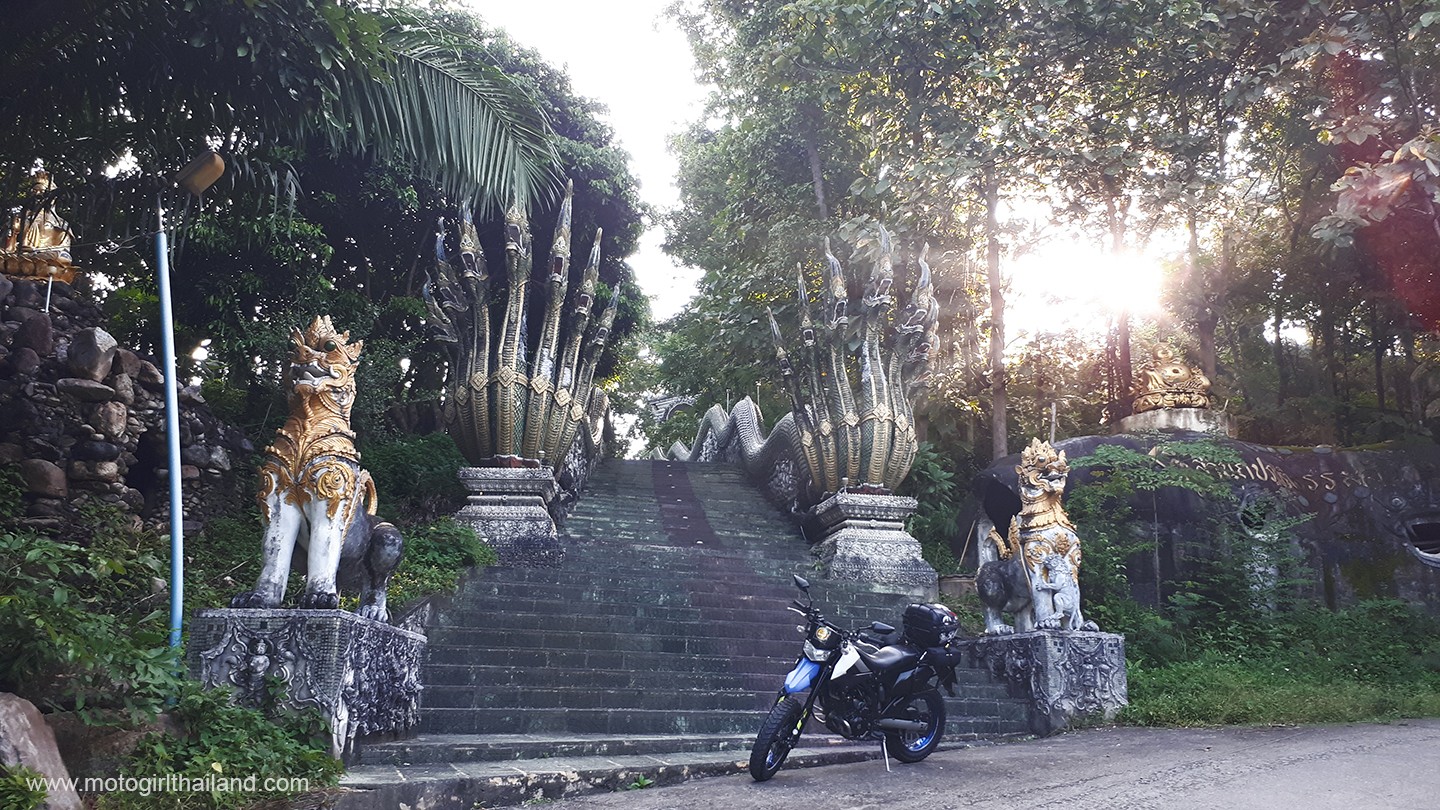 It was very quiet inside the meditation grounds, except for barking dogs. There were a couple of ladies bringing items into a small room. We exchanged smiles and I quietly wandered on.
I did not go near the private residency area and stayed within the main walking zone.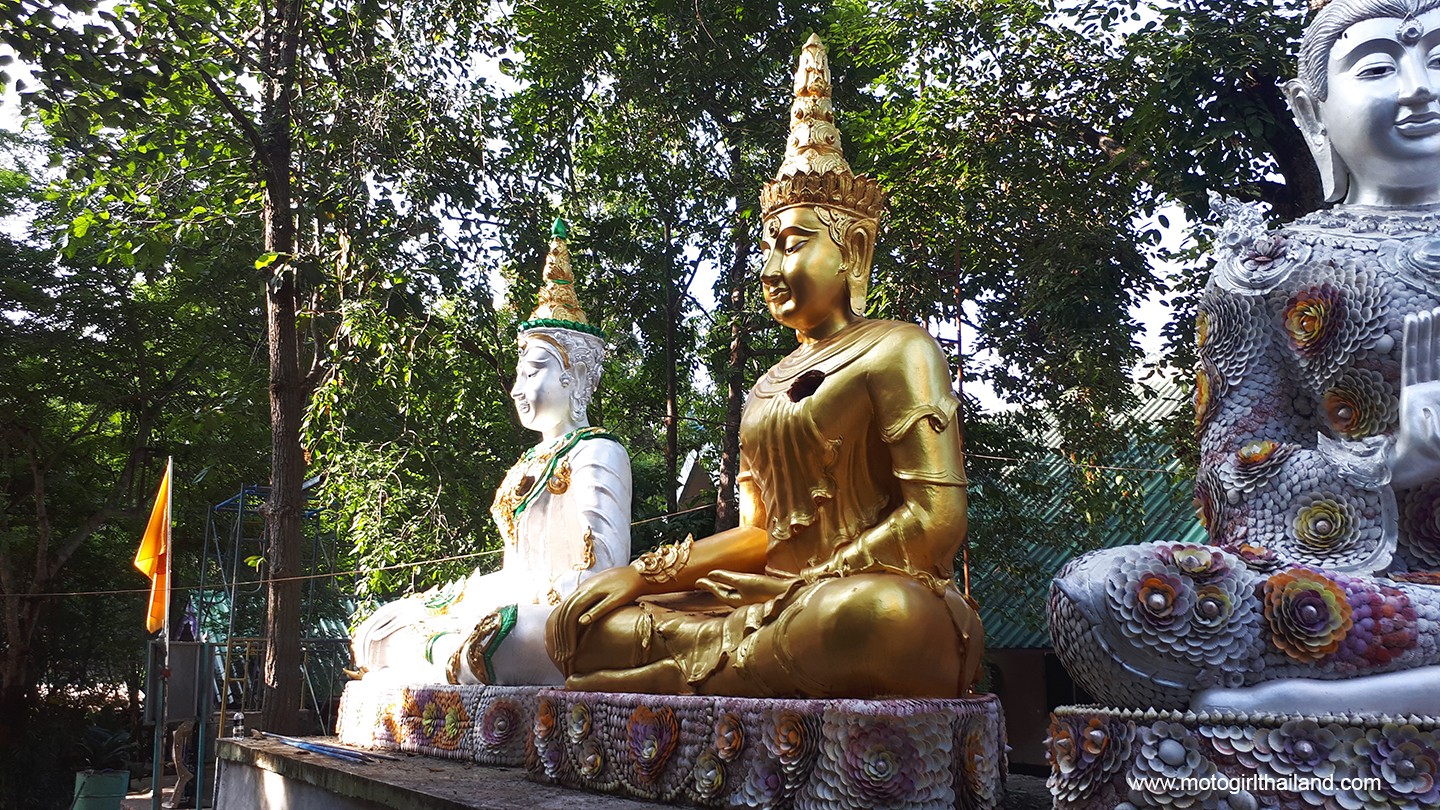 I spotted a large ice chiller that had ice cold bottles of water inside. I took one and left a donation. A beautiful place. Very tranquil.


Not sure why the Buddha statues have holes in the heart region though. Any ideas?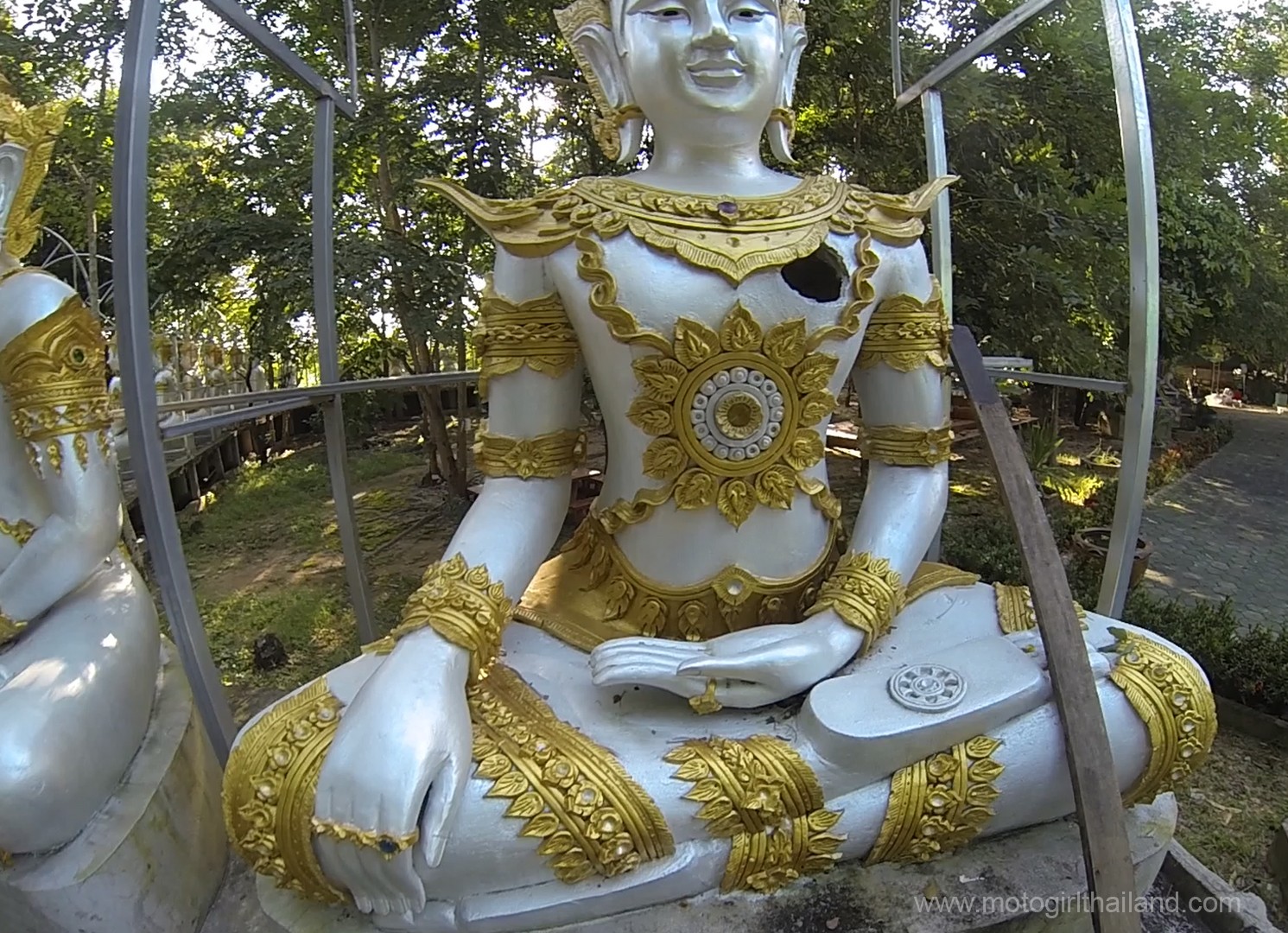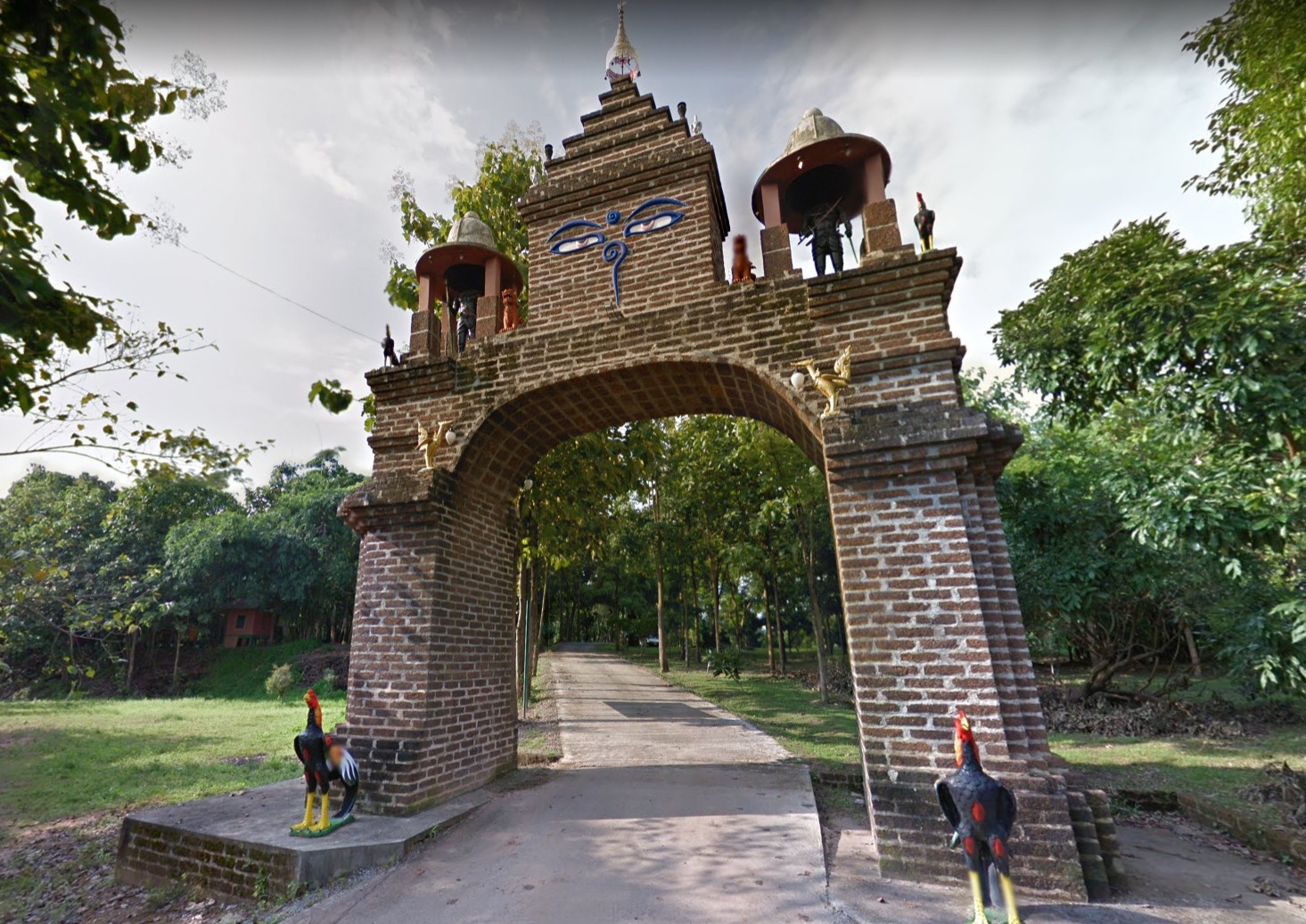 After visiting my plan was to explore en-route to my next main temple visit (วัดพระพุทธบาทสี่รอย / Wat Phra Phutthabat Si Roi). Initially I devised an route that looked quite interesting, but I wasn't sure what condition the route would be in. It looked like such a nice route though, (taking me up the elevated mountain area of Mon Jam), so it was worth taking a gamble in terms of the beauty. (Unfortunately I wasn't so very prepared that day though, and forgot to charge up all my GoPro batteries fully. So I do not have a lot of video footage and none of the Mon Jam area. Mon Jam is very scenic, but I no longer stop much around there as it has become very developed for tourism in recent years, with "glamping" camp sites popping up all over the area. I prefer to just ride through.)
Mon Jam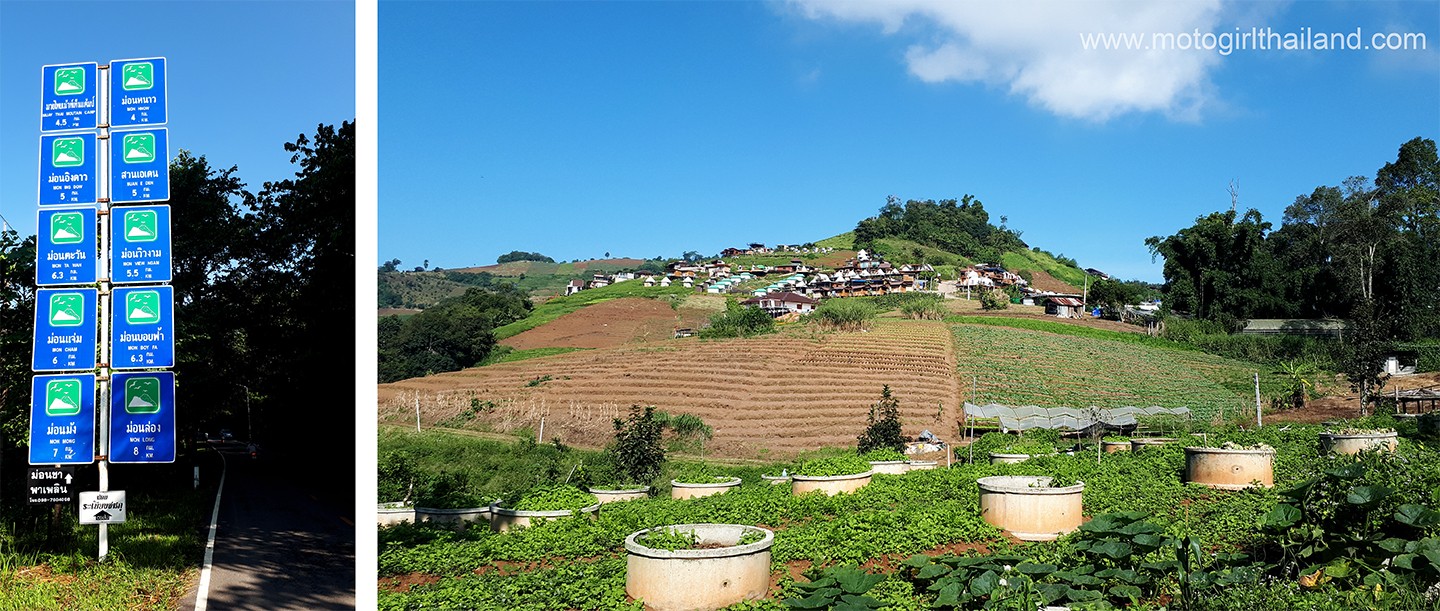 When I arrived at my pre-planned route junction, I was very apprehensive. The cut-through route was only around 13 km but it looked like it would be a very clay muddy track for around an hours worth of riding, more probably, given my nervousness on mud. Plus with it being Rainy Season I could possibly have some problems if it began to rain hard, and I was stuck in the middle of the jungle.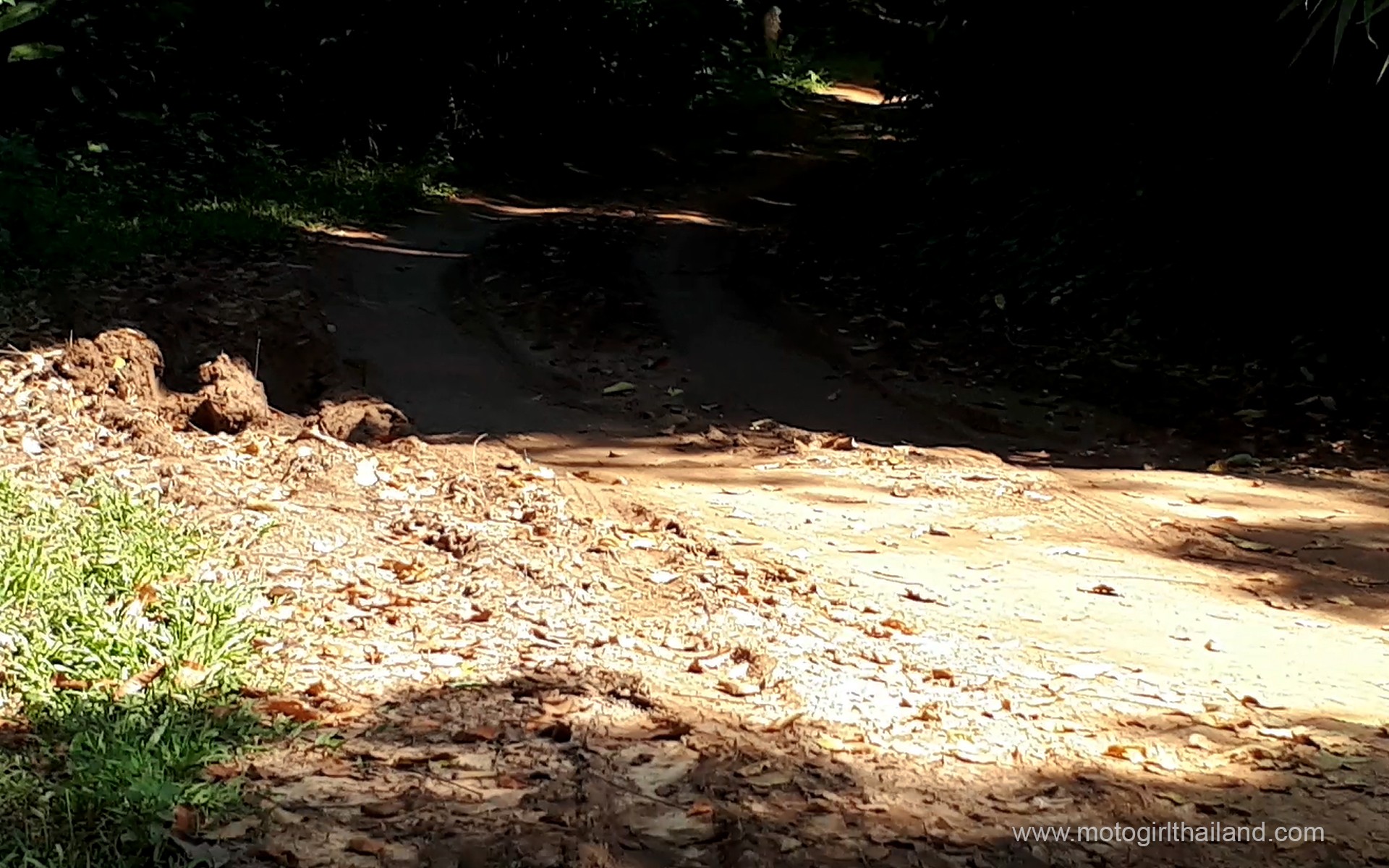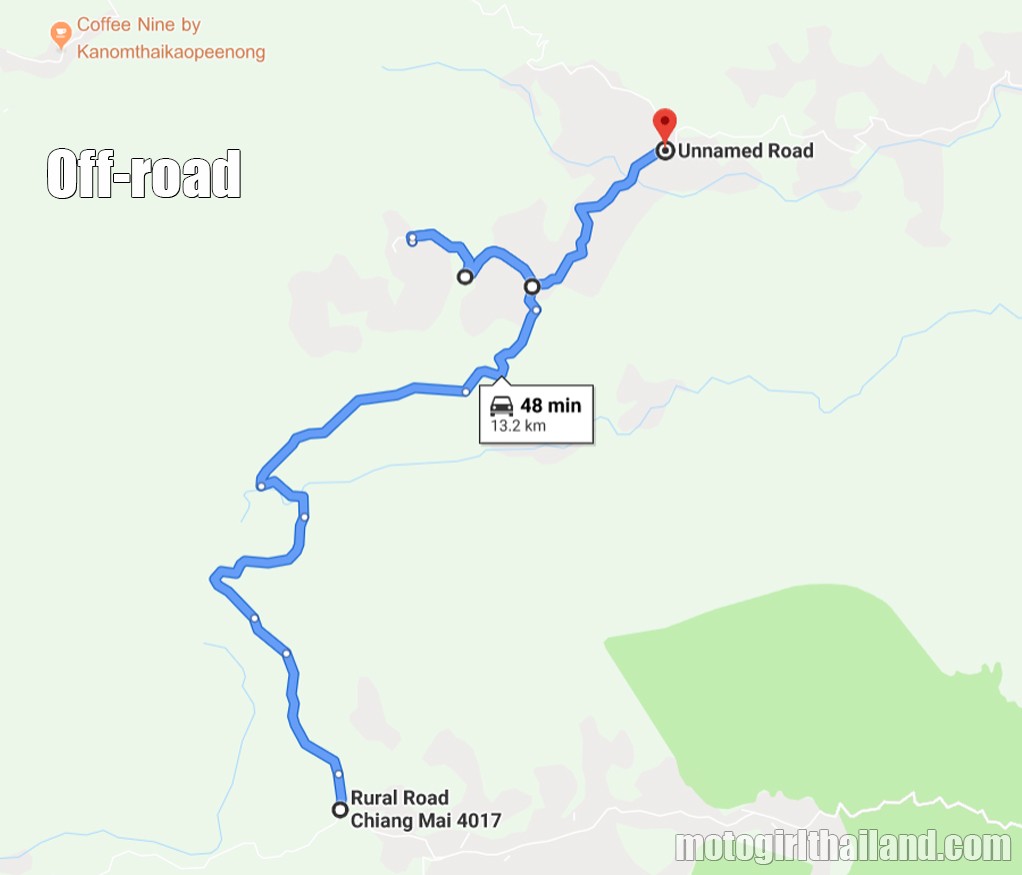 Seeing as the junction was very close to the hidden Vietnamese Temple that I visited on my last ride (trip report HERE), I decided I would ride there and see if the gates were open (there have been reports on my Facebook Page that the gates were shut).
Previous video of this temple (from my last ride/explore):
When I arrived at the entrance to the Vietnamese Temple I stopped my bike to take a photo of the open gates. I am very glad I did, because I could hear some kind of chanting coming from the temple area. I decided to keep my engine off and roll down with my bike to the temple grounds.
I was trying to be quiet at the temple, but the dogs were very friendly and one got over-excited and was whining for attention.
A short moment later a lady rode past me from the temple grounds and I said hello, twice. She looked at me like she had been sucking lemons 🙁 She paused a bit further up, looking back at me, as a driver in a pickup truck pulled up. He asked me in Thai what I was doing and we had a short conversation. He told me that it is a special day today and that I should come back another time. He was friendlier than the lady on the scooter, but seemed wary.
(If you do visit this temple, I would like to request that you go either solo or just a couple of people (rather than larger groups). They are obviously not used to having visitors and I would hate to have them keep the doors permanently locked. So, please help by allowing them to get used to intermittent small amounts of visitors..and please be quiet and respectful. Thank you. Ok sorry, lectures are done for the day now!)
After the temple I looked again at my route and decided to try a couple of possible alternatives, one of which led to this:
After retreating back to my original point I decided that I would forgo trying to do the route in dirt and ride an alternative route on pathed roads instead, which I am glad of in the end, because it took me to many other interesting places and the road is twisty fun. I do very much need to improve on dirt though, as well as gain more confidence in this kind of terrain.
By now I was craving a coffee, so I stopped in at Huan Ta Waa. I have ridden past this place many times, but it was always when I was finishing up a trip and heading back home. So this time the timing was perfect. It had a great lounging daybed too. Perfect for a rest. (I am wearing skin coloured stocking type socks here btw, not just putting my bare feet up on the daybed!)
I roughly plotted out a new route that would take me to Wat Phra Phutthabat Si Roi, which turned out to be a fab route taking me though small farming zones and lush rice paddy fields.
Whilst riding I noticed this pretty temple, which is still a work in progress it seems (or new sections being added on). Wat Mae Aen
This whole area is fabulous for riding through, especially at this time of year. Lots of lush green vegetation, beautiful flowers and filled with butterflies.
The next pretty temple I took a short moment at was Wat Prakan Tham. With so many amazing temples close to each other, it becomes hard to choose which ones to stop at. Also have to try pace myself as otherwise I may end up with temple fatigue!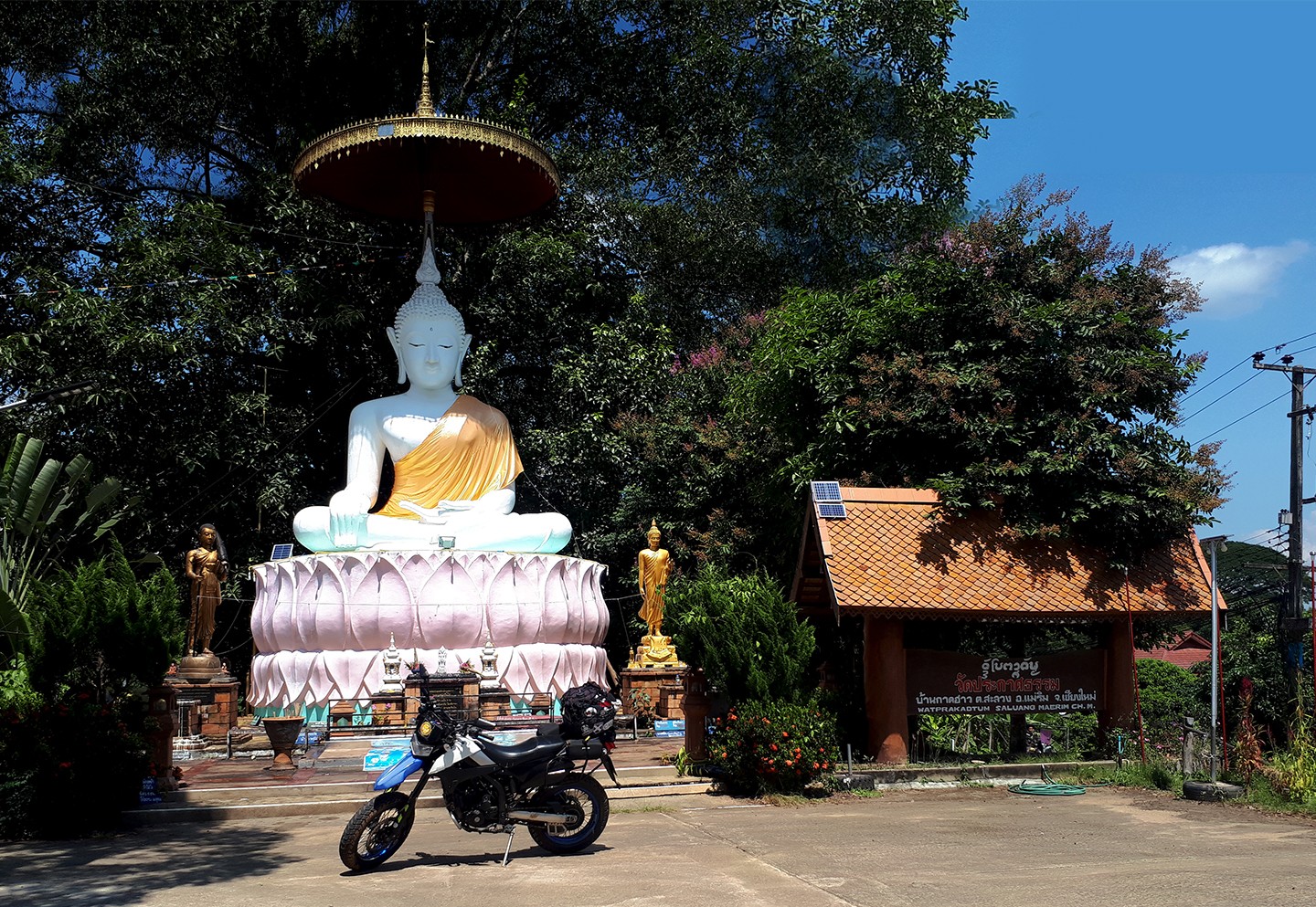 After Wat Prakan Tham the route starts getting really good, especially the closer you get to Wat Phra Phatthaban Si Roi. A wonderfully quiet road lined with lush green trees (at this time of year) and lots of twisty sections.

(For a short video clip of this road, go to my highlight video (above) – or directly HERE)
As for the temple the entranceway when you arrive at the temple, well, it certainly is impressive!
Just look at the size of my bike next to this entranceway!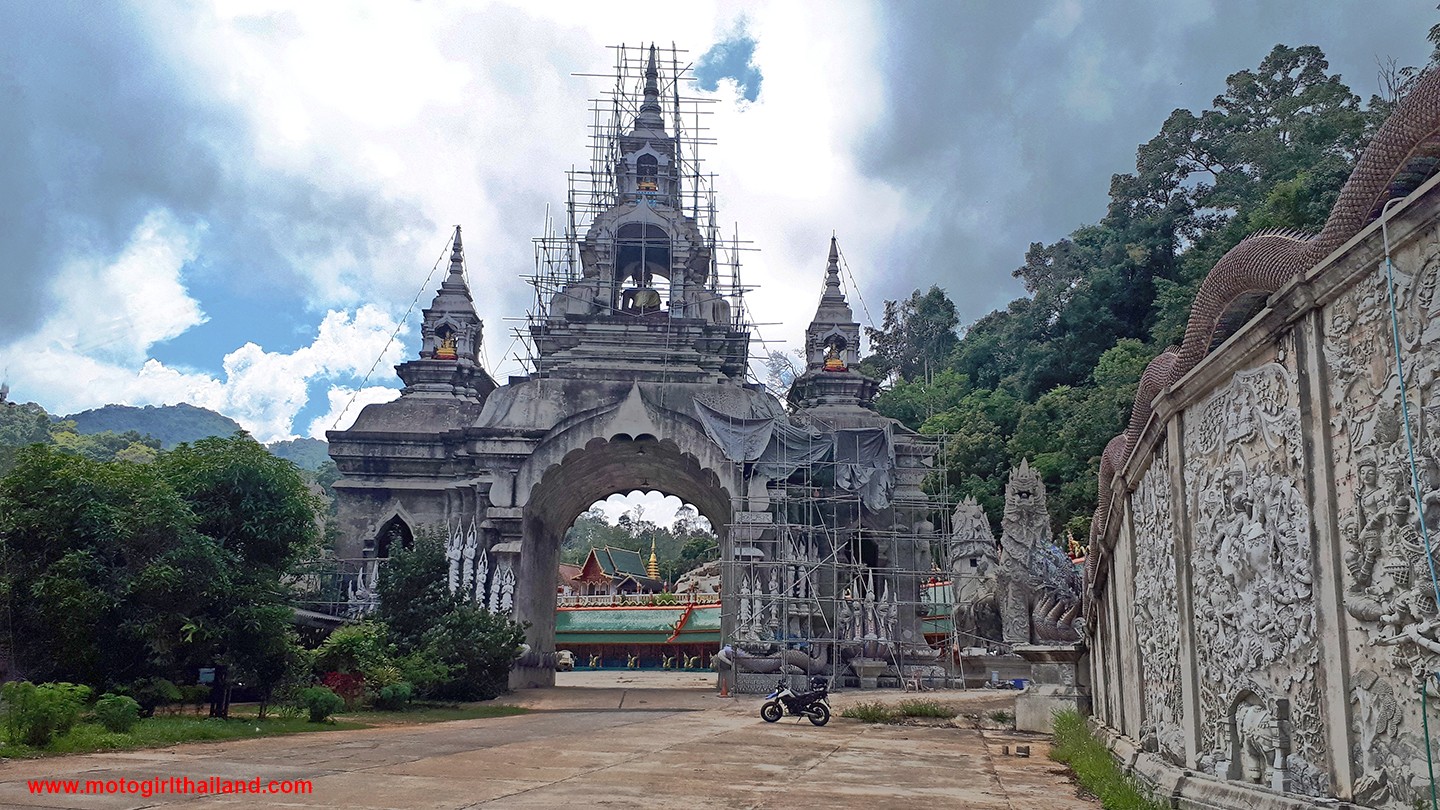 Within the temple grounds there is a fab little coffee shop, clean toilet facilities, and stalls selling items for alms.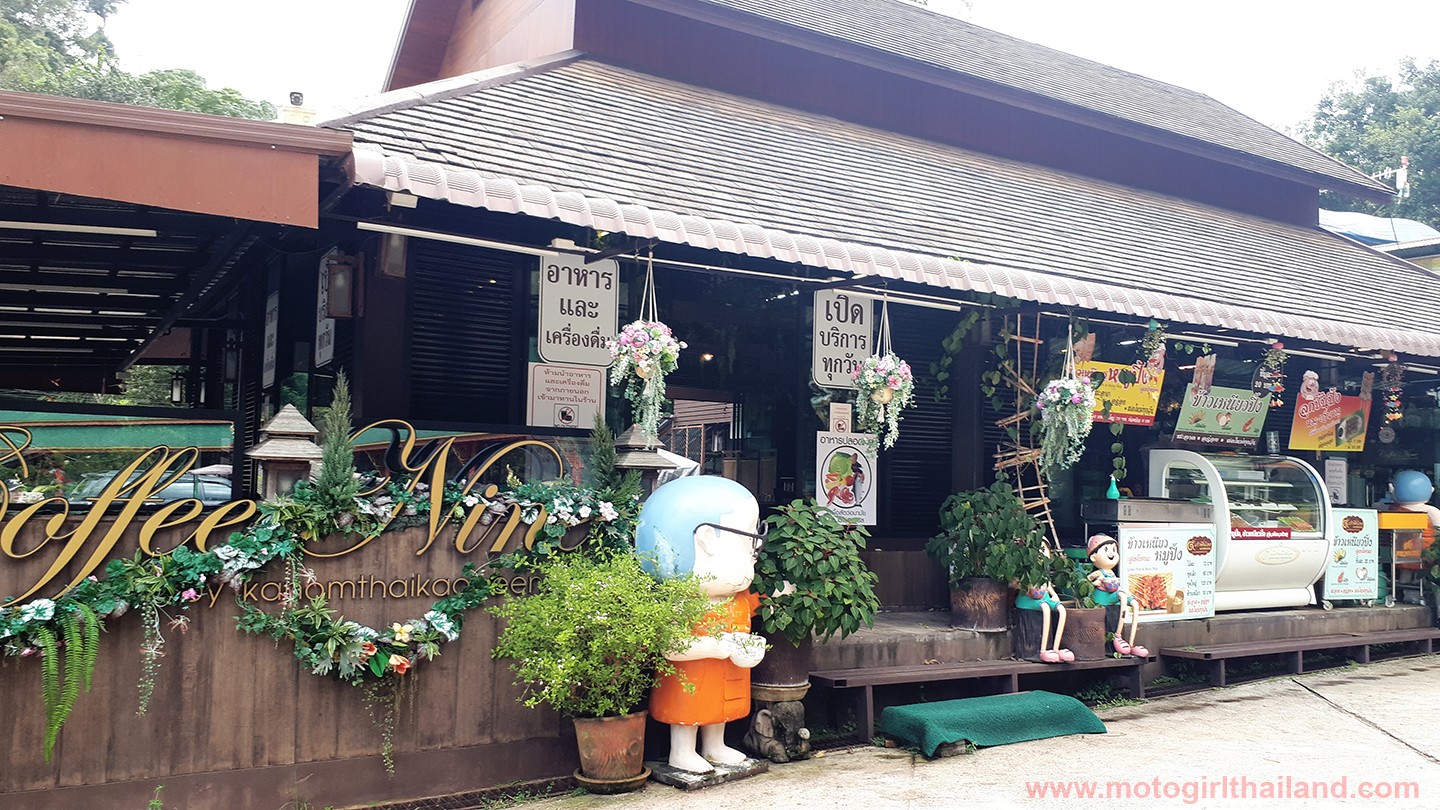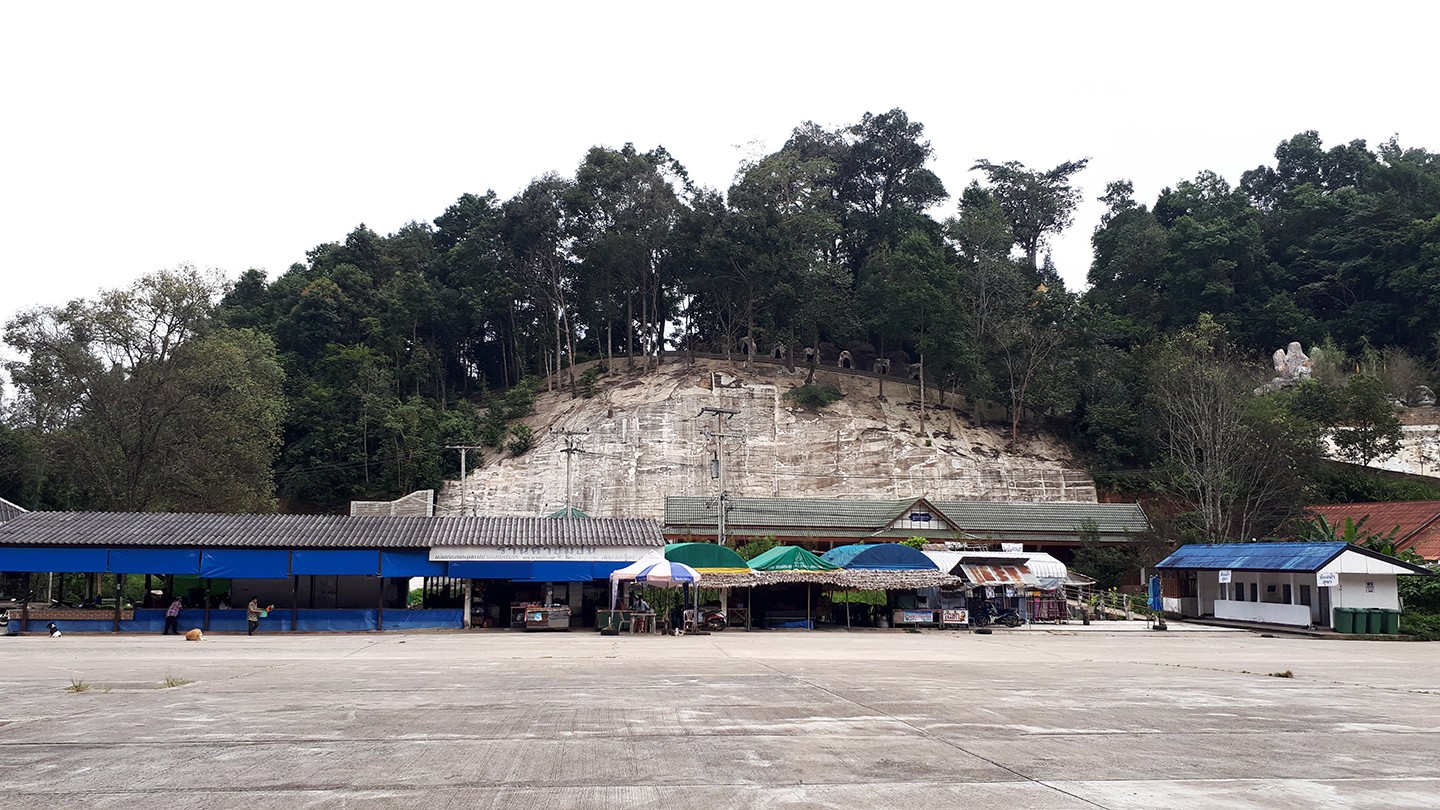 There are steps leading to a small temple and to the right there is the route to the main temple. I walked around for a bit and then rode on to the main temple.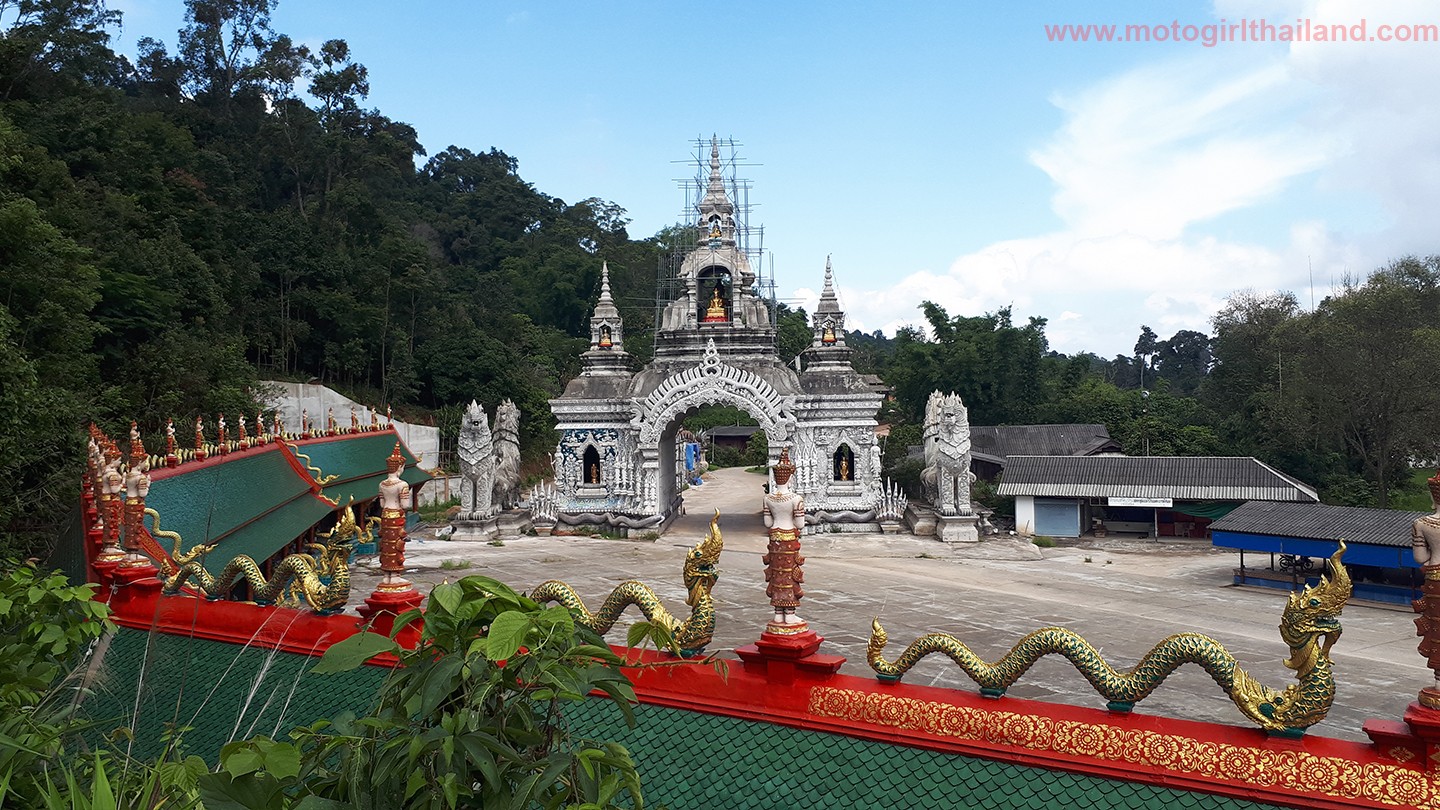 At the main temple there was a lady quietly practicing walking meditation. I took some photos and left her to practice peacefully.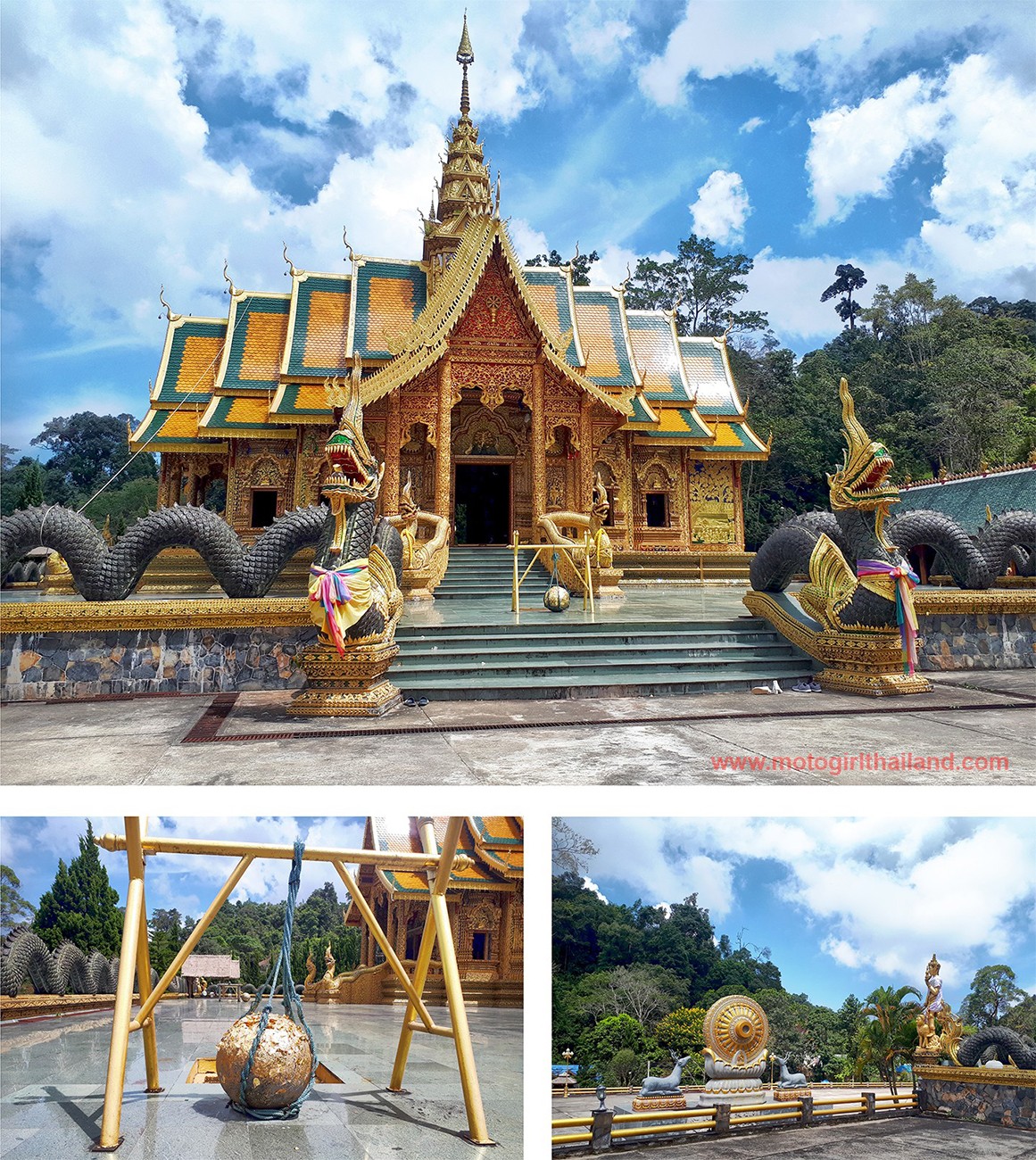 In any case, what I really wanted to do was ride up the steep section to the upper level of the temple complex.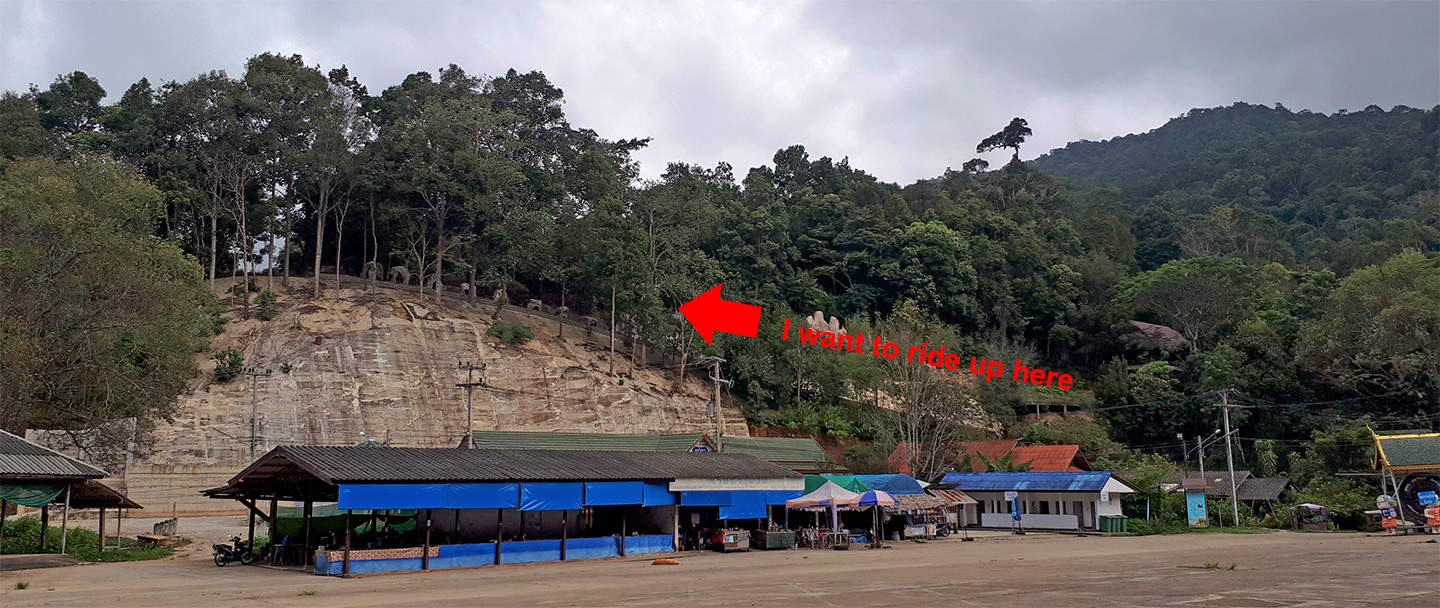 As I approached the route the incline looked a bit precarious and I was concerned about how tricky it might be when coming back down, but it looked too interesting not to ride up. I noticed a monk talking to some lady monks whilst I was on my bike at the base of the route, so I indicated asking if it is ok to go up. He nodded and smiled and gestured "yes, go! Go!".
It was indeed a steep ride up, but short.

At the top is a meditation residential area and some interesting cave style concrete structures. I took a small look around and then headed down via an alternative route, that actually turned out to be much less steep. This route took me out to just before the temple entrance way, so I went back through for another look, before heading off home.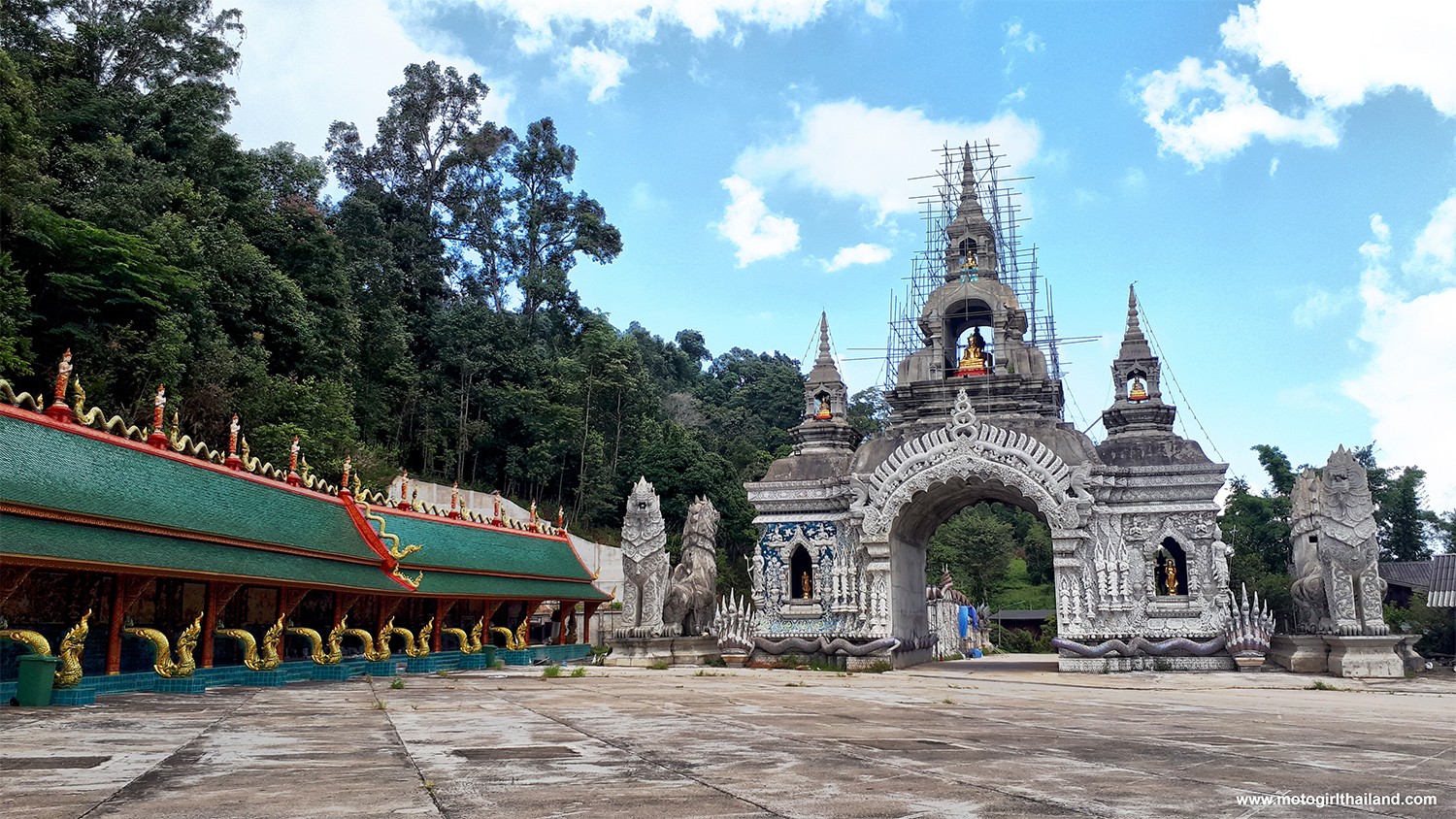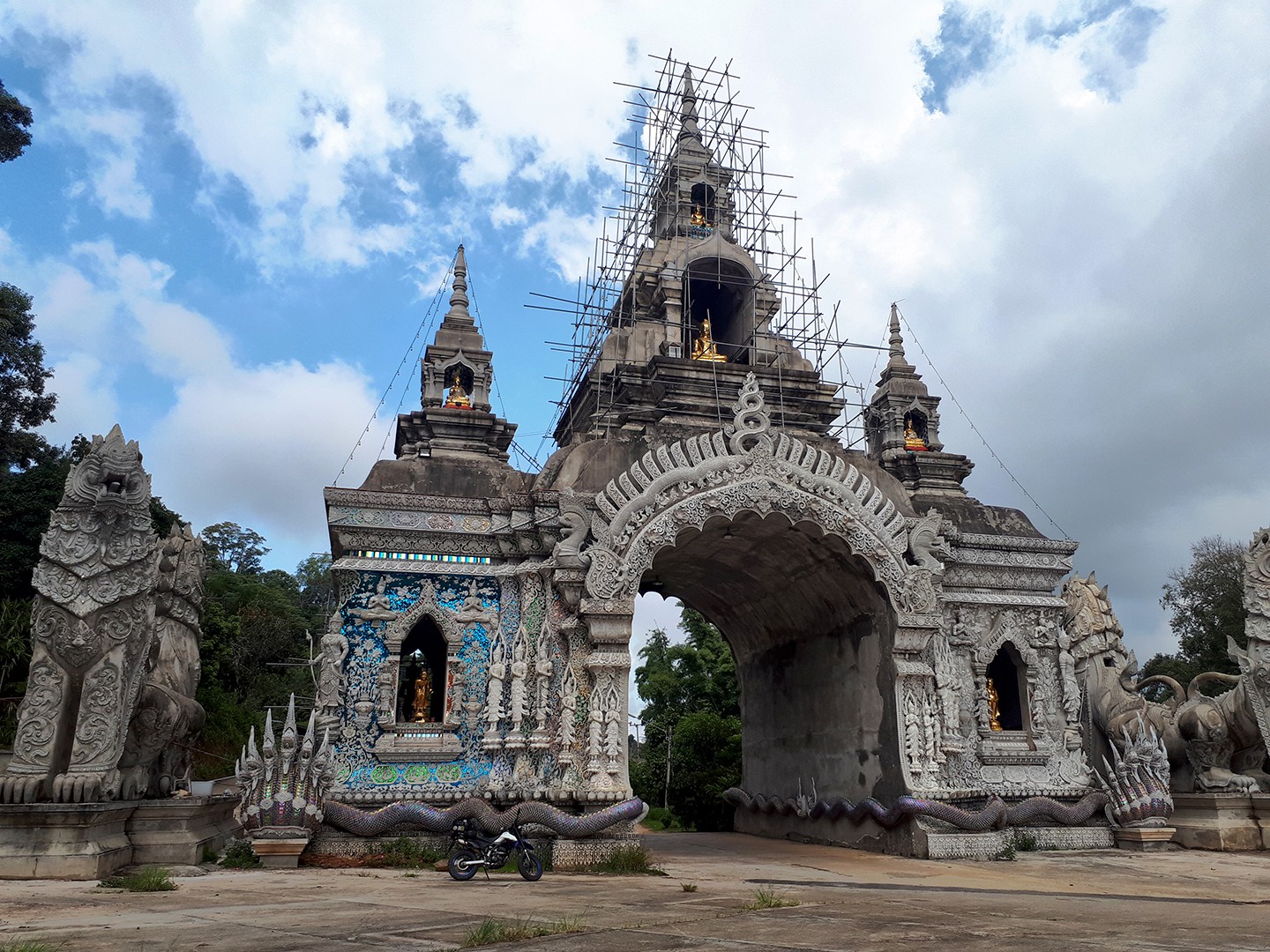 By this time my phone battery was low and sadly my USB port on my bike seemed to not be working, so I turned off my phone (along with the Relive app which was tracking my ride) to conserve the battery. My GoPro battery was also dead. I figured I already must have some good footage of the day, so I wasn't worried. Anyway, in the past I never really recorded anything, so it was nice to not even think about it and just enjoy the ride.
On the way down the mountain I switched off my engine to conserve fuel, and rolled my bike down to the bottom (I am not recommending this, I am just stating what I do). I also enjoy the quietness when doing this.
At the bottom of the mountain I relied on my mini compass attached to my bike (it looks so silly, but I absolutely love it! It has been so useful on many occasions), along with intermittent signage. I enjoyed this ride back, switched off from all technology. I only turned on my phone if I wanted to get some photo or short video.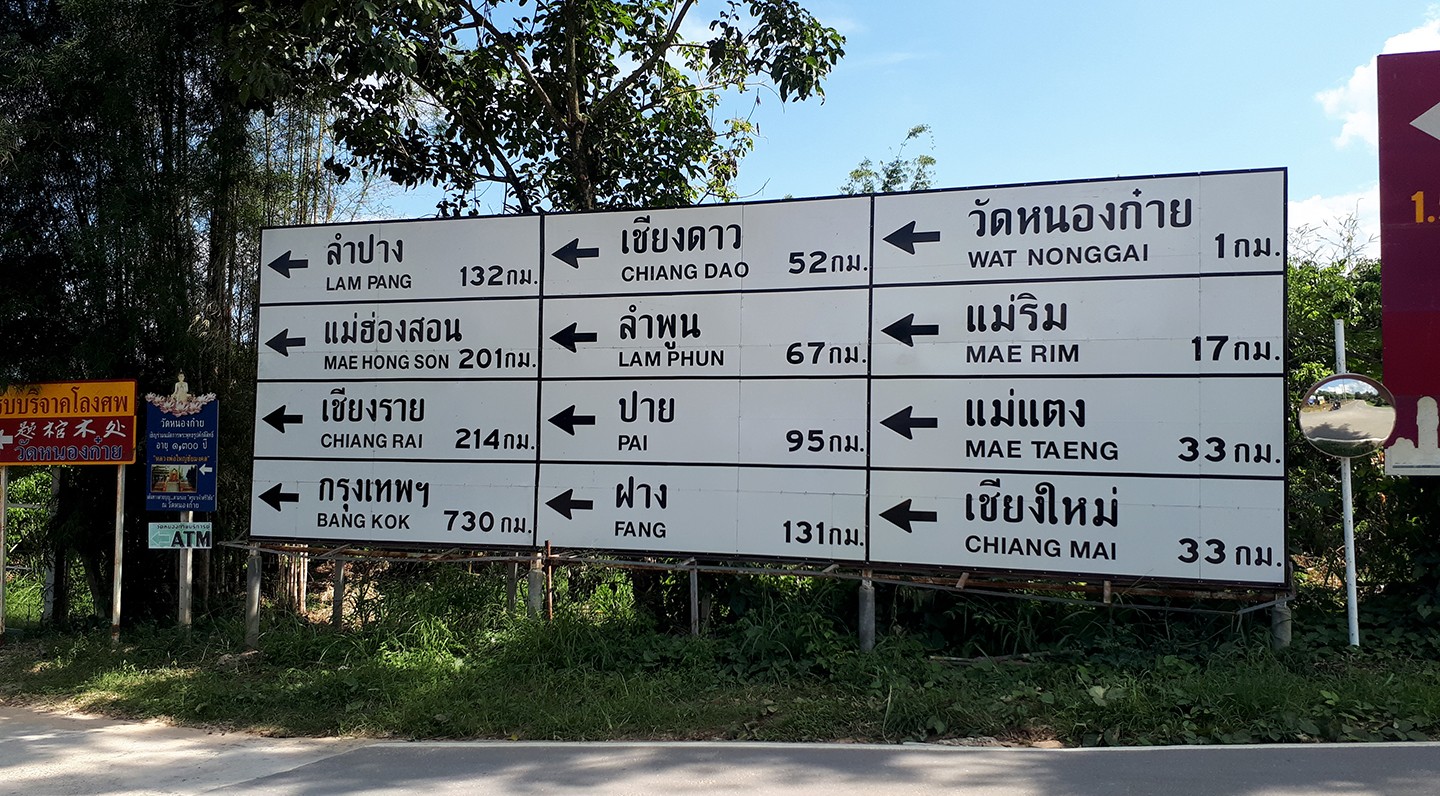 One the route back home I stopped at วัดหนองก่าย / Wat Nong Kai and as I entered I remembered that I had been there once before, many years back. Possibly five or more years ago. This temple is unusual because it has a coffee shop and a grocery store and an ATM. There were so many cats there that I have decided to term it วัดแมว / Wat Maew / Cat Temple. Some very beautiful cats too. I drank a coffee, chatted to a monk, petted cats, left a donation and headed back on the road to home.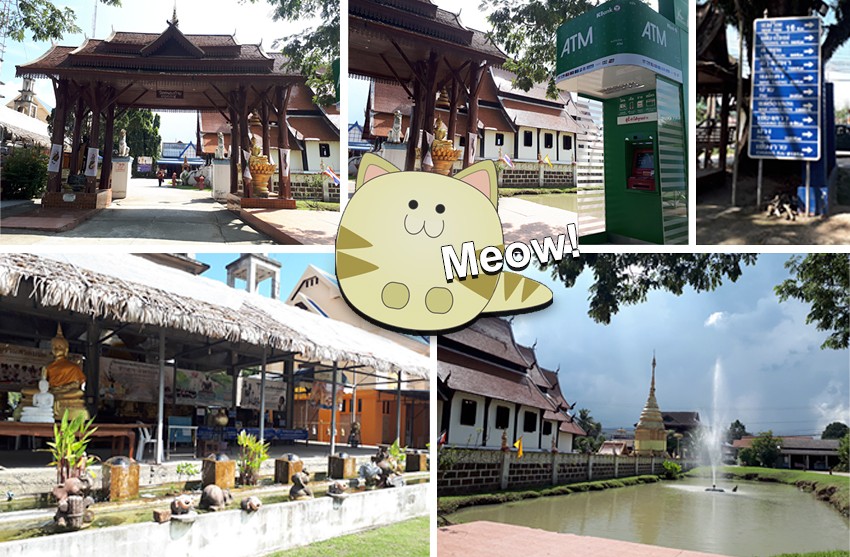 At a junction I noticed a lovely reclining buddha in the making. Wat San Pa Tueng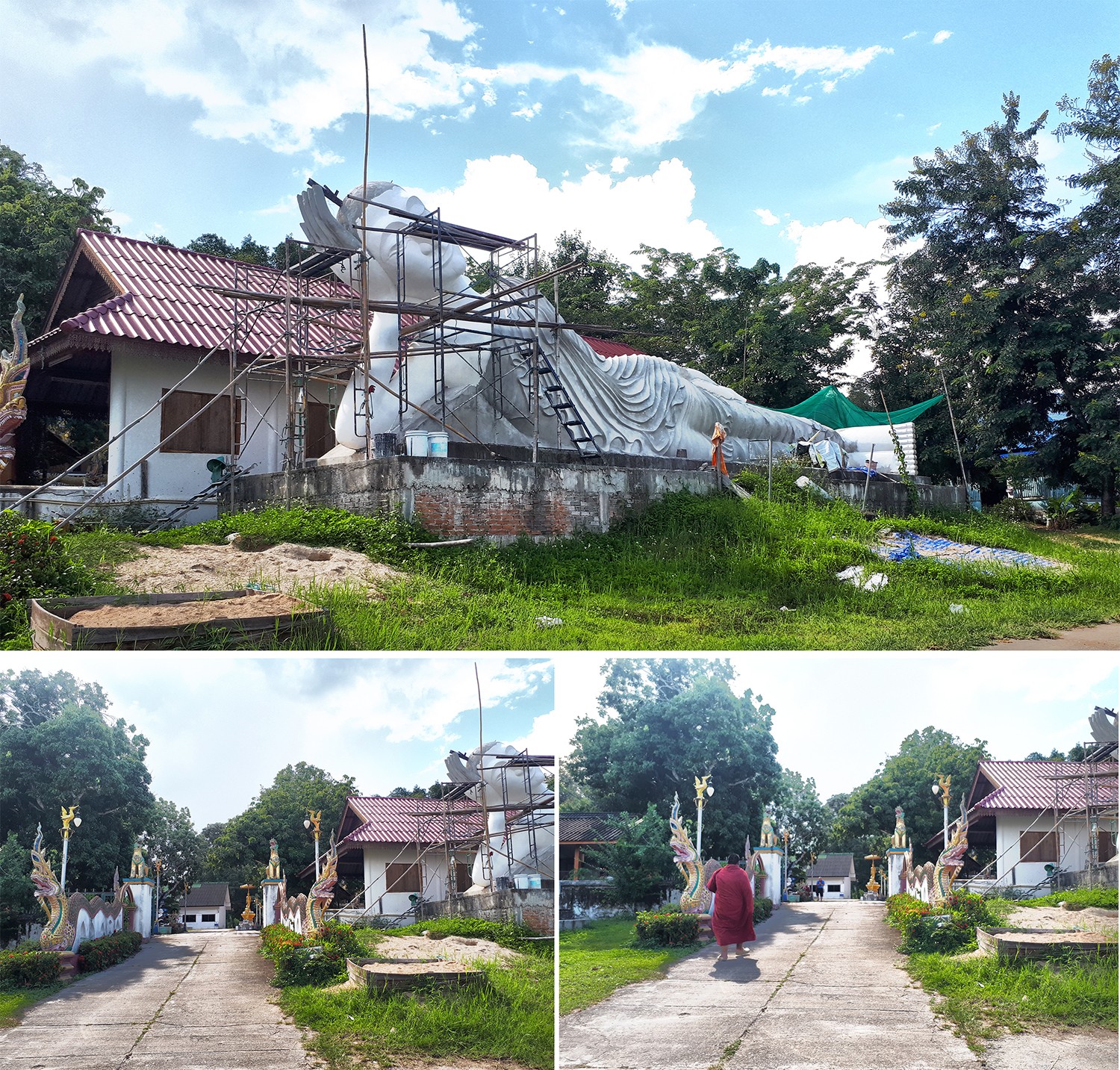 I connected onto the R3009 and headed along this route. Which is when I noticed this interesting temple entranceway, so pulled in to have a look. I rode along to the temple, but the frenzied barking of many dogs put me off from sticking around. I headed back out. Wat Suwannawa.


Not far from here I noticed a huge and interesting development. Quite an amazing sight! I rode in to have a closer look, but did not disturb the men working. หมิงธรรมะสถาน / Ming Tummasatan. Fantastic looking! Some of the building designs in Thailand really blow me away. From the humble stick house to giant temple arches. Really amazing!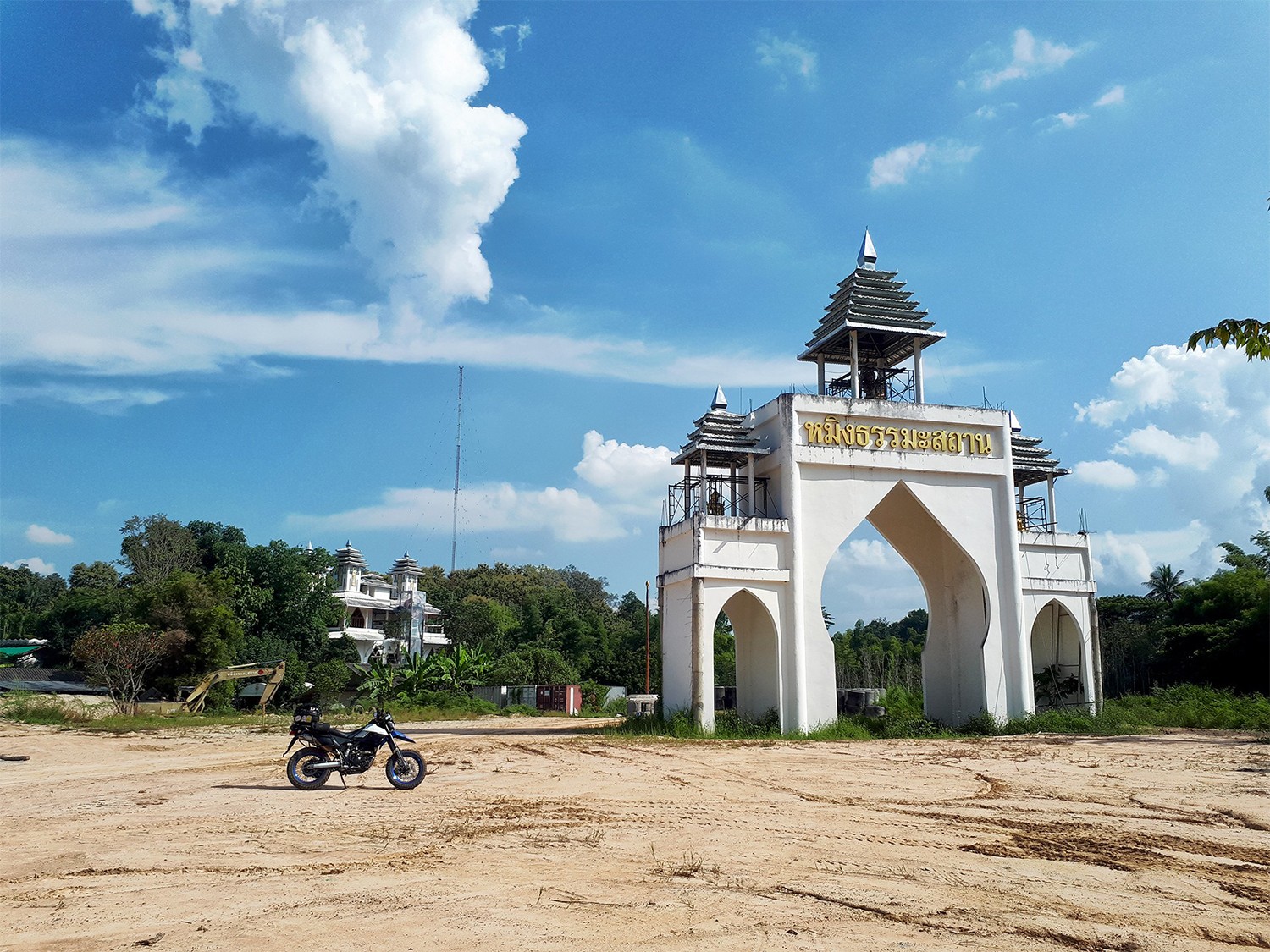 I looked up the name on the archway entrance when I got home and seems to be a meditation retreat. There is a Facebook page HERE showing the progress.
By this time it suddenly hit me that I was weary. It was around 3pm by this point, and I had been out since 7:30. I now just really wanted to get home and take a cool shower. It had been a very hot day. Thankfully the Inuteq cooling vest worked well in bringing down my body temperature. On this ride I filled it up completely, and realised that it does actually make a big difference if fully topped up, even if looks odd and bulky. It will become a staple item for me now. Some details on this vest here:
Around this area is the fabulous Erotic Garden & Tearoom. So if you find yourself out that way, I do recommend stopping in (or even making a dedicated trip there to visit the grounds. Beautiful garden and interesting erotic art)
This is a photo from a few years back when I was at the garden. The photos are a bit silly really, but it is hard not to take some silly kind of photos like this in this amazing garden. More details HERE)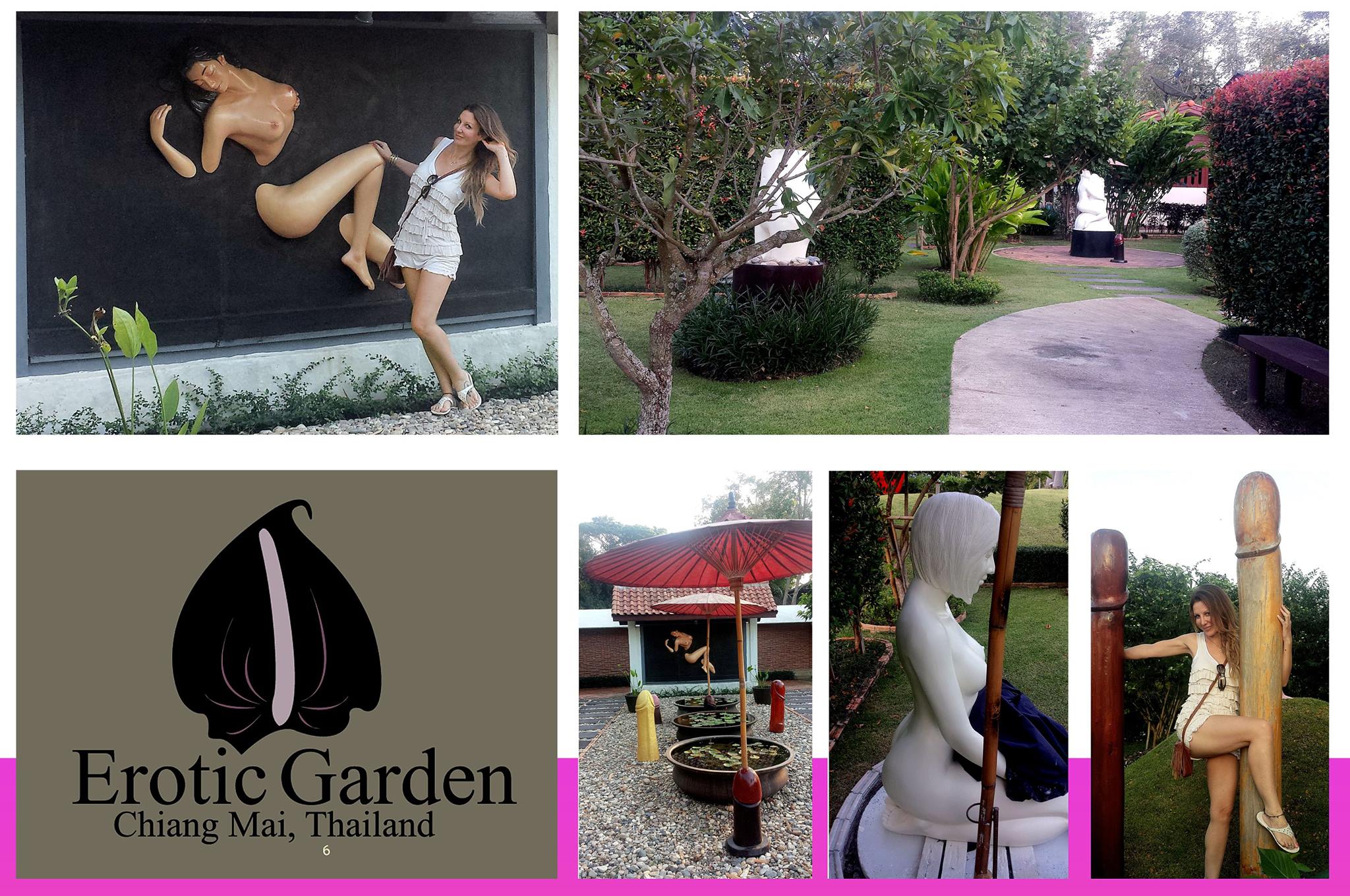 Heading home I took some sidetrack routes that I know of, but they eventually linked me onto the main R107 Mae Rim road. Once I hit that main road, with all it's jostling traffic, it was quite a depressing contrast to the beautiful quiet scenic roads I had been on for most of the day. This is also when my fuel light came on (I have no fuel gauge, so have to set a km timer on my bike when riding), but I knew I had enough to get me home.
I was home by around 3:30pm. Tired, but happy.
Amazing what you can see in just one day..and on just one tank of petrol!
(Relive Tracker app route at the bottom of this report. )
Hope you enjoyed this trip report. 😀
If you did, please Like / Subscribe ! ♥
FACEBOOK
INSTAGRAM
YOUTUBE

..and if you feel exceptionally generous, then you can donate into Paypal or you can sponsor me through my Patreon Account. 
Every little counts! This will go towards better equipment, website hosting, etc. Thank you ♥ 🙏

Relive route (to Wat Phra Phatthabat Si Roi):
Recap of the day:
Thank you for reading. 🙂
Please subscribe! ♥