Review: Yamaha MT-07 (FZ-07)
This review was initially intended as a video review, but my mic placement was off, so is in written form instead.

*WARNING!* I'm not so "savvy" with the tech-speak, so keep that in mind..

The Yamaha MT-07 / FZ-07 has garnered a lot of attention. It is a torque-y 689cc bike which comes in at a great price, so there is a real buzz around it.
Having heard many positive things about the bike I decided to rent one out for the day and find out for myself. The height and weight of the bike was fine for someone my size and build. My height is around 5'6″/ 5'7″ and my feet were solid on the ground when sitting. The bike weight is around 164kg, so not too heavy (and im not telling you my weight! :p).
I was ready for it to live up to the hype.
..however, initially I found it rather boring.
Now, before you shoot me (because pretty much EVERYONE seems to love this bike), i did say "initially I found it rather boring".
There are some other factors about the bike I disliked, but I will explain what i found boring first.
The bike seemed to ride itself…
What i mean is, in comparison to my 250cc tractor of a Kawasaki Dtracker (which requires a lot more work to keep momentum, speed and torque), the MT-07 just seemed way too easy. That should be a good thing though, right? Well it wasn't initially (for me). I really do kind of like the feeling of putting some kind of effort and technique into a ride and I have to work pretty hard on my dtracker to get much out of it. Initially the MT-07 just seemed kind of TOO responsive.
Increase throttle = GO! Release throttle = STOP!
(My dtracker on the other hand is more like: Increase throttle = go a bit.. Increase throttle more = go a bit more… Release throttle = rolling cruise along…. ).

I felt like i could have ridden the MT-07 in any regular situation in the same gear! (whereas with my dtracker i have to switch gears a lot).
In fact the MT-07 would ride FOR me, whilst i sit back on "cruise control".
Anyway, my point is that initially I didn't feel like i was doing much work. I felt like i was being TAKEN for a ride, rather than me taking my ride for a ride.
I began to regret renting it.
..but then a light at the end of the proverbial tunnel. I got off the main stretch of (straight) road and got into the sweeping curves. This is where i started to enjoy the bike. I had by now become more familiar with how the bike responds and stopped focusing on it so much, so was able to let go and begin focusing on the ride itself. With the punchy torque it felt good to have a lot more control than I am used to. The bike did EXACTLY what i asked of it (rather than my usual coaxing of a petulant child dtracker. However the plus side is my dtracker coasts around the curves, which on the tight twisties is something i really enjoy).
I had to watch out for for that punch at times though, which seemed to take me from zero to a flying bullet in a heartbeat. (I didnt realise this initially and nearly gave myself whiplash..haha! You can actually see that in the video at the end of the article). As I got used to it I began to revel in it.
Position-wise I have to say i felt crampy. I enjoy the more upright sitting position of the motard-style bikes and like how easy it is to shift positioning. The MT-07 on the other hand felt fixed and uncomfortable, but of course it could be adjusted somewhat to make it suit better. The suspension wasn't the best either.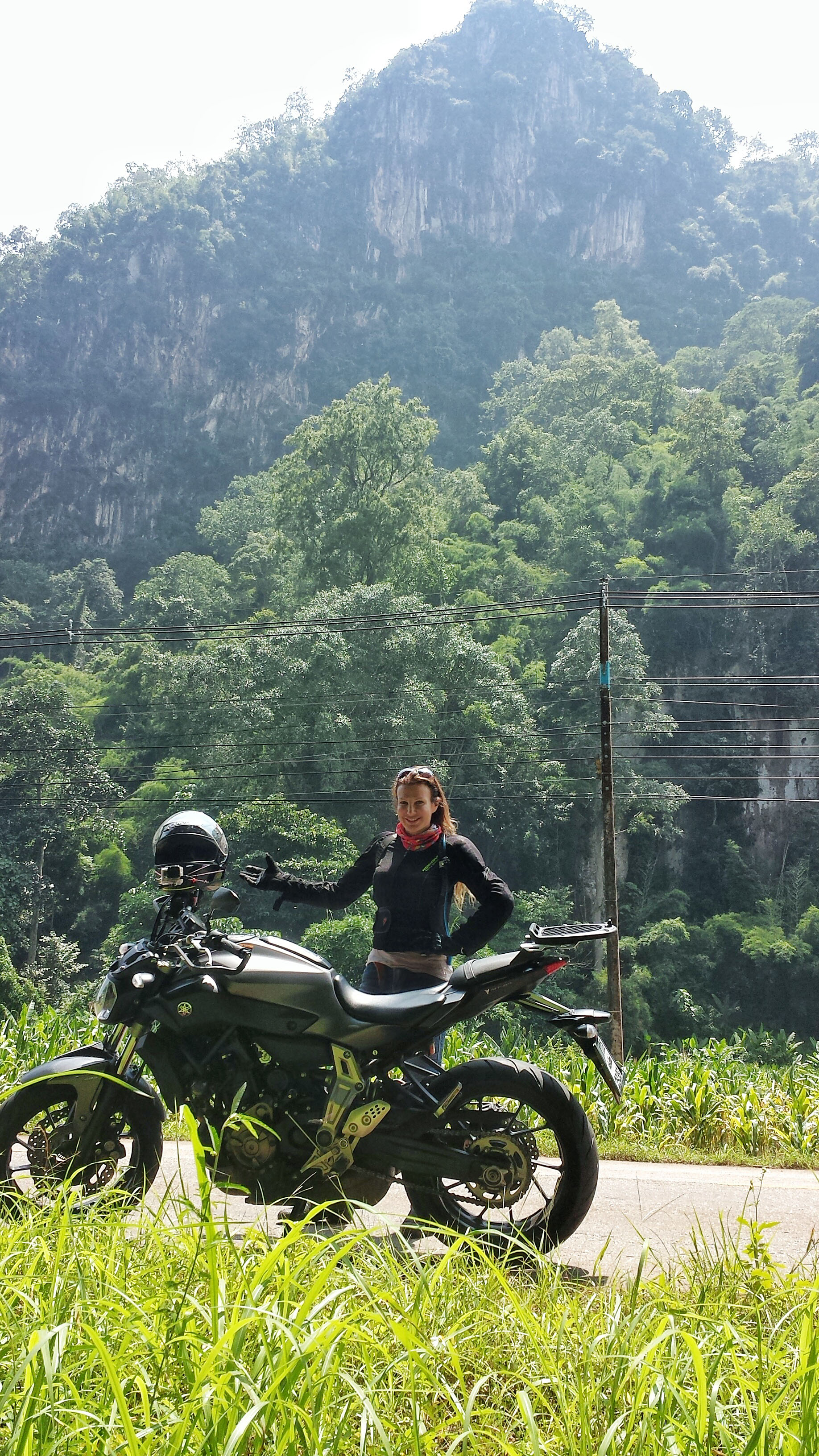 I took it on the Phrao Loop (guide for this loop here) and rode it approx 330km. By the end I felt EXHILARATED, rather than tired (which i normally feel on my dtracker) and I didn't want the ride to end. In fact on my return I ended up going up and down the local mountain (Doi Suthep) a few times to try wear myself out.
My only regret is i didnt push it enough. If (when) i rent it again i will give it more welly.
Would I buy this bike? To be honest the jury is still out for me. I mean it really is a nice bike but i really like the flexibility that the motard style bikes offer. I can't really imagine taking the MT-07 on some of the craggy roads that i enjoy exploring. In truth I really haven't experimented enough with different bikes and I need to test a few more out to work out what is my kind of bike for my kind of riding. Then I can form a more definitive opinion. So…as yet..inconclusive.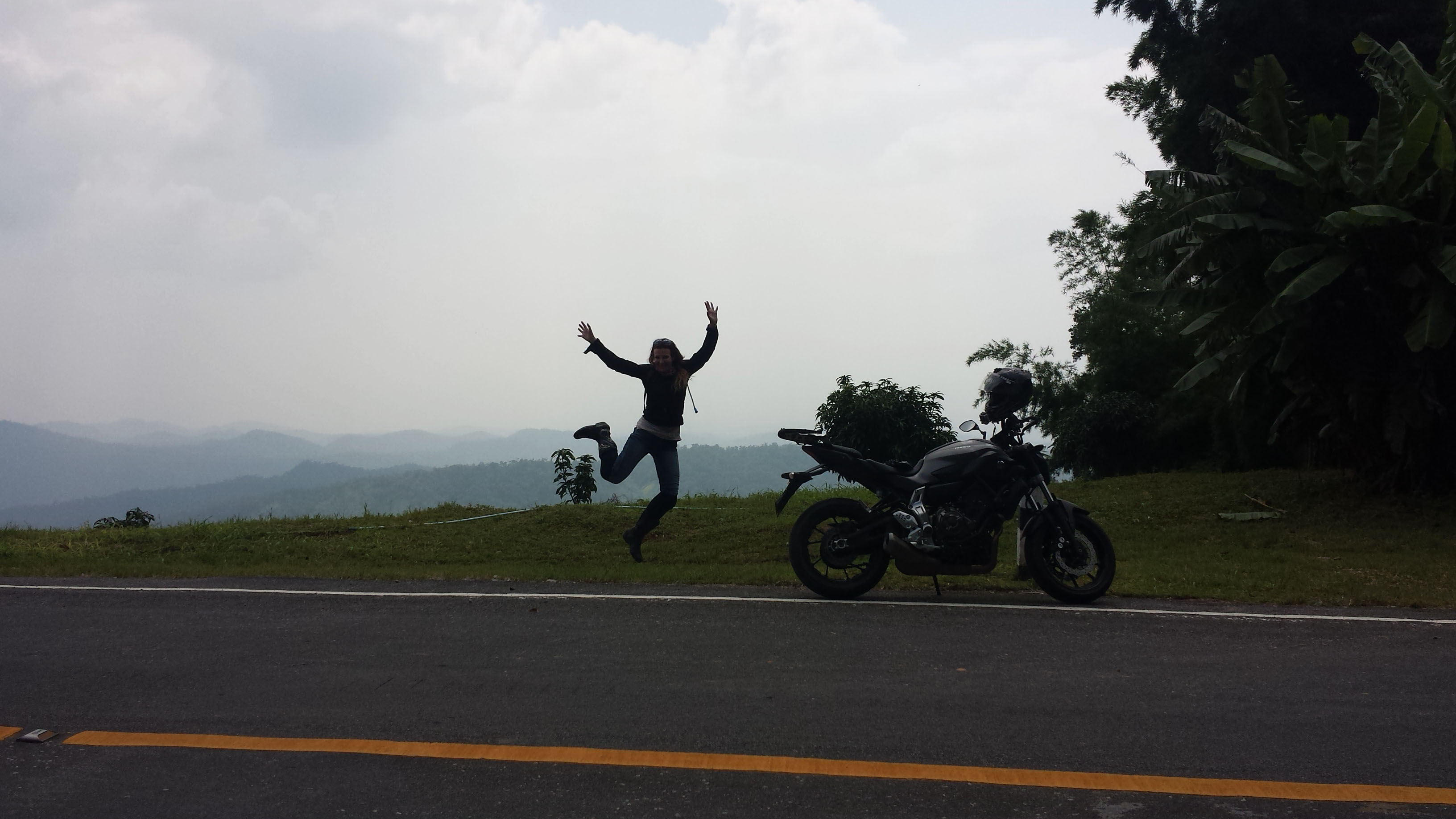 But ultimately it is all the good things that everyone has claimed about it.
It is a fun, inexpensive, torque-y bike.
Im glad to have ridden it..and for sure it wont be the last time i try it out again.

My personal summery:
Pros:
Very responsive.
LOTS of torque (lots and lots! LOVED IT!)
Not too weighty (not as "flickable as i would like, but still ok)
Nice clear, easily readable display screen.
Cons:
Uncomfortable seat/seating position (but can be adjusted).
Not great suspension.
Pretty much just a road bike really (and i want more from a bike..)
Verdict: Jury is out
Have you ridden the MT-07 / FZ-07?
What are your thoughts?
Would be great to know your feedback on it..!