The Samoeng Loop – a mini scoop

Anyone who rides in Chiang Mai will know the Samoeng Loop, and likely know it well. The loop is pretty much the base staple for any riders in Chiang Mai for a quick ride around on a nice day. Its also the one that many tourists on scooters will want to pay a visit to.(My guide and mini map of the loop HERE)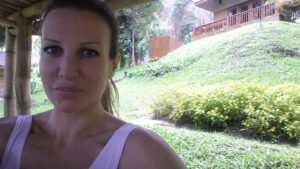 Scenic-wise it is pretty, so there are photo ops (*Shamless selfie alert * :p) and stop-off points for those who wish to do so, but enough twists and curves and dips to keep a rider, who is out purely for the road, happy.
Today i had a quick ride around. Its rainy season and the roads were wet and slippery. But hey, i got to see 4 snakes, (2 dead, sadly 🙁 – not by me, although i narrowly avoided a cobra – at least it seemed to be a cobra as it reared up), a tiny squirrel dashing across the road in front of me narrowly escaping from being squished, frog hunting thrashers when i stopped to avoid the bulk of some rain (locals out with sticks, poking around in the grass to find tasty frogs for dinner), chickens-crossing-the-road galore, and ..would you believe…a Mclaren 650!
I topped the day off by stopping at "The Doi" resort for coffee (love this place and highly recommend it)..which is where i took this shameless selfie.
That's what you call a blissful day..at least in my books.
One good thing about posting an update like this on Facebook is that you find out you werent the only one who spotted the Mclaren (these are really REALLY uncommon to see here). I didnt get a photo, but my friend did.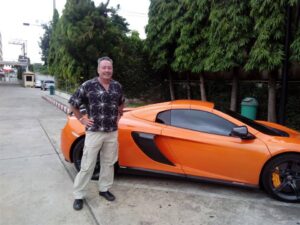 Fantasic! He also happens to be the owner of a really great bike rental shop and tour company. Highly rated. So if interested take a look at TONY's BIG BIKES.
Now dont ever say i dont help you guys reading this out. I link you to the best places and resources.
..well, so says I. :p