Hitch-hiking Ghosts – Ride To Dan Sai "Ghost Festival"
(5th July 2019) A 1090km round trip, with 625 km's of ghosty antics on the outbound ride (and a few days of weird happenings leading up to the trip), but once I dropped the ghosts off at Dan Sai, the antics stopped. Ho! Ho! 
Now, before you think I've lost my mind (which was lost a long time ago anyway), let me assure you that I don't particularly believe in ghosts. There was however some very strange juju going on.
FULL TRIP (Google Map link)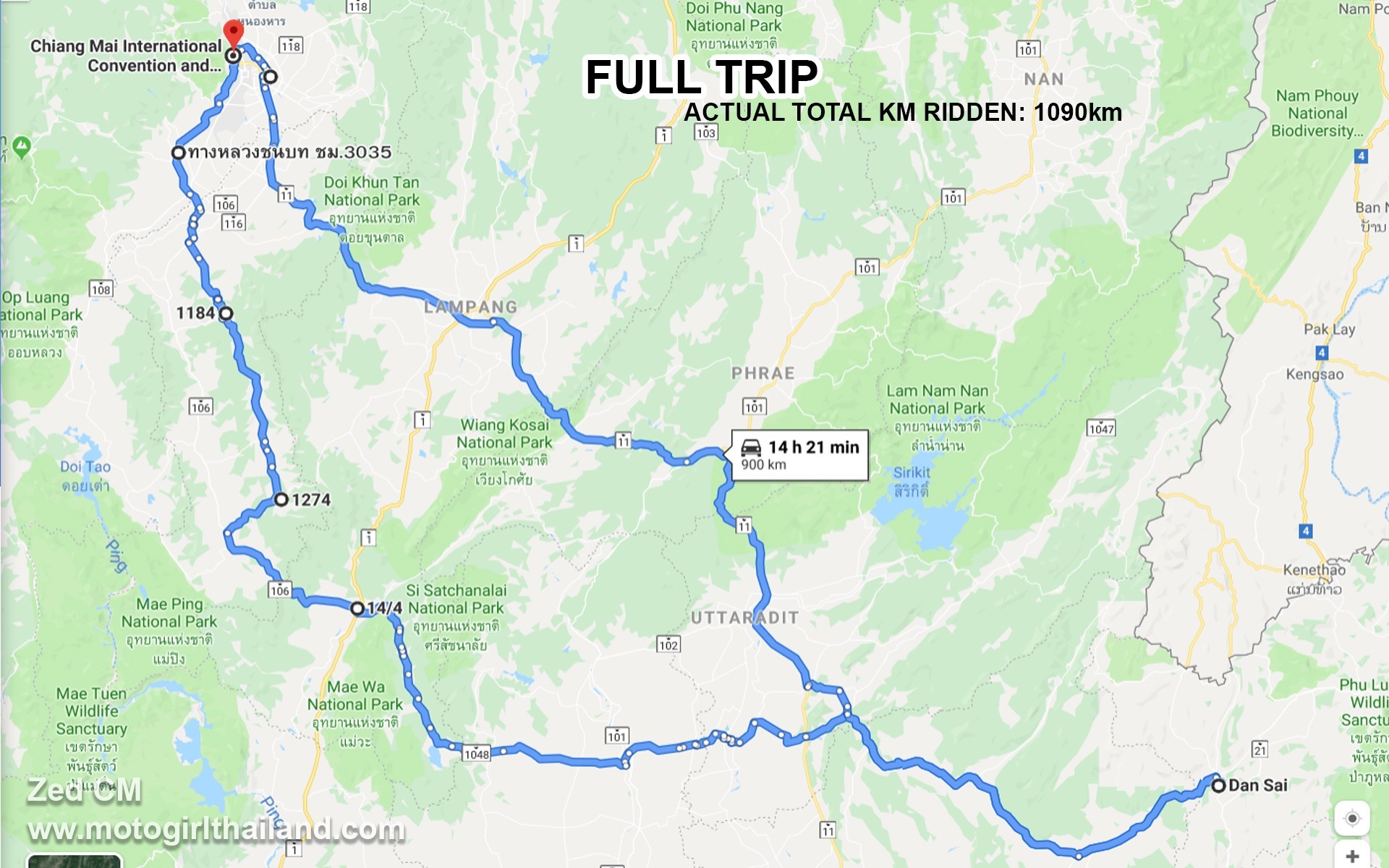 DAY 1: CHIANG MAI TO DAN SAI via back roads (Google Map Link)
I did actually ride more than the google map link shows. You will see in the relive tracker app posted below.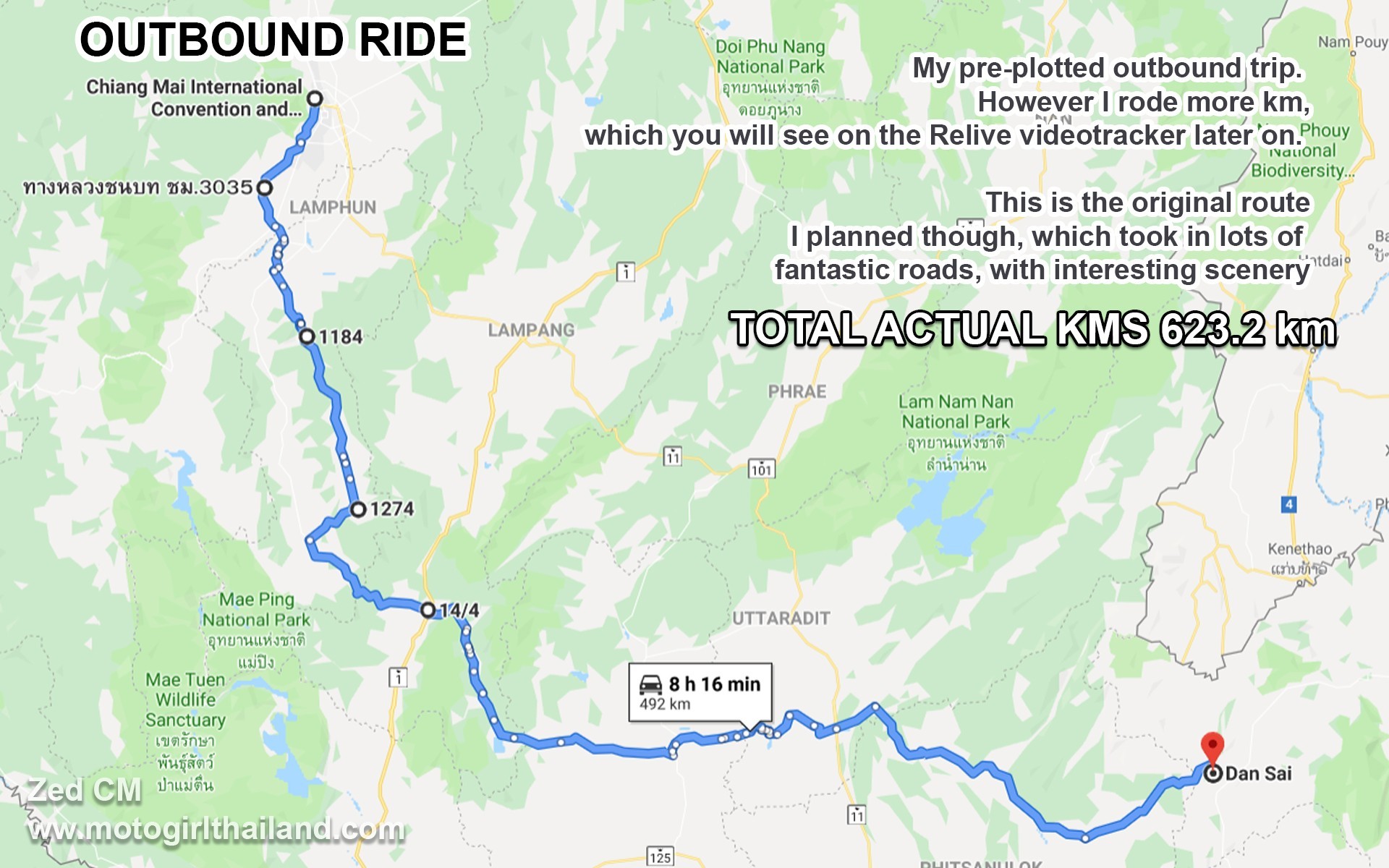 I set off at Stupid O'clock in the morning (5:30/5:45am). I am not naturally a morning person, but in the topics riding early means you stay cooler for longer and avoid city/town traffic. Plus I tend to enjoy riding till I drop, so an early start gives me a chance to get a lot of riding done, particularly as I prefer to take back roads rather than direct.
The route that I chose was fab. A nice contrast of sweeping curves, slightly tighter twisties, some straight through rice paddy fields, and a little bit of single road tracks. A nice combo to be riding in.
My first photo stop was at the scenic Nakhon Chedi reservoir. Location HERE. Not far from here was also the point that I realized I had not turned on my Relive tracker, so I started it up (I had ridden approx  77km at this point).
This route is really fab.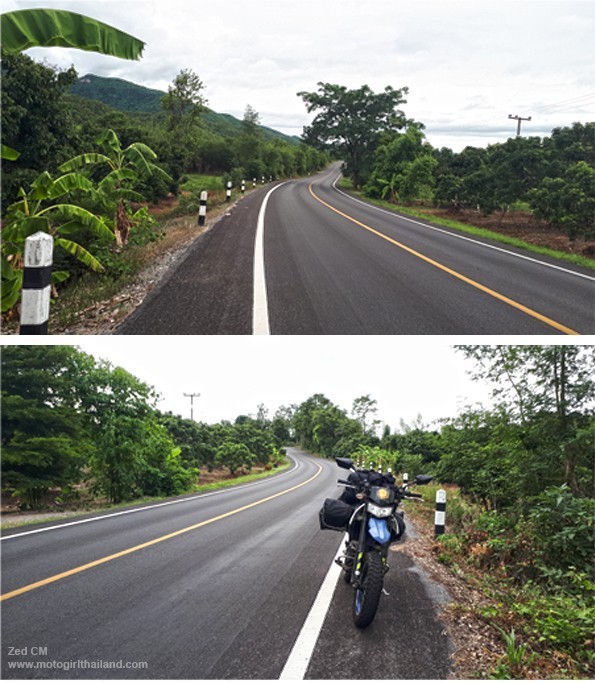 A short while later is where my weird bad luck juju started kicking in again. It started just prior to the trip when I noticed last minute that my back tire was near bald (user error of course, but I was shocked that I had overlooked it). So I had a frantic day of organising the purchase of a new tire and having it fitted (it was a last minute decision to ride to Dan Sai, so I had to organise everything fast). Then I also went to buy two new GoPro batteries and ended up having 5 police stop checks done (a crazy amount given I was riding just a short 18km route into the city). I had to try a few different places to get the right size batteries, and then when I got them home and tested them, one of them was a dud!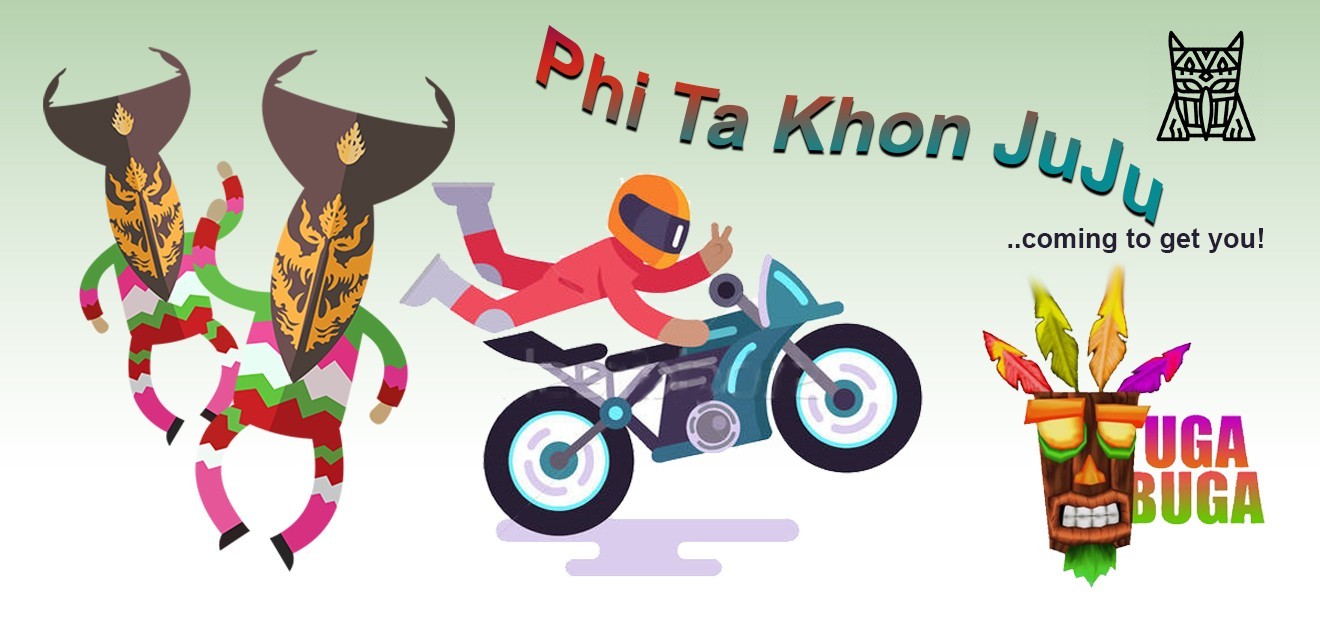 Weird Trip Juju kicks in again.
At the town of Ban Puang I stopped to get petrol and freshen up.
This town has a square perimeter of sorts, which can get slightly confusing when riding out. However, there is no excuse really why what happened, happened. I forgot to put my headphone earbuds in after using the bathroom, and had already geared up to leave.
I figured I would get out of the town first, then sort it all out. So, I left the town at the exit I believed was correct, quickly sorted out my headphones and turned on the GPS tracker again. … EXCEPT that I tapped the marker that would backtrack to where I had just been! 55km's away! I was enjoying the ride so much that it was only when i arrived BACK at the reservior that I realised I re-ridden 55km's in the WRONG DIRECTION!! Thus I had to ride back 55km to Ban Puang. …….!!! So a total of 110km of unnecessary riding was done, and a waste of a good precious hour or so. *Sigh*
Once I arrived back in Ban Puang, I decided the best thing to do would be to stop and have a coffee to wind down after such a frustrating mistake.
Isn't it funny though how life can bring you just what you need sometimes, because at the coffee shop I was treated to a cuddle by a tiny kitty, and my frustration levels went right down.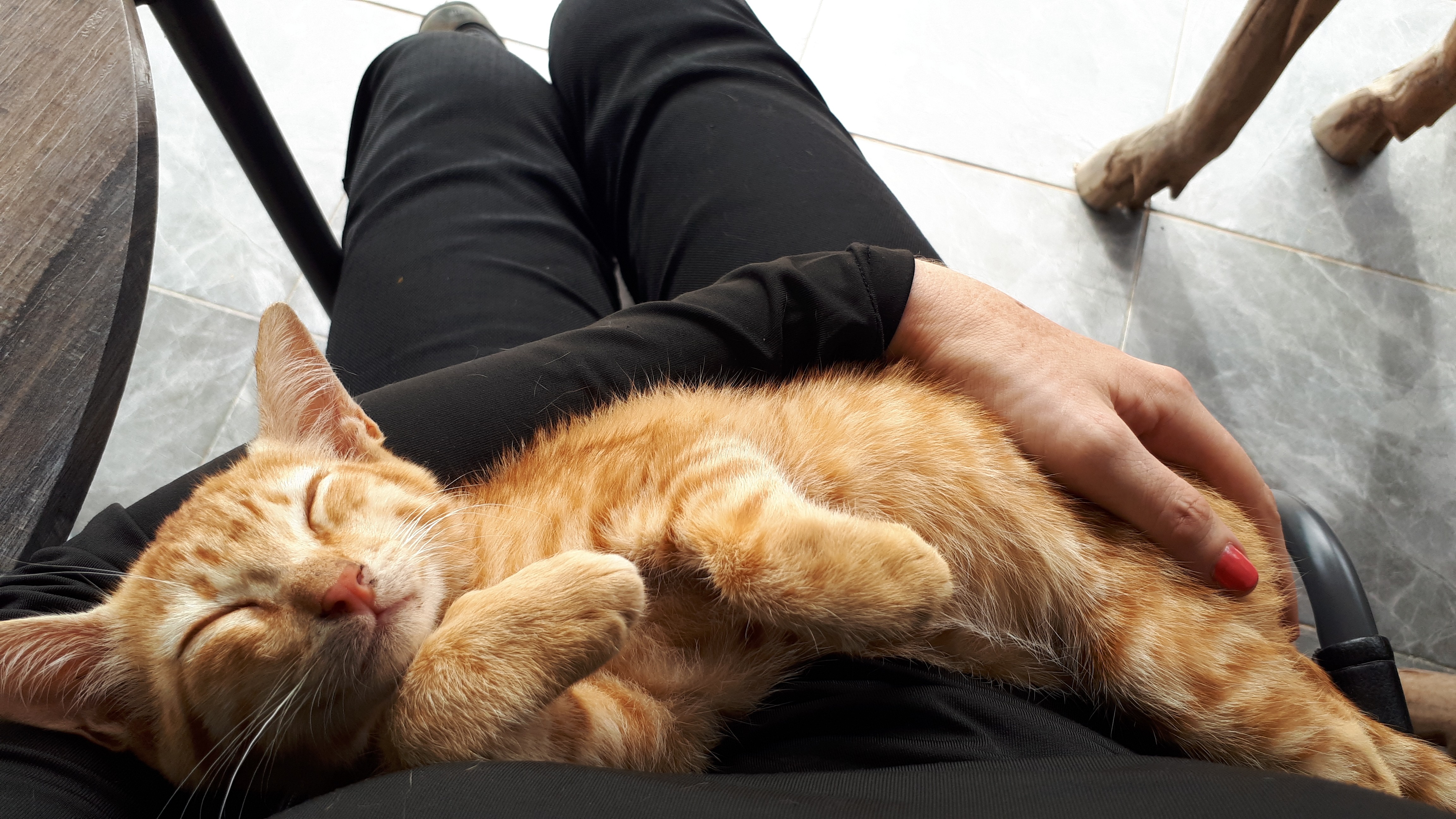 After coffee I put it all behind me and got on with enjoying more fantastic riding!
I was so happy I thought I even might try launching a singing career..

…and the funny old meddling juju was to hit soon again.
I missed a minor left turn, but noticed there was another left turn just a short distance up, so I decided to take that, figuring it would likely bridge to the first turn (if I take a left to cross through).
..except that I ended up on a dirt road which I couldn't turn around on easily, so figured I would keep riding to see where it would take me and to find a better U-turn spot.
Instead it lead me into a farmers yard, with a big prized white bull eyeballing me and a farmer husband and his wife looking at me like I just fell out of the sky. I apologied and got myself out of there. Regrettably my GoPro was off for this ride (conserving battery life for the festival), because that would have been a beauty to have captured.
Got myself back on track and cut through a nice quiet zone with rice paddy fields and lots of herons.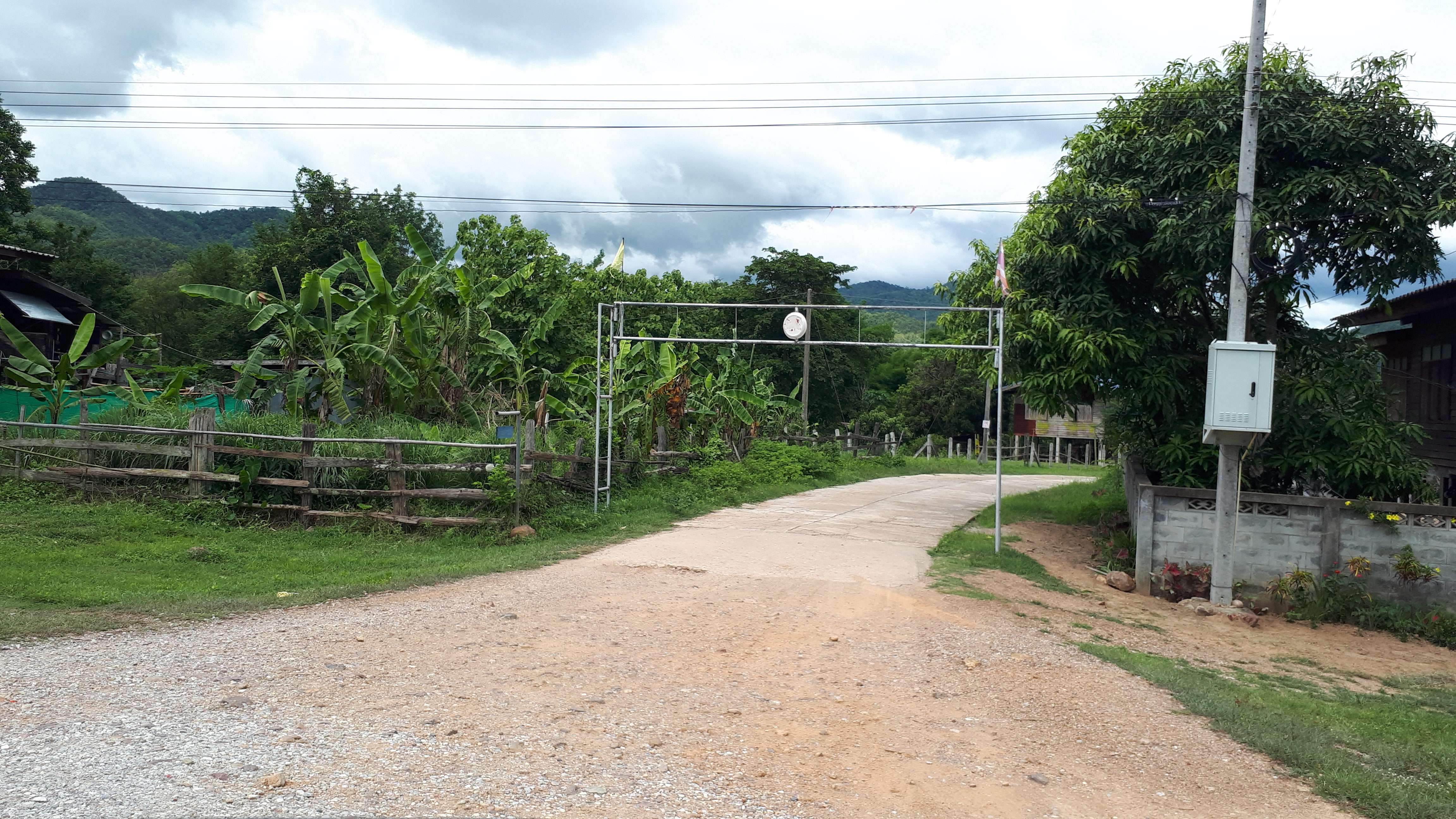 This linked up to a section of lovely quiet single track road, before reconnecting with a the R1048 route.

Was a nice route and on the 1048 I was treated to stunning karst mountain formations (I have seen these formations before, but still takes the breath away). Location HERE
I was needing a cool drink and some food in my belly, so stopped at a café when fueling up. Turned out they didn't have food, so settled on a coffee and donut to keep me going. Location HERE     
This coffee shop had a nice set up display outside.

A little further along, just after crossing the R11 intersection onto the R1246, I was treated to this interesting and unusual sight. Of course I had to go in and take a look around! Location HERE.
I took a left onto the R1143 and spotted this interesting Bagan style statue.
Location HERE
All was going well until my fuel light came on, and no matter how much I looked around I just couldn't find any petrol station. The few random ones that I spotted were closed up. Thank you Ghosties, are you back playing tricks again?
I spotted a set of self-service petrol tanks, breathed a sigh of relief and decided it would be best top up a little to make sure I make it to the next proper petrol station ok. On many of these routes you could end up driving in the hills for ages without any petrol place in sight, so better safe than sorry!
BUT! OMG! …I pulled back onto the road and *BAM* my bike cut out on me!  I thought maybe the fuel was lower than I intially thought and just needed to settle a bit. (I don't have a petrol gauge on my bike, so have to use my timer to gauge where the fuel is at. On this trip I didn't get as good fuel economy as I normally do. I burned through fuel faster than normal, making my timer a bit off.)
It just wouldn't start. The battery was fine, but my bike was dead. I rolled it along for a bit to find a spot to rest and think. I found a small abandoned house so rolled it down the dirt patch to collect myself and check over the bike. As I was doing this I had a horrible thought that I might know exactly what has happened, but didn't want to believe it…
Anyway, best thing to do is watch the video and see for yourself what happened…
But YOU MUST watch the whole video before judging, because really, this is something that would not have happened under normal circumstances. ..so be careful out there, because it could possibly happen to you….

Crazy eh! …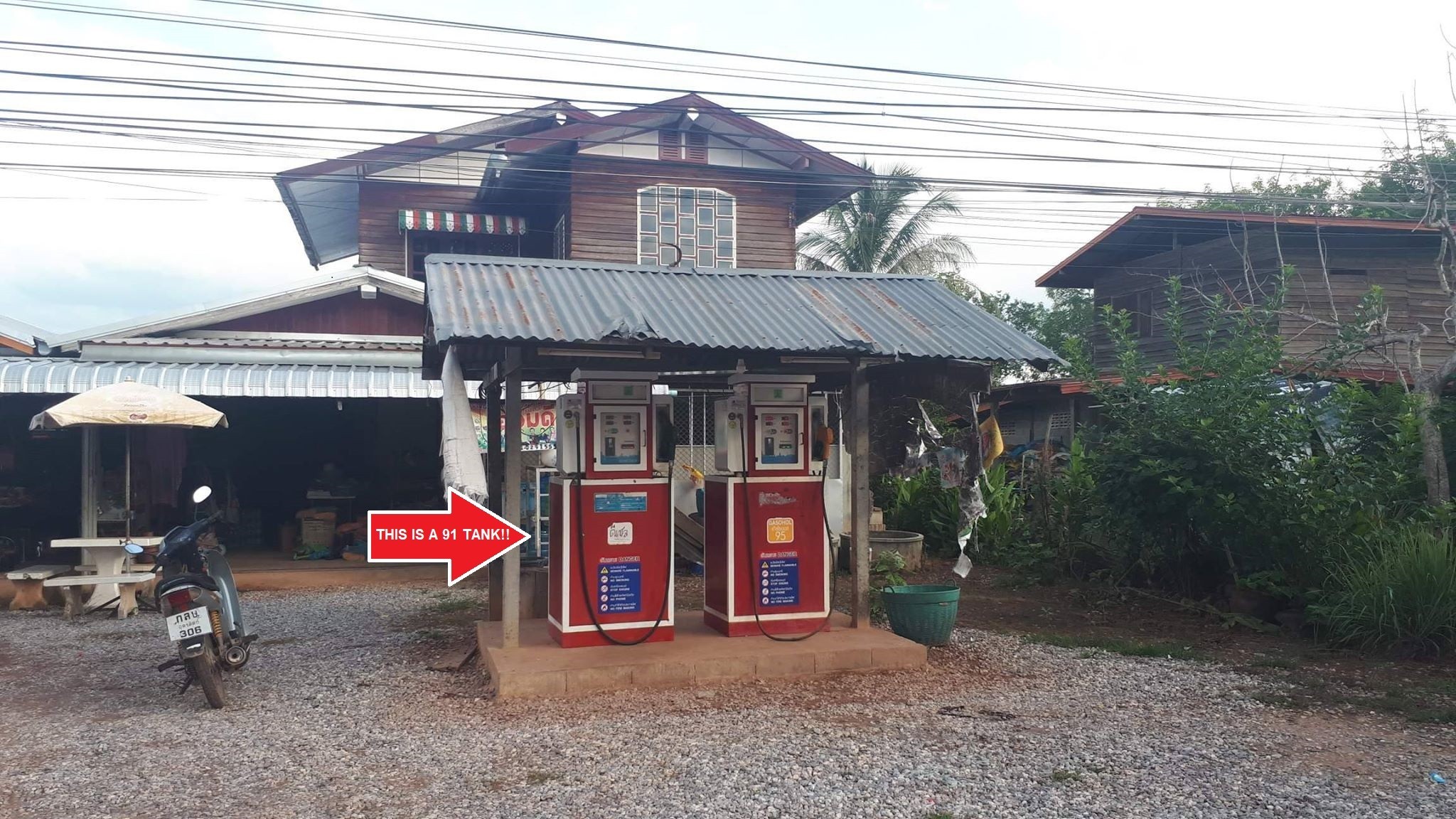 If the owner of that shop had not used a gasohol tank, this drama would never have happened. If I had been more aware that this COULD happen, I would have been more on the look out. In theory we should always be on the lookout I suppose, but I have used these tanks for years without drama. I know which ones are gasohol and I know which ones are diesel and never before have I seen them tampered with like this. Shocker!
In the end though it was all sorted out, so it gave me an interesting story, and again shows the kindness of local people. The lady with the little boy kindly helped me out to find the garage, and K.Geng from the garage could easily have taken advantage of the situation, but did not. If ever you need a garage in this area I highly recommend to visit K.Geng garage HERE

(As an aside, I have some truly kind stories about Thai people. It annoys me when I read some foreigners bad mouth Thai as if they are all crooks or out to fleece foreigners. I also know many men who have had kind treatment from local people, so it is not just because I am a woman. In fact, being a solo female rider can make me more of a target than less of one. Most foreigners experience of being scammed etc is in large cities and tourist zones, which happens all over the world. These experiences should not taint the image of Thai people, because truthfully they have been the kindest people I have ever known.)
K.Geng and his family teased/joked with me about me trying to be "safer than sorry", only to make a bigger problem and waste time. I had trouble understanding the grandmum, as she used slang I couldn't grasp. Turns out their local language is more Laos than Thai. I wish I could remember what she said that her daughter translated, but I cannot. I remembered afterwards that my friend Opal who is from Loei had told me she speaks Lao (as well as other dialects) and that many regions in Loei speak more Lao than Thai. 

Drama over I hit the road hoping to make it to Dan Sai before dark. The relief I felt at this point was through the roof! I couldn't help but laugh at the whole situation. Despite everything I didn't feel tired. My body was pumped full of adrenaline, and I was looking forward to the festival and meeting up with my friends who were already there.
On route I spotted this little boy, happily playing. He ran up to me with his protective dog at his side, kicked some mud towards me, giggled, then ran away to dive into this big muddle puddle. Cute!
Eventually I arrived at my accommodation in Dan Sai, just a few seconds away from 7pm. I messaged my friends that I would be having a quick cleanup and then would head out to meet them.
The last minute accommodation was interesting. A simple Thai structure and squat toilet that I would be sharing the floor of with a couple of other friends.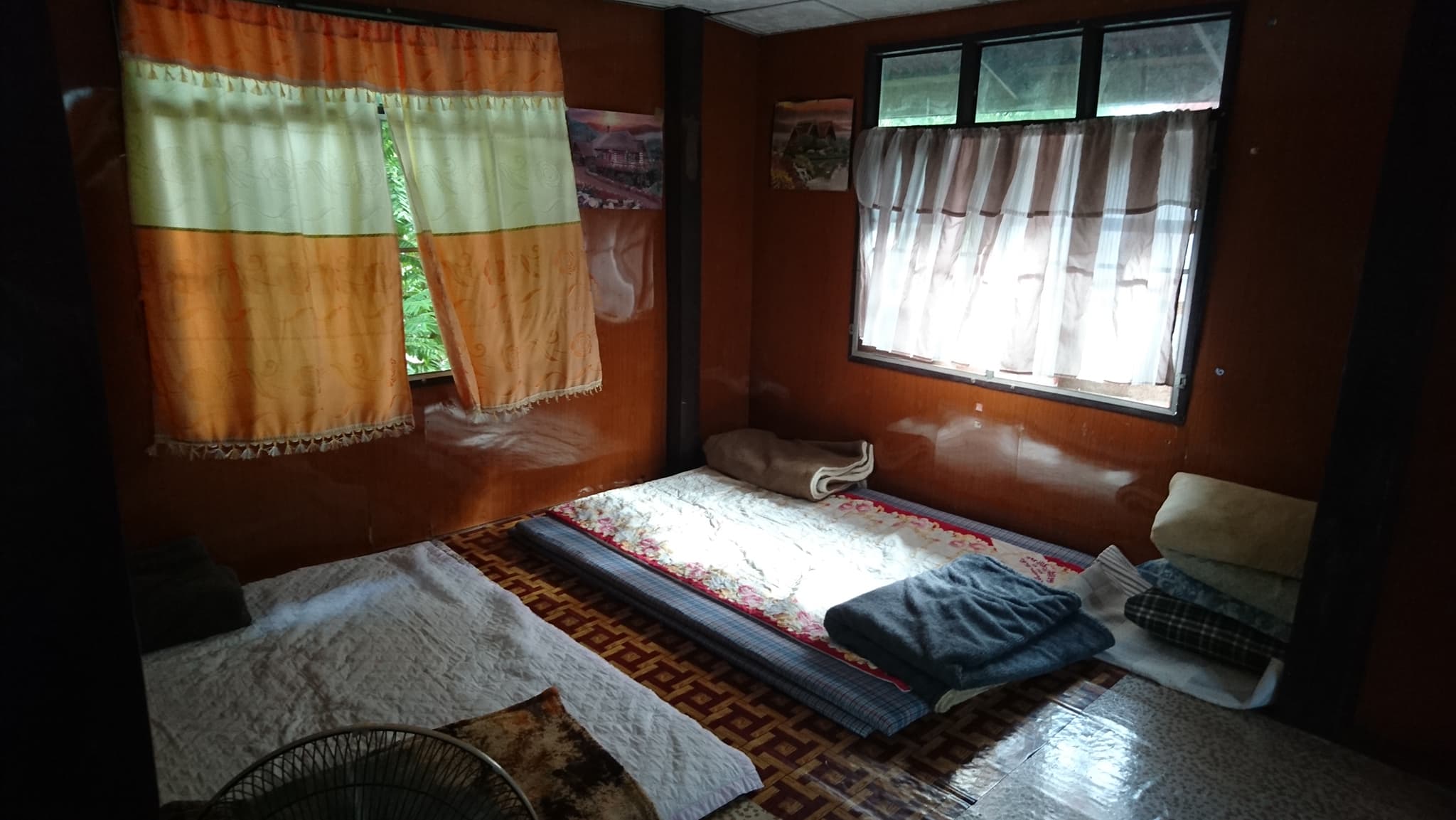 I wasn't complaining. In fact it was fun. I almost thought I would be camping that night instead! (I took all my camping gear with me to test the weight out etc, so if it had come to it, I could have easily set up camp anywhere en-route).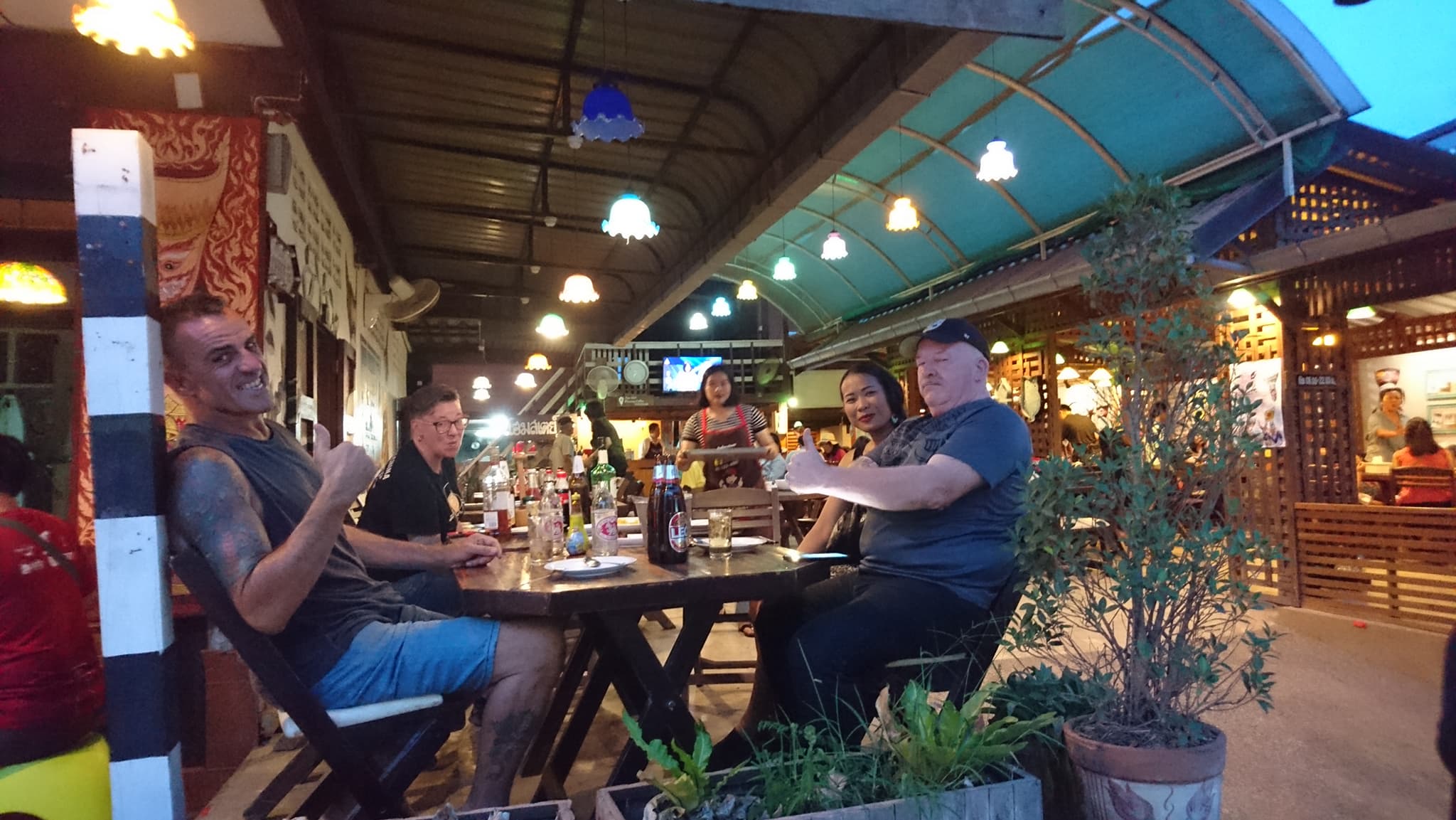 I cleaned up and headed out to โฮมสเตย์คุณนาย restaurant, where I met up with friends who had arrived earlier that day, and earned a cheer for finally arriving haha.

I was super hungry and the food was great, as was the company!
My friends thought I would have been worn out, but I was charged up on adrenaline. This happens to me on trips quite a bit. I get buzzed from the ride and then eventually burn out. I was on a major high still. So much so that we went out dancing and drinking and I didn't eventually settle to sleep until close to 1am.

Relive tracker video for Day 1:
Day 2: Phi Ta Khon Festival!
(The festival dates are selected annually by the town's mediums, and is normally decided within a short time of the festival taking place. The festival spreads over three days, some time between March and July.)
I woke up again at stupid o'clock (approx 5am), only because of the local roosters and the general morning clatter of rural Thai town life. I couldn't settle back to sleep, despite wanting to.
At 6am the neighbours next door began to play loud music, so I stared at the walls in a sort of zombie-like state for some time. I decided to take a shower as quietly as possible and get myself dressed whilst everyone still rested. Eventually my roommate asked if I was awake and it was like someone gave me a shot of narcotics, because I was suddenly alert, wide-awake, and absolutely buzzing. Totally nuts that this can happen to the body, but it did. I was worried, because I knew that a physical and mental crash of some sort would happen at some point, but for now I was wired.
At 8am we all congregated back at the restaurant and had breakfast.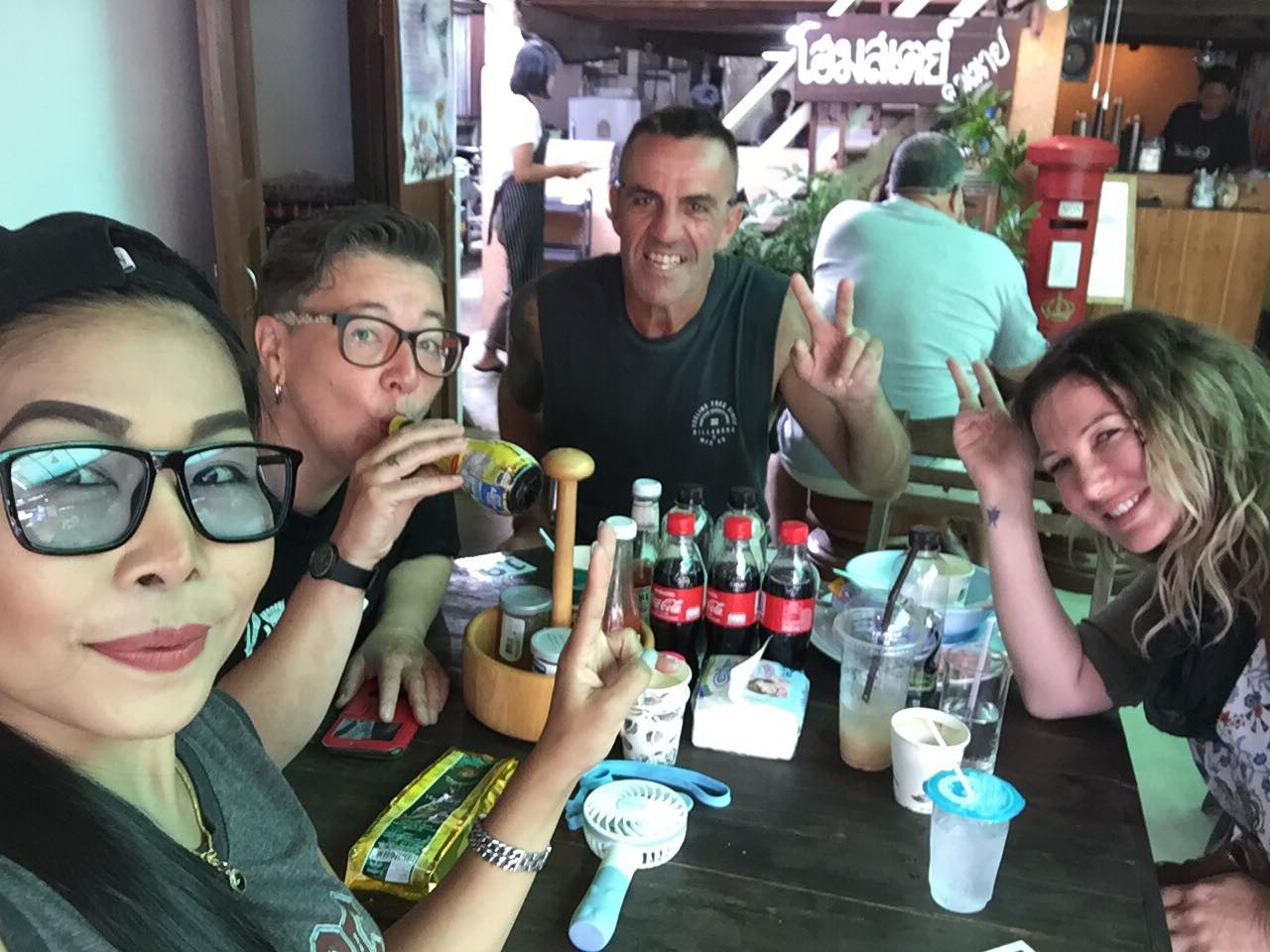 There was some minor festival activity going on, including some parades etc. As it was still fairly tame by 10am I decided that I would head back to the room and attempt to get some shut eye before the major afternoon parade. I knew I needed to try force myself to rest. I grabbed something to eat and then I did eventually catch about one hours worth of snooze time.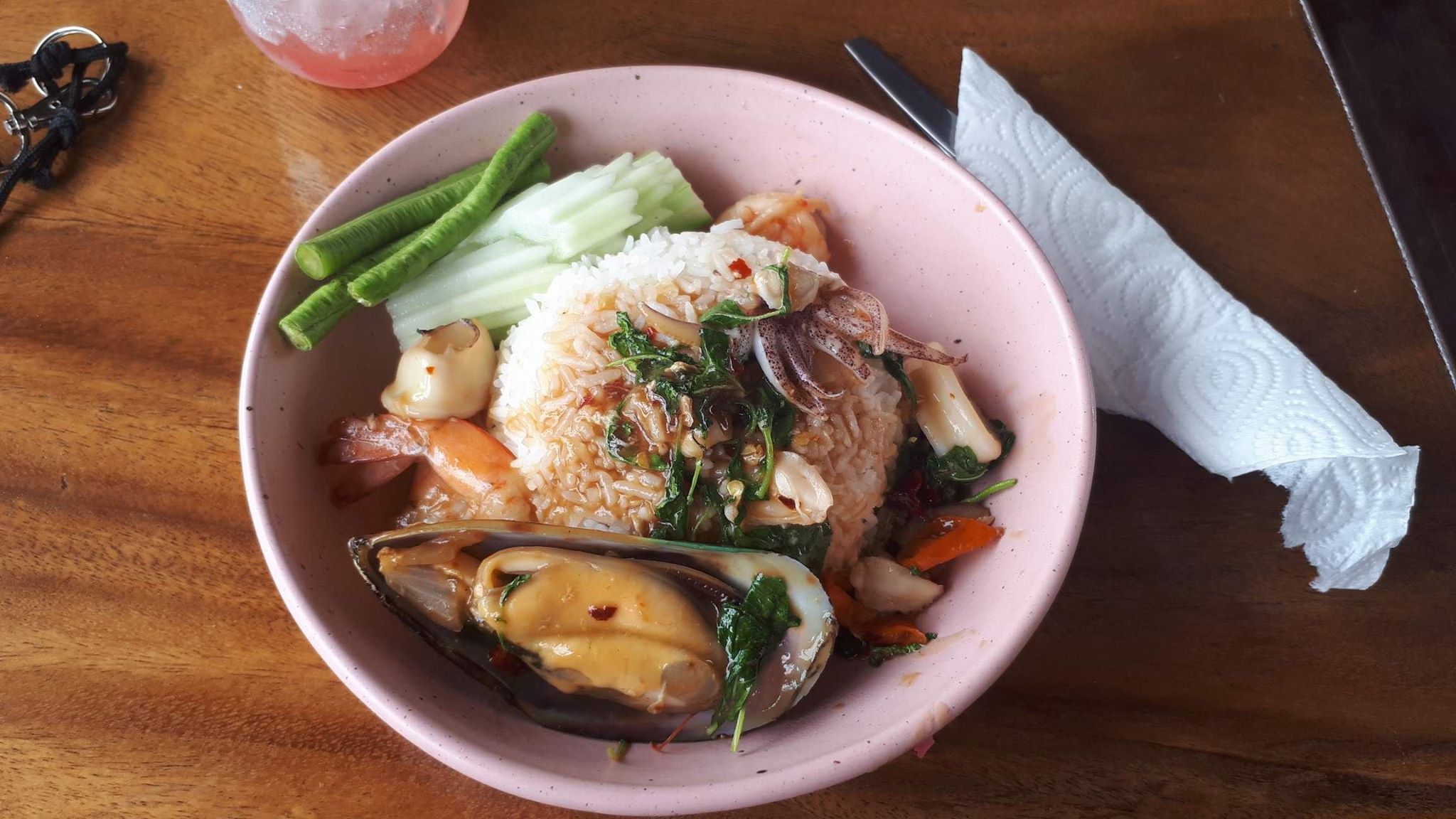 In the afternoon I headed back to rejoin the group, just in time for the main parade. Woohoo!

An absolutely fantastic time was had.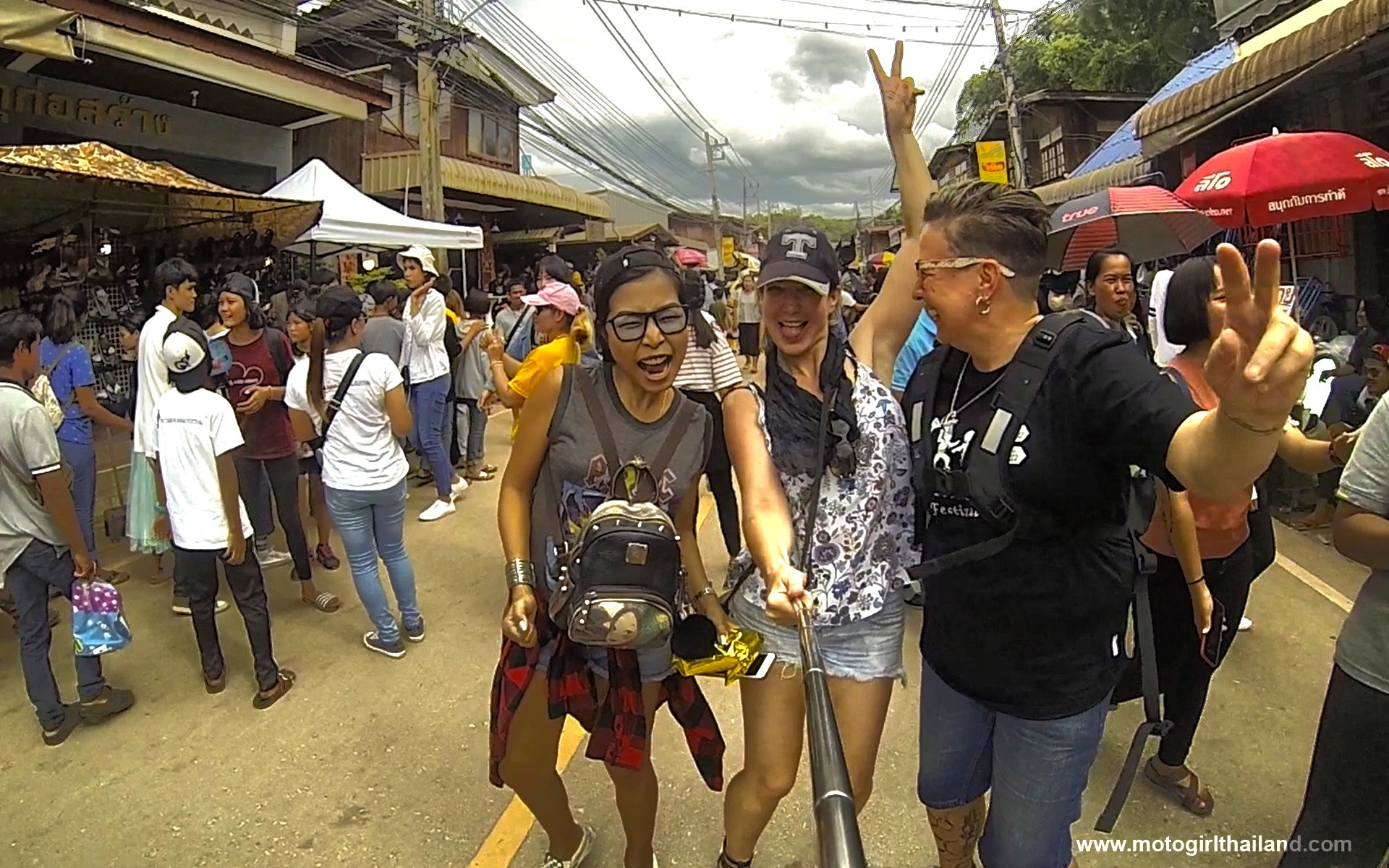 When the parade finished my friends and I took another bit of a rest opportunity before meeting again in the early evening.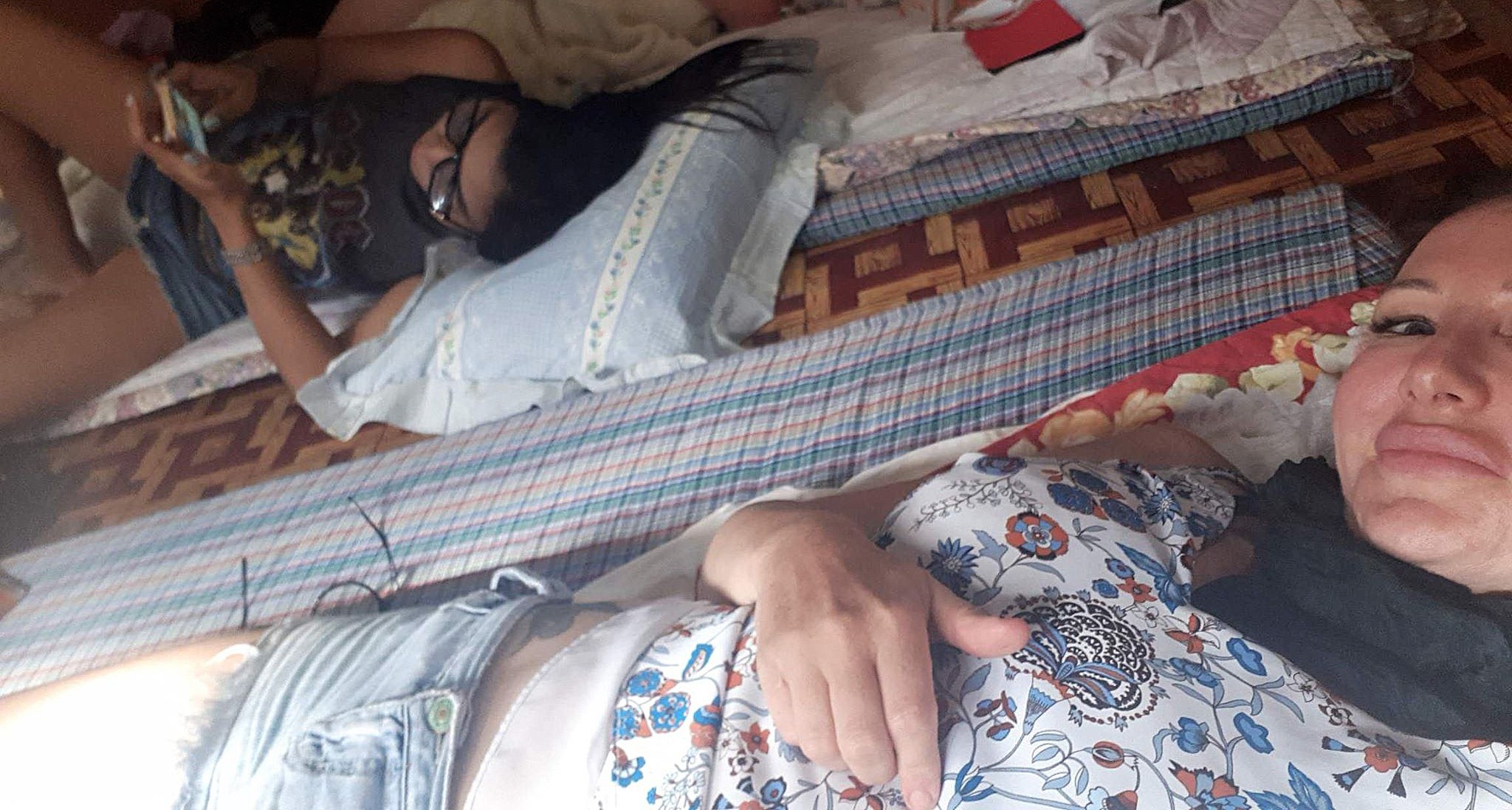 We all met up again for food and drinks and to have a general good time. Spotted this Hubba-Hubba-Husqvarna. This bike ticks a lot of boxes for me and would love to ride one some time.

Also spotted this beast earlier too, with Surat Thani license plate! So surprised!

My energy levels were starting to drop though, which was a good thing. I had also hit my social interaction wall. As an introvert the company of others drains me far more than any motorbike ride ever could. I also start getting a bit grumpy when this happens, and so I knew it was time to excuse myself and head to bed early, so I did. I was back in my room by around 9pm. I packed up ready for an early start and got into bed. I thankfully fell into a deep deep sleep.
Day 3: Dan Sai to Chiang Mai (Google Map link)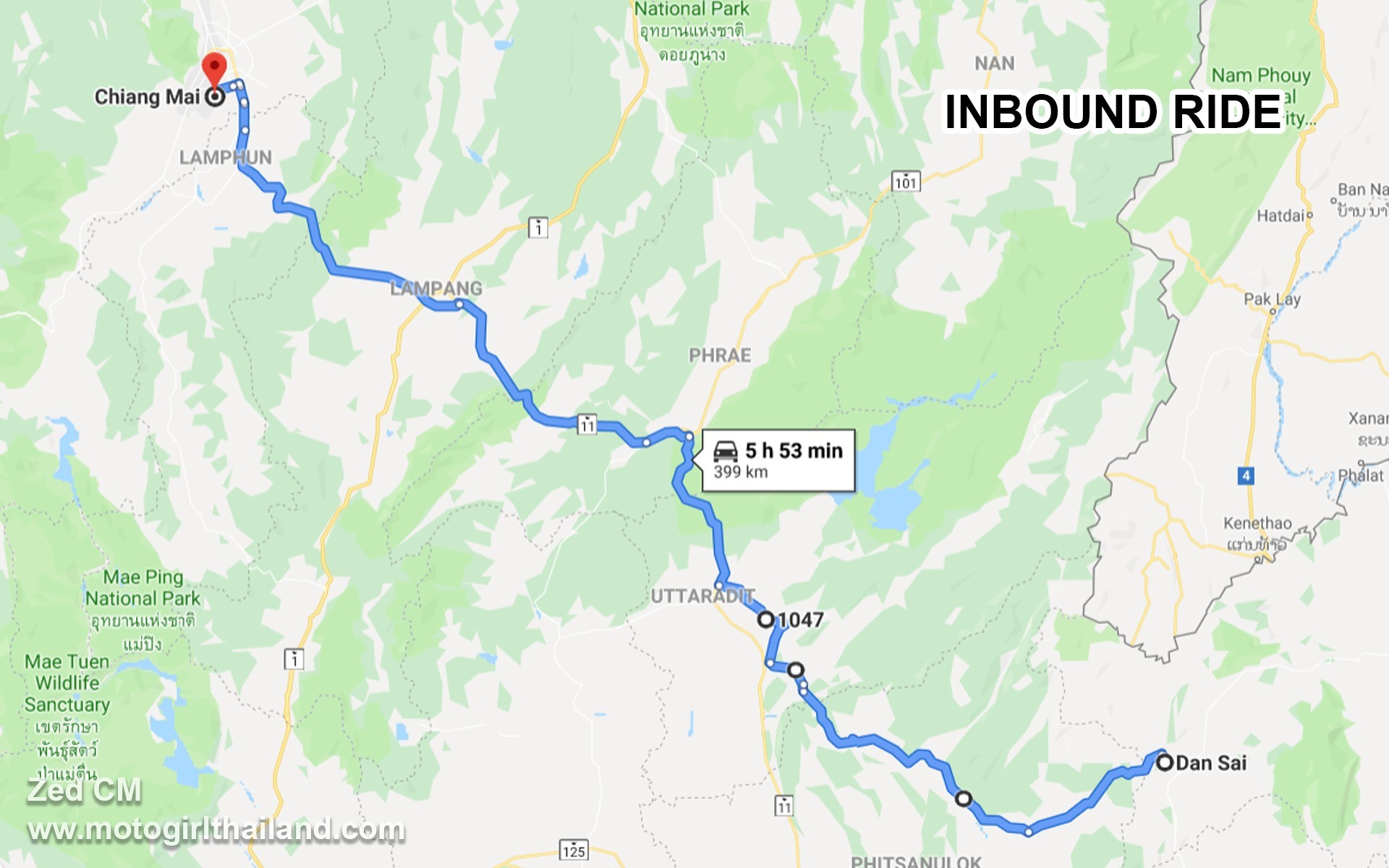 Like a thief in the night I skulked quietly out of the accommodation at 5:30am, hoping not to disturb my roommates. I was on the bike and off by around 5:45. My first stop was a petrol station and then I was off, enjoying the wonderful quiet and cool breeze. It was raining slightly, but nothing unhandleable..and was rather refreshing.

The joy of finding a quiet rural road.. (location HERE)
Also spied this river of plants. Apparently these are used to make baskets etc.
So interesting! Location HERE
A bit later on I had an opportunity to test ride a bigger motorbike…
Sad to say it was a case of all show and no go. Rather disappointed.
I had made good time and arrived at the Phrae / CM junction at 9:20am.

As it was still early, I decided to look out for interesting places on the main route back to Chiang Mai. My first stop was this fantastic temple. Wat Phra That Suthon Mongkhon Khiri.

Then this happened …
(Hmm…did one of the ghosts hitch a ride back to Chiang Mai??)
Thank goodness for cable ties.
Next stop was close by, at this fantastic wood sculpture business.

I weighed up if I wanted to take the long way home, but I already had a belly full of adventure, so took the main R11 back to Chiang Mai. Stopped off for an early lunch at roadside venue and had some interesting company…
Coming into Chiang Mai I rode into some pretty congested traffic due to road works, and some pretty nasty Sunday traffic. Still, I made not too bad time. I was parked up at my condo by just before 2pm.

Felt good to be home and back to my kitty, who missed me.
That evening I ordered unhealthy junk food and settled down to watch MotoGP and stuff my face silly, feeling accomplished. Haha.

Fab trip. Very happy. Now just need to repair my motorcycle boots….. lol.
Hope you enjoyed this trip report.
If you did, please support by subscribing to my site and any (or all!) of the following:
Safe travels! 😀