Girls' Ride Out: Bua Tong "Sticky" Waterfalls – Mae Taeng, Chiang Mai.
27th July 2019 A fun day ride out from Chiang Mai with my friend Opal, who was testing out a brand new Suzuki SV 650.
She messaged me to invite me along, seeing as I had a change of solo weekend ride plans.
Initially we planned this route (Google Map link), in order to ride across the fairly recent Mae Kuang Suspension Bridge. We figured that it might not be possible though as some of the route to the bridge may not yet be completed.
It's really not such a good idea to be dirt riding on a brand new street bike!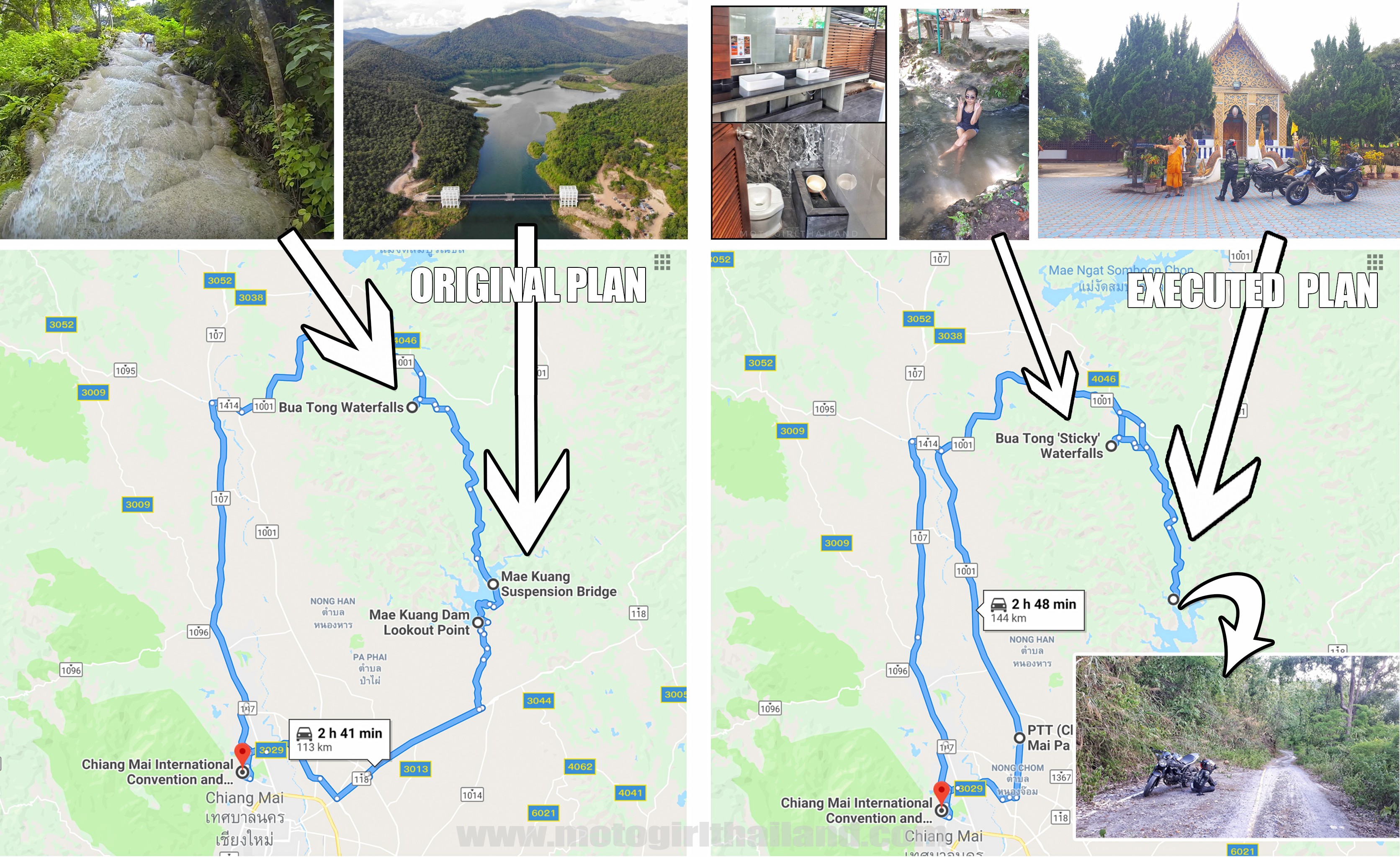 We met up at this Petrol Station, which turned out to have quite possibly the nicest public convenience facilities I have ever seen in Thailand.
The Amazon Coffee Shop was pretty too (although in truth I'm not a huge fan of the coffee there).
I fuelled up, got a coffee and waited for my friend to arrive.
When she turned up on the Suzuki I had to admit it was a fab looking bike, and sounded fantastic (especially upon start-up!)
We headed off to the waterfall via the R1001, figuring it might be quieter than the adjacent R107. However, being a Saturday it was still busy. Possibly a worse choice in fact, as the R107 is a single carriageway. Instead we were having to overtake one vehicle after another, after another on a regular road.

We also hit a spot of roadworks. A doddle on my bike, but the suzuki was not as much fun at this section for Opal.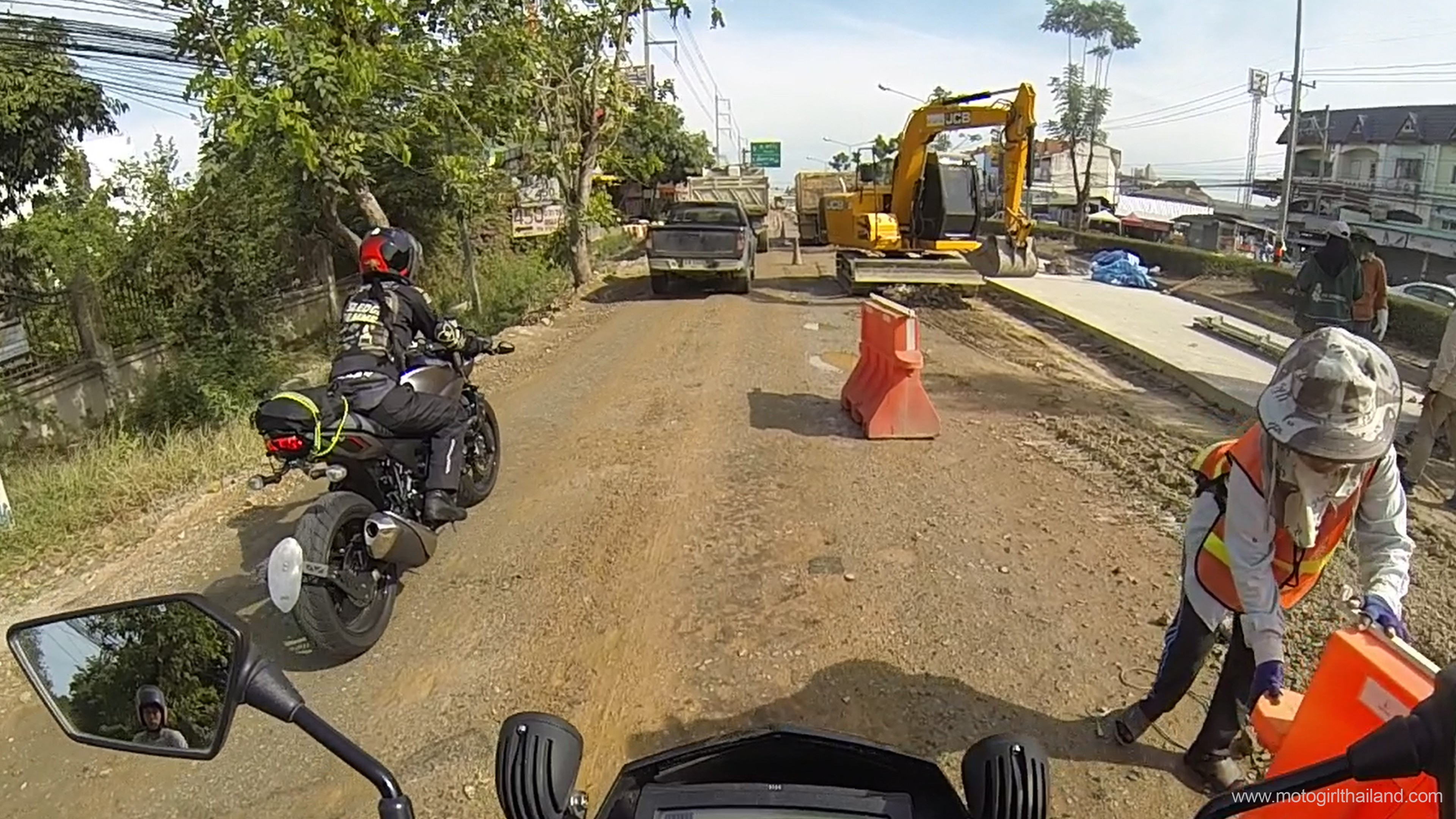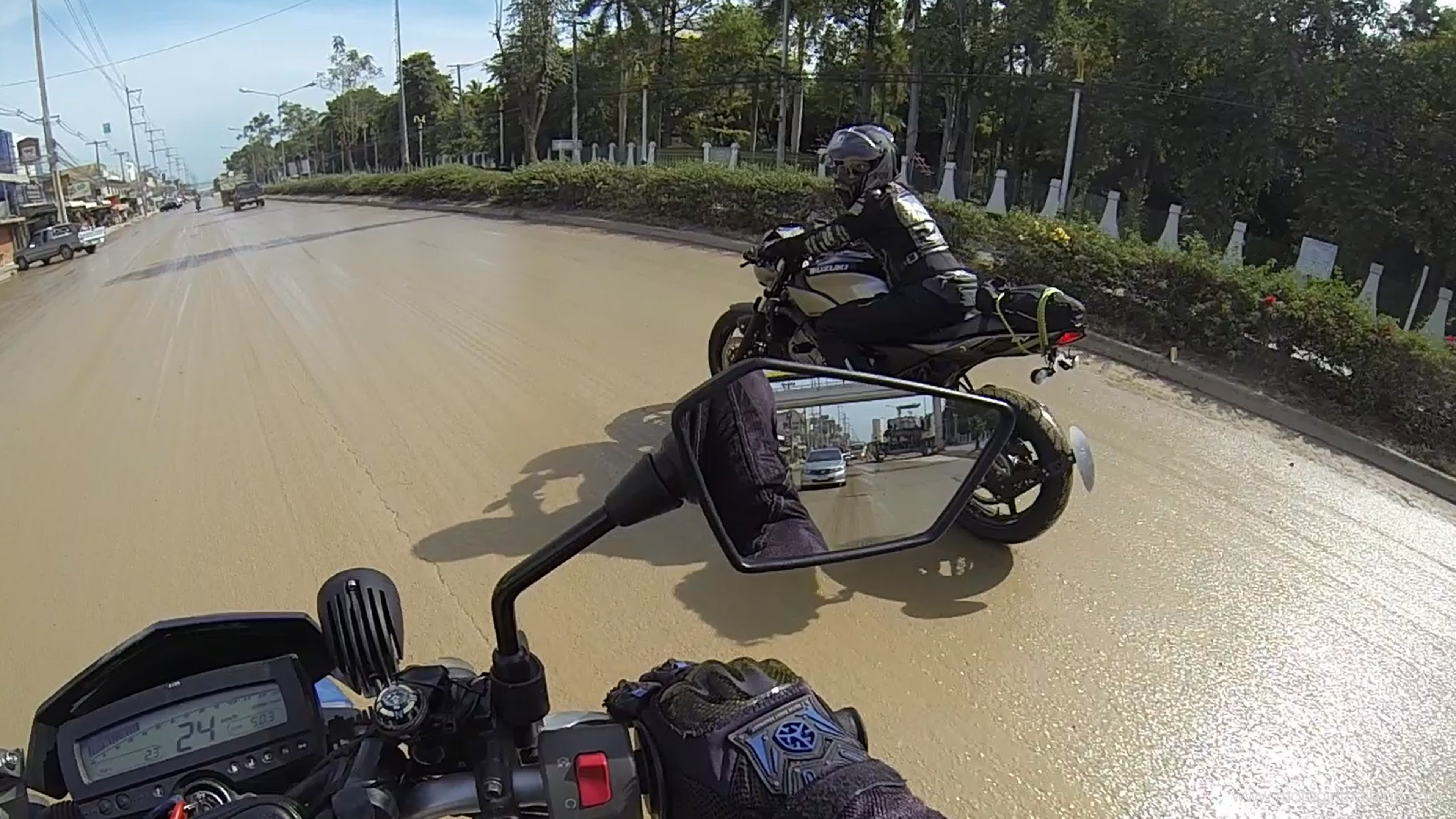 Obligatory traffic light motorbike chat..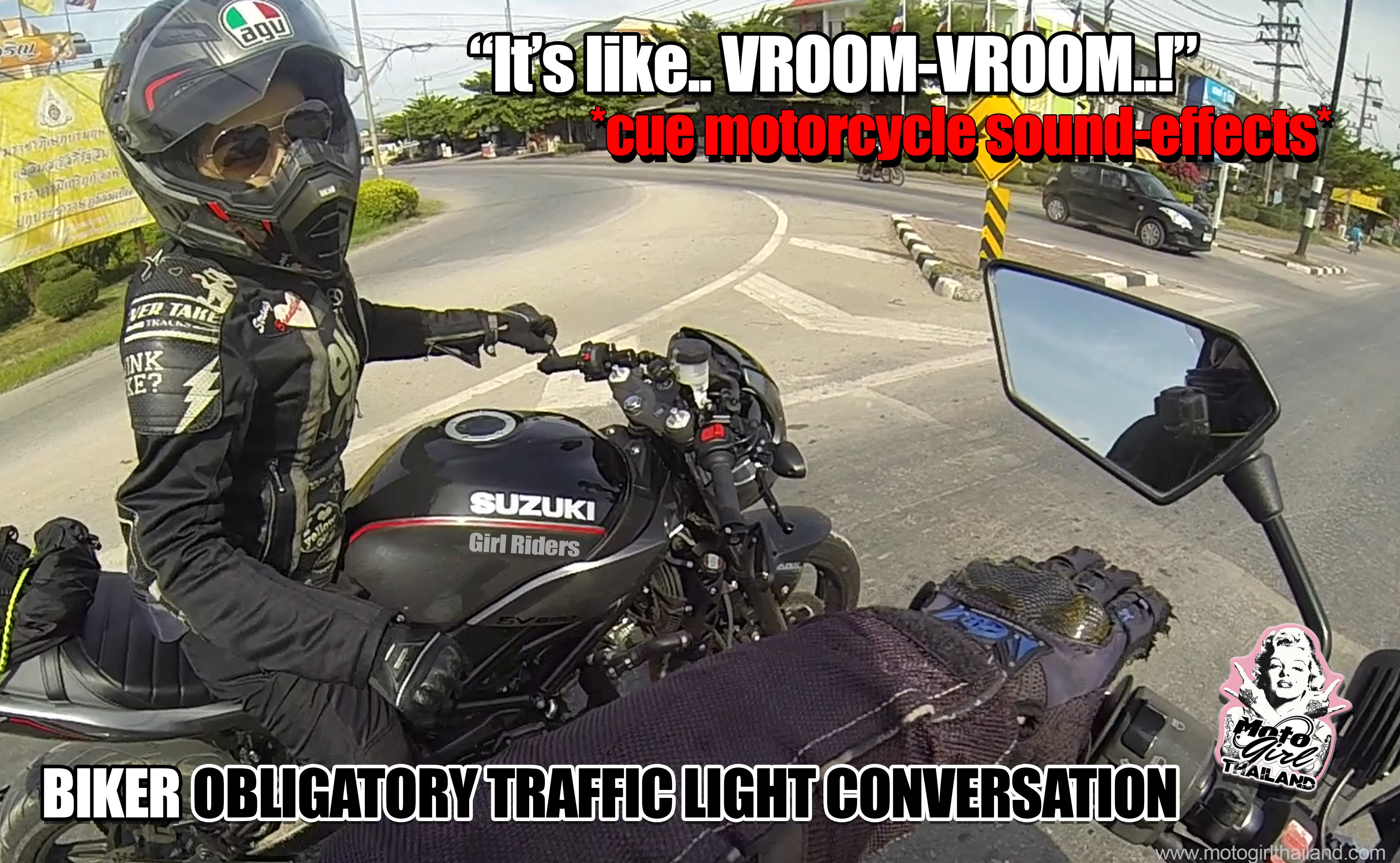 Good signage on the R1001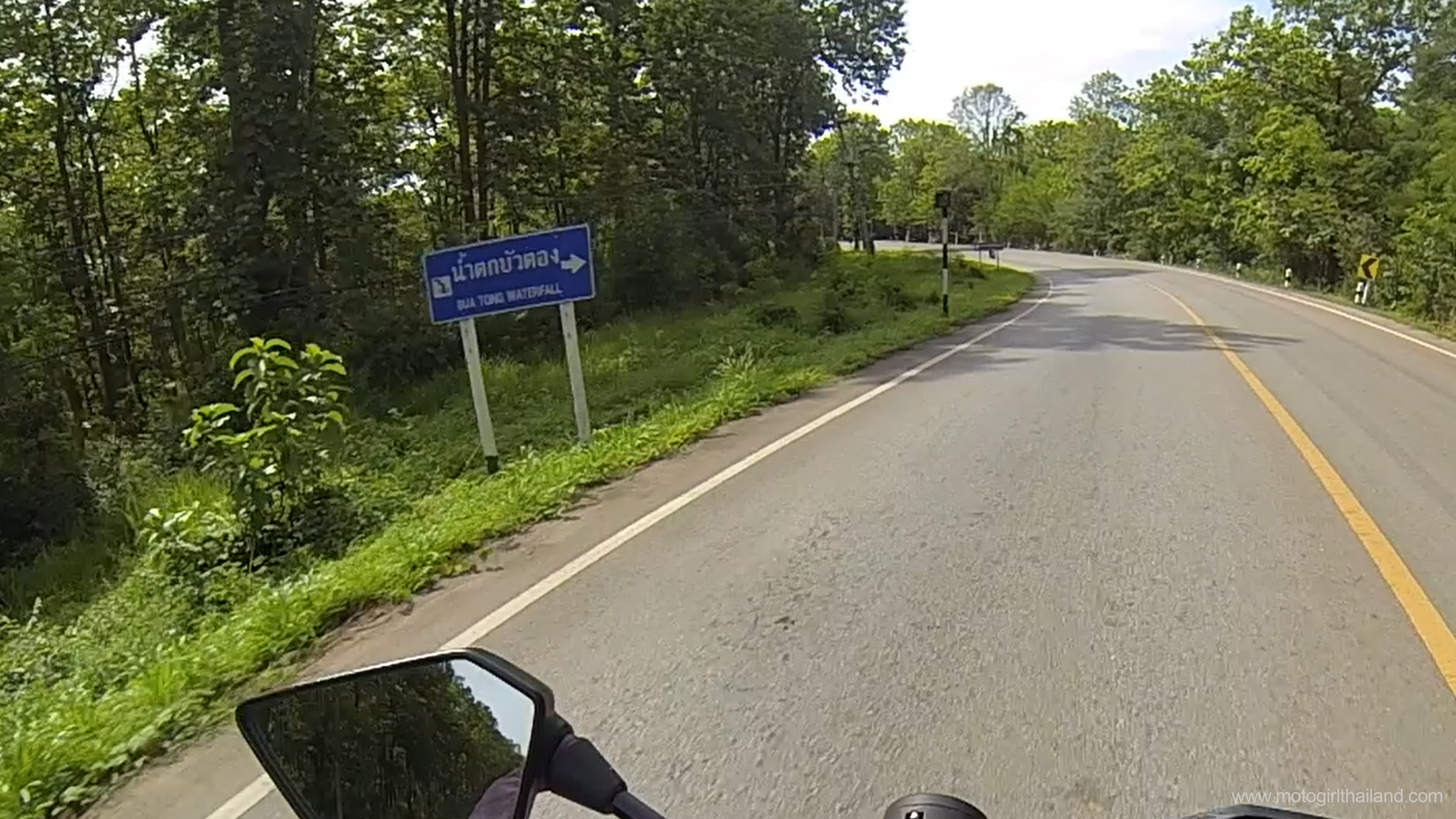 When we turned off onto the Waterfall road the scenery was beautiful, with lush green forestry.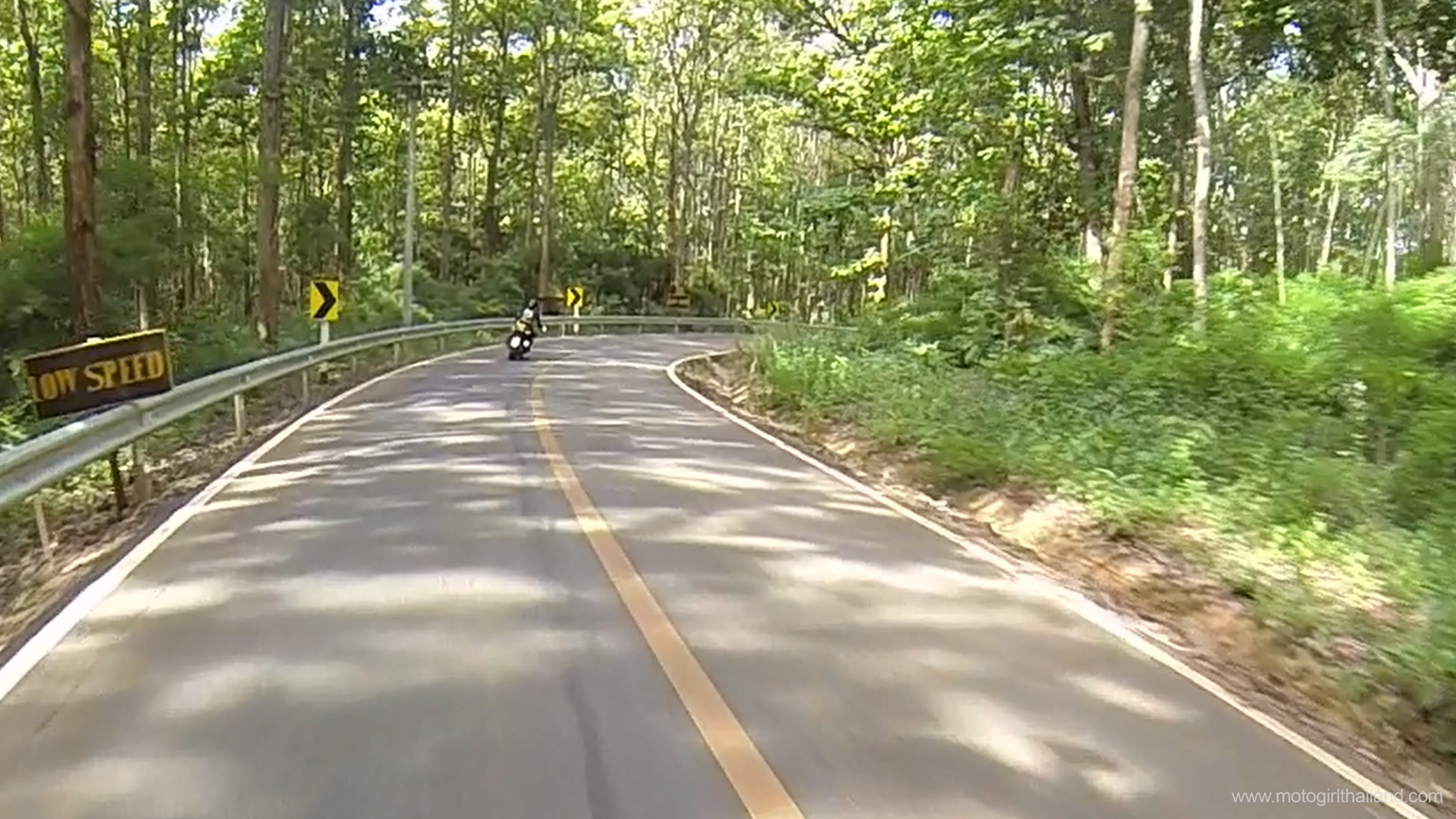 We passed through the barriers with no issues, and no fee to pay.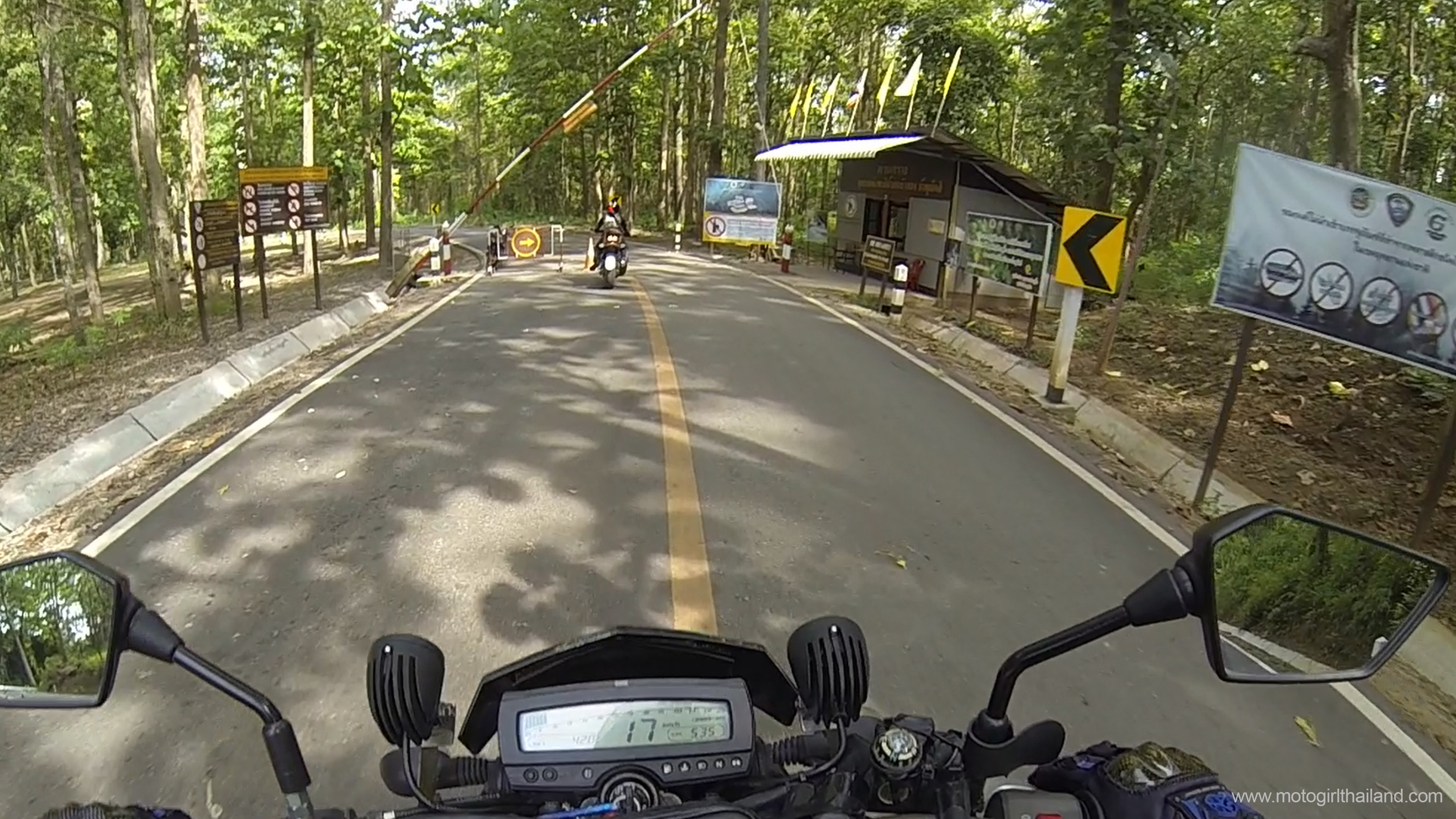 Slight altercation with an office lady about parking.
I confess we got a bit of a grump on about being asked to park elsewhere…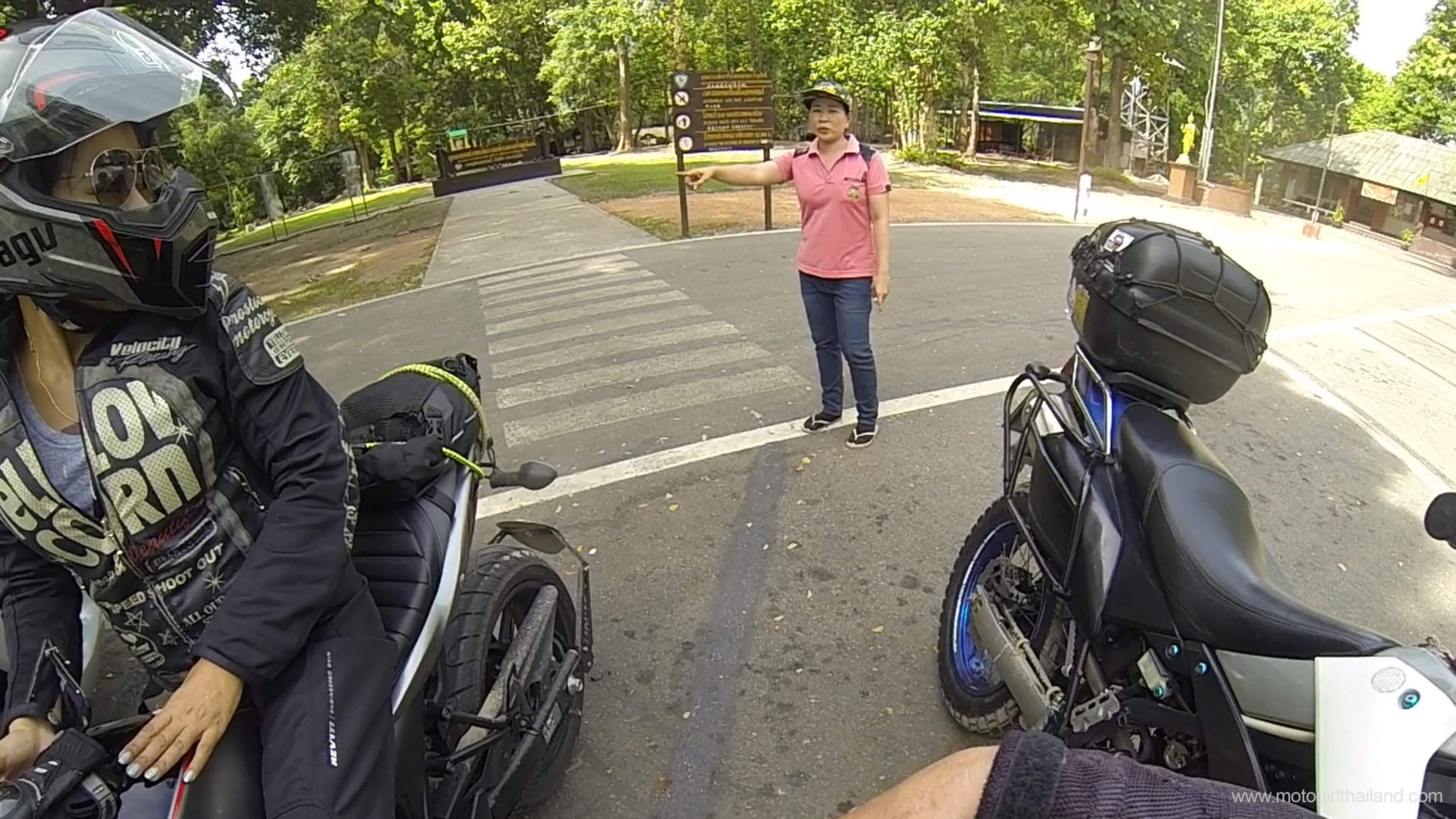 ..cue us having a bit of angry ranting about earlier altercation with office lady.
*grumble* *grumble*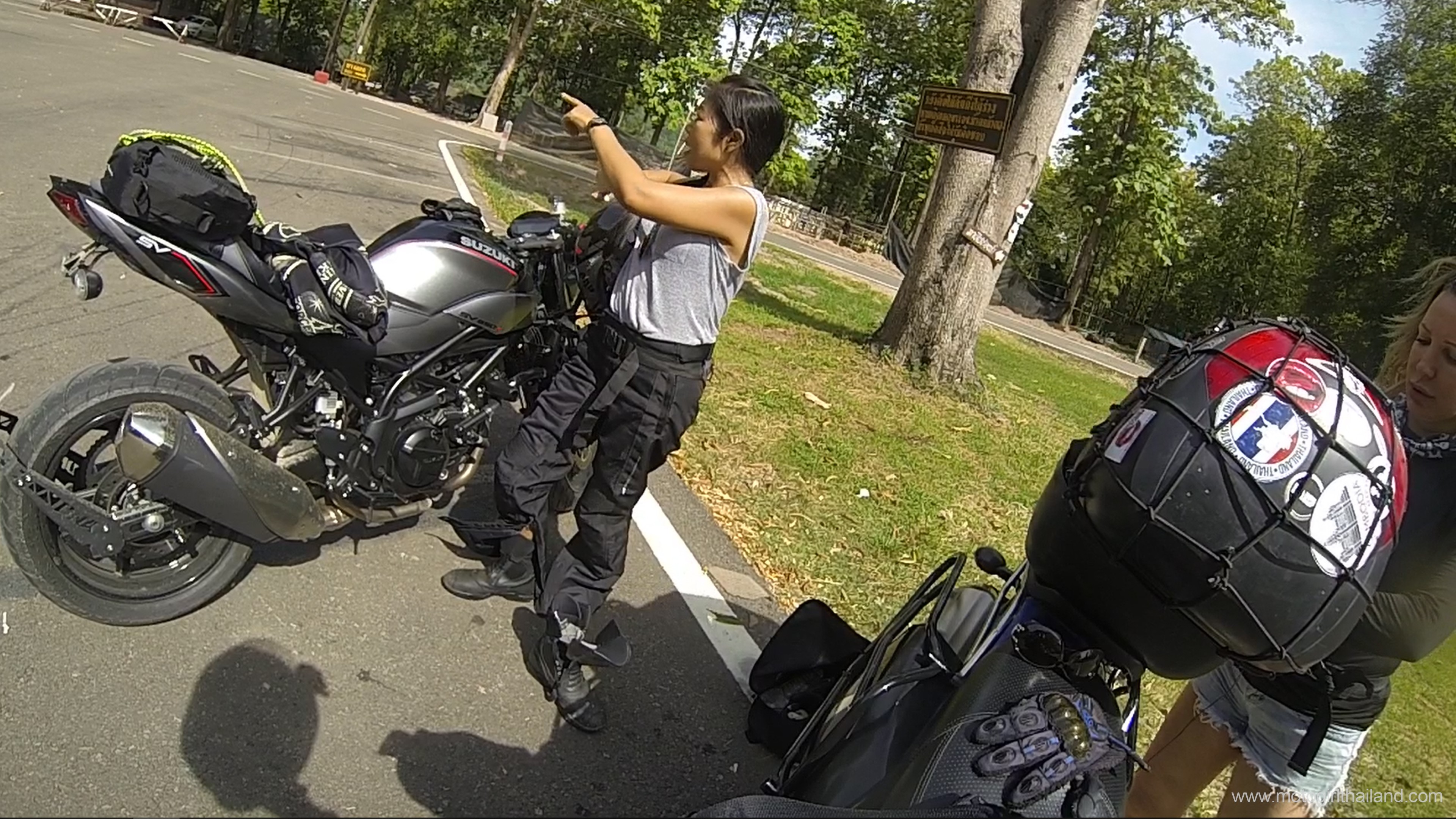 Bua Tong "Sticky" Waterfall.
Free Entry.
Lockers available.
Restaurant on site.
Camping available (with your own gear. Fee is a donation). 
Bua Tong is known as the "Sticky Waterfall", due to the unique aspect of being able to climb UP the waterfall. Limestone mineral deposits on the rocks give a sticky/grippy surface, making it an interesting and unusual experience for climbing the waterfall, especially as the water is gushing through your feet. It is also quite steep in sections.
This unique sticky element and being not far from Chiang Mai city makes the waterfall a popular spot, especially on weekends. We went on a Saturday, so we expected crowds, but actually it wasn't too bad. There was also a nice family vibe in the park and lots of people (including ourselves) enjoying a picnic.

We rented a mat (20 baht plus 40 baht deposit), bought drinks from the local on-site shop, and also bought some really great food from the local restaurant to take to our picnic area (next to one of the natural freshwater pools). We also rented a couple of lockers, which were big enough to store our helmets and boots (20 baht per locker).

We set up a nice picnic area then walked down to the base of the waterfall, to enjoy the unique climbing experience.
After the climb we spent most of the day just relaxing in the natural pool and eating great food.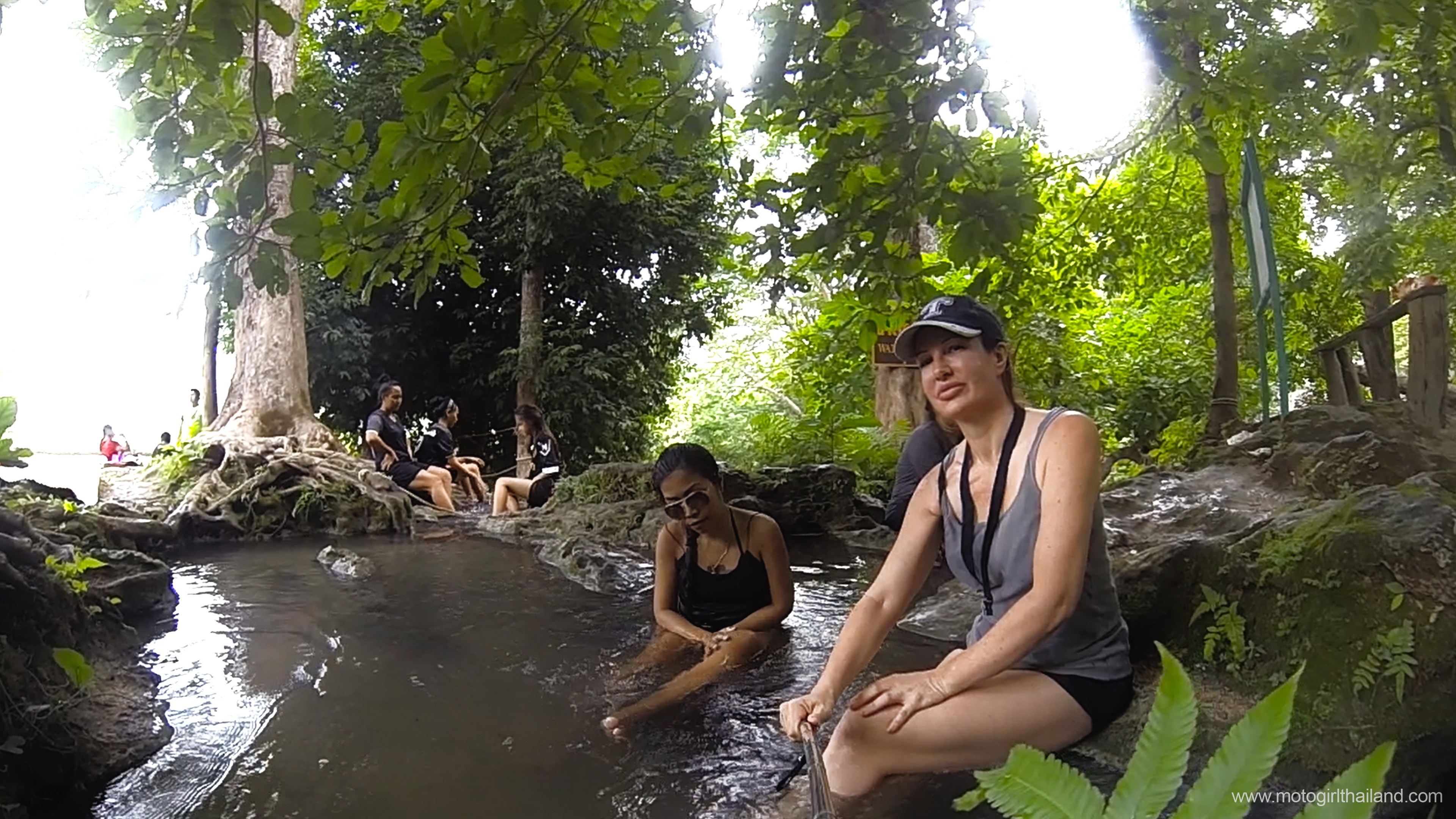 At around 4:30pm we got changed into our gear and set off to see if we could cross over the Mae Kuang Suspension Bridge.
The 4031 is a fab road (unfortunately my gopro had some issues with the SD card and despite me thinking it was recording, the card is blank. So I have no GoPro video/images of the road from this point on).
At Ban Pa Sak Ngam village we rode into a local temple, Wat Pa Sak Ngam (I thought it would make a great photo op and I also wanted to check the route). I am really glad we did stop in, because we met with a lovely monk who was quite happy to see us. It seems he doesn't get many visitors to the temple and also, the only motorcycle riders he ever saw come to visit have been men.
He was really surprised when he realised it was two women. Haha.
The monk chatted to us in English and Thai and asked a lot of questions about where we have been and what we have been doing, etc.
I think we gave him an unexpectedly interesting moment in the day, which felt good.
After the temple we continued along the 3041, passing a few interesting guesthouses on the way. A short while later we reached a huge mountain construction development (again, sadly not caught on my gopro) and the road changed to a broken up route ahead and a dirt route on the left. The left would take us to Mae Kuang Bridge and straight on would take us down to the river.
Given that it had been slightly raining and we didn't know how bad the dirt area would get, we decided not to take the bridge route. Not wanting to give up we figured it might be fun to ride straight on to the river area and at least (possibly) get some nice shots of the bridge from there. However, the more we rode down, the worse the road got. No problem for my dtracker, but not ok for the Suzuki. Ok, concede time. We need to turn back!
Hah! ..but turning the Suzuki on a bit of a slope wasn't so simple. It turned out to be a fairly heavy bike with surprisingly little turn range, so it became a two woman job.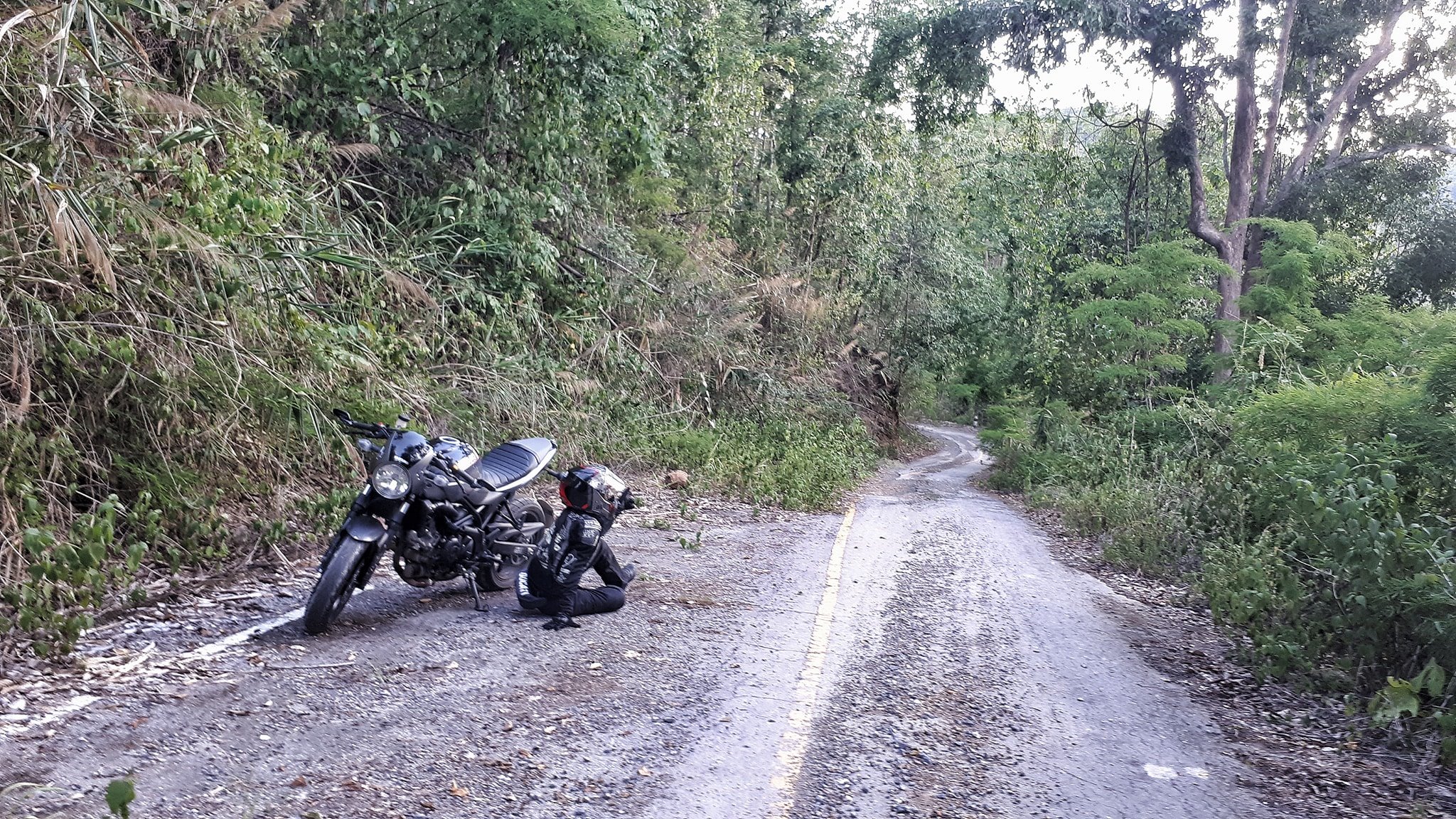 We turned it around ok (albeit slowly), but the weather was stinking hot so we got pretty sweaty from this small effort. Funny how a little effort in full motorcycle gear can knock the wind out of you..haha!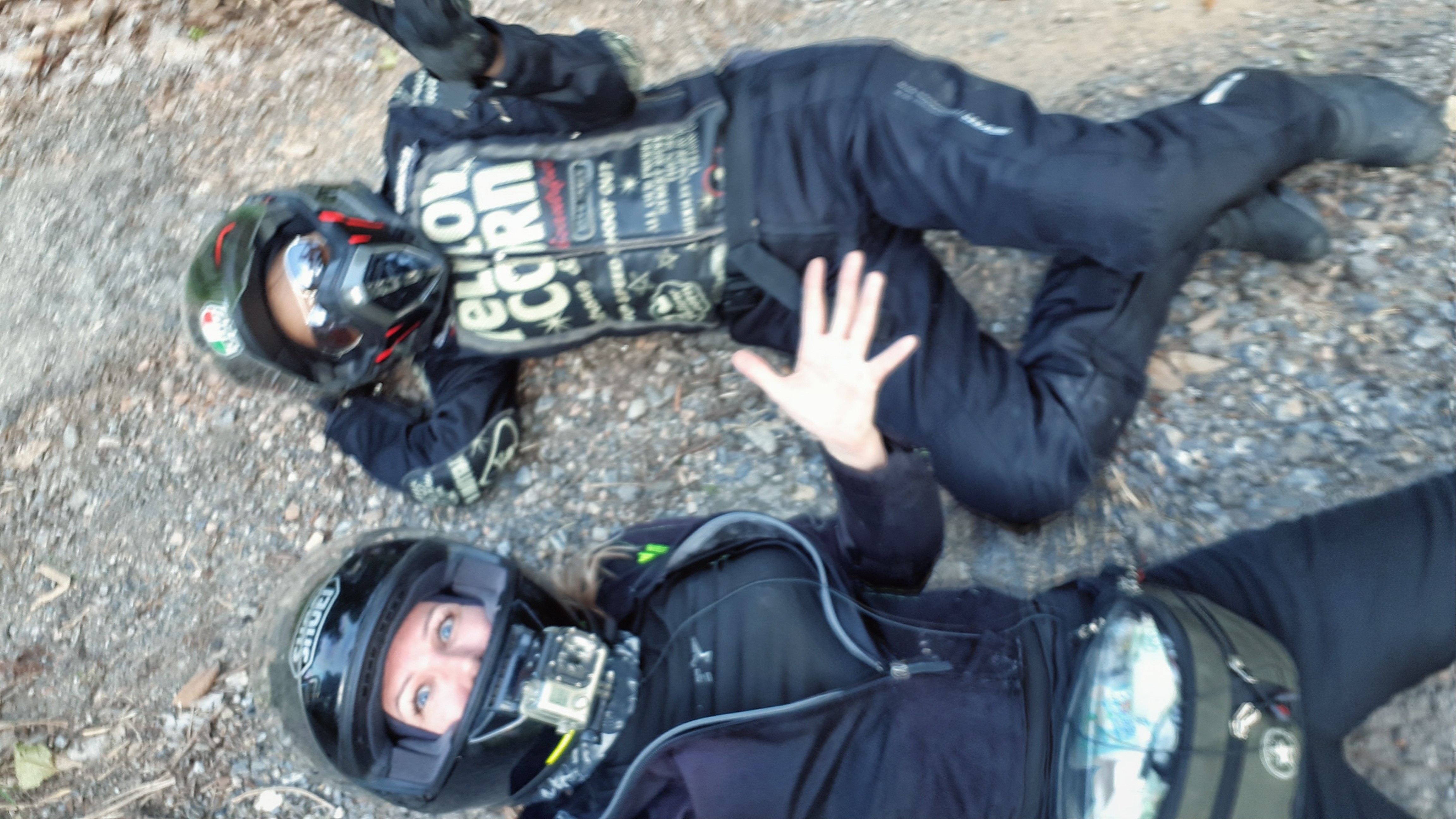 Alas, in the end we rode back the way we came.
As we passed the turn-off to the bridge once again, Opal stopped for a moment to reconsider if it would be worth trying to ride through. Nah! She was still recovering from a leg issue and today was supposed to be a no fuss day on this new and unfamiliar street bike. Not worth it today. No problem. We will just have to return again instead, with a more suitable bike. The waterfall isn't far away and it gives a good excuse to return for another fun day.
The ride back was quick. We avoided the R1001 roadworks by taking the R107. Traffic was busy, but we were able to filter ok on the dual carriageway.
Was a great day out and a brilliant way to cool down during an unexpectedly high temperature and dry Rainy Season period.
Wish I had more footage of the R3041 road and bike turning etc, but sadly no footage was on my SD card that I thought was recording 🙁

Hope you enjoyed this trip report.
If you did, please support by subscribing to my site and any (or all!) of the following:
Hope you enjoyed this trip report.
If you did, please support by subscribing to my site and any (or all!) of the following:
FACEBOOK
INSTAGRAM
YOUTUBE
..and if you feel exceptionally generous, then you can sponsor me through my Patreon Account. Every little counts! Even if just a small one-off donation, it will go towards helping me create great content, and will be very appreciated! ♥
Become a Patron!
Safe travels! 😀