Giddy Up: My Bike & Gear…
I've been asked a few times about what bike I ride and the gear I wear, so figured would be easier if I just write up about it. I've been meaning to for some time now…so here goes.

*Update: I now have new boots – Forma Adventure*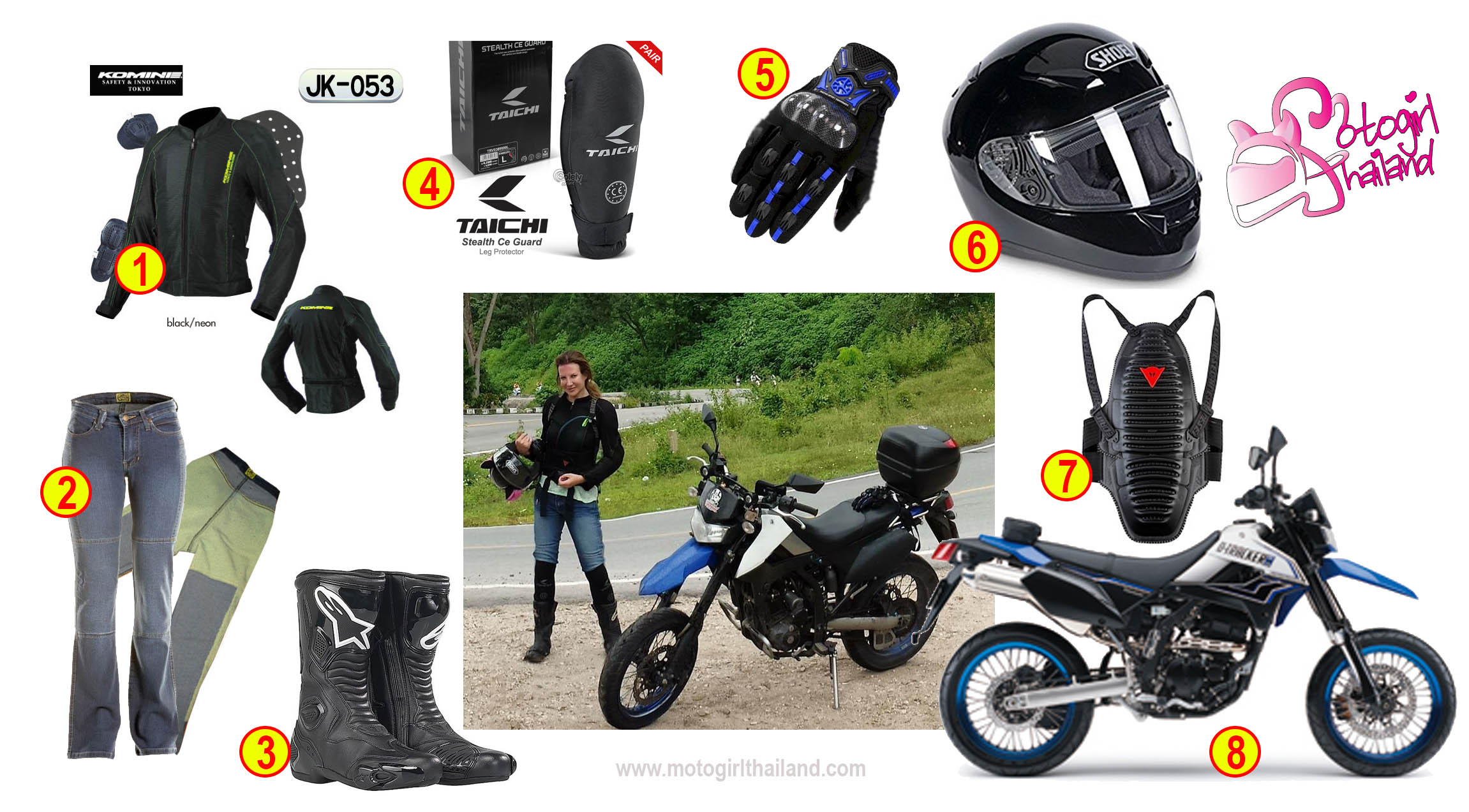 #1: Jacket: Komine JK-053 armoured mesh – ladies cut.
5000 baht (around 145 USD / 110 GBP / 190 AUD).

I absolutely LOVE this jacket. I bought it approximately 2 year ago and zero regrets. It is completely mesh and has reflective piping (and reflective brand name). It came with CE soft armour which I decided to swap out for something a bit more heavy duty. So took the armour out of an AlpineStar jacket.

I have never taken a tumble in this jacket (and hope not to! *knocks wood*), so no idea how it stands up in a fall. However, a close friend did take a tumble (approx 50kph, so not high speed) wearing Komine mesh, and it stood up well. 

Komine is a Japanese brand and I was able to get the jacket within Thailand (in Chiang Mai). Price of this jacket will vary from country to country and will likely be a LOT cheaper in many other countries as Thailand adds some hefty import taxes on imported products.
#2: Pants: Draggin Ladies Skins – Kevlar inserts.
Approximately 7000 baht (200 USD / 160 GBP / 270 AUD)

Comfortable, although can be a little on the heavy side. Stylish enough to get away with in coffee shops. I did have to alter them slightly to get them to fit me well. I altered the inner leg stitching as they were a little too loose around the upper thigh area. The waist is a little loose too, but a belt brings it in well enough. They are really on the long side (and at 5'7″ with a long leg length, I'm not so short), but instead of making a drastic cut I just rolled them up instead.

In truth though I have very little to compare these jeans to as these are the only motorcycle pants I've ever worn. I am interested both in mesh pants and kevlar leggings and would like to try out both out one day, but in Thailand (and in particular Chiang Mai) my options are fairly limited.

*UPDATE* I now also own a pair of Assero Tropical Pants, which have proven fantastic in the wet season, as they dry out fast. The only downside is they are cut for a mans body, so sit a little lower on my hip than i would like. But no regrets. Great pants. 
#3 Boots: AlpineStars S-MX 5 *This boot is discontinued*
Around 5700 baht (170 USD / 130 GBP / 220 AUD)

Ok..in all honesty my boots are in dire need of replacing. Considering they have electrical tape on the left boot I think it is time to bite the bullet and fork out for a new pair.
As for these particular boots though, well they have served me well. The downside is how clunky and squeaky they are, and given the choice I would want another type of boot to try out. However, I have a great love for them in terms of sentimental value. They have been with me on many adventures and they made me feel protected and safe (and considering I almost had a foot amputated once (which you can read about HERE, if interested), feeling protected gives a great sense of relief).

I like the protective aspect of the boot and don't think i would ever want something that is too soft. I like the rigidity but not the weight.
I am not sure what I will replace them with yet, but I imagine something not too dissimilar. I have read about ladies boots with elevated inner heels to help with bike height issues, which sound interesting too.
Finding a good selection of gear is my problem currently. I could always buy online from a motorcycle gear shop, which would be great but comes with a risk of excessive import

tax (import duty is luck of the draw here, ranging from 0% up to 80%. Although the average import is 20%, you just never know if you will end up paying an excessive fee in import tax. In this I envy you guys in the US/UK and AUS!). 
———————-
*UPDATE* My new boots are Forma Adventure Boots and absolutely love them. Feels like wearing slippers. Really! The only down side is finding out once water is in them, it stays in them, until you can get them off and dried out. I found this out due to my tendency to jump into lakes etc with full gear on, which meant that once water got in the boots, the water STAYED in the boots. Or, if raining hard and water leaks into them..then they pretty much don't dry out unless off my feet. My previous boots would get wet, but dry out on the ride due to them having no Gortex. Just have to adjust what i do in future regarding jumping into pools of water ..haha!

*UPDATE 2* I now have a pair of Pamabo Performance boots as well. Review of this product below (more details in the youtube video link description)
#4 Knee Guards: Taichi
Around 900 baht (approx 28 USD / 20 GBP / 37 AUD)

My kevlar Draggin jeans don't have knee protectors or inserts, so the most comfortable option I found were these soft slip on protectors. The armour is CE certified and soft, and the knee 'sock' is Polyester-polyurethane which easily stretches to slip over the knee. No regrets with these at all and very comfortable to wear, but at a later date will consider purchasing pants with knee armour built in, to simplify my bike gear. It gets frustrating to always have so many bits to put on and take off. Plus I would like to look a little less "hard core".
For now though, they are perfect.
#5 Gloves: Scoyco MC20
Around 900 baht (approx 28 USD / 20 GBP / 37 AUD)

Considering that these are an inexpensive brand of glove that I've worn consistently for around 3 years, they have held up very well. Only now, after a lot of wear, are they beginning to show signs of some deterioration. They have been through all (tropical) weather conditions, including heavy rainstorms. I like the soft feel of them and how well they fit my hands. I've tried other more expensive brands and they just felt far too rigid for me. I have also noticed that a few of my friends who own expensive gloves find the gloves aren't standing up so well against humidity and what the tropics throw at them. So, for the price I paid I am very happy, although will have to replace them soon. I will likely just replace them with another pair of Scoycos.
#6 Helmet: Shoei XR-1100
17,000 baht (Approx 500 USD / 390 GBP / 660 AUD)

The creme de la creme of my gear items. To say I adore this helmet would be an understatement.
This helmet is not only a fantastic helmet, but is responsible for giving me back my confidence to ride following my most serious motorcycle accident (which you can read about HERE, if interested). When wearing it I feel super protected. This helmet fits me perfectly on my ridiculously small xs head (small head, but big brain ;P).

You can read the full details on the Shoei XR-1100 on the Shoei website HERE

I confess that before my accident I hated the idea of wearing a full-faced helmet. Full face felt restrictive and oppressive. I vowed to wear only an open faced helmet. Sadly I came to regret that mindset and eat my words. Now, when I wear a full faced helmet i no longer feel restricted, instead I feel protected.
I also really like that the Shoei XR-1100 has a ton of flip up air vents, which is brilliant for getting a airflow through. An all too important addition for hot Thailand days. Days when I feel my head is cooking like a boiled egg!
#7 Back protector: Dainese Wave D1 Air
Around 6000 baht (Approx 170 USD / 136 GBP / 230 AUD)

*Confession time* I actually paid only 2000 for this back protector at a well-known border town motorcycle gear shop. This shop sells GENUINE gear, but also Chinese copies. I was assured that this was a genuine Dainese, but upon researching the prices I have serious doubts about that one 😉 None-the-less it seems pretty sturdy and fingers crossed I will never be in a situation where i have to find out how well it holds up.

Anyway…although my Komine jacket already came with a soft back protector, I didn't feel it offered the protection I wanted, so I purchased this Dianese back protector for additional protection. I eventually removed the Komine backprotector and now only use this Dainese one. The Dainese protector covers a wider area of my back and I like the armadillo style, which seems to contour and mould to the back well.
#8 Bike: Kawasaki Dtracker 250cc
156,000 baht (Around 4500 USD / 3500 GBP / 6000 AUD)
My trusty bike.

In recent months I have had the opportunity to ride a variety of bikes although as yet I haven't found anything that supersedes what my dtracker offers me.

I am a lover of twisty roads and wish to explore soft off-road and dirt areas, so a pure road bike (although a lot of fun on the roads) doesn't seem to be the kind of bike for me. Also a pure off-road such as a CRF-L or KLX doesn't seem right either. So for now the dtracker is my staple. Until I can find a bike that suits me better and work out what kind of riding i want to do more of, this is what I'm sticking with for my general riding.

---

---

Detailed specs:
Engine: 4 -stroke , single cylinder , water-cooled , SOHC, 4 valves
Volume: 249 cc
Bore / Stroke : 72.0 x 61.2 mm
compression : 11:0:1
Transmission : 6 – speed
Ignition: Digital DC-CDI.
fuel supply :
Starter: electric starter
Clutch: manual
front tire dimensions : 110/70-17
rear Tire Size : 130/70-17
front suspension : telescopic fork , 43 mm
Rear shock :
monoshock Front brake disc 250 mm
Rear brake: 220 mm disc
Length x width x height : 2130 mm x 795 mm x 1125 mm Wheelbase
: 1420mm
Minimum distance to floor : 225 mm
seat height: 860 mm
Weight: 139 kg
fuel tank capacity : 7.7 liters

---

---

I bought my 2014 model dtracker secondhand for 117,000 baht from an original owner who carefully took care of it. He had owned the bike for around 1 year and I bought it near the end of 2014. Being around the same height as me he had already lowered the bike, which suited me well. Plus he had the bike derestricted. These factors along with a nice custom padded seat swayed me to bite the bullet and buy it.
Later on after riding the bike for some time I decided to drop a tooth on the sprocket to give me extra torque. Lost a little top speed but gained much more torque on mountain roads, so was worth getting it done.
With the dtracker you do have to change gears a lot though and it really doesn't have a lot of power, but so far I am still happy with it.
One additional thing to note about the dtracker is the lack of fuel gauge and just a warning light when fuel is getting low. It is a good idea to get into the habit of setting the timer on the bike when you fuel up and then keeping an eye on the KM's covered for gauging when you need to refuel.

---

---

Motorcycle Tires
When I bought the bike the tires were still stock tires and quite hard, so I changed them for Pirelli Sport Dragons. Recently though I have changed the Sport Dragons for IRC-IZS, as they get good reviews for being stickier and grippier on the roads.
ADDITIONAL ITEMS:
Top Box: GIVI E300
Hydration: Camelbak Pack
Tank Bag: Alpinestar (small magnetic bag)
MX Helmet: O'neal
Tools / Electrical tape / Cable ties / poly bags /visor spray /First Aid kit
*********
There is plenty I could do to improve and upgrade my gear and accessories, but costs are generally higher in Thailand for quality gear. I may take a risk and order online from a motorcycle parts store some time.
*Clause*: You may notice a couple of plugs for BikeBandit.com in this article. They recently got in touch to let me know of their online store and I liked what I saw, so giving them a small plug. If you have a motorcycle related business I am happy to pass on any important info, only if relevant to the topic and only if it may be of interest to my readers. 
Always good to get a mention back where possible! 

OOPs! I almost forgot…. or maybe i just WANTED to forget! Around a year ago I made a bit of a silly video about my gear. I did start off intending it to be a serious review of all my gear but I got a little side tracked *hic* and this ended up being the result.
DONT JUDGE ME TOO HARSHLY PLEASE..HAHA!
Was this article useful to you?
What gear do you wear?
Would love to hear from you..so comment below! 😀