MOTO LOOP: Chae Son Loop – (Including Chae Son National Park)
LAYMAN'S GUIDE series.  No waffle. Non wax-lyrical. Straightforward.
There are a few well-established loops in Northern Thailand, the Mae Hong Son Loop being the most well-known. However, if you are looking for something that feels like you are riding right in the heart of the jungle, then give the Chae Son Loop a go. Crammed full of twisty steep roads within the lush jungle, it's positively stunning.
THE CHAE SON LOOP
Whether on a scooter or a bigger bike, here is the Zed CM layman's guide to the ChaeSon Loop.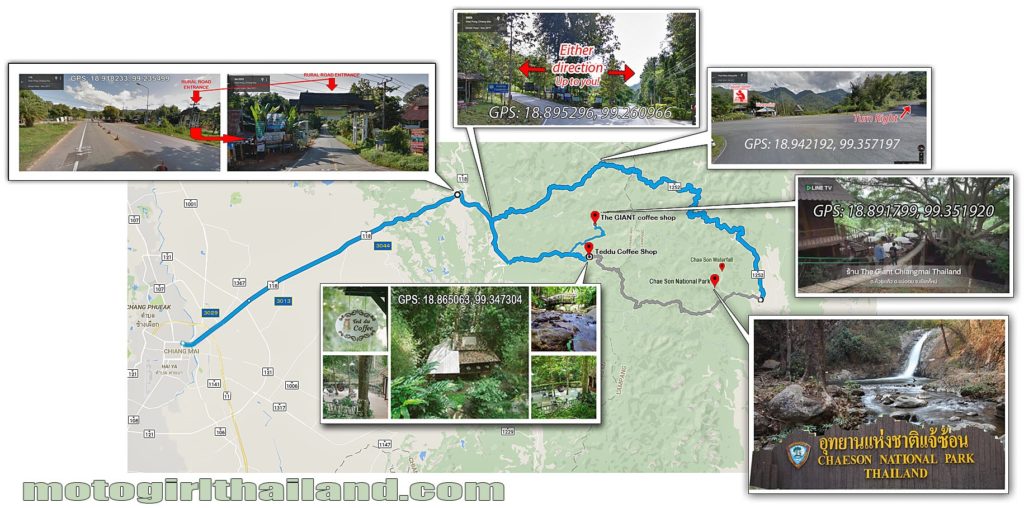 Clockwise or Counter-clockwise, the choice is yours. To keep this guide simple, this guide will be based on clockwise.

Note: There are a few variations of this loop, but this is the one I am personally familiar with.
Note 2: This is more a bit more of a challenging than the more popular loops, such as The Samoeng Loop and MHS Loop. So if inexperienced, take it easy and make a judgement call on whether to do it or not.
Clockwise Loop: From Chiang Mai city, head onto the 118 towards San Sai (see map above). Follow the road for approximately 30km until you hit the 3005 intersection(GPS: 18.917943, 99.235763) (see photo below). Take a right turn onto the rural 3005 road.


Continue along this road until you come to a junction with a variety of signs. These signs include lots of jungle zip line advertisements and Teddu Coffee sign. You can take either route as this is where the loop is formed, but for the purpose of this guide we will take the clockwise route. (GPS:18.895296,99.260966)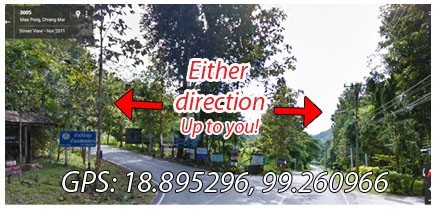 *NOTE* If you don't want to do a lot of riding, you could just go straight on and visit the various sights and stop-offs instead. You will eventually come to Chae Son National park. Then you can head back the same route you came. The left direction is a longer distance and is more just about the enjoyment of the ride.
Heading left, ride for approximately 14km until you reach another junction. In front of you will be a white viewpoint sala with a road which leads left and right. There is also a squat toilet facility here. Take the road on the right (the 1252) and head onwards.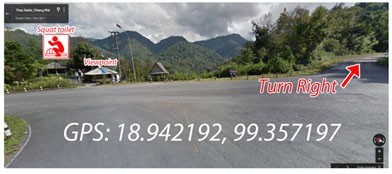 Approximately 35km from here you will reach the Chae Son National Park entrance. (GPS:18.829169, 99.495784). For this particular loop and guide I suggest to enter the national park and then ride out the other side. However, you can of course skip the national park altogether and just carry on riding straight along this road. The road through the park eventually leads onto this road in any case.

Chae Son National Park
Chae Son National Park is a 592 square kilometer national park which has walking trails, a stunning 150 metre high six tier waterfall, and hot springs. It is also host to a great deal of flora and fauna. Definitely a must see for nature lovers.
Here is a short video of some of the beauty at Chaeson National Park:

Open daily 8:00am – 6pm.
Entrance Fee is 200 Baht/100 Baht for children (40 Baht/10 Baht if Thai)
*Tip* I have been informed that if you take the counter-clockwise route and enter the National Park via the back route, you can explain that you are riding straight through and will likely not have to pay the entrance fee. Can't guarantee this of course but worth a shot if you are just passing through. If you enter via the main entrance (clockwise), you will need to pay the fee.

Accommodation: If you decide that you want to stay over then there are resorts and homestays around the outskirts of the national park, but you can stay within the park itself, which i highly recommend. It is very peaceful and beautiful to wake up to at first light. There is camping, but i chose to stay in a bungalow (which was actually rather huge, with a split level and three beds). There is a visitor center, so check with them first what accommodation is available.
*Tip*: Weekdays are cheaper than weekends.
Continuation of the loop: To continue along the loop go past the national park restaurant and past the camping grounds. You will see the exit barriers. Go through and continue on and you will come out and back on the main route. (If you have chosen not to go into the national park, ignore this part). Continue along this road.
Two stop off recommendations: Teddu Cafe & The Giant
Teddu Cafe: Teddu Cafe is approximately 24 km along the road after leaving the national park. You have to walk a fair bit down some stone steps to get to it, but at the end you enter a tropical paradise. Their coffee is pretty good too.
– Alternatively –
The Giant: The Giant is an impressive coffee shop/restaurant that is nestled within a giant tree. You can also do a short zipline off of this tree (200 baht). Have a video of this HERE
If you wish to head to the giant continue on past Teddu Cafe for a further 4km until you come to a junction. (GPS: 18.867701, 99.326236)


From the junction head back onto the rural road and continue along until you reach back at the original junction (see photo below) (GPS: 18.917943, 99.235763).
Turn left, back onto the 118, and head back to Chiang Mai.
Final note: There are lots of cafes, restaurants, resorts, homestays and activities (ziplining etc) on this route also. All well marked and signed.
*IMPORTANT RECOMMENDATION* Take water, wear a helmet, wear protective clothing, take a mobile phone, have a license, have insurance!
How was this guide for you? Useful or not?
Let me know in the comments! ?