Buying a Motorcycle Helmet. Finding the Right Fit

I strongly advocate quality approved full-faced helmets that fit correctly. You will find out why further down..
Quality of helmets in Thailand vary, and many will wear helmets that are the safety equivalent of a plastic bucket on your head. Its a personal choice and years ago my personal choice was not to worry about helmets much.
I came to regret that.
Full-faced in particular felt suffocating. (Now they feel reassuring)
 First off, here is an excellent run down of buying a motorcycle helmet from MOTORESS: http://motoress.com/gearstyle/the-basics/buying-a-motorcycle-helmet/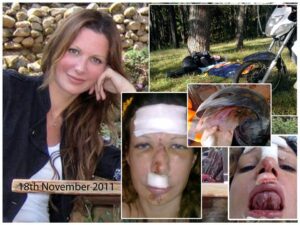 Second, here is why i advocate the wearing of correctly fitting full-faced helmets:
This is a day i will never forget. A day i nearly lost my life…
…and my face.
I still have issues to this day.
Blog report on this day here
I wore an open face REAL brand helmet, which is popular in Thailand. I have a stupidly small size XS head, and the helmet was a size M. So not only was the helmet open faced, it was ill-fitting.
I apparently (for i do not remember) slid on gravel, bounced of my bike and slid along the road. My face was lacerated, my nose broken, my tongue split, my hand fractured and lots and lots of bashes and bruises. I lost consciousness and to this day i cannot remember anything, nor events leading up to it. (I retraced my trip 4 years later, and had a strange event occur. You can view this trip revisit here). So, i am now the proud owner of a couple of full faced quality brand helmets and the feeling whilst wearing them is no longer suffocating, it is reassuring.
I feel lucky to have a life..and a face to present to the world….
Take care 🙂
Was this post useful?
Comment below! 🙂