BORDER CROSSING GUIDE – Thailand into Cambodia – O'smach Border (exiting Sa-Ngam)
This guide is based on my crossing from Chong Chom to O'smach on 27th March 2019 and exiting out from Cambodia back into Thailand at the Choam / Sa-Ngam border on the 31st March, based upon a Thai plated bike that I own (Kawasaki dtracker 250cc). Keep in mind that laws and policies fluctuate and change (and even depends upon the mood of the officer at times). However, this was my personal experience. Also keep in mind that O'smash border is a very quiet crossing point and known to be a simple/straight-forward crossing point. Other Cambodian border points may have more stringent rules.

STEP 1: DOCUMENTS REQUIRED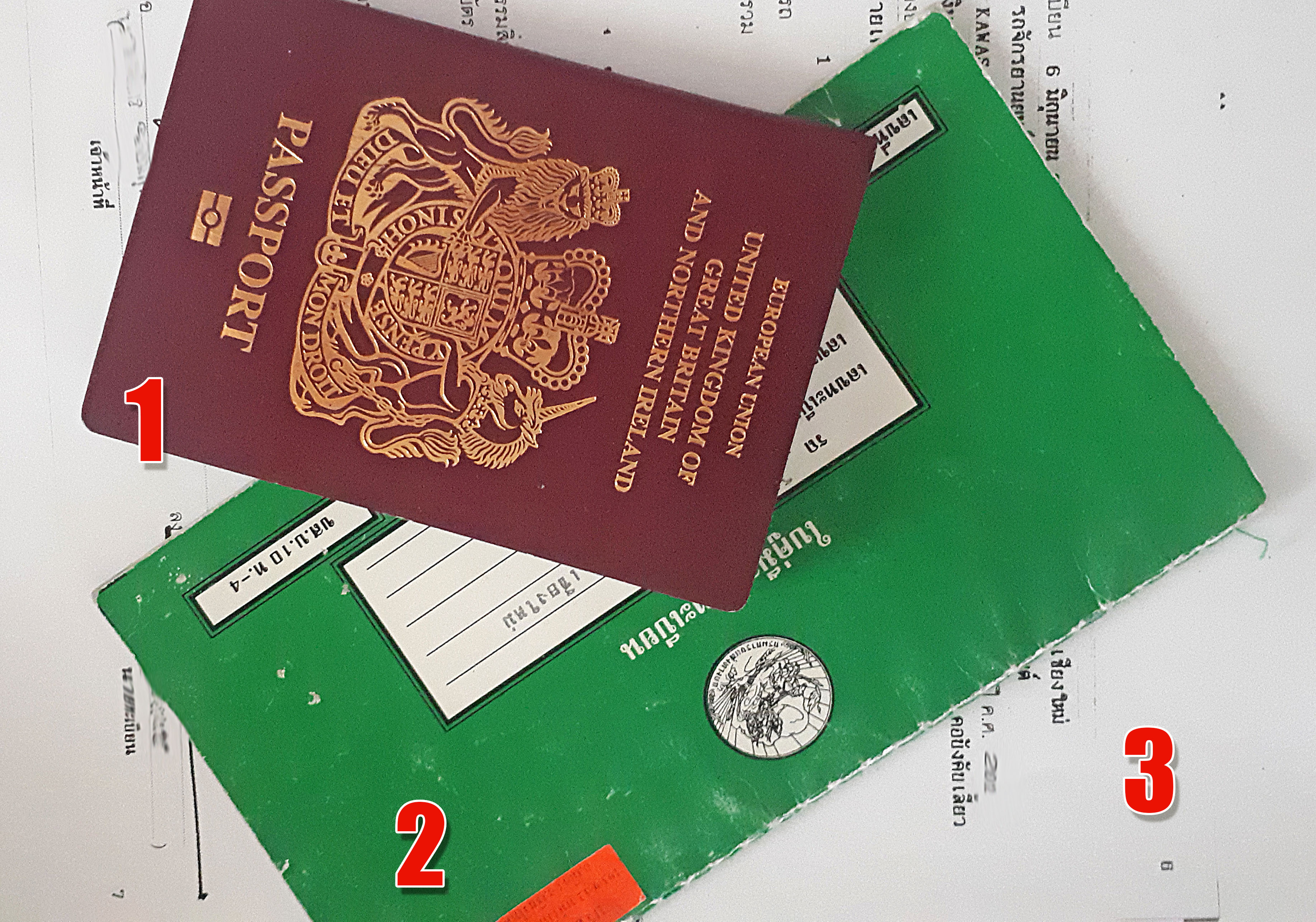 1: PASSPORT (+ photocopy).** valid for at least 6 months
(normally you need 2-4 pages free in your passport as well, as a general rule.
I personally would not travel with less than 4 pages free).
2: ORIGINAL GREEN OWNERS BOOK (+ photocopy).**
3: PHOTOCOPIES OF PASSPORT PAGE AND OWNER INFO INSIDE GREEN BOOK
4: ADDITIONALLY: PASSPORT PHOTO FOR CAMBODIAN SIDE
**This is the basics you need to bring. HOWEVER, I photocopied multiple pages of my documents, and photocopied all of them 4 times. Best to do this in case more documents are asked for or in case more than one copy is required. *NOTE* If you plan on exiting out at a different border, tell them you are not sure which one. That way you have the option to exit at any border point.
STEP 2: PROCESS – THAI SIDE

1: PARK UP CLOSE TO BARRIERS – Officer will check you have correct documents.
2: HEAD TO PASSPORT CONTROL – Get stamped out of Thailand
3: HEAD TO BOUNDARY POST CUSTOMS – They will register you and bike into the system.
4: RETURN TO BOOTH AT STEP 1 – You will get a Temporary export TM2 form printed out and your photo taken etc.
DONE! Can enter Cambodian side now.
STEP 3: PROCESS – CAMBODIAN SIDE
WATCH THE VIDEO ABOVE TO SEE WHERE TO GO AND WHAT NOT TO DO!
Park up at the barriers on the right hand side (remember that Cambodia is right hand drive, so need to switch over to the right). Head straight to Cambodian Immigration booth and get visa and fingers scanned. YOU WILL NEED A PASSPORT PHOTOGRAPH. (I paid 35 USD. Officially the visa is 30 USD, but this add on is often added *cough*. I mentioned the official price and was told firmly "$35!". I didn't argue and paid). My bike documents were checked over and I was on my way.
*NOTE* NO COMPULSORY VEHICLE INSURANCE IS OFFERED AT THE BORDER!
DONE! GOOD TO GO!
IMPORTANT POINT ABOUT INSURANCE : The border does not offer compulsory vehicle insurance. I have since found out that you can likely buy vehicle insurance in any major town/city. Something I will try to do next time I visit. Here is one company that may be able to help. LINK HERE
*****
PART 2: EXITING AT CHOAM / SA-NGAM
I exited from Choam to Sa-Ngam on 31st March. I was not sure if I could exit this border at the time. However, the process was straight-forward, simple and fast.
1: STAMPED OUT AT CAMBODIAN SIDE
2: STAMPED IN ON THAI SIDE
3: HANDED OVER DOCUMENTS FOR BIKE AND SIGNED
4: DONE!
Video showing the steps:
Hope this helped. This was the process for me at this time, but may differ or vary depending on rule changes and possibly the mood of the officer!
MY FULL TRIP REPORT FOR THIS RIDE CAN BE READ HERE
Good luck!