Amazing Abandoned Buildings (& burned out car museum) – N.Thailand
There are many abandoned buildings in the region, but I will be sticking to (what I consider to be) the most interesting ones. Will be adding to this ongoing, when I discover new and interesting buildings as I go along. 
This condo is a huge multi story building in the San Sai area of Chiang Mai.
It is quite a dramatic sight due to the surrounding buildings being much smaller in height. This huge multi-story condo emerges out of nowhere towering above them all.
It has quite a spooky feel about it (as most abandoned buildings do really) and looks as though quite a hefty investment went into it. There are hundreds of rooms, which look as though they would have been quite lovely when fully completed.
Lots of graffiti around and open elevator shafts, plus a seriously muggy swimming pool (which seems to have pond life). There are floor to ceiling limb crushing drops, so be very careful if visiting.
Also a lot of missing balconies and open stairwells, so not the best place to visit if you suffer from vertigo.
I haven't been able to find much out about it, except that rumour has it that some kind of major structural failure was found making it unlivable, so the construction was forced to be abandoned. It has literally been left to rot.
If i find out anything more about the building, I will update.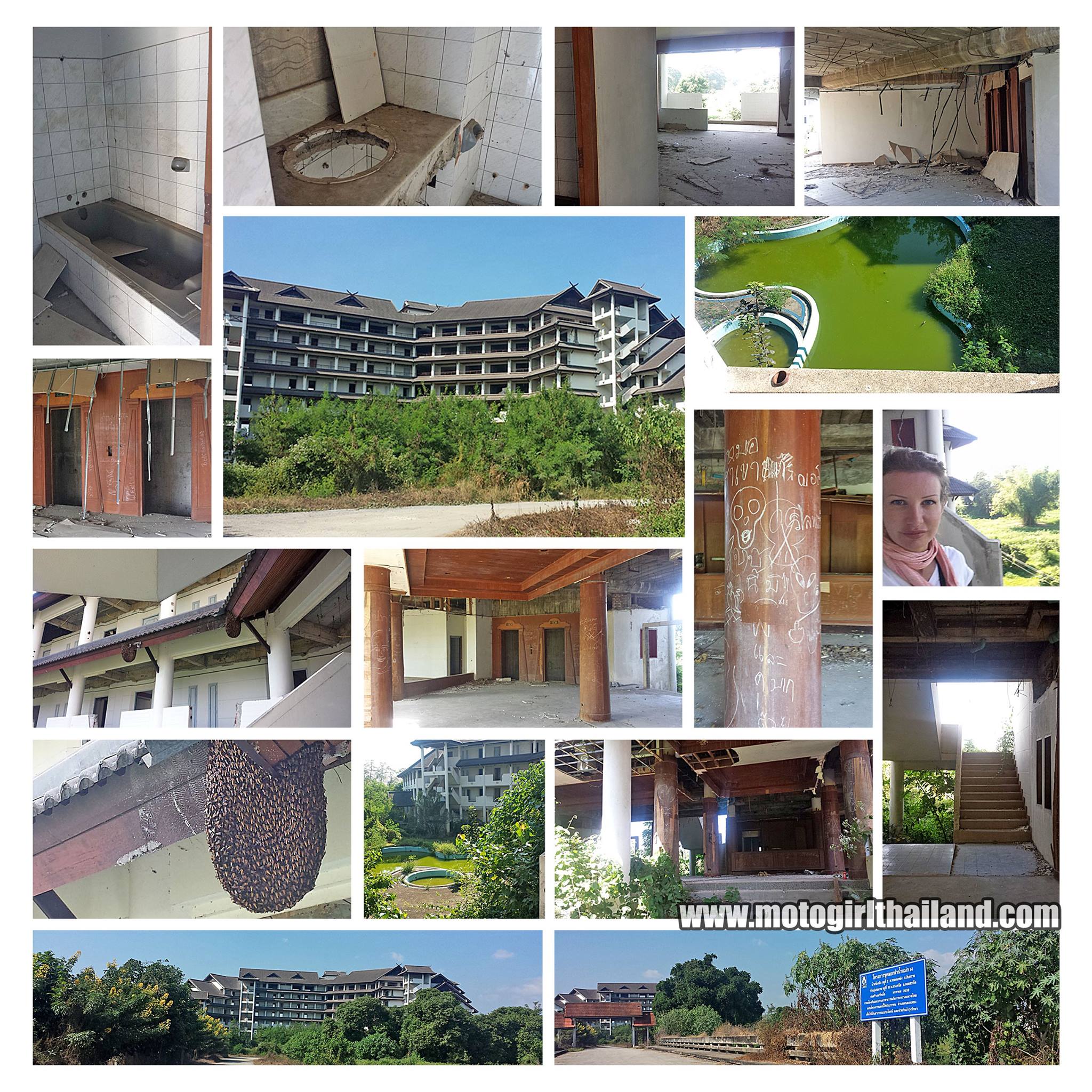 Abandoned Angkor Wat style building.
Mae Khachan – (GPS: 19.1159433,99.4631594)

This Khmer-style/Angkor Wat building is an unusual sight, as it just comes out of nowhere along the main R118 to Chiang Rai, at Mae Khachan Hot Springs.I have seen it many times over the years and decided to go inside and investigate.
Seems it was meant to become a luxury spa of some kind, as it has many fittings and fixtures relating to a spa (such as stone baths / Jacuzzi and showers).
Seems a pity to see it deteriorate over the years, but I guess, like many buildings in Thailand, funding ran out (or maybe stems as far back as the 1997 Asian financial crisis. Not sure).
Stunning Abandoned Resort
Ban Pong. (Start of position HERE. Take the left turn up and follow the path.)

(Current GPS location is not accurate for this one, as google maps does not map it. At some point I will go back and get the exact GPS location. )
This resort appeared on the mountain side as I was exploring around the Ban Pong area.
At first I wasn't sure if it was abandoned, because there were clean tools and fresh bags of concrete lying about.
I figured maybe it was still under
(slow)
construction. However, I have since visited a couple of times
(as much as a year later)
and no progress has been made on the building and still seems to be left to nature.It looks as thought this would have been quite a stunning resort when completed, with a wonderful view to enjoy.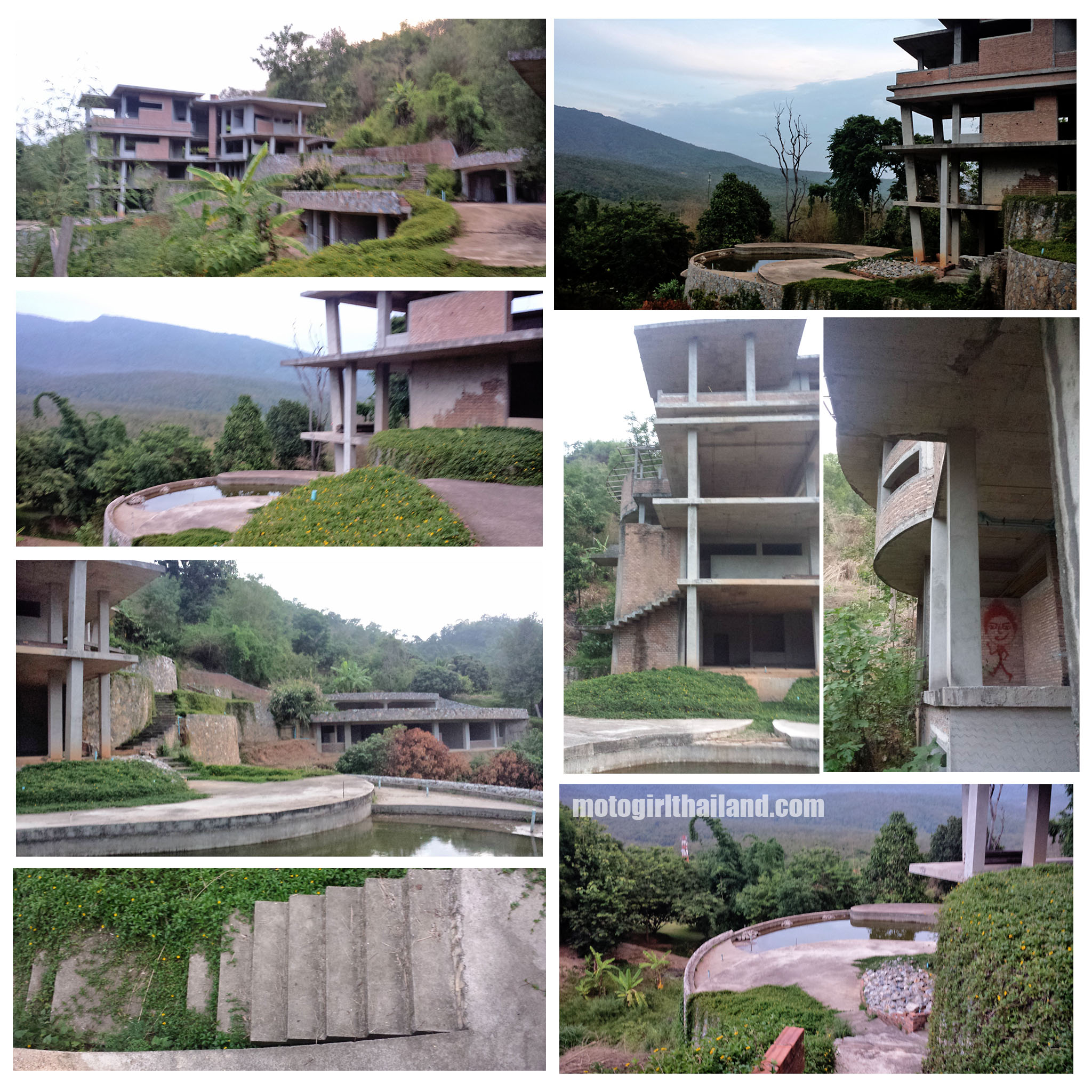 Burned out Ancient Car Museum
Mae Hia (

*UPDATE*

– seems the area is being cleaned up/moved. When I go back to visit I will post an update on this odd attraction)

Falls into the abandoned category because this wasteland area of cars is left open to the public.
There is an official Ancient Car Museum garage just up from this abandoned area, but with only a few cars now.
I recently found out that this abandoned car lot was once a proud collection of cars.
(The original beauty of the vehicles can also be viewed on GT.Rider forum HERE).

Sadly a fire raged through the museum destroying the amazing vehicles.
Here is a video from 2010 showing how the museum once looked:
An interesting sight in any case, despite the sad story.
Keep in mind that their may be sleeping snakes and other native creatures enjoying resting in the abandoned vehicles and the general area (which is very overgrown).
Also, treat the area with respect as it is most likely not completely abandoned per say, so if you visit, be respectful and respect the possible wildlife inhabitants space.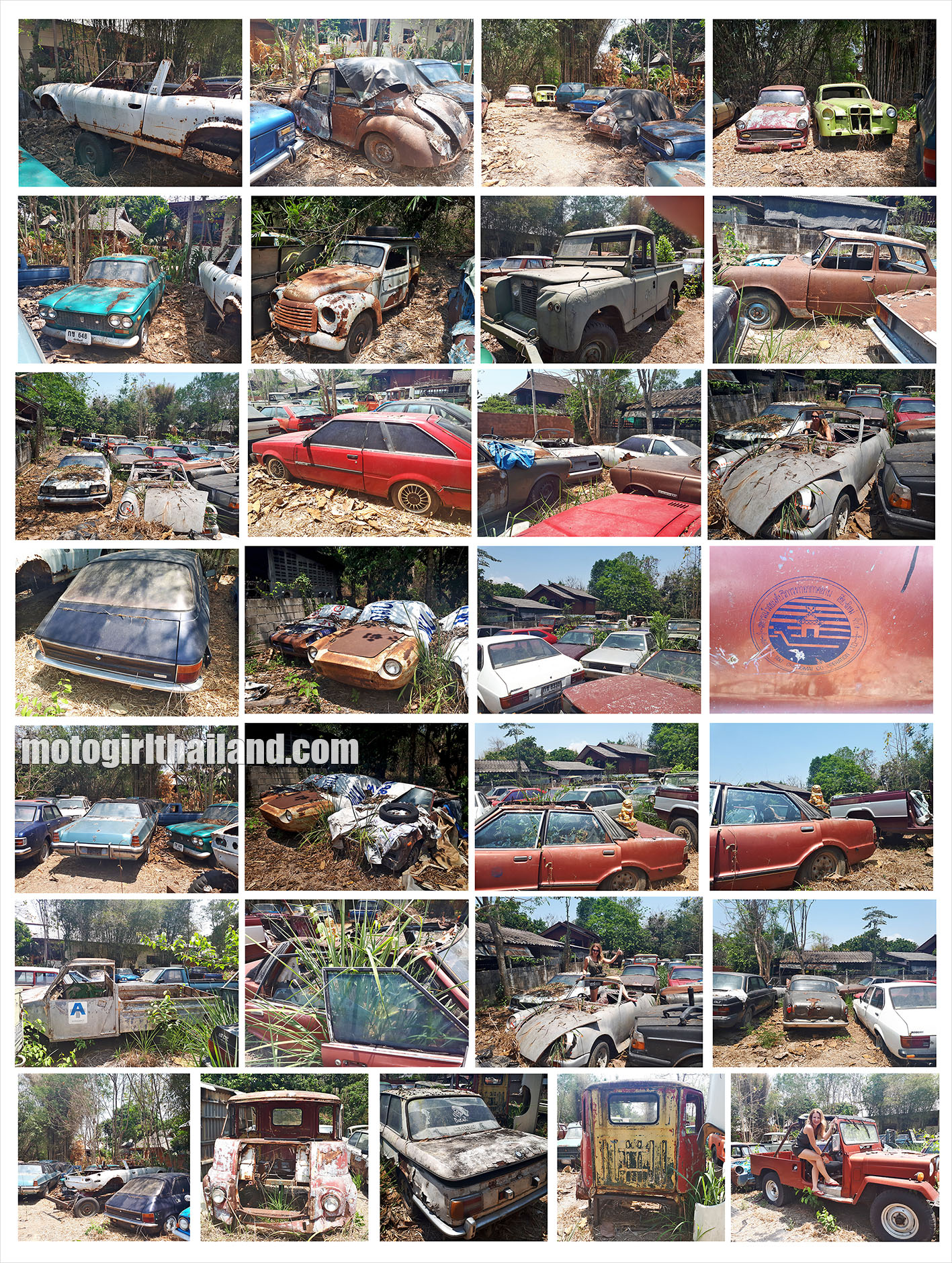 Stunning House on a Pineapple Plantation
(GPS: 19.6525,99.4566666666667)
Just off the R109, Mae Suai district, Chiang Rai


A couple of notable mentions:
Large abandoned building – Superhighway, Chiang Mai. GPS: 18.7837211,99.0258723
(*Edit* – This hotel is called "Poy Luang Hotel" and some good info about the history is here: http://www.chiangmai-then-and-now.com/poy-luang-hotel/
Many thanks to Auke Koopmans in the comments section, for this information)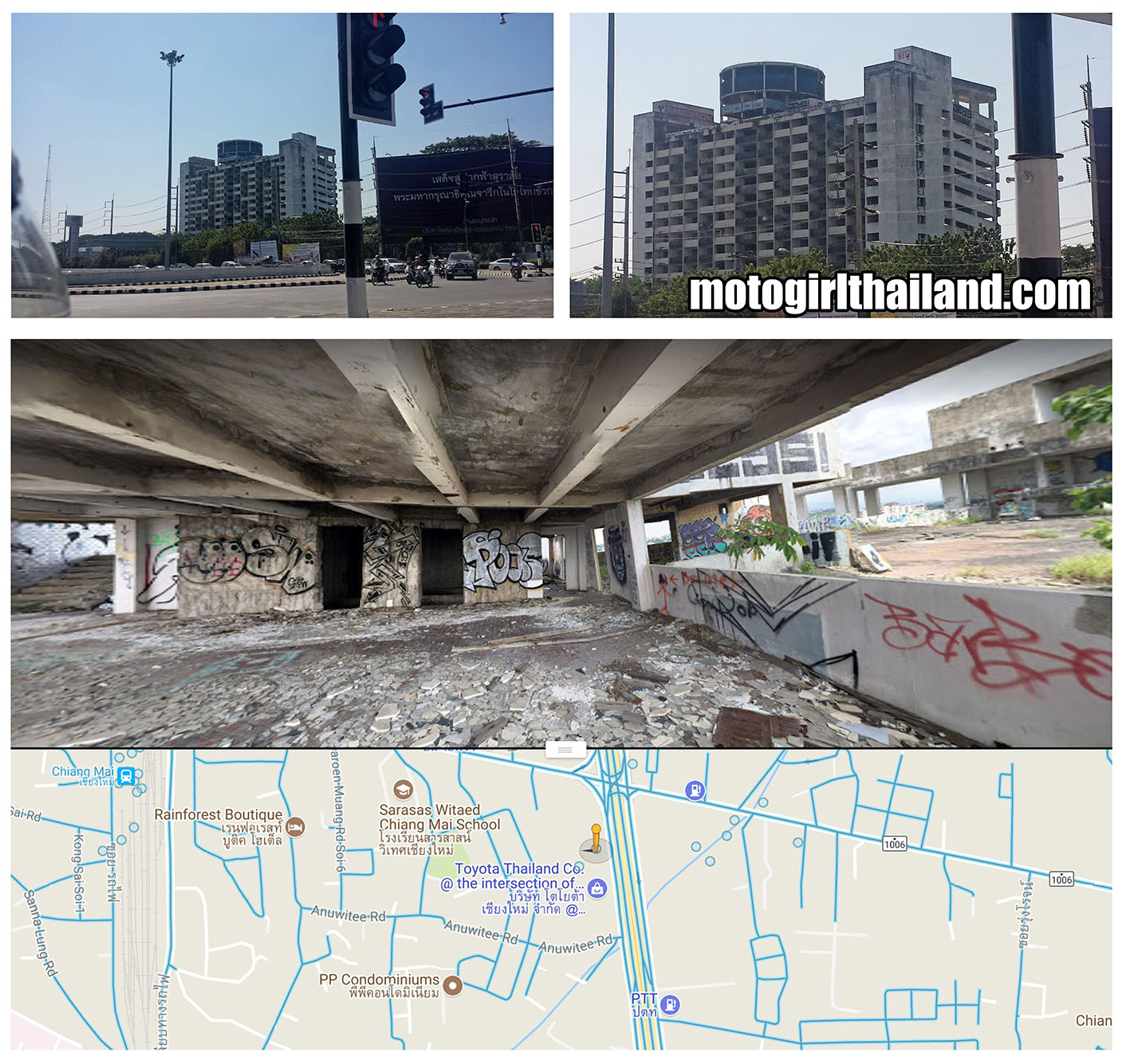 Vine covered abandoned building – R118 San Pa Pao, Chiang Mai. 
Will update more as and when I find more interesting buildings on my travels. There are a few others I have seen but did not document.
So..watch this space!
Hope you enjoyed.
If you did, then please subscribe! ? ?